I. Love. School. Always have, always will. Here's some nerdy-ass back to school goodies for ya.
---
Backpacks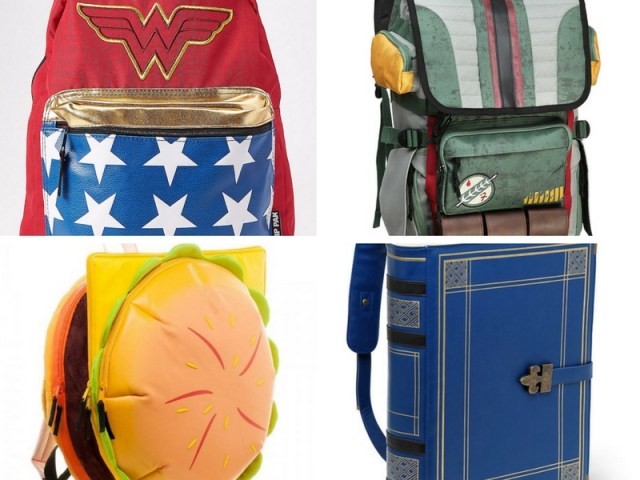 Wonder Woman Backpack, $34.99. Boba Fett Backpack, $69.99. Steven Universe Burger Backpack, $45.99. A Literal BOOK Bag, $59.99.
---
School Supplies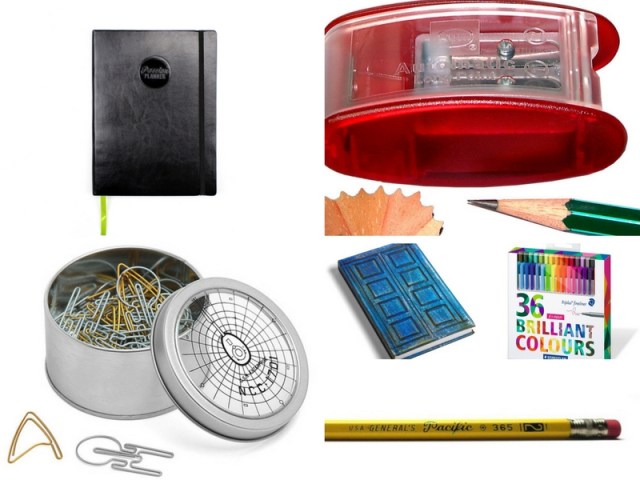 Star Trek Paperclips, $19.99. TARDIS Journal, $11.99. Academic Passion Planner, $29.99. Staedtler Triplus Fineliners, $27.99. General's Pacific Pencil, $0.80. Kum Long Point Pencil Sharpener, $7.11.
A quick note on types of nerdery — in this lil' monthly adventure, I usually lean heavier on the kinds of things most people consider nerdy: cartoons, video games, sci-fi television shows (see Dr. Who and Star Trek in this very collage image). But I am deep nerd into something that I feel like some people don't think about, nerd-wise, and that is: stationery? Do people think of that as a super nerdy thing to be into? Because I do. So I've also included a school pencil from my favorite brand and one of only two pencil sharpeners that I approve for use, plus the Passion Planner and the fine liners to write in it. AND I should also let you know that I listen to three separate podcasts about the stationery world, and one of the hosts of Art Supply Posse mentioned she's a gay lady this week and I DID NOT KNOW THAT SO GO FORTH AND LISTEN QUEERMOS.
---
Desk Ish
Give 'Em Helvetica Sticky Note Set, $10.99. Memosaurus Desk Organizer, $12.99 (I will never not feature this). Have a Little Pun Notecard Set, $14.99. Easel Tablet Stand, $17.99.
---
Technology
Acer Chromebook, $269.00. See Concept Screen C Glasses, $65.00 (these aren't reading glasses — for those who spend a lot of time on screens, this filters out some of the harmful LED light). Philips GoLITE Blu, $75.37 (this is supposed to help with energy and fighting the SAD). Sony Voice Recorder, $49.85. C-3PO Battery Pack, $29.99.