I became aware that A-Camp's own Kaylah had a successful YouTube channel about lifestyle, eating disorder recovery and weight loss when she started posting more about it on her Facebook. If this sounds like your cup of tea, I highly recommend checking her channel out! Kaylah is a fascinating Black queer vlogger with spot-on eyebrows and opinions. She's also a wealth of information on the technical aspects of launching one's own YouTube channel, the whys and hows of it, and providing queer content in an arena that hasn't historically done a great job of including queer folks. Whether you're into lifestyle vlogging or not, you should eat this interview up like it's a cupcake. And who knows, maybe you'll be inspired to start a YouTube Channel of your own.
As always, this interview was edited for flow because I'm a chaos muppet without an outline.
---
Ali: Alrighty, so first question—I've watched through some of your YouTube videos, but if you wouldn't mind giving a brief overview for some of our readers who haven't, what's your channel all about?
Kaylah: I've been the Youtube equivalent of a mall rat for a few years now. I have at least 3 Youtube channels that I've posted on for the past few years, but Kaylah Cupcake is the only one I've really committed to. My channel is all about my journey to self-love and mental wellness. I vlog about my battle with Body Dysmorphic Disorder, losing weight, and learning to treat myself with love and respect.
Ali: And what inspired you to document your journey using YouTube?
Kaylah: If it weren't for Youtube, I wouldn't have found the strength or courage to start my own journey. I watched endless amounts of weight loss videos, fitness transformations, and EDNOS recovery inspiration slide shows. At first I didn't think I could do it myself, but seeing so many people's' lives change made me think I had a chance. By being so transparent with my journey and putting it all out there, I hoped that I could be that Youtuber who motivated someone else to make the change. I wanted to pay it forward. I also wanted to be able to look back on my own growth, and I'm honestly amazed at how far I've come.
Ali: Gosh that sounds wonderful! Congratulations!
Kaylah: Aw, thanks Ali!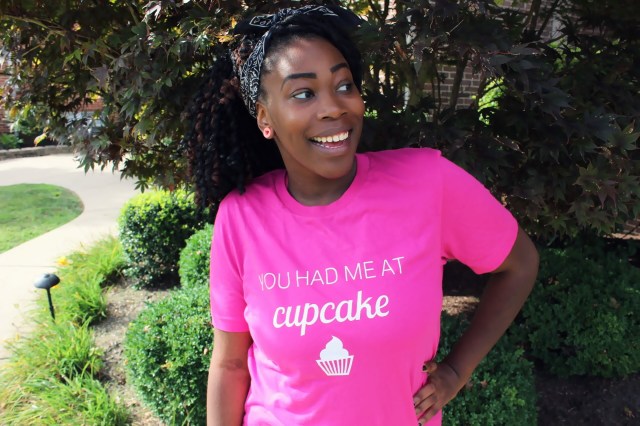 Ali: What sort of hardware do you use to record your vlogs?
Kaylah: I use a combination of my iPhone 6 and a Canon Rebel T3i that I bought used from eBay. I paid around $300 for the Rebel, which I think is decent for a DSLR.
Ali: Oh hell yeah, that's a sweet deal. Do you use a tripod or any accessories?
Kaylah: I use a tripod and wireless remote that are from the Amazon Basics line. They are both VERY affordable and good quality, but of course they are because Amazon is life! I'm obsessed with Amazon and it's a bit sad.
Ali: Not sad at all! What about the kind of lens you use on the rebel? And do you use any lighting equipment? The light is always so good in your videos!
Kaylah: I just use the kit lens that came with my camera, but I'm looking into a fancy schmancy lens for the future! I really want the blurry background effect so one of the lenses I have in my Amazon cart is the Canon EF 50mm f/1.8 which is a really popular lens that won't break the bank! The lighting is au naturale! I just plop myself in front of the window and film! Studio lights are cool, but I really believe that natural light is the best. I've found that the perfect lighting for me is around 4 p.m., but since I'm filming at the window I get tons of traffic noises in the background of my videos. I've been looking at the Rode VideoMic Go to combat that. I spend a good chunk of time editing out my eye rolls because people in fast cars like to let you know how fast those cars are. Ugh!
Ali: Hey, speaking of editing, what software do you use and how hard was it to learn?
Kaylah: Oh gosh, don't tell any of my video professors this, but I almost exclusively use iMovie. It's free and so easy to use. My focus in school was digital media and we only used Adobe products, and while there are so many things you can do as far as editing, it can be overwhelming and time consuming. Many people think you have to be an editing genius to make a nice video, but you really don't. iMovie and Windows Movie Maker put out great looking videos so I tell people not to worry if they are nervous about using a more 'professional' software.
Ali: I know! I'm certified in Final Cut and I STILL use iMovie for almost everything. You really don't need much!
Kaylah: Final Cut! I'm breaking out in a rash just thinking about it!
Ali: Your intro and logo are fabulous. Did you design and animate it yourself? If so, what did you use?
Kaylah: So, I'm glad you love my intro because I never want to make another one EVER AGAIN! Animation doesn't come easy to me so I used a few Youtube videos I saw as inspiration and created it using After Effects and iMovie. The cupcake and tv in my logo are stock images that I mashed together using Pixlr Editor, which is an amazing online alternative to Photoshop.
Ali: Oh man, I LOVE Pixlr!
Kaylah: IT'S SO GOOD! I have the app on my phone and I haven't touched an IG filter since!
Ali: I want to talk a little bit about YouTube as a software and a platform—in terms of using YouTube, what are some tactics you've developed to optimize your content for search engines?
Kaylah: There are a few things I want to work on to improve my SEO like adding captions and writing longer descriptions, but I feel like I'm getting really good at creating titles and keywords that will show up in search results. I went through a phase of making videos with titles that had nothing to do with my content. I'd pull something funny I said in the video and then make that the title, but… Who the hell is searching for "I MISS DONUTS!" when they want to see low-carb videos? NO ONE! Well.. me, but… My most watched videos have strong titles that are related to the content. I've also developed a stronger method of creating keywords and video tags. Instead of one word tags, I'll create tags that look like something you'd type into Google. Instead of just 'weight loss', I'd add 'how to lose weight', 'how I lost weight'. Instead of just 'before and after', I'd add 'before and after weight loss', and 'before and after losing 100lbs'. The more specific, the better. Most people are searching phrases rather than key words.
Ali: And the way monetizing YouTube works is an utter mystery to me. Can you talk a little bit about if you've managed to do that, and if so, how?
Kaylah: YouTube monetization is the weirdest thing, and I don't know if anyone knows how it works really? My channel got bumped up to 'partner' status after receiving a certain amount of views Google saw as desirable. That's when I noticed that I could enable the monetization setting. I'm still unsure of whether you need to be a Youtuber partner or not to do this, but I think anyone can [editor's note: I did a little research and it looks like anyone can be a partner if they follow the guidelines]. To monetize your videos you need to have a Google Adsense account that is connected to your channel. This is why there are ads all up in your Youtube video, which are annoying to even me, but you are able to generate revenue from these ads.
Ali: So I want to talk about wellness YouTube as a genre. Correct me if i'm wrong, not a lot of queer folks producing that kind of content on YouTube, yes?
Kaylah: Now that you mention it, there are none that I've come across!
Ali: You're the only one I know of, too. Though take that with a grain of salt because this particular genre, despite my deep love for unboxing videos, isn't something I'd call myself an expert in. So my question: how has it been, being a queer vlogger in a world where there aren't many? Have any aspects of your identity lead you to subverting expected wellness content?
Kaylah: Being snarky as fuck and a queer feminist killjoy, there are many things that I don't buy into. Like, at all! I denounce detox teas, shakes, waist trainers. All the things that are getting the big views and the big bucks! I've gotten a good amount of negativity surrounding the funniest thing: STRETCH MARKS! Getting rid of stretch marks is the type of video you do if you talk about wellness or weight loss, but I don't. I'm asked about it alllll the time! In an update about my body progress I mentioned that I didn't mind having stretch marks and, in fact, they are sexy and part of me and they aren't going anywhere. This made people angry for some reason and I decided to delete a ton of the comments. I don't want anyone watching my videos to think that their bodies were gross and then to see me getting shamed about that! Also, everyone wants to know if boys think I'm cuter now… blah blah blah. I like giving a different perspective than what everyone is used to. I'm the anti-wellness guru.
Ali: In the interest of making YouTube that much gayer, what advice do you have for an Autostraddle reader who's thinking about launching their own YouTube channel? (I'm sure they're out there!)
Kaylah: My first bit of advice if you're thinking about starting a Youtube channel is DO IT! If you have something to say or show off or a passion you want to share with the world, then I think you should go for it! She'll hurt me for mentioning it, but my baby queer sister developed a following on Youtube a few years ago because she was a pencil tapper and finger boarder. YES. She recorded herself at a table tapping pencils to different songs. She did one to Lil Waynes 'A Milli' and I watch it all the time. She even got sponsored as a finger boarder. Finger skateboards!!!!
Ali: There is a whole world I know nothing about. I have never felt so ignorant as I am feeling in this exact moment.
Kaylah: YouTube is a ton of fun, and it's not going to die down anytime soon. People watch YouTube more than they watch TV! I search YouTube for DIY projects, how to use certain softwares, what color to dye my hair, is it possible to forget how to kiss if you haven't kissed someone in over a year. It's endless!
---
Kaylah Cupcake has just launched her new website, Cupcake Wellness, where she'll be offering an ever-increasing selection of athleisure clothes and, coming soon, one-on-one wellness coaching. Congratulations Kaylah Cupcake! So what about y'all—what are you gonna put on YouTube?