I have a confession to make: I'm watching The L Word for the first time this summer. Well, actually I watched the first season forever ago but I stopped at season two when my body would not physically allow me to continue past the opening song. But this time around, I gave in and let the opening song sashay, shante and Stockholm Syndrome it's way into my heart. And can I just say how honored I am to share the soundtrack to my fever dreams with you?
The best part about watching The L Word is finally getting to choose which character I am. I was hoping to be Dana, because you were right, person who sighs her name breathlessly at parties while I shove a cheese cracker into my mouth and pretend like I know who you're talking about, Dana's for sure the baby angel emoji. But here's what I realized: you don't get to choose a character for yourself. It's more like you find yourself relating to a character and then resisting this feeling with a combination of awe and terror before you can no longer deny who you are in your heart. This is how I discovered I'm a Shane.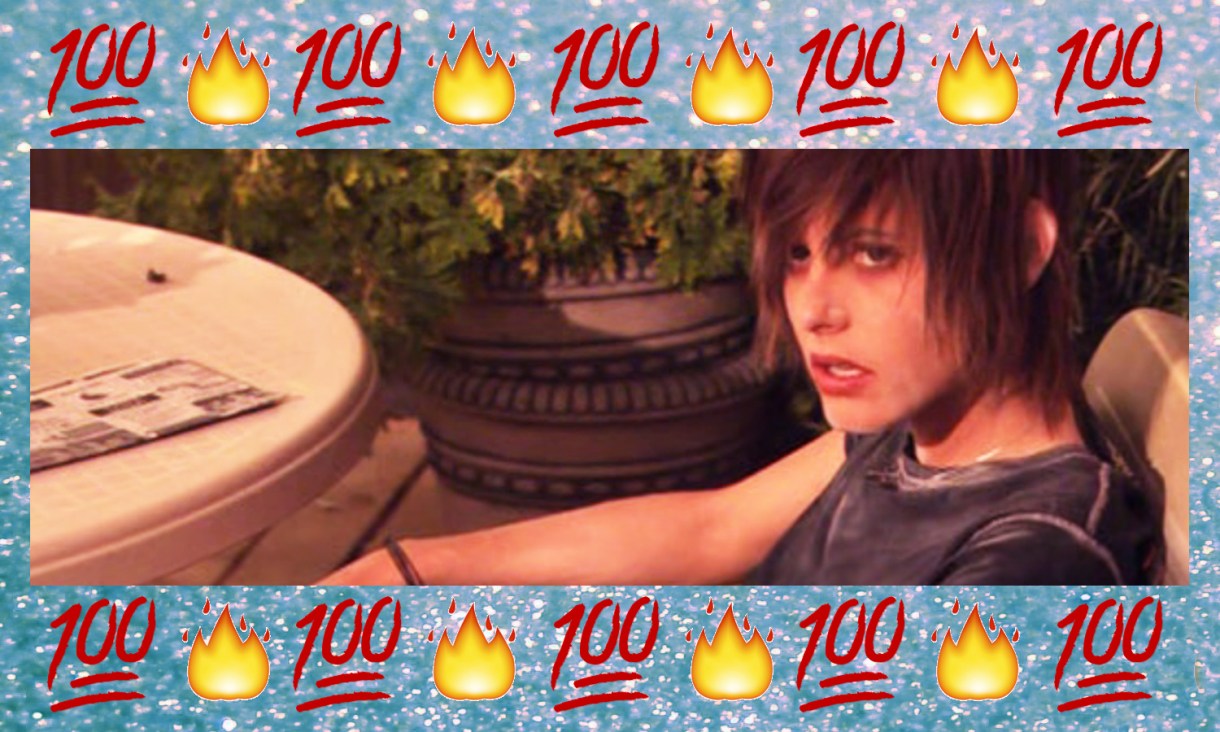 Look, I didn't ask for this fate. I didn't ask for monogamy to be the source of my ruin. And I hope that in the "Where Are They Now" interview, Shane reveals that after the show ended, she discovered the joys of polyamory and is now leading a fulfilling life with multiple partners, minus the guilt and self-loathing. And you know what? I feel like the more well-adjusted Shanes of the world have a lot to offer in terms of dating advice. And there are so many new ways post-L Word to get a date in this world of digital-virtual-hijinks! So here we go, apropos of nothing:
---
12. HER 
This app is the LifeAlert™ of the queer dating world. You think downloading it will save your life, but then when it doesn't actually work, you return to your regularly scheduled programming of "help I have fallen and I can't get up."
11. Bumble
Keep this one for motivation when you're having a hard time connecting with people on dates, because scrolling through it will remind you how simultaneously weird and boring straight people are, and at least you're not that!
10. School
This one is good if you know that every Tuesday and Thursday at noon you will be in a class with this one person who is really dreamy but you need approximately two months to muster the courage to talk to them specifically. This one is bad if you don't like the breaking up with said person after a tumultuous love affair and getting stuck in a class with them again next semester.
9. Work
This one has very similar pros & cons to school, so plan accordingly!
8. Sports
I know, I know, don't date anyone in your roller derby league. Counterargument: y'all. Are you for real telling me to sign up for the gayest activity invented and then repress my very gay feelings in this space that was, I repeat, invented for gayness? (winging the history of roller derby here, but it feels right) Lucky for you, I'll never sign up for roller derby because the only convincing thing I can do with my body is dance.
7. Facebook 
Some people are like: "But Cecelia, how do you do it?" I think, dear readers and fans, that maybe you think being dateable equals being charming and confident and smoldering all the time, but I come prepared with receipts to show you that everyone, even Shanes like me, meet strangers through the internet the same way everyone else does: awkwardly and dare I say, abrasively!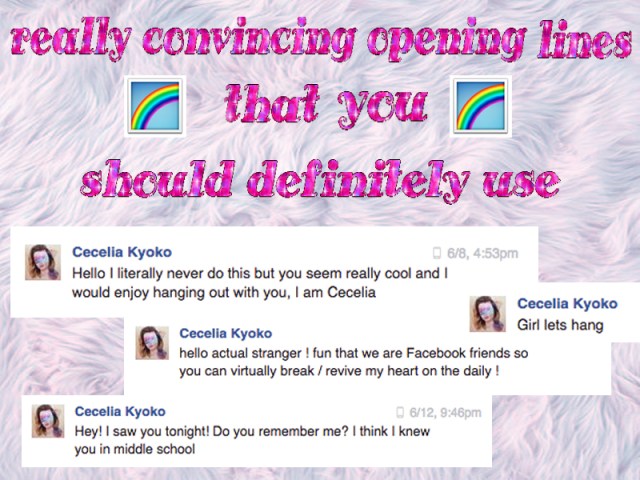 6. Instagram
I gave you a really thorough defense of Instagram as a dating app a few months ago. Check in: how did that work for you? As a reminder, here's the Instagram formula: 1) Do they like your photos? 2. Do they also follow you? 3. Slide into those DM's with confidence and poise (see above photo for inspiration).
5. Twitter
Like the age-old nursery rhyme says: "First comes Twitter, then comes Snapchat, then comes texting nudes to a complete and total stranger." Patty-cake to that one, kiddos. No but seriously, I've never met anyone through Twitter. What I have met is people living in other cities who I will awkwardly DM if I ever visit their city. 
4. Art Opening
Look at that girl, staring thoughtfully at the crumpled piece of wet cardboard on the floor. So delicate. So pure. Quick, can you learn the words "postmodernity" and "materiality" fast enough to get her to fall in love with you? Good news: all of the girls here are queer. Bad news: every single one of them will splatter your heart like a Jackson Pollock.
3. A Bar
A classic that has stood the test of time. I have nothing bad to say about this opportunity except for consent is sexy and I believe in you.
2. Tinder
This one is great because you either talk to someone and go on a date or you don't talk to someone and then go on a surprise date that can happen anywhere from the grocery store to the gynecologist, and starts with: "Hey, I'm Stephanie, we matched on Tinder and you didn't respond."
1. A-Camp
If The L Word opening song is the true measure of the way that we live, this is the only place where you can check all those verbs off your list. Breathing? So much it hurts. Cheating? If you mean cutting the dinner line to get food faster, sure. Kissing? I mean, maybe. I wouldn't know from experience, per se, because I'm an extremely professional staff member who doesn't kiss campers or staff members or literally everyone who expresses interest, but I've heard this is the Number One place for making out. Actually, meeting people here isn't the problem — it's deciding between the five soulmates you meet that's hard.