Here's a crazy thing to think about: young people today were given zero tools to build meaningful relationships with each other in digital spaces. For generations before us, meeting people was pretty much the same. Step one: be in a place! Step two: talk to a person who is also in that place! Can you imagine this? Terrifying.
If you feel wildly confused about how to be your best self or meet people online, take a deep breath and remember that you are bravely living alongside the first group of humans who have ever had to deal with this completely new digital social landscape. Not only that, but you're queer, and that makes the process of meeting someone via the Internet statistically harder! We're all playing fast and loose and confused in this world, and you know what? You're doing great, champ.
I've sort of figured out how to use all the anxiety-inducing dating apps like Tinder and OkCupid. It is, however, depressing to know that I have eighteen hundred Tinder matches and have found only two long-term partners through the app. Even with those, I'm pretty sure we would have met anyway given our social circles. I've found Tinder to be most useful if I wake up in a new city with no friends and want to have plans by the end of the night. The dates end up being fun and casual, and by that I mean the dates are mainly sexual and someone will ghost the other person afterwards!
I've made friends through OkCupid, but I haven't found any romantic partners using it. OkCupid is slower than Tinder. I'll plan a date on Monday for Friday night, and we'll have dinner before we go dancing. There's probably a piece in here about how these apps create a kind of psychological categorization. We all have agreed that Tinder is for sex, so that's what we use it for. OkCupid is for getting to know someone, which can lead to either romantic relationships or genuine friendships.
The most success I've had in the world of online dating is actually through Instagram, the best unintentional dating app (especially for queer people). First of all, there's a pretty big group of people who have deleted Tinder and OkCupid out of frustration but are still single and interested in starting a relationship. You know where these people are? Instagram. And unlike dating apps, which are loaded with expectations, the process of expressing interest in someone through Instagram is pretty simple. In fact, it's the virtual equivalent of seeing someone in public space and saying, "Hey, you look familiar."
Also, with Instagram you can search for photos based on places, so you can find someone who frequents the same coffee shops, bookstores and bars as you do. And when you find someone who you'd like to get to know IRL, you can simply like their photo — which, on the Internet scale of creepy things you could possibly do, is pretty harmless. Maybe they'll like one of your photos, too. Then maybe you'll play the photo-liking game for a week before you follow them and they follow you back. Soon you'll be clear for creepy-free direct messaging, and the rest is a romantic tale told by your future child: "Mom met Mommy by sliding into the DMs."
The best advantage of using Instagram as a queer dating app is that it gives you the opportunity to be your most authentic — or maybe most aspirational — self on there, and to find other people near you who appreciate it. It's not easy to figure out your identity and find your niche. A year ago, I was in a rocky and tumultuous period of confusion as a soft butch gay-by. My social media strategy was to place myself in the presence of interesting scenery, where I felt it was okay to be self-indulgent enough to ask for a photo. Also, I didn't like my face, so I usually found a way to hide it (here, I peel an orange).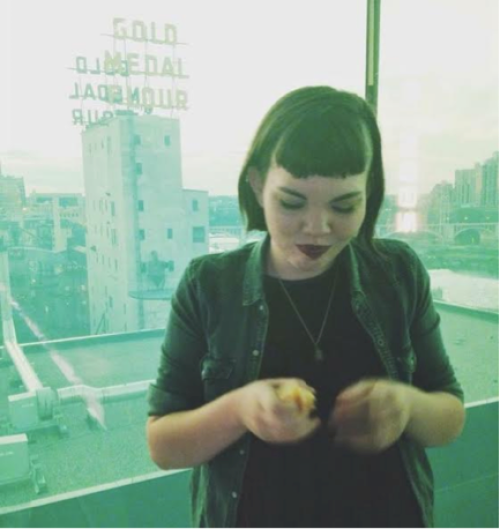 Today I accept and embody that truly, I'm a glitter witch femme. This is a very specific brand, but it's that level of specificity that lets other queer femmes know pretty instantly that I'm also a queer femme, which makes it easier to start conversations that could lead to relationships. Now, I'm living my best brand in photo shoots that I organize with other queer friends who also get my brand – and we're releasing a zine together!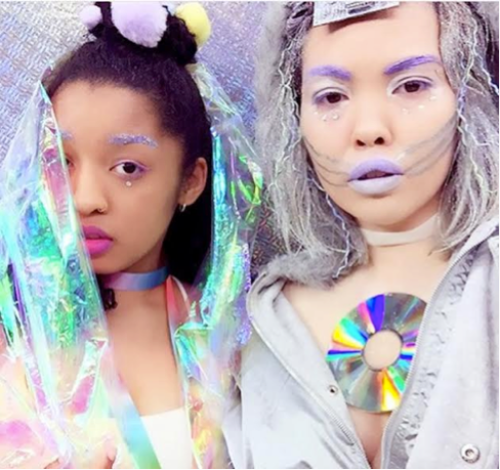 The magical thing is that when I digitally connect with the people I've been looking for, I am one hundred percent certain that they are the best people I could meet (out of all the possible people in the world). This is an amazing feeling. Figuring out how to use digital spaces is as powerful as living your best queer life, with certainty.
You can master this complicated digital world and find people to live your best life with. Is it hard? Is it an oddly specific process? Will you feel creepy or like you're trying too hard sometimes, even though you're just playing by entirely new social rules that everyone's had only a few years to figure out? Yes! But is it worth it? For sure.
Here are some tips for living as your best online self:
You have to get past the idea that caring about your social media presence makes you selfish or shallow. This idea was created by the generation before us and popularized in a million millennial thinkpieces. Ugh, get off my lawn (newsfeed).
Don't know your brand/style/niche/identity/special thing? That's okay. A good way to figure out your brand is to ask: what is something that you enjoy doing in your daily life that you would enjoy doing more with someone else who also enjoyed doing that thing? For me, this includes eating colorful donuts, appreciating glitter, and reading Tarot cards. Posting pictures of these activities turned my brand into "donut-eating witchy glitter femme," which is what I was aiming for. But if your brand turns out to be "dog-walking hiking beer-drinking tattoo'd gentle butch," that's okay too.
Invest some time in purging your Instagram of photos that don't reflect your chosen niche/new you. Screenshot photos, save them to your computer, and then delete them from Instagram. Here are three photos I deleted out of the five hundred from my purge:
When you think about new content to post, it's okay to post things that make it seem like you're already living your best queer life. This is controversial, but I think that making your life seem interesting on social media can be positive depending on the intention that you have behind it. There's this idea that people only use social media to hide behind an image or to lie about their lives. My goal with rebranding my self and my life on social media was to attract people who might relate to the way that I see the world.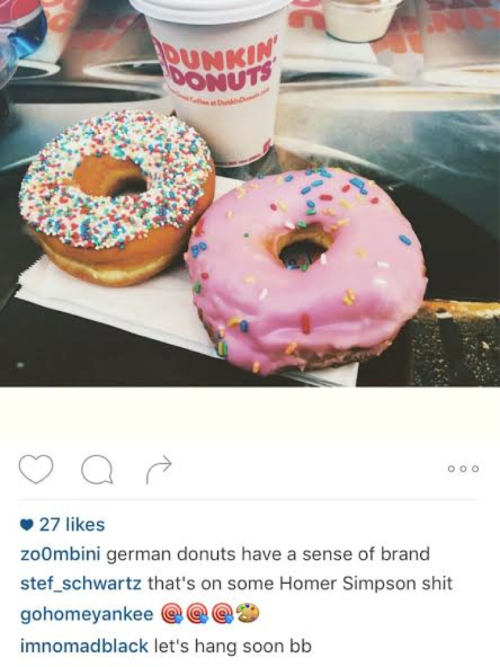 This was the first photo I posted from my social media reboot last summer. It's a good case study in how others respond when you live your best brand. We have the Stef Schwartz of No Filter fame acknowledging my new photo for its "Homer Simpson shit" level of authenticity, Abby noting what in emoji-speak I think translates to "bullseye with this color palette," and a really hot queer from Berlin straight-up commenting, for everyone else to see, "let's hang out." Observe: these are just donuts!
In a way, there's a fake it 'til you make it aspect at play here that I didn't know would happen when I chose to be more considerate of my image on social media. The braver I was in posting pictures of my (seemingly) interesting life, the more courageous I became in actually living that version of my life. I even started to believe I was the person that I looked like online. Turns out: I wasn't lying! I am that person! At some point while I was making out with another glitter witch femme, I realized that my life was how it appeared on social media, and how I hoped it would be.
I think how we interact as queer people on social media is tangled up with how we relate to authenticity. We've all been forced to be an inauthentic version of ourselves at some point in our lives. Once we finally figure out who we are and pursue that entirely, we become skeptical of anything that fragments the new identity that we've worked hard to earn. Instagram can feel like at threat to that identity. It can feel like it asks us to fragment ourselves. But if you're in the process of figuring out who you are, if you know who you want to be but you aren't sure how to get there, social media can be a really empowering tool. Social media can be a positive challenge that helps us figure out how we hope to be seen, and help us make that a reality.