Hi there, buttercups! Working from home more has allowed me some really amazing moments with my dog Cyrus, but yesterday was one of the best: late in the evening, he collapsed dramatically onto his toy, opened his mouth to pick it up, ended that in a yawn, IMMEDIATELY closed his eyes, then woke up and tossed it in the air and caught it. Ta-dah! Let's all be fancy like Cyrus this weekend.
This week, Taylor Schilling came out, helping to prove my totally scientific and absolutely verifiable theory that every woman to share space with Samira Wiley will eventually realize that they are queer. I mean!
The last installment of Principles of Pride was so! Good! Meet trans elder Ceyenne Doroshow.
M wrote about her very first Pride, and about building the future while mourning a lost past.
Janelle Monáe in No Filter. That is all.
Were you at Rise Up to Get Down on Sunday? The benefit show raised $2k for queer futures, and A+ members can watch it again here!
And then there were your comments!
---
On Sunday Funday Is Lizzo's Soulmate and So Can You:
The C Me Award to Morgan le Gay: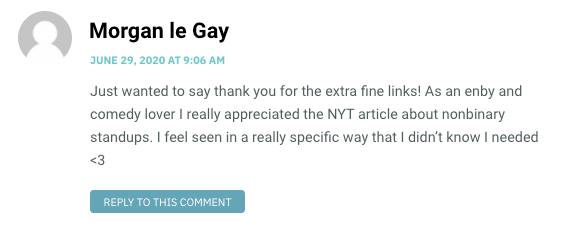 On Pop Culture Fix: Clea DuVall and Kristen Stewart's Christmas Rom-Com "Happiest Seasonwp_postsDrops Its First Promo Pic:
The What Do You Bench Award to Kristana and msanon: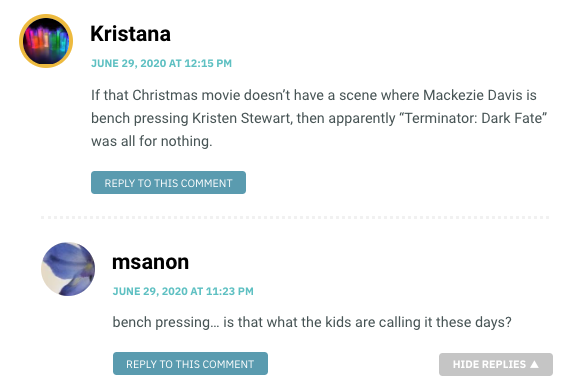 On BREAKING: Actress Taylor Schilling Has An Actual Confirmed Girlfriend, Happy Pride To Us All:
The Tender and Exploratory Award to hihello and Stef: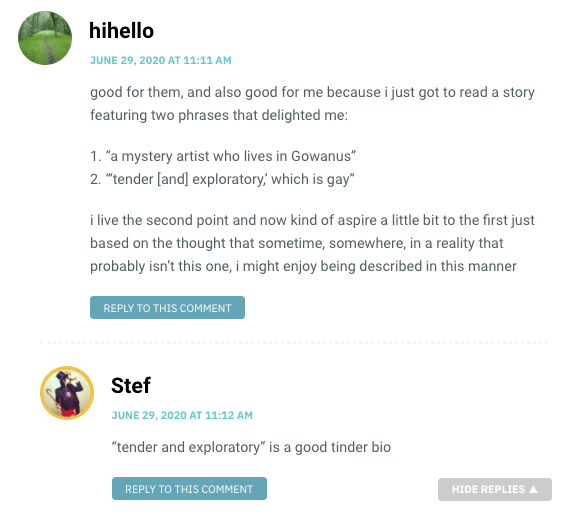 On No Filter: Janelle Monáe Does High Art and Cara Delevingne Does Some Other Kind of Art I Think:
The Inquiring Minds Award to Hana:

On You Raised $2K for Women for Political Change at Rise Up Get Down — A+ Members Can Watch the Replay!
The Cherry On Top Award to Sophia:
On What's Gay and New and Streaming On Netflix, Amazon and Hulu in July 2020?
The Tough Job Award to Caitlin:
And on My Top 10 Favorite Lesbian Movies: Heather Hogan, the Tender Butch Who Wants a Happy Ending:
The Second Base (Is Sobbing) Award to Kira:
---
See a comment that needs to be here? Tag me! I'm [at] queergirl.