We knew, but we didn't know know, you know?
Yesterday, a very specific portion of the queer internet exploded as multidisciplinary artist Emily Ritz posted a tribute to apparent girlfriend Taylor Schilling in her Instagram stories: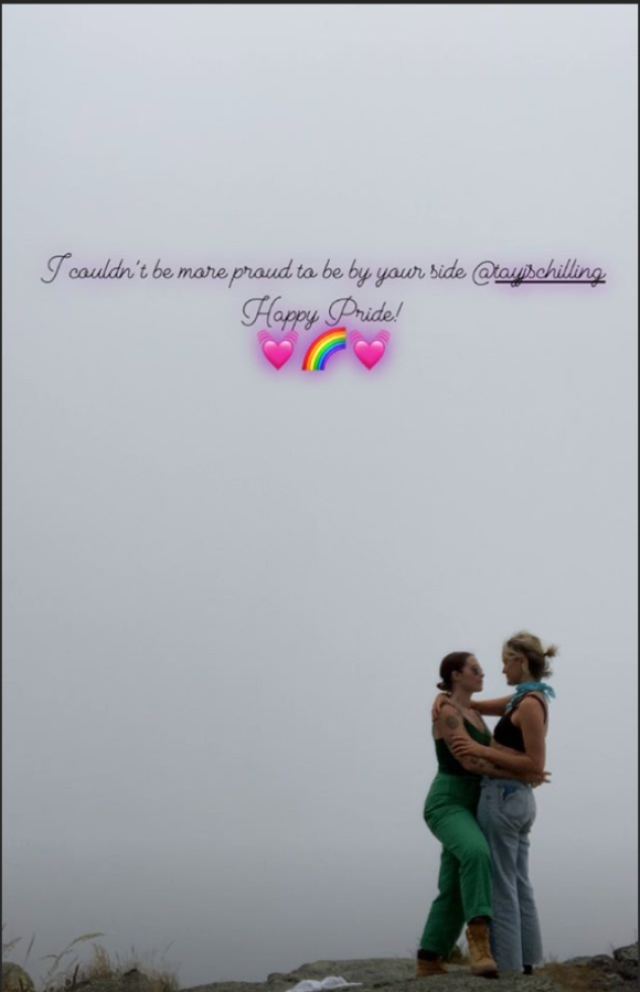 In a classic VERY GAY move, Taylor reposted the image an hour later with red hearts of alternating shades of red. This is the classic queer woman's language of love in the times of 2020. You don't have a friend hike up a mountain with you and your girlfriend to photograph you in your comfortable pants and sensible hiking boots, embracing in the mist (from a respectable distance, and hopefully wearing a mask) unless you gals are SERIOUS.
Wait, you may be thinking, didn't Taylor Schilling come out a million years ago? The answer is no – Schilling is notoriously quiet about her private life. While this very website did speculate about her predilection for showing up to black tie events on the arm of quintessential famous person girlfriend and angel of the morning Carrie Brownstein, the relationship was never really discussed publicly and we were left to assume these two were just really good friends. Schilling has also been linked to costar and confirmed heterosexual arm candy Zac Efron and a mystery artist who lives in Gowanus, but has never really spoken to the press about anyone she's dated.
According to JustJared, Emily Ritz and Taylor were introduced by mutual friends last year and the relationship grew into a romantic situation last year. Ritz is a visual artist and musician based in Hudson, NY whose work is described as "tender [and] exploratory," which is gay. Her paintings feature "intricate organic forms­, inspired by coral reefs, flora, fauna, and other natural phenomena, resembling surreal botanical drawings," according to this 2019 piece in Chronogram; she refers to this imagery as "Lumpland." Ritz's instagram story highlights also include a series involving her sticking her fingers into assorted coral-based sea life at an aquarium, which also seems pretty gay.
Pride is a popular time to come out; Hairspray's Nikki Blonsky just announced her queerness via TikTok in easily the gayest way possible (with the music of Diana Ross, obvs).
Everyone is gay. Congratulations, you crazy kids.