Malinda Lo has been an inarguably essential creative force in bringing us all to this current moment in queer women's pop culture – long before we had The Half of It or the current rainbow of queer YA, Malinda Lo brought us Ash, Huntress and a wealth of writing by and for queer girls online. Her work has remained incredibly relevant and sustaining to this site and this community, and her voice on current leaps forward in lesbian cultural production remains unparalleled. Which is why we're more excited than we can say to partner with PenguinTeen to debut the cover and a new excerpt from Malinda's latest and most personal book, Last Night at the Telegraph Club.
"That book. It was about two women, and they fell in love with each other." And then Lily asked the question that had taken root in her, that was even now unfurling its leaves and demanding to be shown the sun: "Have you ever heard of such a thing?"
Seventeen-year-old Lily Hu can't remember exactly when the question took root, but the answer was in full bloom the moment she and Kathleen Miller walked under the flashing neon sign of a lesbian bar called the Telegraph Club.
America in 1954 is not a safe place for two girls to fall in love, especially not in Chinatown. Red-Scare paranoia threatens everyone, including Chinese Americans like Lily. With deportation looming over her father—despite his hard-won citizenship—Lily and Kath risk everything to let their love see the light of day.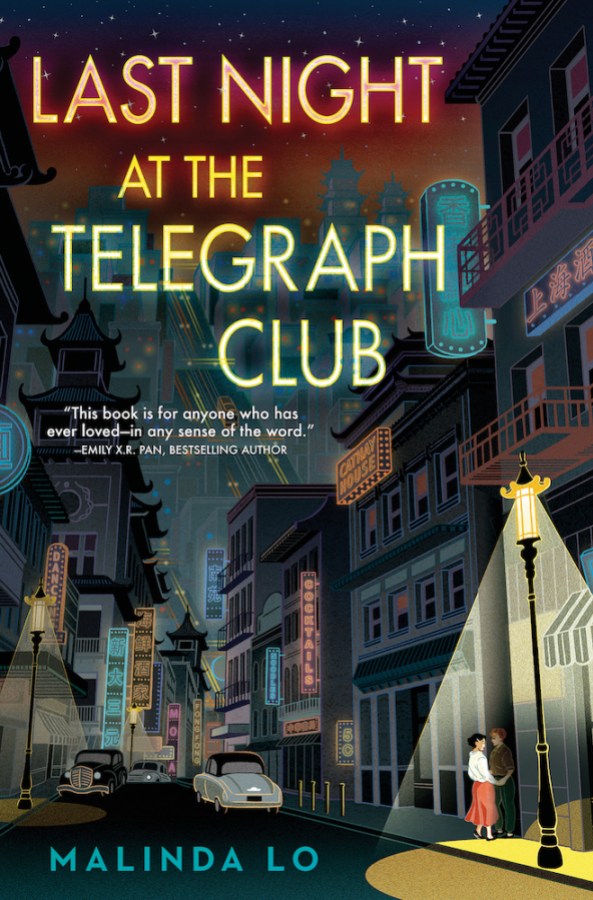 An Excerpt from Last Night at the Telegraph Club
The first time Lily had gone to Thrifty Drug Store had been sometime last year. She had ducked in to buy a box of Kotex, because she hadn't wanted to get them at the pharmacy in Chinatown, where she'd risk running into people she knew. Thrifty was just outside the neighborhood, so her friends didn't usually go there. She had soon discovered that Thrifty had another advantage over the Chinatown pharmacy: it had a very good selection of paperback novels. There were several rotating racks of them in a sheltered alcove beyond the sanitary napkin aisle. One was full of thrillers with lurid covers depicting scantily clad women in the embrace of swarthy men. Lily normally bypassed that rack but today she paused, drawn in by The Castle of Blood, on which the blonde's red gown seemed about to slip off her substantial bosom, nipples straining against the thin fabric.
The book rack alcove was normally deserted, but even so, Lily spun the rack self-consciously, retreating behind it so that she was hidden from view. The women on these book covers seemed to have a lot of trouble keeping their clothes on. The men loomed behind them or clutched them in muscular arms, bending the women's bodies backward so that their breasts pointed up.
There was something disturbing about the illustrations — and it wasn't the leering men. It was the women's pliant bodies, their bare legs and lush breasts, mouths like shiny red candies. One of the books had two women on the cover, a blonde and a brunette. The blonde wore a pink negligee and knelt on the ground, eyes cast down demurely while the shapely brunette lurked behind her. The title was Strange Season, and the tagline read, "She couldn't escape the unnatural desires of her heart."
An electric thrill went through Lily. She glanced around the edge of the book rack, sharply conscious that she was still in public, but although she could hear the ringing of the cash register at the front of the store, she didn't see anyone approaching her corner. She went back to the book, opening it carefully so that she didn't crease the spine, and began to read. The book was about two women in New York City: a young and inexperienced blonde, Patrice; and an older brunette, Maxine. When Patrice was jilted by her boyfriend in public, Maxine took pity on her and helped her get home. Thus began their somewhat confusing relationship, which veered from Maxine setting up Patrice with new men, to strangely suggestive conversations between the two women.
About halfway through the book, things took a turn. Patrice arrived unexpectedly at Maxine's Fifth Avenue penthouse, distraught after a bad date, and Maxine began to comfort her.
"Why do I want to kiss you?" Patrice whispered as Maxine stroked her long blond hair.
Maxine's fingers jerked, but then she resumed the rhythmic petting. "I don't know, Patty, why do you?"
Patrice twisted around on the couch, rising to her knees. "Max, I'd rather be here with you than on any date!"
Lily turned the page, her heart racing, and she could barely believe what she read next.
Maxine pushed Patrice back against the velvet cushions, lowering her mouth to the girl's creamy skin. "You're like me, Patrice. Stop fighting the possibility." Patrice whimpered as Maxine pressed her lips to her neck.
"Max, what are you doing?" Patrice gasped. "This is shameful."
"You know what I'm doing," Maxine whispered. She unbuttoned Patrice's blouse and slid the fabric over Patrice's shoulder, stroking her breasts. Patrice let out a sigh of pure pleasure.
"Kiss me now," Patrice whispered.
Maxine obeyed, and the sensation of Patrice's mouth against hers was a delight far beyond shame.
Lily heard the creak of wheels rolling in her direction, and she quickly peeked around the book rack, her skin flushed. A clerk was pushing a metal cart stacked with boxes of Kleenex past the shelves of Modess and Kotex. She hurriedly closed the book and stuffed it into the rack behind the novel Framed in Guilt. She sidled over to the next rack — science fiction — and pretended to peruse the books.
Her position enabled her to keep an eye on the clerk, who was restocking the shelves at the end of the aisle. She itched to return to Strange Season, but she didn't dare read it while the clerk was so nearby — and she could never, ever buy it. The clerk was moving so slowly she felt as if she might jump out of her skin. Usually the science fiction rack was her favorite, but today her eyes skipped over the cover illustrations of planets and rocket ships without registering them. She couldn't stop imagining Patrice and Maxine on that couch together. She wanted to know — she needed to know — what happened next, but as the minutes ticked past, she realized she wouldn't find out today. She had to go get Frankie from school. She cast one last look at the rack that held Strange Season, and left.
Praise for Last Night at the Telegraph Club
"Lo's writing, restrained yet luscious, shimmers with the thrills of youthful desire. A lovely, memorable novel about listening to the whispers of a wayward heart and claiming a place in the world."—Sarah Waters, international bestselling and award-winning author of Tipping the Velvet and The Night Watch
"Exquisite and heart-shattering, Last Night at the Telegraph Club made me ache with wishing. This book is for anyone who has ever loved–in any sense of the word." — Emily X.R. Pan, New York Times bestselling author of The Astonishing Color of After
"Malinda Lo's Last Night at the Telegraph Club is an instant classic, the finest LGBTQIA+ romance I've read in ages. Lo has lovingly re-created 1950s San Francisco and made me feel as though I'd lived there, and her depiction of first love felt so real that I experienced it in long-since-forgotten corners of my own heart." — Bill Konigsberg, award-winning author of The Music of What Happens and The Bridge
"Malinda Lo's Last Night at the Telegraph Club is a beautifully observed story about finding love and fighting for one's identity against tremendous odds. In bringing a fascinating chapter of history to vivid life, this novel illuminates a path to the future through a careful understanding of our past. It's vivid, emotional, and hopeful. I loved it." — Abdi Nazemian, author of Stonewall Honor Book Like a Love Story
"Malinda Lo turns her masterful talent toward an under-covered period of San Francisco history. Last Night at the Telegraph Club is by turns gut-wrenching, utterly compelling, and deeply tender. I loved Lily fiercely, and you will too." — Rebecca Kim Wells, author of Shatter the Sky
"Lo has really outdone herself here. I don't think I can overstate how refreshing it is to read queer historical fiction that is so complex, nuanced, and tender. It's my opinion that this book will quickly become a new touchstone of the genre of queer literature. What an accomplishment."—Sarah Gailey, award-winning author of Magic for Liars and Upright Women Wanted
About Malinda Lo
Malinda Lo is the critically acclaimed author of several young adult novels, including most recently A Line in the Dark, which was a Kirkus Best YA Book of 2017 and one of Vulture's 10 Best YA Books of 2017. Her novel Ash, a lesbian retelling of Cinderella, was a finalist for the William C. Morris YA Debut Award, the Andre Norton Award for YA Science Fiction and Fantasy, the Mythopoeic Fantasy Award, and was a Kirkus Best Book for Children and Teens. She has been a three-time finalist for the Lambda Literary Award. Malinda's nonfiction has been published by The New York Times Book Review, NPR, The Huffington Post, The Toast, The Horn Book, and the anthologies Here We Are, How I Resist, and Scratch. She lives in Massachusetts with her partner.
Last Night at the Telegraph Club releases 01/2021 and can be preordered now!