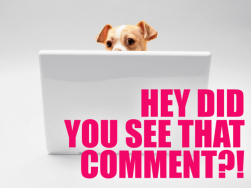 Hi, muffins! We got through the week! I'm so proud of us!
This week, Fonseca reviewed Lizzie, which is extremely relevant to your interests if you're at all into lesbians, Kristen Stewart, or misandry.
You might need to make these dark chocolate sea salt cranberry nut bars from Femme Brûlée. 
OMG: How To Give (Or Get) a Strap-On Blow Job
Not a fan of the gym? A.E.'s got all the nerd gear we'll need to make it through.
This was the best Friday Open Thread! You all have the best types!
Oh hey, nothing to see here, it's just a Style Thief for KAT. SANDOVAL. IN. BLACK. TIE. I am now a ghost.
And then there were your comments!
---
On Monday Roundtable: What Reality Show/Game Show Would You Destroy?
The Not Here to Make Gal Pals Award to Jeanna:
On Also.Also.Also: Lesbian Jesus Hayley Kiyoko, Queer Parenting in Appalachia, and Other Stories You Can't Miss:
The Poptarts from Appalachia Award to Snaelle:
On How To Give (Or Get) a Strap-On Blow Job:
The Packing List Award to Adèle:

On I Demand a Lesbian Cop Show Spinoff of "The End of the F**king World":
The Overnight Shipping Award to Sally: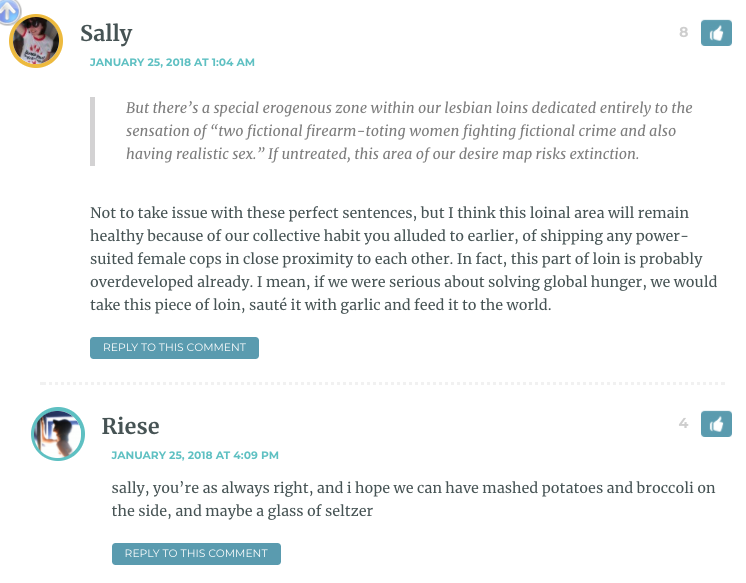 On This Queer House, Vol 10: New Year, Newly Organized Queer House:
The Inspector Catdget Award to Adèle:
And on 25 Pictures Technically Not of Lesbian Sex According to Stock Photography:
The Tool for the Job Award to Beth M and Citali Salazar:
And the Urge to Merge Award to innaffiare: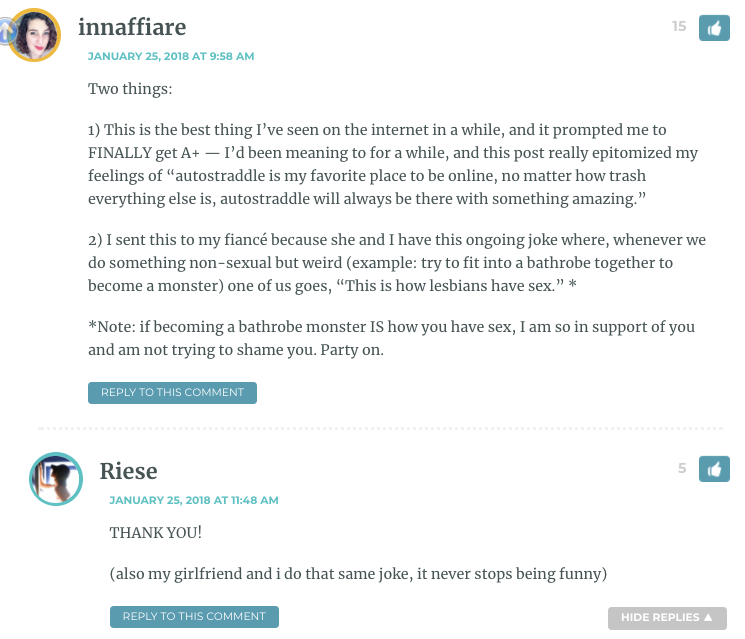 ---
See a funny or amazing comment that needs to be here? E-mail me at queergirlblogs [at] gmail [dot] com!