I've been in mourning and listening to The Cranberries non-stop since the news broke on Monday that Dolores O'Riordan, the lead singer of the band, died suddenly. The cranberries were a very important part of my teen angst years. Those years were extra angsty for me given that I was one of a few people of color in a very white town, so I had constant but subtle interactions with my peers that left me feeling terrible, though I could never put my finger on why. I didn't know about micro aggressions or structuralized racism yet. My suburban education didn't include things like that. I constantly felt like a pre-verbal child in a bigger, more awkward, hormonally unbalanced body. I cycled through feeling angry and confused and frustrated but was never sure why, and couldn't communicate about it for lack of vocabulary and peers that could relate to my experience. Like most teens listening to music was the best tool I had to let off steam and by some formula of emotion + assimilated music preferences + my love for lilting women's voices, The Cranberries ended up on my very casually titled "I'll never stop crying, I'll never be okay" playlist.
Fortunately I was wrong. I would stop crying, and absolutely be okay. I went to college and had a pretty okay time there to the soundtrack of much less dramatic playlists. Then graduation came and I was terrified. I didn't know how to just go into the world and be okay, I barely knew who I was and what I did know I didn't like much, so naturally I went into a panic and got depressed. Part of that panic led me to making a new friend very fast, too fast to be real but I didn't realize that at the time, and deciding to drive from Philadelphia, PA to Denver, CO with her on a whim. I haven't thought about that road trip in years, but all this listening to The Cranberries this week brought it back to memory because in the 30 hours it took us to get from point A to B, at least 15 of them were spent listening to the Cranberries. No exaggeration. We didn't sleep, only stopped to eat crappy truck stop food and use the bathroom, and listened to The Cranberries All. The. Time. I'm sure you're wondering what this has to do with nut bars and I'M GETTING THERE OKAY?!
Anyway, music has an uncanny ability to remind you of places and things and people you'd long forgotten and when that road trip popped into my mind I remembered the fun, and freedom, and sadness, and insecurity I felt during the adventure, but also the hunger. I spent a ton of time in that car hangry as all get out. In trying to keep my hunger and moodiness to myself so as not to add time to our trip with another stop, I gave myself a lot guilt for forgetting to pack the box of kind bars I'd bought for the trip and left on the counter. That is how I arrived at this recipe. I decided to make a batch of nut bars in honor of both the bars I spent hours wishing I'd brought on that trip, and The Cranberries. Laugh all you want, it's ridiculous but they are delicious. There's orange zest mixed into the chocolate drizzle, cranberries, pecans, walnuts AND, almonds, plus a sea salt finish on top. Make these bars. Make them if you're looking for healthy snacks and don't have the budget to buy them from health food stars. Make them if you're going hiking. Make them if you're going on a road trip. Make them if you have snack obsessed kids. Just make them. Bonus points if you listen to The Cranberries while you do.
Dark Chocolate Sea Salt Cranberry Nut Bars
Ingredients:
1 1/2 cups raw unsalted almonds
1 cup raw unsalted walnuts
3/4 cup raw unsalted pecans
1/2 cup dried cranberries
1/4 cup puffed rice cereal (I used cocoa rice puffs)
1 tablespoon ground flax meal (ground flax seeds)
1/2 cup brown rice syrup
2 tbs maple syrup
2 tbs cranberry juice (optional)
1 teaspoon vanilla extract
1/4 teaspoon salt
1 cup dark chocolate chips or chunks
2 tablespoons coconut or vegetable oil
1 teaspoon orange zest
1 teaspoon coarse sea salt
Note: This is easier to make if you can get your hands on a candy thermometer. If you can't, no worries but I suggest it!
Preheat oven to 400° F. While it heats you'll need to oil up a lot of things. Grab a large mixing bowl and coat it with oil. Grab a 9×13 (quarter sheet) pan, line it with parchment paper then coat the paper with oil. Get a liquid measuring cup and oil that down too, and lastly a heatproof rubber spatula (or a spoon if you don't have one) and oil it. You're doing this because brown rice syrup is very very sticky and unless you're interested in spending a lot of time scrubbing it off of things, this will save you.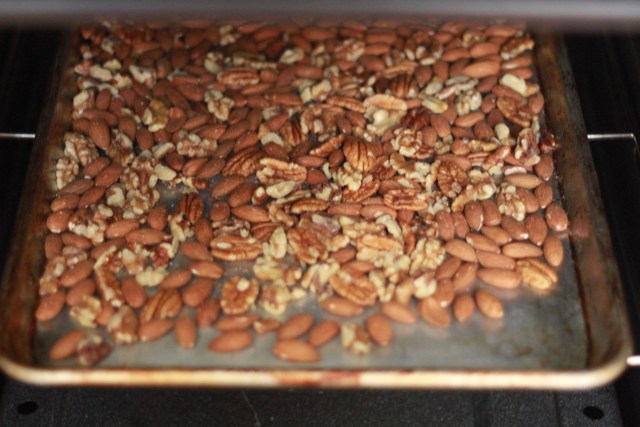 Once the oven is heated, pour the almonds, walnuts and pecans onto a baking sheet and roast them in the oven for about five minutes.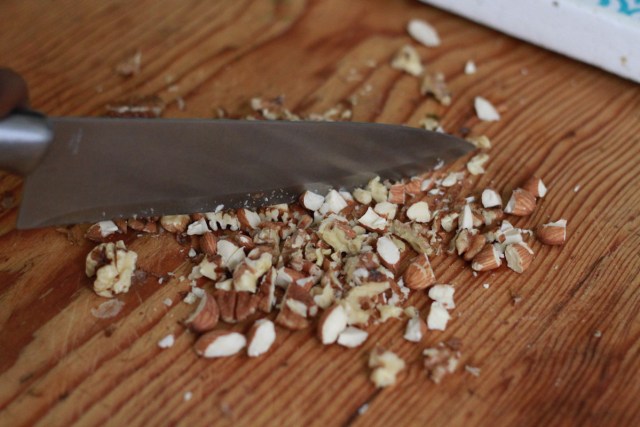 Remove the nuts from the oven and pour them into your prepared, oiled mixing bowl. Scoop out 1/3 cup of the nuts and roughly chop them then pour the chopped nuts back into the bowl.
Add the cranberries, puffed rice, and flax to the bowl and toss everything to combine. Set aside.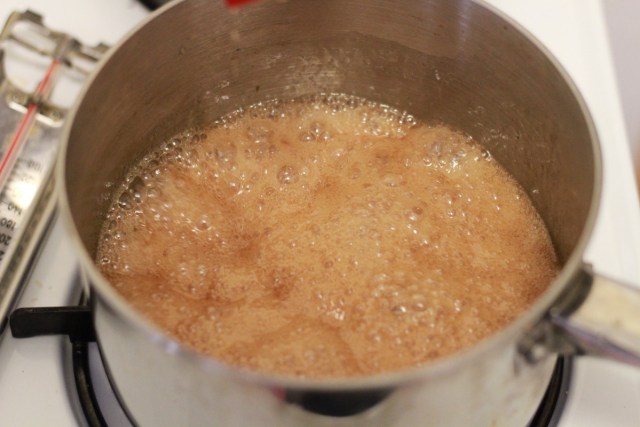 In a small saucepan, combine the brown rice syrup, maple syrup, cranberry juice, vanilla extract, and salt. This is where you'll use your candy thermometer if you have one. Cook over medium-high heat until the syrup mixture reaches 260°F or the "hard ball stage" on the thermometer. If you are doing this without a thermometer set a timer for five minutes but keep an eye on it. This is by far the most stressful part of this process. The syrup will start to bubble and foam and get darker in color but that is GOOD. If it gets to the point that it looks dark brown and stringy instead of bubbly you've gone too far. It's okay if you are a little under or a little over the ideal temperature. Over means the bars will be less chewy and more like brittle, under means they'll be softer and won't hold together as well but equally delicious.
Once your syrup is ready IMMEDIATELY pour it over the nut mixture and stir it all together until everything is coated in syrup and sticky. Now dump the mixture into your parchment lined sheet or baking pan. You could also use an 8×8 pan but the bars will be SUPER thick. If that's your thing, go for it.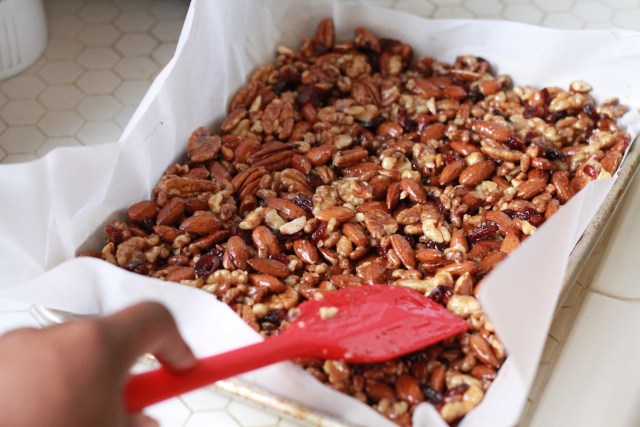 Use your oiled rubber spatula/spoon to press the mixture into the pan and make sure it is evenly distributed. Set aside to cool for 20 minutes.
While the bars cool, make the chocolate drizzle! Combine the chocolate chips, oil, and orange zest in a bowl and microwave it in 30 second increments, stirring after each one, until it is melted. If you like a thick drizzle you'll be ready to go somewhere around 1 minute of microwave time. I like mine thin so I did 90 seconds.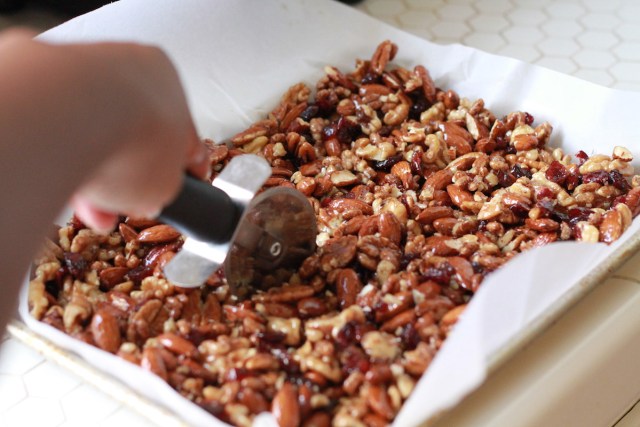 Cut the bars. Use an oiled knife or pizza cutter and cut the bars into rectangles or squares. This recipe makes about 12 medium sized rectangular bars.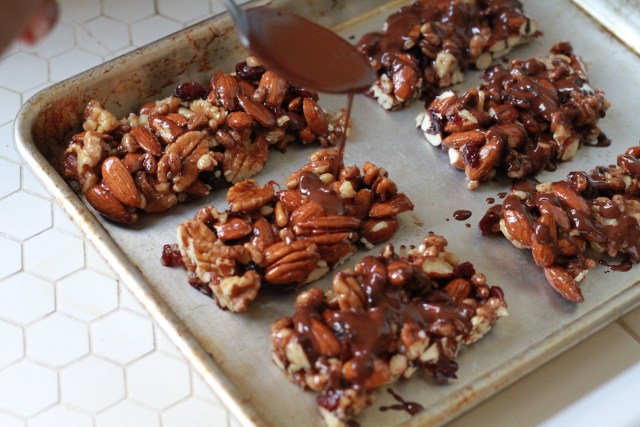 Drizzle! Pour chocolate everywhere. Dip the bottoms in the bowl of chocolate if you'd like, then drizzle chocolate on top too. I used a spoon, but if you like a more uniform drizzle you can pour the chocolate into a ziplock bag and cut the corner off to give you more control.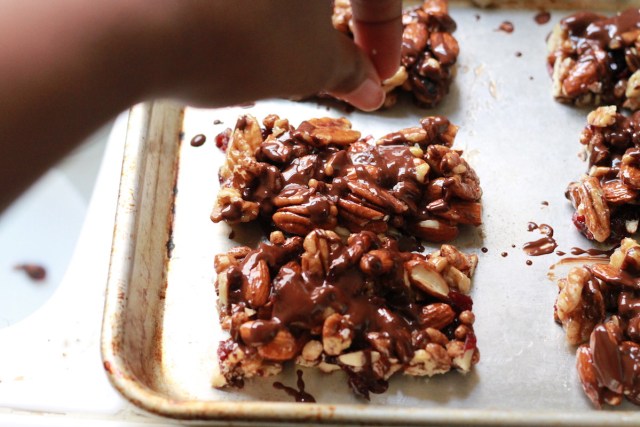 Get your salt bae on and sprinkle a little bit of salt on each bar.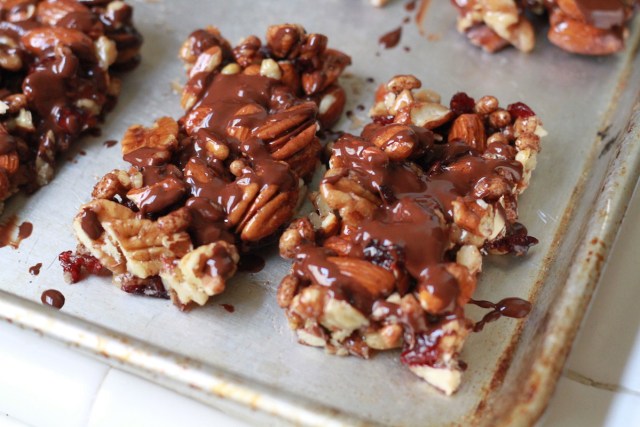 You know what to do.