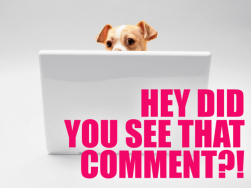 Hi, loves! Have you done yourself a kindness yet today?
This week, Abbi Jacobsen came out!
Laneia answered all your questions (so. many!) in Y'All Need Help.
The team talked about their Myers-Briggs types! (Is it possible to be two different things online and IRL? I think my E and I switch off.)
March Madness is over! Kate and Emaline won! Long live the baby gays, now and forever.
I am so excited for this! Read a F*cking Book: N.K. Jemisin's Broken Earth Trilogy Is a Revolution.
I don't know if you heard, but Janelle Monáe did a thing that might, ya know, make you feel.
The trailer for Pose is here, and people seem to be just a little excited about it.
And then there were your comments!
---
On The National Champion of Kissing: Kate and Emaline of "Everything Sucks":
The Oh Mother, Where Art Thou Award to Chandra:
On Janelle Monáe's Queer "Pynk" Music Video Is Here To Wreak More Havoc On Your Heart and Body:
The On The Menu Award to Alaina and Al: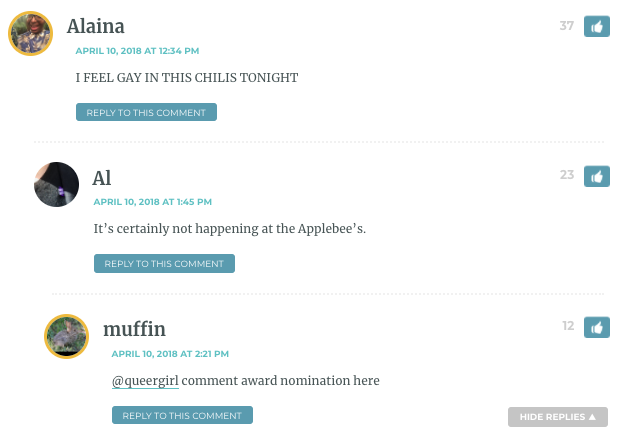 And the Finger-Liking Clam Jam Award to Beth and Snaelle: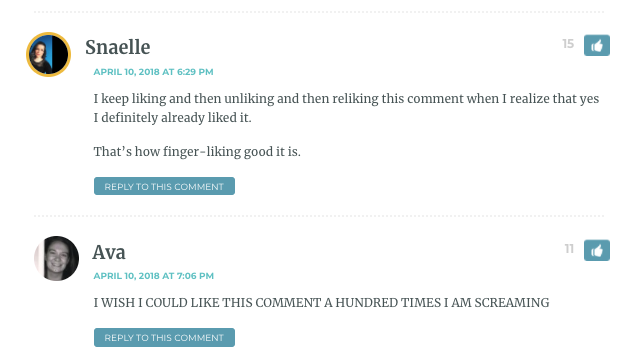 On You Need Help: You Don't Know What To Do With Your Clit:
The Funny Bone Award to Amanda ling and A.E. Osworth: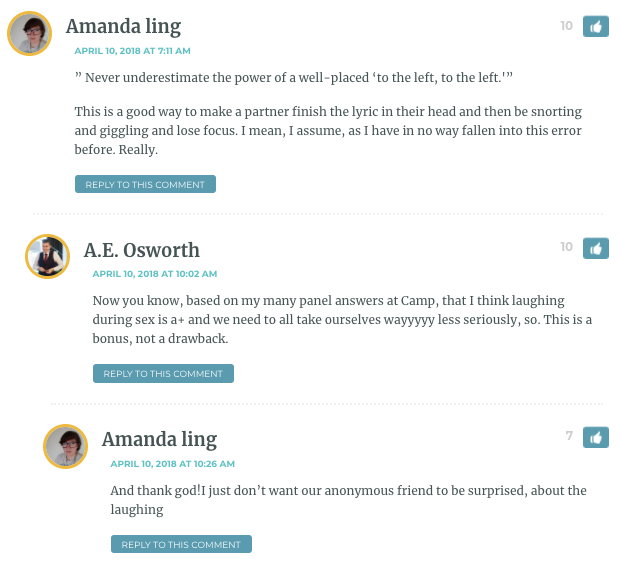 On No Filter: Evan Rachel Wood Gently Serenades You In A Parking Lot:
The Rachel Berry Side Mullet Award to Charlotte:

On Pop Culture Fix: Lena Waithe Is Your Therapist Now and Other Invigorating Information:
The Bi Bi Birdie Award to Catherine and Chandra:
And on Which Characters Are Gay In The New "Oceans 8" Trailer? (All Of Them):
The Tipping Point Award to Isabel and Snaelle:
---
See a funny or amazing comment that needs to be here? E-mail me at queergirlblogs [at] gmail [dot] com!