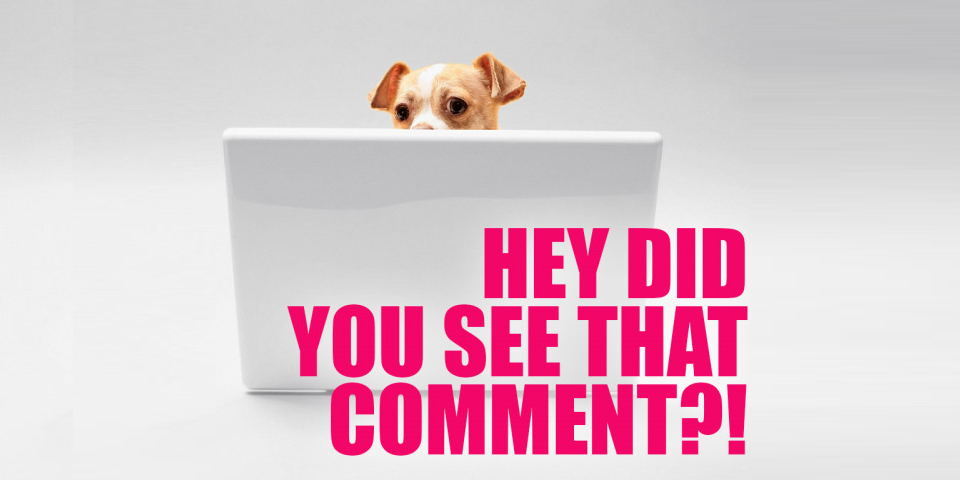 Hello, cinnamon buns! Did the weather turn unexpectedly cold for anyone else this week? My dog Cyrus and I have another pupper houseguest this week, and I've been opening the windows, putting the heavy comforter on the bed, and falling asleep with one dog tucked in on either side, down by my feet. I really can't recommend it highly enough.
This week, Reneice made cheddar apple and impeachment crackers, because fuck yeah she did!
Heather brought us a handy list of Batwoman's most bad-ass moments over the years, just in time for the pilot of her new show on the CW – which was fun and gay and good!
Al(aina) wrote about Young M.A's debut album and why it's the soundtrack of their black queer love story.
Heather lived her best life and released her inner troublemaker playing the Untitled Goose Game.
Adrian reviewed Wait, What?, the new comic book about puberty and sex ed that was illustrated by Isabella Rotman! Friends, I read this book, and it traveled back through time to heal twelve year-old Queer Girl.THAT'S how good it is.
Drew read Andrea Long Chu's new book Females, and had this thoughtful review.
And then there were your comments!
---
On Sunday Funday and Young M.A Say #NoNewJails:
The Silent Mode Award to Snaelle: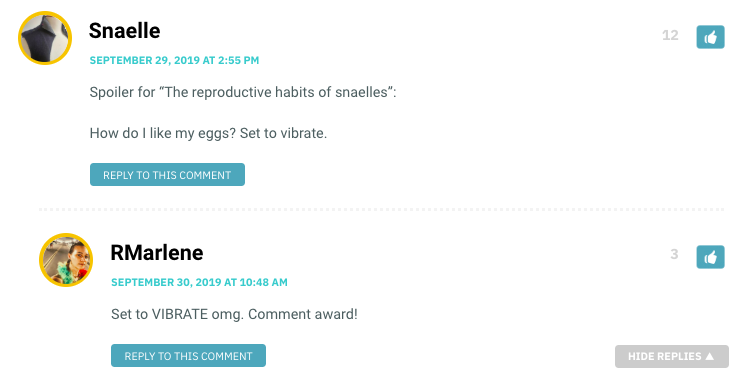 On "Untitled Goose Gamewp_postsIs an Adorable Fifteen-Dollar F*ck You To Authority:
The Duck, Duck, Goose Award to BettyOnIt: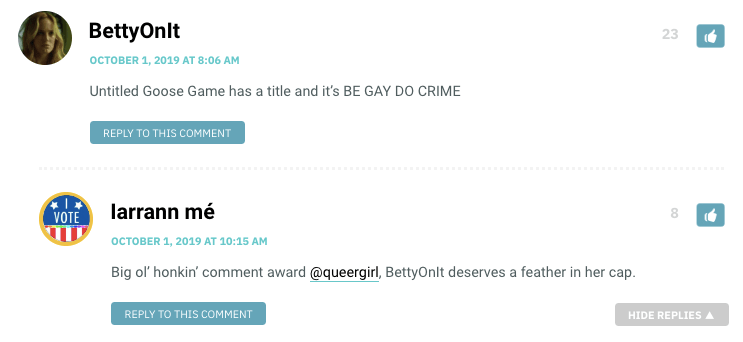 And the This Too Award to alice:

On 'Wait, What?' Is the Body-Affirming, Gender-Expansive Sex Ed Comic Preteens Need:
The Triple Layer Caitlin Award to, well, Caitlin:

On Monsters & Mommis: "Cat Peoplewp_postsand "The Seventh Victimwp_postsCome Out of the Closet:
The Cat Person Award to Al:

On Katie McGrath Is the Bisexual Lawyer of Your Murder Vibe Dreams on "Secret Bridesmaids' Business":
The Hello, It's Me Award to Bex:

On The CW's "Batwomanwp_postsReview: A Really Fun, Super Gay Romp — and Ruby Rose Is Great:
The Bat Pun, Activate Award to Valerie Anne:

And on Call for Submissions: The Power Issue:
The Watt's Up Award to Carmen SanDiego and Kristana:
---
See a comment that needs to be here? Let me know! I'm [at] queergirl on Autostraddle and [at] queergirlblogs on Twitter.