A few weeks ago, I caught a glance of myself in the mirror and noticed I had eyeliner ALL OVER one of my eyes. It looked like I'd lost a fight. I quickly made my way to a restroom and cleaned up, wondering whether any of the many people I'd interacted with all day had noticed.
I almost never look in the mirror. The less I do, the less I have to be confronted with how the vast majority of people I interact with every day see my very obviously trans self. Two years and thousands of dollars into laser hair removal, and I still have a beard. My eyebrows don't comply. My "Adam's apple" is prominent. I know that I'm lovable, valuable, even beautiful — but when the rest of the world doesn't see me that way, I can internalize their anti-Black, transphobic bullshit. And it can get to me.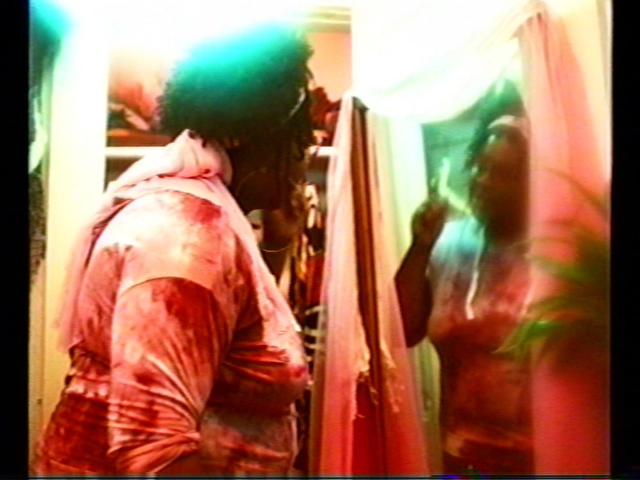 I'm fussin' at the mirror, yeah/ Yeah I guess it is/ But what's lookin' back just can't be me/ I wish it could be clearer/ How to love the skin I'm in/ 'Cause lately I be sinnin'/ Talkin' shit to myself."
For a lot of Black queer and trans femmes, love is something we have to bestow upon ourselves. We don't read the comments on any article about us, we carefully curate our social media feeds, we tread very lightly when dating, and sometimes we avoid the mirror. In this context, I couldn't be more excited to premiere Lafemmebear's new music video for "If," off her previous EP — in advance of the release of her new one, Blaq: the Story of Me.
This song and video feel like a conjure, a gift, like being seen, like being loved. Lafemmebear asks, and then answers, a crucial question for Black queer femmes interested in survival — and, critically, not just survival but joy: "If I loved me despite the fear, would that be alright?"
As the video opens — shot in a charmingly low-fi, VHS-esque style — she takes a moment to contemplate internalized self-hatred. Then decides: yes! And in so doing, empowers us to do the same.
The scene changes. Now draped in delicate pinks and blues, with a hazy soft focus, the camera caresses her gorgeous brown skin as she caresses it herself. She primps and preens in front of the mirror, enjoying gazing upon her own beauty. Her natural hair stretches up towards the heavens. Many of Lafemmebear's songs are full of righteous anger. This one is full of righteous caring, righteous love, righteous affection.
I'm dancing in this mirror, yeah/ I can't believe right now I'm just gon' love on me/ My melanin experience/ Got me entertaining fantasies of seeing me/… I'm just sayin' plainly/ My beauty be amazing/ I can see it lately…"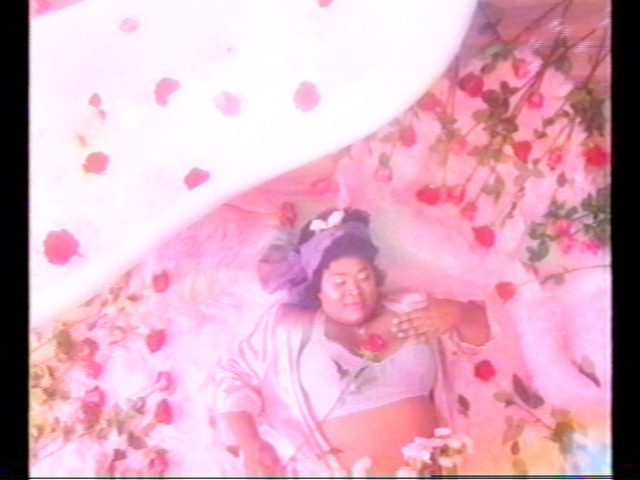 I've never seen — except in art I've created for myself — a Black trans woman experiencing luxury. Opulence. Rest. Care. Repose. Surrounded by rose petals, on a silky, lush, exceedingly comfortable bed. And "we can't be what we can't see." Now that Lafemmebear has shared this vision, it's something I can imagine for myself. Something I can manifest.
The video ends with a spoken word piece by Samantha Goff, which I'll just reproduce in its entirety below, because it's gorgeous, and powerful, and will be running through my mind for quite a while:
To me, Black femme joy is about being unapologetically Black. Everyday, all day. It's about… knowing who you are, and leaning into that and celebrating that, and figuring that out as a journey, but it's a beautiful one. And once you've found the core of who you are, and can truly live it and express it everyday, that's when you are living in your joy, 'cause you're living in your truth. And the times when it gets hard, because the world is not made for Black femmes, especially not made for queer Black femmes, you find your tribe, other people like you, and you commune. And you get through.