"Don't worry, buddy. You're right on time!" So says the weird platypus mascot of Wait, What? A Comic Book Guide to Relationships, Bodies, and Growing Up.
It's a message preteens need to hear as they navigate puberty, friendships, bodies, attraction, and the sticky mess of being a person. This short graphic novel, written by Scarleteen founder Heather Corinna and illustrated by friend of A-Camp Isabella Rotman, is out now through Limerence Press, the same publisher that gave us A Quick and Easy Guide To They/Them Pronouns. It covers the anatomical nuts and bolts of sexuality, sexual health and puberty and also dives into social aspects like consent, how to get support from adults you trust, sexuality and gender identity.
The story features five friends: Rico, Malia, Max, Sam and Alexis. This group of middle schoolers are having a range of experiences with and feelings about sex and their bodies. They talk to each other about some of the tricky topics they're facing, challenge each other's biases and shame, and help pump each other up as they face different challenges.
Rotman and Corinna hope the book will help fill gaps in sex-ed curricula and be a resource for parents and other trusted adults to help walk pre-teens through these essential conversations that neither adults or kids are always comfortable having. The book models language around how to have these conversations by, for example, letting the kids talk about gender and sexuality on their own terms.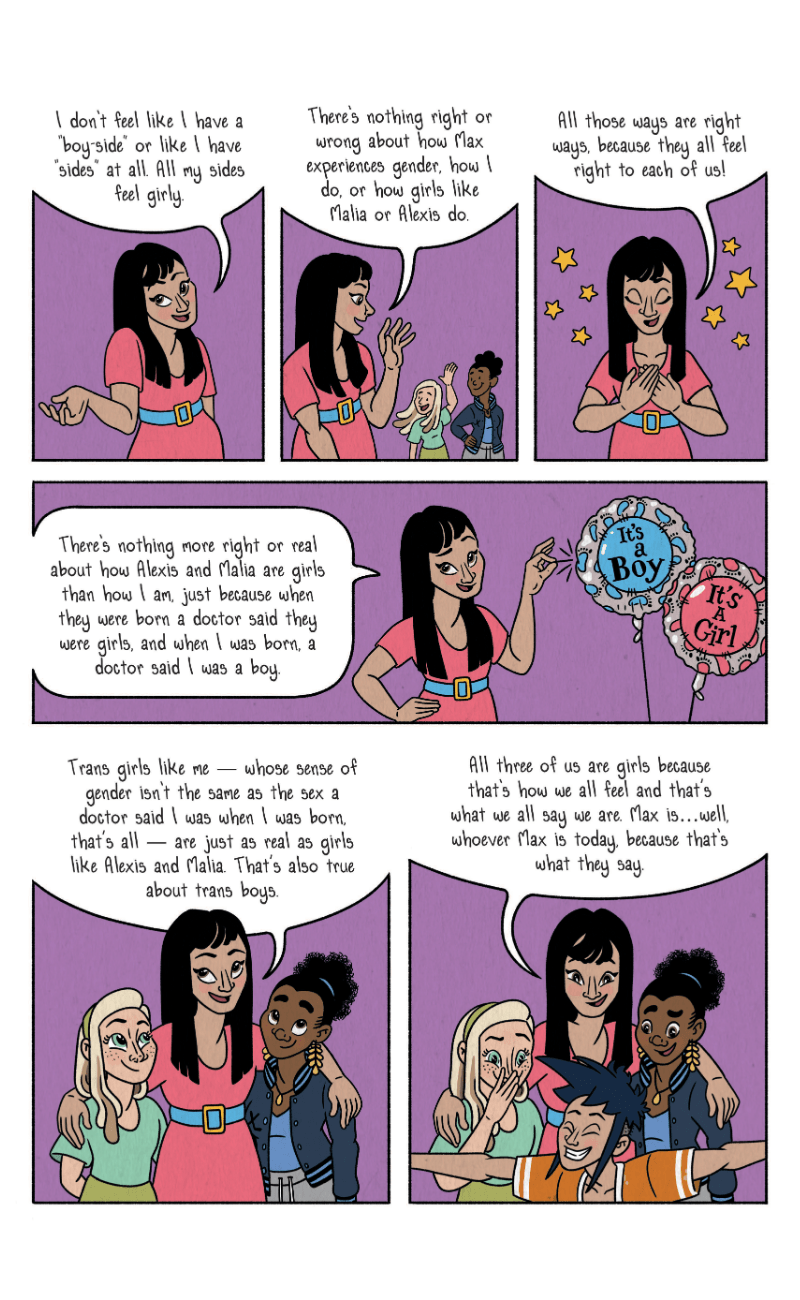 "I do think the majority of the education around gender at this point is being done by sex educators and I want to give them credit for that!" Rotman said. "But when you go and try to look for a sex ed guide you're going to find a lot of really binary language and it was really important for this to be an exception to that. We have trans and nonbinary characters that talk about that in language that is accessible to the age group."
In fact, Corinna said they believe Wait, What? is the first sex ed guide that does not use any gendered language to talk about menstruation, especially targeted at the preadolescent age group.
The book deftly acknowledges that each of its five main characters is different in their experience of their bodies, sexualities, genders, romantic interests, and overall development. It allows each kid to define their experience on their own terms and shows a little of their process of becoming comfortable with their unique selves, while promoting kind and thoughtful behavior toward all peers.
"I came up a punk kid, a queer kid, [in] the 70s and 80s, so normal was never my god that I worshipped," Corinna said. "It's tricky because when people ask us if something is normal, you want to reassure them because you don't want them to feel fearful or shameful or embarrassed. But as the platypus represents, a lot of stuff is weird! It's weird by any standard! There's nothing wrong with saying 'of course it's normal,' to help reassure someone, but we should also make room for people to get more comfortable with things that aren't normal! When you talk about people with… quite uncommon gender identities or orientations, there don't have to be a billion people like that for someone to not have something wrong with them."
Of course, this book is aimed at young people themselves, but it's also a perfect conversation opener for any adult that works with, or frankly knows, any young people. It is non-judgmental and at times truly profound. As a 28-year-old queer, trans adult, I found phrasings and ideas that felt new and resonated, like when the kids talked about how genitals are kind of weird, but so are ears! and toes! As a person who cares deeply about the queer and trans kids coming after me, it feels valuable to have new, age-relevant language to help empower them with information and give them tools for exploration and discovery. Wait, What? is a quick read that packs a lot in, using dialogue, narration and images to share information for all types of learners.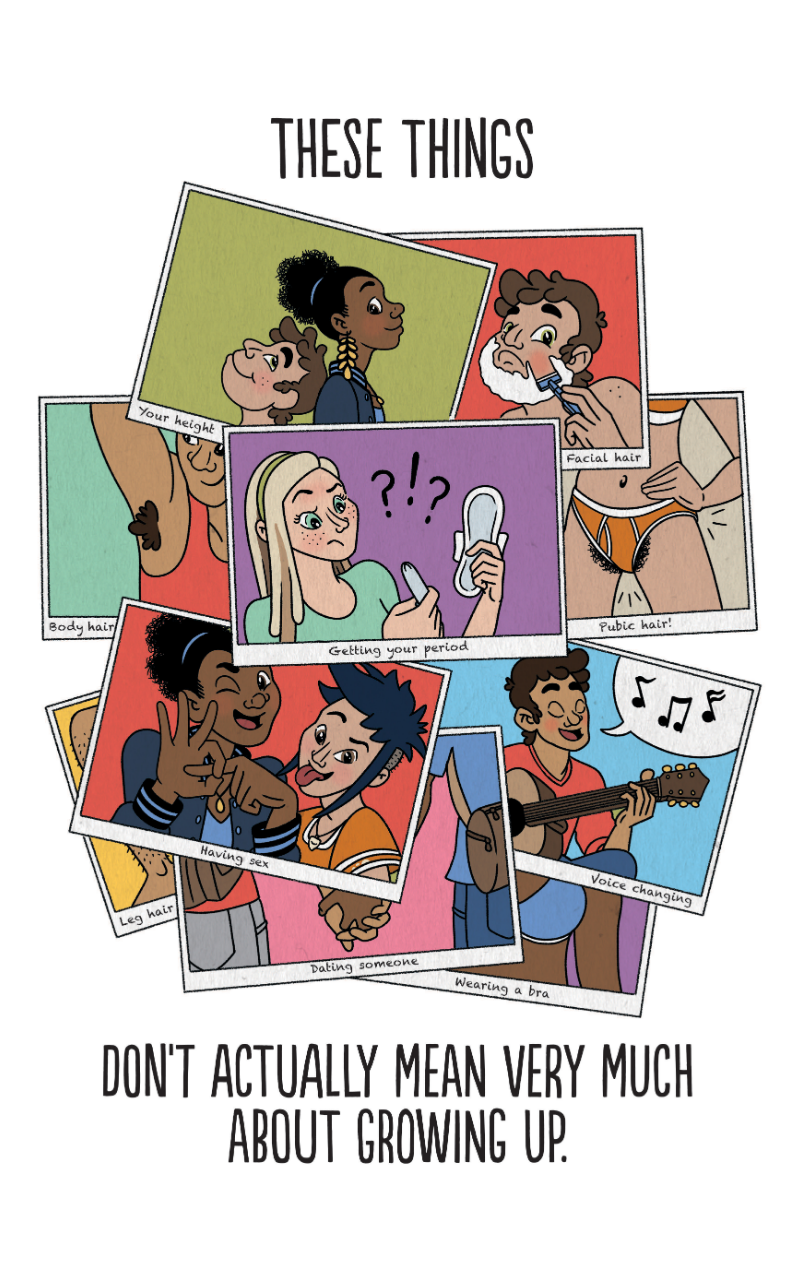 Corinna and Rotman hope the book will make its way into homes and libraries as well as be a helpful supplement for classrooms and sex educators. It's available online wherever books are sold and making its way into real live bookstores too. So far the reception has been very positive, although Corinna acknowledged some nervousness around putting out a sex-positive, gender-affirming book about sex for middle schoolers, because "this age group isn't buying their own books. If the adults aren't ok with it the kids aren't going to see it!" So it's up to all of us adults to get Wait, What? into the hands of kids who need it.
As Rotman put it, "this is very much the book a queer aunt buys you." Hear that, queer aunts?