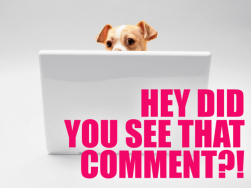 Hi, loves. Oh, wow. Have you taken your prescribed medications today? Have you had a whole entire glass of water? I'm thinking of you, and I'm glad you're here.
Here are some ways you can help Puerto Rico.
Here's a place to feel the things you feel about Las Vegas.
Here's an essay to read if you need a soft space to just be a human who needs other humans. Heather's personal essays are always a gift, and this one was astonishing. The whole entire time I was reading it, I didn't think about anything else in the world.
HERE ARE YOUR PETS. HERE ARE ALL YOUR PETS. HERE ARE HUNDREDS OF PHOTOS OF YOU AND YOUR PETS.
Alaina wrote us a primer on binding!
Remi (KaeLyn's Baby T-Rex) made her debut in No Filter!
Here are the gayest things you named your pets!
And then there were your comments.
---
On Sunday Funday Is Also Losing It Over Kate McKinnon's "Vanity Fair" Double Denim:
The Ripley's Believe It Or Not Award to Merissa and Chandra:
And the Suited and Booted Award to sparkymcdragon:

On PHOTO GALLERY: Queers with Pets:
The Way We Live Now Award to Rous Rose:

And the Pets, Interrupted Award to Carmen SanDiego:

On 50 of the Gayest Nerdiest Things You Weirdos Named Your Pets:
The Bee Charmer Award to Finn and Rachel W.: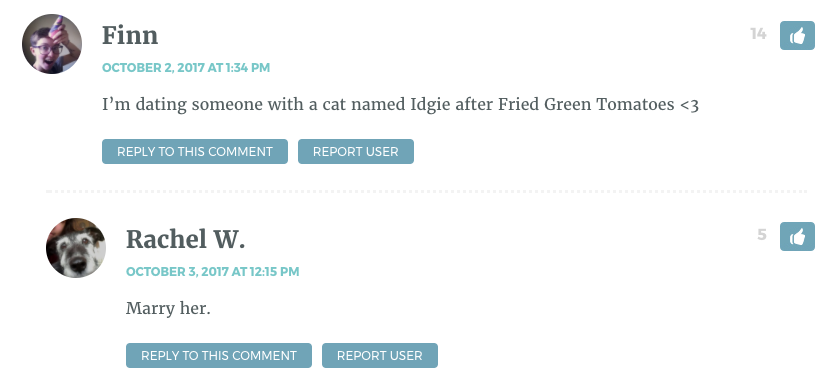 And the Charlize Kitt-on Award to femmefantastic:

On The Gayest Friendship Fights I Had as a Closeted Baby Lesbian:
The Pals or Gals? Award to aj:
On No Filter: Evan Rachel Wood Was the Piano Robot All Along:
The Instrumental Flirt Award to Vicky:
And the Damsel in Distress Award to Blackmar:
And on Such Softness In The Harsh World:
The Same Sentiments Award to amidola:

(We love you, Heather! ❤)
---
See a funny or amazing comment that needs to be here? E-mail me at queergirlblogs [at] gmail [dot] com!