It's Friday Open Thread, where we all love on each other and talk and make jokes and the points don't matter!
GET IN HERE CAUSE IT'S THE FIRST WEEK OF OCTOBER!
I COULD GO OUTSIDE WITH A JACKET YESTERDAY!
MY BEST FRIEND'S HOUSE SMELLS LIKE PUMPKINS!
EVERYTHING'S COMIN UP SPOOKY!
I know the world is a garbage fire baby, but let's agree to pillow fort it here and stay for a long while, okay? That smelly baby can wait.
What's going on with me this week? So glad you asked! I'm going to be real with you, that dumpster baby fire has me ostriching (fun fact did you know this isn't real? I mean not super fun seeing as this was a hilarious used-to-be-fact.). I've got my head in every distraction possible because if I stay in the news loop and reality too long, me and this not incredibly balanced mind of mine aren't gonna be a pretty picture. It was a rough week, friends. I watched Big Little Lies and the only thing I could remember is (spoiler) Celeste's therapist saying about the abuse, "You're a lawyer. You know how important it is to have witness." So I went and wrote and shared a small thing on personal accounts because I didn't have witness back then, but I'm trying to now.
People are showing up and giving love and I am mostly overwhelmed and stuck but being thankful and getting unstuck and that's progress. It's tough and triggering but there are good things too. Like:
The Good Place is back! Which means I'm back to trying to get Eleanor and Tahani together in a world that is definitely not under my control. Some would say this makes it impossible, but I call it an adventure!
I took a nearly two-hour (which is something when you can't drive) ride to see my best friend and when I say it is worth it just to sit with her and talk for six hours straight? I mean let me tell you about this healing going on in my chest.
Ya boi was gifted with a new comforter before the winter/cuddle season and I've literally been sleeping on a cloud this past week: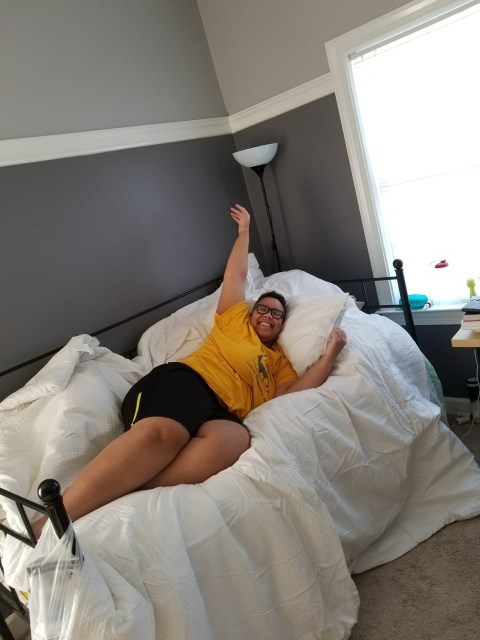 I got a Raspberry Pi because there was a bundle discount on Amazon and I put together a retro game bundle system! Only to remember I have no idea how to play video games, but what a fantastically frustrating experience that I'll probably document in further more embarrassing detail in the future.
I'm in a coding bootcamp (cause I'm trying to be my own Iyanla Vanzant, trying to Fix My Life, ya feel?) which is exciting and so different from what I usually do and I love it and also have no idea what I'm doing! Sometimes doing this life thing is a trip and grand and good!
Tell me: What new exciting things are going on in your life? What are you loving? What's got you looking at life like, Sometimes you're grand sometimes you're good and I'm glad to have you? Have any game recs for someone who screams when literally anything pops up on the screen?/Whatcha playing (I just started playing Night in the Woods and I'm not a gamer by any means but I love it!!)?
Now tell me all the hot goss (that's something I'm 99% sure I heard in Baby Mama last week)! They said what to who??? Dish, fam!
Not into goss? That's okay, I'm still into you, so let me know whatever's on your heart or in your head or also on your TV. What've you been watching? How's your week going? What do you need?
If it's about you, I'm all in. But like if you're not cool with it, I can give very energetic waves from a safe distance. Keep it casual, you know?
---
How To Post A Photo In The Comments:
Find a photo on the web, right click (on a Mac, control+click), hit "Copy Image URL" and then…
code it in to your comment like so:
If you need to upload the photo you love from your computer, try using imgur. To learn more about posting photos, check out Ali's step-by-step guide.
How To Post A Video In The Comments, Too:
Find a video on YouTube or Vimeo or WHATEVER and click "embed." Copy that code, paste it, you're good to go!