I'm not really sure where I first heard about Night in the Woods. I started seeing it all over Twitter and it sounded familiar, so I went into my archives, which is a pile of trash on my desk, and found the title scribbled on the back of a meeting agenda with the note "spooky friendship?" That's a pretty apt description of the game, to be honest. The end.
Just kidding, there's more! What a curious little game this is, man. You play as Mae Borowski, who has just dropped out of college and moved back home to Possum Springs. Also, Mae is a cat. Her mom and her Dad, who works at the Ham Panther, which is a mega-chain grocery store that has recently replaced the local Food Donkey, are also cats. Mae's friend Gregg works at the Snack Falcon, and he is a fox, with a boyfriend named Angus who is a bear. And finally there's Bea, Mae's childhood best friend who is not a bee at all but in fact a crocodile and also a goth. Bea is friends with Angus, but not really with Gregg, and not at all with Mae anymore. Mae meets up with Gregg on her first day home and he invites her to band practice where she meets everybody else and then they eat pizza and then they find an arm in a parking lot. And from there, well, not much really happens for a very long time.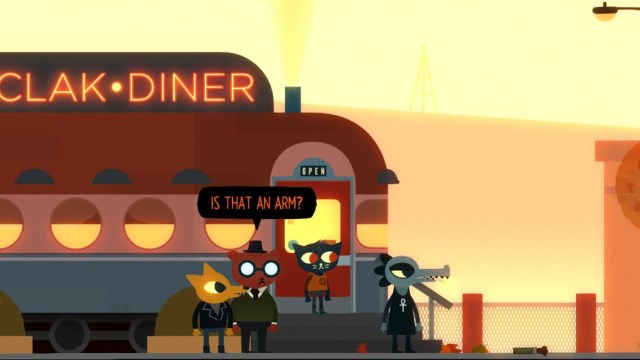 Right off the bat, Night in the Woods is striking. Like even just the title screen is gorgeous. I was drawn to it because the speech bubbles and color palette remind me of Oxenfree, which I really loved. But this is just beyond pretty. The art in this game is actually perfect. It's simple as hell, but beautifully expressive. Mae's "nightmare eyes" and Bea's lit cigarette and Gregg's leather jacket. Everything is done in this perfect shorthand that tells you exactly everything you need to know. Mae's movements are so much fun, particularly when she's bouncing on power lines and smashing light bulbs. And the music. Like, I don't think I know enough about music to really describe why or how it's perfect? But it is perfect. I am in love with the aesthetic of this game, is what I'm trying to tell you. It doesn't really even matter what is happening, almost, is how good it all looks and sounds.
The game plays out in a consistent action loop: Mae wakes up, walks to town, talks to her friends and neighbors, maybe has an adventure, and then she goes home. She talks to her mom in the morning and to her dad at night. She goes to sleep and she has abstract and troubling dreams. And then she does it all over again. This loop lulls you into a feeling of complacency, like nothing is really happening and nothing is really changing. And that is true, and that is the point. The town is dying. It probably always has been, but Mae's been gone for a minute and in her own way she's got fresh eyes on it. It kind of reminds me of Life is Strange, but not at all romantic, and superficially a lot funnier, but sad in a lot of the same ways. Mae came home seeking the comfort of familiarity and sameness and found that everybody has grown up, and she mostly deals with that by trying to convince everybody to un-grow up, which they'd probably also like to do but it's just not that kind of world.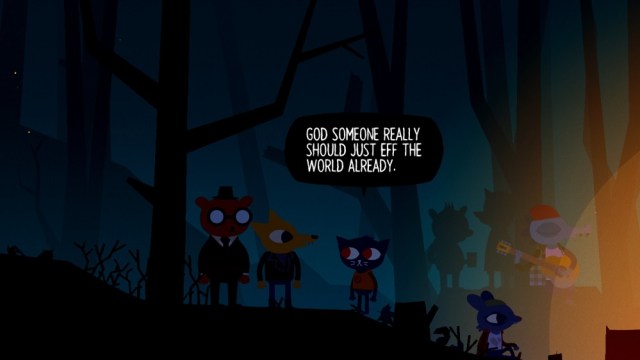 Mae is a painfully relatable, not-entirely-likeable protagonist. She puts her foot in her mouth all the time and refuses to back down even when she knows she's screwed everything up. She picks fights. She gets drunk and embarrasses herself. She means well, but that's not necessarily always enough. She does all the things on a regular day that I'm afraid I might have done when I wake up with a hangover after a really really sad day. She's having a rough time, which she won't really talk about, but so is everybody else, and nobody listens to each other nearly enough. But eventually everybody gets mad enough or sad enough or tired enough to say what they mean, and it's written so well that it is definitely worth hearing even if it sometimes made me want to retreat to my blanket cave.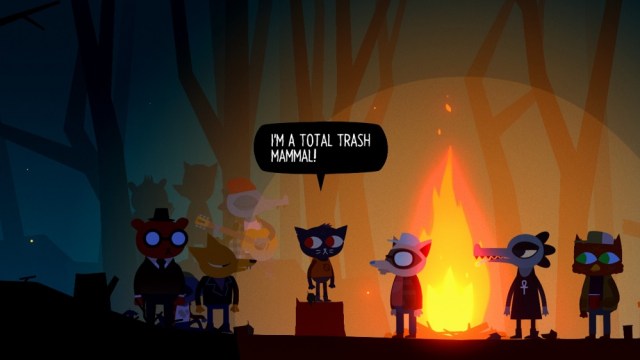 The latter part of the game goes off in a supernatural direction that feels a little forced at times, and more than a little on the nose. But that's the point in the story where we also really learn who everybody is, including Mae herself, and the contrast between the spooky ghost stuff and the hyper-real life stuff works itself out somehow. It's like IT, but without all the racism and preteen gangbanging and like if IT was actually a coherent story. It's not about clowns though don't worry. These are people (who are animals) going through some shit in a town going through some shit. It's harrowing in a way the whole world is when you are 20 years old and seeing real life for the first time or 33 years old and coming to the realization that real life probably isn't ever going away, and goddamn if I wouldn't trade my life savings that I still don't have to just shoot a ghost in the heart just once.
As far as gameplay, this is mostly a visual novel. You make some dialogue choices, which don't really determine what happens so much as what you get to know about the people things are happening to. You get to decide some days who you want to hang out with, which for me was almost always Bea, who I want to hug. And sometimes Angus, who I want to hug. I neglected Gregg a bit but he seems like a really good hugger too. But mostly the story is on a track and you're just there to experience it. There is some basic platforming, mostly in dream sequences. The controls are all responsive and mostly intuitive, though it's weird that they chose "C" as the action key. There's also a guitar hero mini-game whenever the characters get together for band practice. I did very poorly at it. And Mae's computer has a full-on roguelike dungeon crawler on it that you can play. But mostly, you talk to people.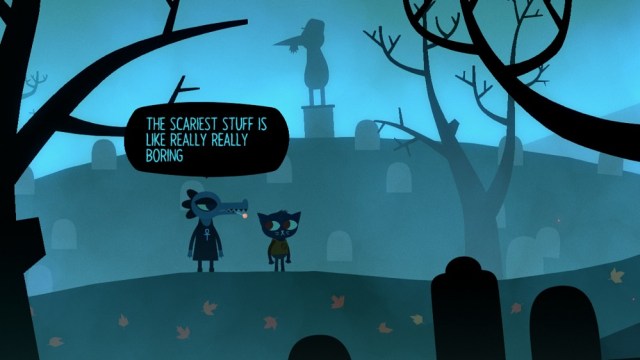 And it's completely great. It's legitimately funny a lot of the time and it's compelling all of the time and it is sometimes so sad. There's a lot going on here even when there's kind of nothing going on at all. This is a game that I truly think everybody should play. I'm not even sure if it's "good" so much as it's effective and I loved it and I don't really know how to explain that hard enough. I don't want to be too specific about the plot or the end or even the characters, because the entire point of the game is just being in it and finding these things for yourself. It's nothing more than a story, which I don't think I have to tell you is potentially the biggest best thing there is. Play it. Spooky friendship. Just play it.