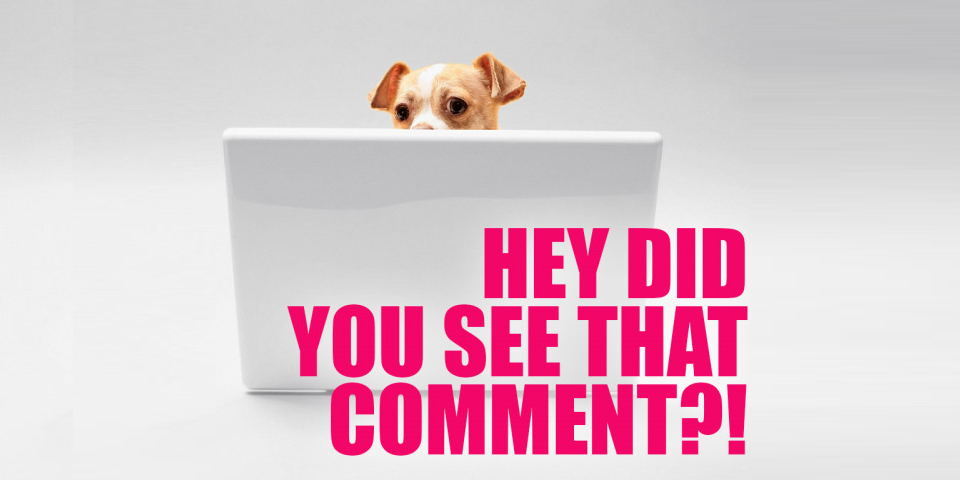 Hello! Did you know I love you? Have I told you, lately, how much I value you, and you, and you and you and you, and this whole community?
Autostraddle launched a fundraising campaign yesterday, and as I read Heather's letter, I was reminded – for perhaps the thousandth time – just how important you all are to me. Where might I be without Autostraddle? Where would you be if it had never entered your life?
I found AS when I needed to, and it helped me build the life and friendships I needed to be healthy, and happy, and whole. And now they need our help to truly thrive – as a community but also as a business, the kind that needs to do things like…pay the people who work for them. Listen: the perks are rad! The cause is just! Please donate and share today.
This week, Straight People Watch came back with a vengeance.
Heather wrote about Kate Leth's delightful comic, Valley Ghouls. 
This was just SO delightful: Are You the Heroine of a Tamora Pierce Novel?
Every year at A-Camp, I enter myself into the lottery for the Boxed Wine and Cheese Tasting, but I have never gotten in — which is why I am so glad that Riese does this yearly write-up! (Remind me to print out these reviews for when I next go camping and am asked to bring the wine.)
Heather ranked 25 gay hats, and I've never been happier.
Aliens are real. Right? Aliens are real? Rachel?
Ashley Benson is truly living her best life in this week's No Filter.
Rhea Butcher showed up in Good Trouble! I am excited about this!
Did we mention yet that AS is asking for donations?
And then there were your comments!
---
On Straight People Watch: Spring 2K19:
The Worker's Comp Award to Caroline (and Caroline):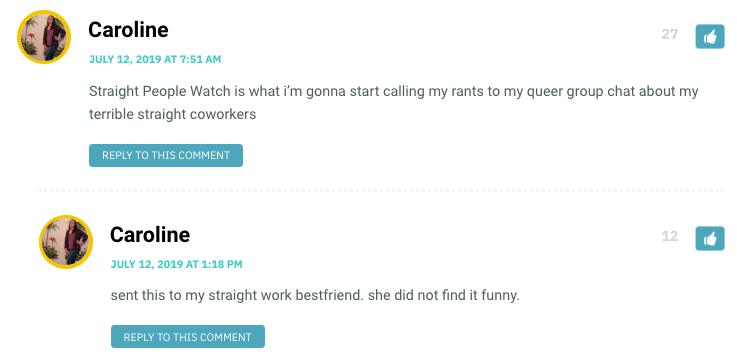 And the Autoerotica Award to liz:

On Are You the Heroine of a Tamora Pierce Novel?
The Foiled Again Award to Robin:

And the Um, Yes Award to Alanna:

The Call Is Coming From Inside the House Award to Hailey:

On 21 Boxed Wines, Ranked by Value By Day-Drunk Queers At Gay Summer Camp:
The Bladder of the Fallen Award to Megan:
On Pop Culture Fix: Watching Lizzo, Constance Wu and Jennifer Lopez in the "Hustlerswp_postsTrailer Will Make Your Day:
The Representation Matters Award to amidola:

And on We Need Help: Autostraddle Is Raising Money!
The Safe Space Award to Sally, Meg, and Carmen SanDiego: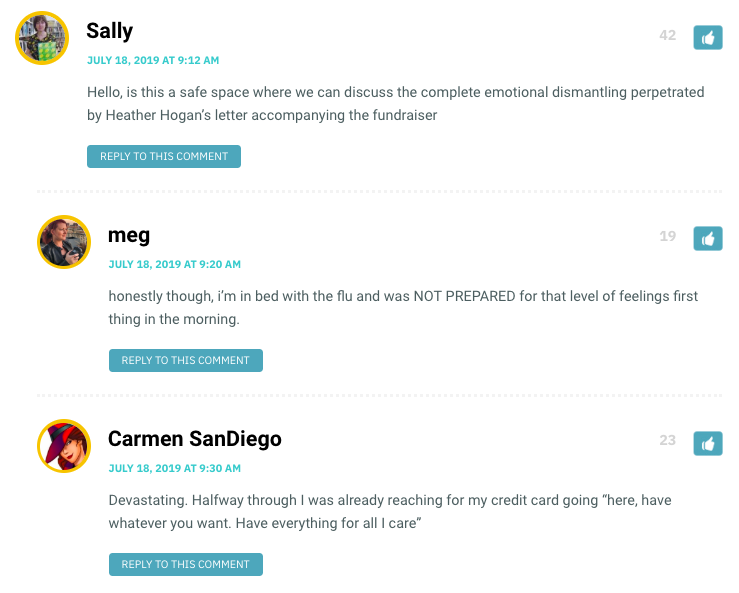 ---
See a comment that needs to be here? Let me know! I'm [at] queergirl on Autostraddle and [at] queergirlblogs on Twitter.