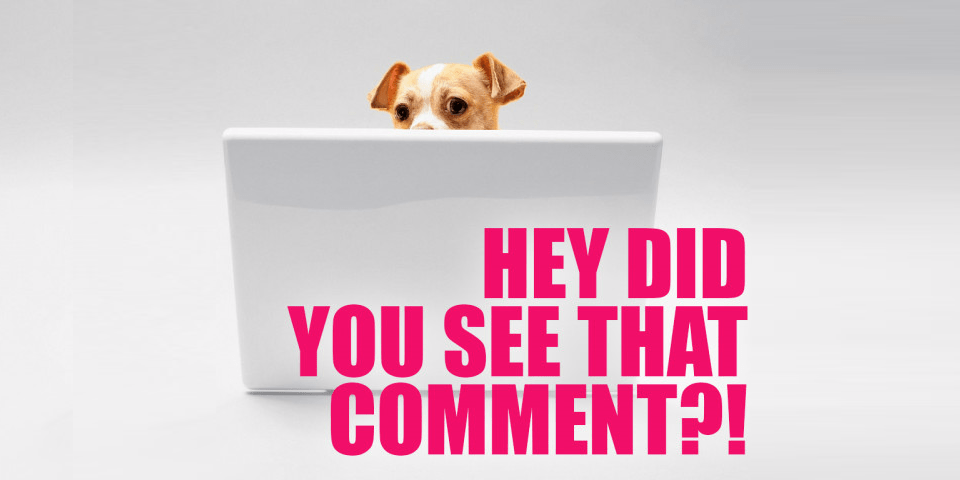 Good morning, dear ones and queer ones! Yesterday, my dog merrily tried to leave the park with a nice friendly stranger who had better treats than me. I'd better up my treat game!
This week, Kayla brought us some romantic chaos in the form of a playlist.
Curious about muffing? Tobi's got the info you need!
Sara Ramirez is not Che Diaz. Phew!
Riese helped out a reader who's trying to take things in their relationship a bit…slower than they're used to.
Drew spoke with Grace Lavery about her new memoir, Please Miss. This was so good! I love Drew's interviews!!!
The Oscars are gay! Kristen Stewart and Ariana DeBose say so!
This week's Foolish Child tackled the absolute dilemma of my life: COVID-19, or allergies?
Finally, read this: It's Five O'Clock Somewhere.
And then there were your comments!
---
On Meet the 23 Gay Women Competing in the 2022 Winter Olympics:
The Fire and Ice Award to Sally:

On L Word Generation Q Renewed For Season 3 At Showtime, Blessed Be The Fruit on Bette's Counter!
The Manifesting Award to caitrw: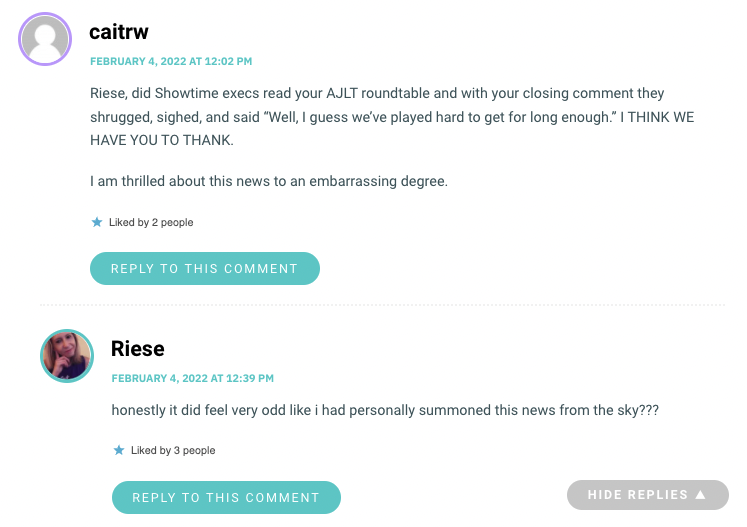 On Quiz: Which Winter Olympics Event Are You?
The Hunter-Gatherer Award to Naanie, cleo and Yasmin: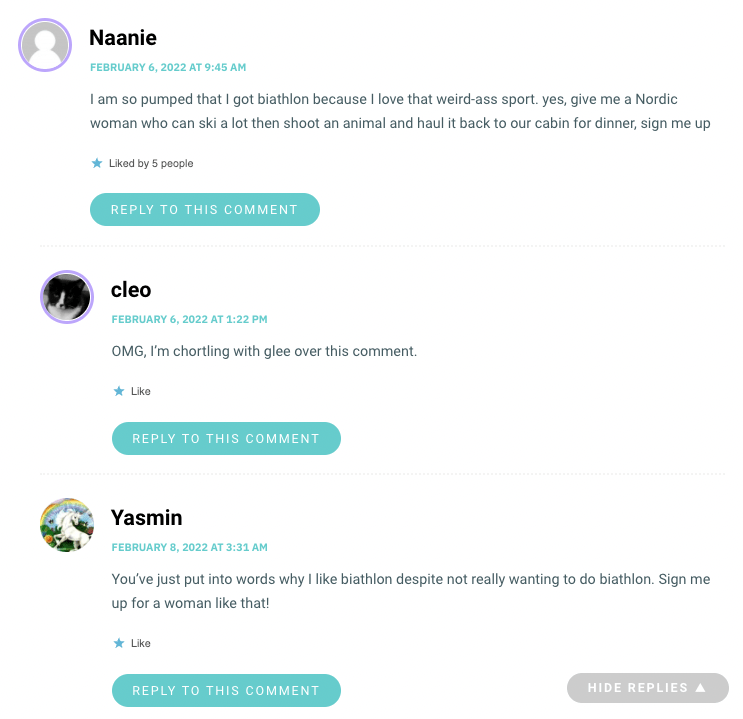 On You Need Help: What Does "Going Slow" in a Lesbian Relationship Look Like?
The Please Let This Be A Meet-Cute Award to Mary and Lauren: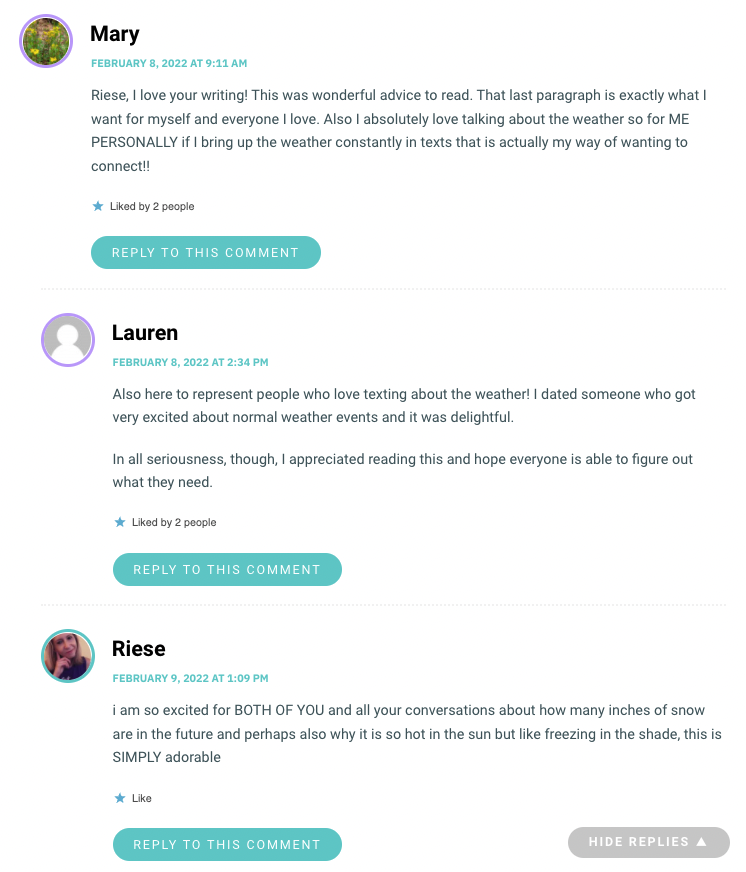 On Also.Also.Also: Dyke Ice Drama! Meet the Multiple Ex-Wives of the US and Canadian Olympic Hockey Teams:
The On Ice Award to :):

On FYP: Black Lesbians In Love At Brunch Is All That Matters:
The Role Models Award to Cecily: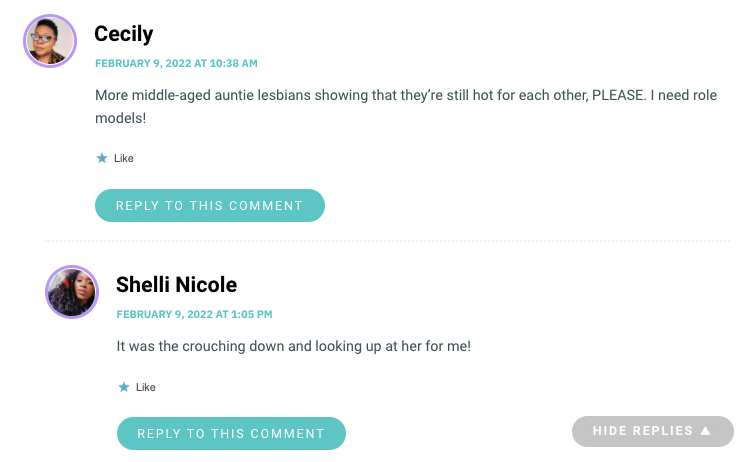 And on Foolish Child #113: Covid or Allergies?
The Hairball Award to Chandra and Deli Twotone: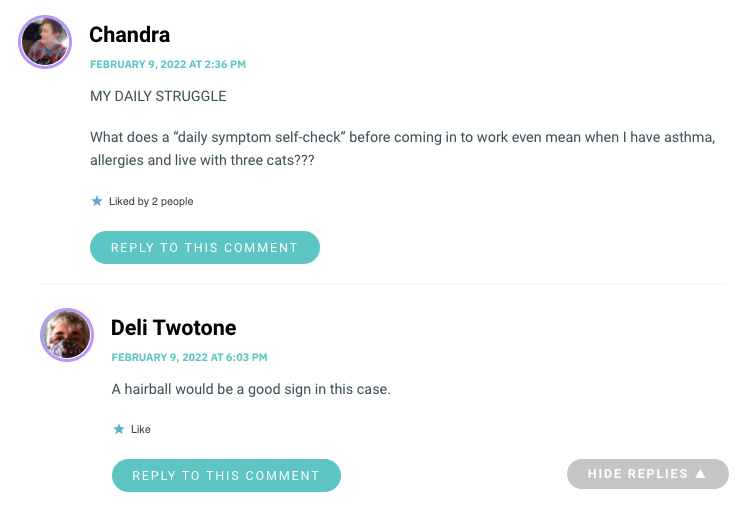 ---
See a comment that needs to be here? Let me know! Tag me [at] queergirl!