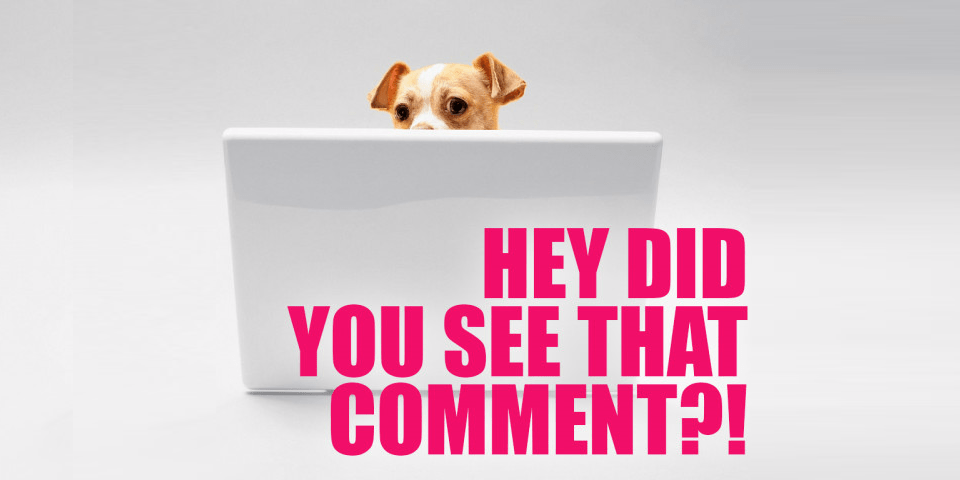 Hey hi hello fireflies! I know this has been a rough week for a lot us! Maybe you can find some joy in this incomplete list of things that made me happy this week:
The description of the ASL sign for "good friend," from the ASL dictionary my class uses: Link your index fingers to show a bond. Pull it forward twice to show the bond is not easily broken.
Baked potatoes
Remembering that nobody is stopping me from listening to the same bands I listened to in high school, and cranking up the Cake
Always and forever, browsing back archives of the Poetry Is Not a Luxury Instagram account
Watching couples with matching aesthetics walk through Target together
All of you helping Autostraddle to EXCEED ITS MOTHERF*CKING FUNDRAISING GOALS
The cuteness of the word "chickpea"
And last but not least, Milo and Possum, true BFFs:
This week, The L Word: Generation Q was canceled. Whomp whomp! We'll always have season one, Finley on that bike, Sophie and Finley stepping closer to one another in the hospital corridor…sigh. And we'll always have Riese's recaps!
For Thank You, Ex, A. Tony thanked an old partner for one (1) pair of ghost hands.
From Niko: Fictional Women I Wished I Had Been as a Young Closeted Trans Girl. Relating to these women, especially Deb from Empire Records, is a MOOD.
Shelli Nicole had some advice for a reader who kind of messed up with a married friend.
Stef had this dispatch from the Florida educational system.
Read this: Gutter Talk: On the X-Men and Visibility.
Heather had some advice for readers who are living with Long Covid.
For this week's Blush and Bashful, guest columnist Kristen wrote all about eloping!
And then there were your comments!
---
On Fictional Women I Wished I Had Been as a Young Closeted Trans Girl:
The 10 Roots I Love About You Award to Jess:
On Picdoku: Generation O(riginal Cast):
The Sex Sex Sex Award to kat and Lydia: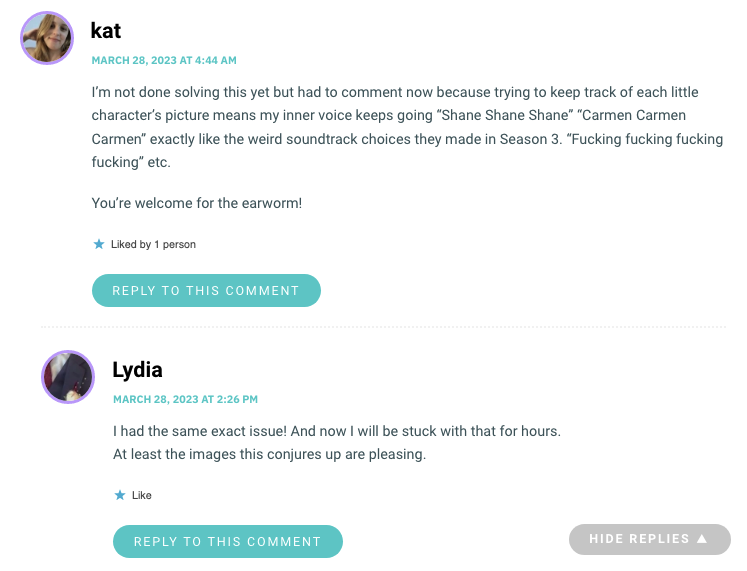 On I'll Watch Anything With a Toxic Mentor/Mentee Dynamic:
The One Hit Wonder Award to shamblebot: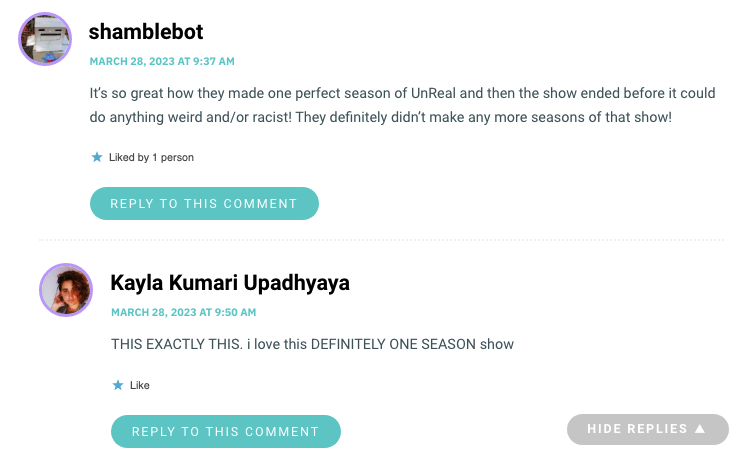 On What Your Preferred Type of Ice Says About How You Seek Pleasure:
The Parent Ever After Award to Sarah:

On Guessing Game: Where Queer Meet Cutes Are Unleashed:
The Parking Lot of (No) Return Award to Linnea and Cleo:
On Every Generation Q Sex Scene, Ranked:
The Cameo Award to Katherine O'Keefe:

And on Also.Also.Also: Oh Trump Got Indicted:
The Late Breaking News Award to @caitrw:
---
See a comment that needs to be here? Let me know! Tag me [at] queer girl.