Hi, friends! How's this week been treating you? I've been alternating between writing in my Passion Planner and belting Janis Joplin at full volume into my cheap karaoke microphone. Those just feel like the right choices for me, you know? Time may be an illusion, but the new year is a great excuse to set some goals and fuck some shit up. What makes you feel invulnerable? What are you going to do with this brand-new year?
This week, Mika gifted us with a list of 11 of the Best Dressed LGBT Celebs in 2018. This whole post is a thing of beauty and will turn your whole day around, I swear.
KaeLyn wrote about raising Baby T-Rex and the cultural toddler phenomenon that is the Baby Shark song.
The team talked about their chosen words for the new year.
Carmen did a deep dive into the glorious Latinx butches that appeared on our TVs this past year (spoiler: Latinx representation has come a long way since Papí rolled up in her limo in The L Word). 
Corinna brought us horoscopes for finding calm within the chaos in the new year.
Want to set some intentions in the bedroom? Rachel wrote about making resolutions and helping your sex life match your desires in 2019.
And then there were your comments!
---
On 11 of the Best Dressed LGBT Celebs in 2018:
The Gaydar Award to Noodlesforever:
On EXCLUSIVE: Meet the New Gay in "The Fosters" Spin-Off, "Good Trouble":
The Pretty and Witty and Gayyyyyy Award to Marie:

On "Derry Girls" Review: "Skins" Meets "Everything Sucks" in a Hilarious Coming of Age '90s Romp:
The Wee Accent Award to Oscarthegrouch:

On Your 2018 Gal Pal Roundup: The 8 Couples(?!) Who Won 20GayTeen:
The Vulva Heard 'Round the World Award to Carmen SanDiego:

On Queer Horoscopes for January 2019: Being Each Other's Calm Through the Chaos:
The Dream Job Award to Jana:

On 28 LGBTQ Women Who Came Out Or Otherwise Revealed Themselves To Us in 2018:
The Happy Tears Award to Leora:

And on No Filter: Sarah Paulson and Holland Taylor Ring In 2019 With Extreme Enthusiasm and Silly Hats!
The Freudian Nip Slip Award to Jana and Snaelle: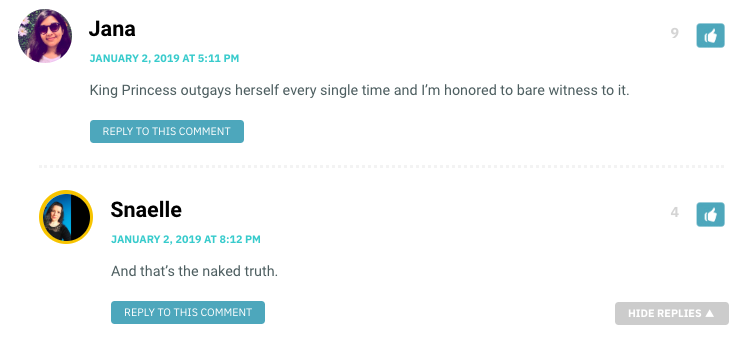 ---
See a comment that needs to be here? E-mail me! Queergirlblogs [at] gmail.com.