My hand-painted white tee featured a crudely drawn killer whale and the words "Save the Whales," because it was the 90's and I was really into Free Willy. I was 10. My career goals included joining Greenpeace and cutting whale nets to free all captive marine life.
The right-side-up killer whale I painted looked more like a breaching blue whale because I used way too much white paint. My overzealous painting resulted in my teacher giving my "Save the Whales" design an award. The t-shirt was displayed in the hallway outside her classroom for a few days of schoolwide recognition.
I was obsessed with animals and the environment as a little kid. My parents got me a subscription to Zoobooks (They're still in print today!) and I devoured each edition. My favorite show was Jack Hanna's Animal Adventures. I don't know if the early '90s were heavily influenced by environmental action or if I was just personally fascinated with it
I vividly remember this one PSA spot that came on PBS in the mornings about conservation. It showed a spunky animated fish tragically losing all the water in his pond because some careless animated child let the water run while brushing his teeth. If you waste even a minute amount of water, you'll kill a happy fishie! That's what I took away from the ad. I was always harping on my parents to turn off the lights when they left a room or to cut the soda rings so sea turtles wouldn't die.
I was earnest AF about my mission: Reduce, Reuse, Recycle! Save the Whales! (Cue "Will You Be There?")
My parents encouraged my interests, but they weren't big on whales and they definitely wouldn't consider themselves environmentalists. Why did I have such an interest in animals? Later, why did I develop a love of poetry when literally no one in my household read or wrote poetry? As an adoptee, I've always wondered about nurture vs. nature. Was one of my biological parents a writer or lover of words? Did I just love animals because my parents had pets? Or was it because of something in my nature?
Remi just celebrated her first Christmas that she actively participated in! Her first Christmas, at three months, she didn't understand and was mostly just a baby prop to pass around to family members. Last year, at one, she liked her presents but didn't understand the holidays conceptually. This year, at two, she could point out Santa and say, "Ho ho ho!" when prompted. She unwrapped her own presents (and some of ours) with excitement. She said, "Thank you!" for her gifts and has been sorting and playing with her new toys all week.
Her most favorite toys are definitely the cheap plastic ocean animals Waffle found on Amazon. These are… not attractive ocean animals, but they're very realistic? Honestly, I think they're terrifying and monstrous both in design and texture. She LOVES THEM.
She got quite a few presents that were ocean animal oriented this year. Right now, Remi's napping and these are the toys she left in her wake from this morning's play time. All of them were Christmas gifts.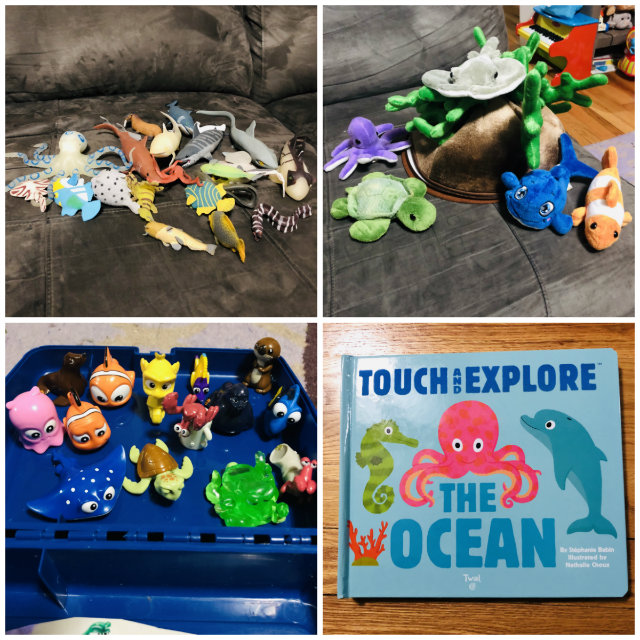 I don't know why she loves the ocean so much. Some of her other toddler interests are more predictable and we definitely played a part in shaping them. Dinosaurs, for example, were sort of forced upon Remi and, well, it makes sense that she'd be attracted to them since we decorated her room with them and have been talking about them since her fetushood. Books are a constant in our house. She has had them in her play area and as part of her bedtime routine from a very early age.
The ocean, though, is all her.
It must have started with the PBS show Splash and Bubbles when Remi was really little. It definitely got more intense after introducing Finding Dory over the past year. The discovery of Baby Shark sent her into a total frenzy.
Remi's obsession with ocean life is very specific. For a while, she was just generally into animals, but in the past several months, she's specifically into aquatic animals above all others. Since she got her ugly, soft, rubbery sharks and sea animals, she hasn't even taken out her stuffed cat and dog toys. She can name different types of fish like eels, rays, clams, seahorses, octopuses, pufferfish, and sharks.
I don't know how she even picked up on this, but we were reading Remi a new Splash and Bubbles board book recently and there was one page of the cartoon characters reacting to a plastic bag floating in their reef. Remi got visibly upset, pointed at the illustrated plastic bag and exclaimed, "Oh no! Oh no! Bad!"
Watching Remi become her own person is endearing and unfamiliar. I still wonder about nature vs. nurture. Is her empathy for aquatic life somehow related to my investment in freeing the whales when I was a kid? Do we share some biological need to take care of vulnerable creatures and our natural world? Is there a personality trait, or some random strain of DNA, we share that draws us both toward marine animals? Is her interest in sharks solely because of Baby Shark or is it also because Waffle is obsessed with Shark Week and watches videos about sharks as a hobby? He doesn't watch them with Remi, though. Did we plant these seeds, either by nature or nurture, without intending to?
I don't know, but I'm sure that I'm going to watch Free Willy with Remi as soon as she's old enough to appreciate it.
---
4 Queer Parenthing Things I'm Currently Overprocessing
1. I'm Baking!
Because we started watching Nailed It: Holiday! Edition on Netflix, Remi's been especially interested in playing pretend cooking. She gets her play food out and uses a plastic spoon to stir her pots and cups while exclaiming "I baking! I baking!" What a great age to enlist her help in making cut-out sugar cookies for Christmas, I thought! How much fun we will have, I anticipated! Wrong. I was wrong.
For starters, I kicked off this journey by making the very, very, very stupid mistake of touching the blade of my immersion blender while it was plugged in and… immersion blended the tip of my finger. Don't worry! It was just the one pulse! And a LOT of blood. HAHA. OK. I was using the immersion blender inappropriately to begin with, but that's a whole other story. (No, my finger probably did not need stitches? Yes, it's gross and going to take a long time to heal.)
After I had a mini panic over the kitchen sink and decided that a Christmas Eve urgent care trip wasn't necessary, I finished up the cookie prep. After dinner, I asked Remi if she wanted to help with some baking. She was so excited, ya'll! She really wanted to help.
What I didn't anticipate was that she would not be able to press the cookie cutter into the dough by herself, which was fine, except that she really, really wanted to do it by herself, without help. ("No! My turn!") She also didn't understand that you have to cook the cookies before you can eat them. Many emotions and a frustrated crying sesh later, we presented her with a star-shaped cut-out fresh from the oven. "I baked it!" she said before taking a dino chomp.
I didn't take any pics of the cookies or the toddler baking activity. I have deep regrets and you're just going to have to believe me that it happened.
EDIT: Waffle did take pics after all! Thanks, Waffle!
---
2. Cativan
Hat tip to our friend who rightly called Waffle out on missing an opportunity to hashtag his post #cativan!
Long story short, after over two years of Jeter making very little progress toward returning to a good quality of life post-baby, our vet offered anxiety meds and we decided to take the plunge. Jeter definitely has higher levels of anxiety than any cat I've lived with before. Before we had a kid, though, he'd adapted to our house and he was very social and cuddly and happy in his home.
Since we brought Remi home, he has consistently separated himself from the family and rarely comes downstairs until we put her to bed. Honestly, I wasn't sure if the meds were the right decision. I didn't know how he'd react to it, but it's actually helped a lot! Now I just need Remi to take it down about 10 more notches so Jeter will be inclined to trust her.
---
3. We're All Doing Our Best OK
I am months behind on putting together a book proposal that my agent wants to get out and the publisher for my first book is interested in seeing. MONTHS BEHIND. I keep thinking I'm going to get it done, but it feels impossible. Sometimes I'm heading into a guilt spiral, but then I remind myself that I'm not pushing it off because I'm lazy. I'm just doing too many things. I know I am. I don't know where to pull back because I either need to do these things (day job/mom job) or I want to do these things (Autostraddle/teaching) or both. I just want ya'll to know that I don't have the answer to work/life balance. I am actively talking myself into believing that my time is valuable when I feel so behind on something so important.
I used to see these badass queer feminist parents out in the world doing activism, doing long hours and important work – traveling around speaking at colleges, writing books, writing blogs. I thought they had it all figured out. I realize now that it's hard and we pretend it's not hard because we feel pressure to make it look like we're killing it. And, like, no one person is "having it all" without also occasionally having a total emotional breakdown.
I know I can look like one of those people. I signed a book deal before my child turned one! I write for this amazing site; I work for a heavy-hitting nonprofit civil liberties defender and I take cute pics of my family for Instagram. I just want you to know that it's really, really, truly challenging. I couldn't do most of it without an incredible, supportive co-parent and I constantly feel like I'm disappointing someone.
(Like literally right now Remi woke up from her nap 20 minutes ago and I'm pseudo-ignoring her because I just need to get this piece finished before I make her dinner! She's fine. She's singing to herself in her crib, but, it's definitely not GOLD MEDAL PARENTING.)
---
4. Still Cute Though
On that note, I thought you might like to see these pics from a mini-session we did with Jessica Stringer, the same photographer who did Remi's newborn and one year pics. They're incredibly good considering Remi sat still for exactly zero seconds for during the entire 20-minute session.
I can't believe we're those people who pay other people to take pictures of their kids, but HERE WE ARE. What's next? A minivan?! Please don't let it be a minivan…
---