Happy New Year, my friends, and welcome to the first FRIDAY OPEN THREAD of 20biteen! I'm having the weirdest experience this week of needing to restart my brain after the holiday break, because for the first time since I left my office job in 2008, I actually took a holiday break! It was the culmination of my main 2018 goal, which was to get some balance into my relationship with my career. I slept in, I read three books — Becoming, by Michelle Obama; Binti 2: Home, by Nnedi Okorafor; and The Queens of Innis Lear, by Tessa Gratton — I cooked so many delicious meals, I rode my bike almost every day, I cuddled with my cats and Stacy, and I started Assassin's Creed Odyssey which I have been promised is very gay. (It better be; Assassin's Creed Syndicate forced my beloved Evie into a relationship with a man and I have neither forgotten nor forgiven!)
I didn't realize how much I needed the holiday rest and to check out of the internet until I was resting and checked out of the internet. Did y'all know when you don't go on Twitter no one can yell at you on Twitter? WILD!
I'm hyped to the point of tears today watching this 116th Congress get sworn in! Two LGBTQ Senators and eight LGBTQ representatives, 55 members (the most ever) of the Congressional Black Caucus, the first Somali-American member of Congress, Muslim and Native American women serving for the first time, Nancy Pelosi retaking the speakership. I just keep hearing Natalie's words in my head: "Even in bad times, there are moments of pure light and joy that reinvigorate my spirit and convince me that things are going to get better."
They ain't ready. pic.twitter.com/4ChWrBOkRH

— Ilhan Omar (@IlhanMN) January 3, 2019
Pueblo women watch as Sharice Davids of Kansas cast her first vote in the 116th Congress. Davids, a citizen of the Ho Chunk Nation, voted for Nancy Pelosi as Speaker of the House of Representatives. Davids & Pelosi are in the new Democratic majority in the House. #NativeCongress pic.twitter.com/801O6nZsyA

— indianz.com (@indianz) January 3, 2019
The scene outside Rashida Tlaib's new office as she awaits her swearing in this morning. Linda Sarsour is here, comedian Mo Amer, Arab American activists, 100 kids from Detroit arrived by bus. #congress pic.twitter.com/uXbCYJnYu0

— Hannah Allam (@HannahAllam) January 3, 2019
I spoke with @RepDavids mom and she said she tries to keep her daughter hydrated ☺️ She was holding a cup of water and bottled water 💕#WaterIsLife

— Jourdan Bennett-Begaye (@jourdanbb) January 3, 2019
New Mexicans are in the house, the US House that is. #116thCongress pic.twitter.com/imeeaVJAkq

— Rep. Deb Haaland (@RepDebHaaland) January 3, 2019
First day of a new era. 💪🏾😍 pic.twitter.com/GeGv6xvJuv

— Rep. Barbara Lee (@RepBarbaraLee) January 3, 2019
In 2018 I spent a lot of time wrapping myself up in stories that gave me hope: Jodie Whittaker's Doctor Who, She-Ra, Jane the Virgin, Adventure Time, The Good Place, One Day at a Time, and most especially Steven Universe. Which leads me into my open thread question this week: Which fictional character's energy are you channeling in 2019?
For me, it's going to be Garnet. Tough and powerful and unflinching in her commitment to fight evil, but full of joy and wonder, and literally made of love. I want to ask a lot of questions about myself in 2019 and not be scared of the answers, I want to protect my family and use my powers to make the world better and brighter, I want to dance like a goof and share inside jokes with the people I care about most, and I want to find a pair of sunglasses that make me look like a badass motherfucking boss.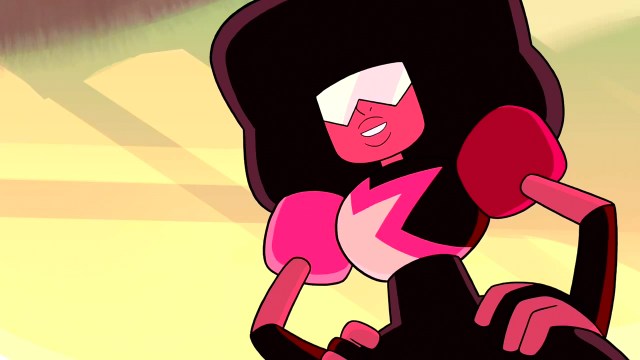 How about you?
---
How To Post A Photo In The Comments:
Find a photo on the web, right click (on a Mac, control+click), hit "Copy Image URL" and then…
code it in to your comment like so:
If you need to upload the photo you love from your computer, try using imgur. To learn more about posting photos, check out A.E.'s step-by-step guide.
How To Post A Video In The Comments, Too:
Find a video on YouTube, copy the URL, and paste the link on its own separate line in your comment. You no longer need to use the "embed" code!