Hi there, sodas and seltzers! Have you been keeping up with Bubble Trouble? These essays are So! Good! Effervescent, if you will. Among the goodness: Stef wrote about the beers they drank from ages 14-20, and Julie opened up about the toxic grind culture that lead to energy drinks! Niko, one of our Canadians, would like to taste these American sodas, and Ashni humbly submits these canned wine and chips pairings for our consideration.
Also this week, Autostraddle celebrated its 14th birthday with a great big AMA! This was such a party. If you're not yet an A+ member, you should sign up and read the answers to questions ranging from "what's your favorite chapstick?" to "how do we fight fascism?"
Then there was this: An Incomplete List of Things I Wish My Mother Would Do. 💙
KKU wrote about the Vanderpump Rules scandal! I don't know what any of the words mean in that headline but I bet you do!
Abby thought you just might want to create some queer Purim rituals!
Casey, our resident Lesbrarian, has the big list of queer books coming out this spring! (Remember that time on the internet where everything gay had to be peppered with superlatives and grandiosity? Like "Big Gay Night Out" or "Best Week Ever?" I miss those days!)
Adrian helped a reader who's been thinking of asking their best friend out — again.
This was fluffy and delightful: Jasmin Savoy Brown Hard Launches Her New Partner on Instagram.
And then there were your comments!
---
On Mini Crossword Also Identifies as a F*cking Libra:
The Bundle of Joy Award to pearlpants:
On Also.Also.Also: Gay Campground in Florida Presents the Question Is It Time We All Finally Become Land Dykes:
The AOC (Alligator of Celebration) Award to KatieRainyDay:
On No Filter: Niecy Nash and Jessica Betts Are the Bedrock of My Ideal Couple Vision Board:
The Portrait of a Hannah On Fire Award to M. and the Cutie Patootie Award to Stacey: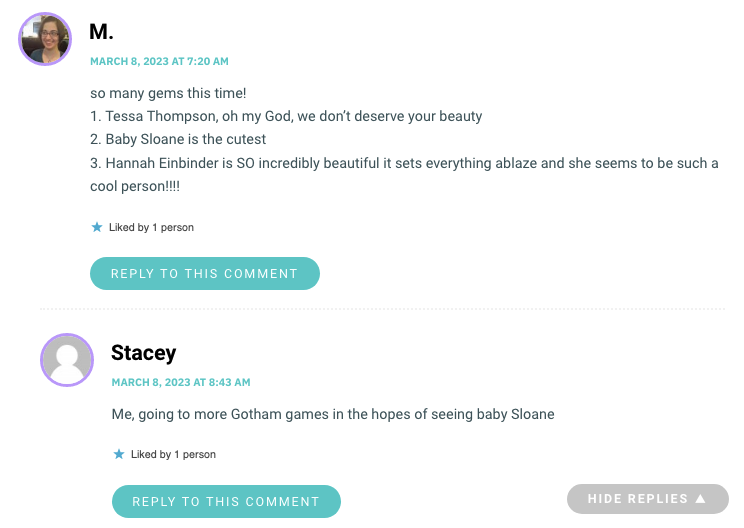 On 11 American Sodas I Yearn To Taste as a Canadian:
The Spit Take Award to Courtney:
On Jasmin Savoy Brown Hard Launches Her New Partner on Instagram:
The Expense Account Award to :):

On Coca-Cola Used To Be Fifty Cents and We Used To Be Close:
The Things Fall Apart Award to bioluminescently:

And on Yellowjackets Season 2 Trailer Teases Taissa/Van Reunion:
The Buzz Buzz Award to Tricia:

---
See a comment that needs to be here? Let me know! Tag me [at] queergirl!