Feature image of Jasmin Savoy Brown and her partner Anouk via JSB's Instagram
That's how you shake the damn table. This afternoon Yellowjackets and Scream star, all around babe (respectfully, she's taken) and incredible talent, Jasmin Savoy Brown announced her new partner Anouk in an absolutely resounding fashion on Instagram:
(Google translate on the caption? "I study French kisseswp_posts💋)
Now, no disrespect to Anouk, arguably currently a front runner for one of the luckiest women alive, but she captioned her own Instagram post thusly:
"Soft Launch"! MADAM!!! Words have meanings and those meanings mean things. "Soft launcheswp_postsare for shadowy hand holds in a Instagram story because you know you're back with your ex for a third time and you don't want the judgement from your friends on main (this hasn't happened to me, I'm speaking in hypotheticals). Getting your face covered messily, sexily in red lipstick by your Showtime star girlfriend in a 10-part carousel? Buzz buzz buzzzzz. That is a hard launch. This is a launch so hard, it could be launched directly into the eyes of sun.
This also raises a question, first brought to my attention by our A+ and Fundraising Director Nico (support queer media): What, exactly, are the best lipsticks for leaving marks all over your gal pal? What are the lipsticks smeared on our faces by make out partners, ranked, if you will?
Because… I mean… LOOK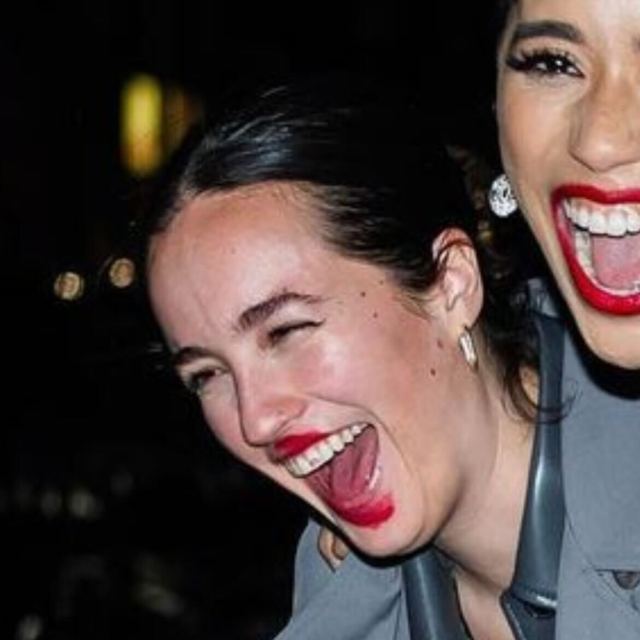 And out of solidarity of femmes who love to claim our territory everywhere, I simply had to investigate.
As it turns out, it's surprisingly hard to google "best lipsticks for leaving a smudge all over while kissing your partner so hard they forget the meaning of time and space in a Parisian romance fantasy of your own making.wp_postsWhat gets returned back to you is a lot of straight people websites with listicles that promise transfer proof, smudge proof, will never come off even after 24 hours — which sure, that's great for a wine glass, for a night of sweaty dancing perhaps, but not exactly what we're reaching for here.
But I would not be deterred!! My fingers cramped, my eyes strained, the pizza I ordered for takeout when I started writing this post has been delivered and is now cold, forcing me to reconsider my life choices — but I finally f*cking found it! Deep within the recesses of internet, someone finally understood the assignment: Allure promises Three Red Lipsticks to Leave Your Mark With which includes at least one queer couple in the video (thank you to that couple for your service).
Now all that's left is for me to find a partner to try them out with. Would updating my Hinge in this instance count as work?