It's about to be a very packed spring for LGBTQ+ books! Here are the upcoming March, April, and May releases to keep on your radar.
March
This debut subtitled "a tarot journey to radical transformation" is by Autostraddle's very own Meg Jones Wall! The book is a tarot resource and study guide in Wall's "masterful prose," written with inclusivity, clarity, and generosity. Providing a roadmap for the reader's own unique journey, Finding the Fool is for people of all genders, experiences, and identities. Alongside explorations of each card, Wall offers astrological and numerological correspondences, ideas for connecting spiritually and creatively with the tarot, journal prompts, suggestions for tarot spreads, and thoughts on esoteric tools for exploring different cards.
Motherworld by Destiny Hemphill (March 1)
Subtitled a "devotional for the alter-life," this debut book of poetry is by a Black, queer, chronically ill ritual worker and poet writing about "an unseen geography of Black, queer speculative freedom and the invisible lineage of chronic illness." The collection has roots in science fiction and imaging otherwise and it is divided into three parts: i. the portal appears, ii. the portal opens, and iii. the portal expands. Check out one of Hemphill's poems, "our own names," read aloud and glossed by the author.
This new romance from the author of beloved series like The Goodmans features two former best friends, Millie and Charlotte who first meet at Oxford studying to be lawyers. They couldn't be more dissimilar: Millie is straight (??), exuberant, and working class; Charlotte is gay, shy, and upper middle class. But when their friendship veers into romance, their relationship abruptly ends…until they meet again ten years later.
A queer supernatural coming of age YA story, The Immeasurable Depth of You features a 15-year-old girl, Brynn, living with severe anxiety and intrusive thoughts. After her mom interprets one of her blog posts as a suicide note, Brynn is sent to her dad's off-grid houseboat in the Florida mangroves. With no internet and no phone, cut off from her online — and only friends — Brynn is surprised to connect with a local girl, Skylar, who is her opposite on every way. When Brynn finds out Skylar is stuck in the bayou for a mysterious reason, she becomes determined to free her from whatever dark force is keeping her there.
The first book in a new science fiction series, The Mimicking of Known Successes is a "cozy Holmesian murder mystery and sapphic romance, set on Jupiter"! Mossa, the protagonist and investigator, is set onto a case of apparent suicide which takes her from a remote outpost to the human colony's intellectual centre and university town, Valdegeld. There Mossa asks for help from her ex, Pleiti, a researcher of Earth's ecosystems working towards a return to their homeland. As the two work together to solve the case, it becomes clear much more is at stake.
Cultural critic Clarkisha Kent is funny, candid, and smart in her debut memoir where she describes the kind of obstacles life throws at you when you're fat, Black, and queer dealing with intergenerational trauma and mental illness. Subtitled "a big bitch manifesto," this book follows her early life as a second generation immigrant with a religious and abusive family, her experiences with "ill-fated bisexual romances," and coming into her own after college. For fans of Samantha Irby's brand of humor and brutal honesty.
Mimosa by Archie Bongiovanni (March 7)
Are you a fan of Archie Bongiovanni's Grease Bats comics on Autostraddle? Well, you're in luck! Their latest book is a graphic novel about four queer friends / chosen family in their mid to late thirties struggling to balance all the different facets of their lives while maintaining their decade long friendship. Parenting, divorce, career ambitions, work crushes, community, and friendship troubles all feature. When they get tired of being the oldest gays at the party, the four of them start Grind, an event specifically for queers in their thirties. It's a welcome distraction for a while, but the rest of their messy lives can't be ignored forever.
Rose Quartz by Sasha taqʷšəblu LaPointe (March 7)
LaPointe's debut feminist poetry collection combines folklore, punk sensibility, witchiness, and music in poems that explore both struggle and healing. "Draw me encircled / in something / other than gasoline" LaPointe writes, drawing inspiration from her Coast Salish heritage and lingering in the liminal spaces between beauty and danger. The poems play with color imagery, act as rituals and incantations, and delve into the poet's interiority in search of self-discovery and belonging.
Arca by G.R. Macallister (March 7)
The second book in the Five Queendoms feminist epic fantasy series, Arca is set in a matriarchal world during a dark decade when no girls are born. This "drought of girls" has created rifts of tension between the five countries of this universe, all led by complex, ambitious women. Picking up where the first book left off, Arca follows primarily the leaders and societies of Arca, Scorpia, and Paxim, moving seamlessly from the battlefield to secret political strategizing. Featuring multiple sapphic characters!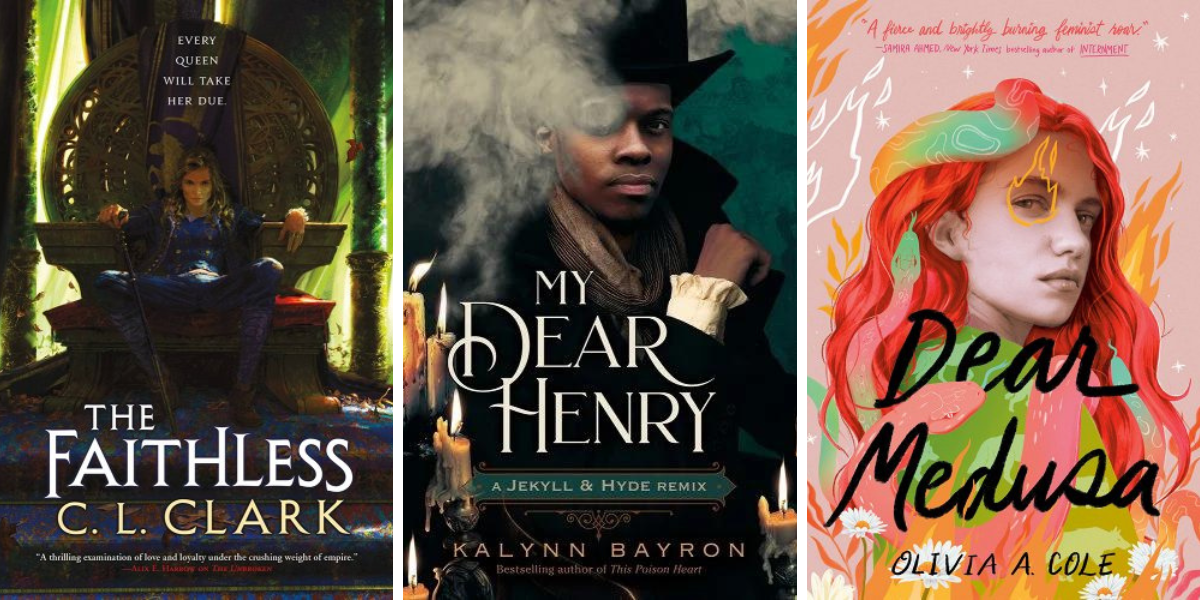 Sequel to The Unbroken, The Faithless follows solider Touraine and princess Luca as they journey back to Balladaire. The rebels have won the battle, and imperial forces are retreating from the colonized Qazal. The two women are staring down the consequences of demolishing an empire and seeking Luca's rightful return to the throne. But detangling the deeply intertwined cultures and countries is no easy task.
My Dear Henry by Kalyan Bayron (March 7)
This YA retelling of Jekyll and Hyde by the author of This Poison Heart and Cinderella is Dead is a Black, gothic, gay reimagining of the original. Told from the perspective of 17-year-old Gabriel, an ex-boyfriend and ex-best friend of Henry Jekyll, the story follows Gabriel's search for the disappeared Henry. At the same time, a mysterious young man named Hyde shows up in Gabriel's life, claiming to be Henry's friend.
Dear Medusa by Olivia A. Cole (March 14)
This YA novel in verse is about a 16-year-old grappling with the aftermath of sexual abuse by a teacher. Branded as a slut at school, abandoned by her best friend, and having quit the track team, Alicia feels hopeless. But when anonymous letters slipped into her locker suggest that she's not alone, she slowly begins to (re)find her voice, courage, and rage. At the same time, she opens herself up to the possibilities of her attraction to the new girl at school.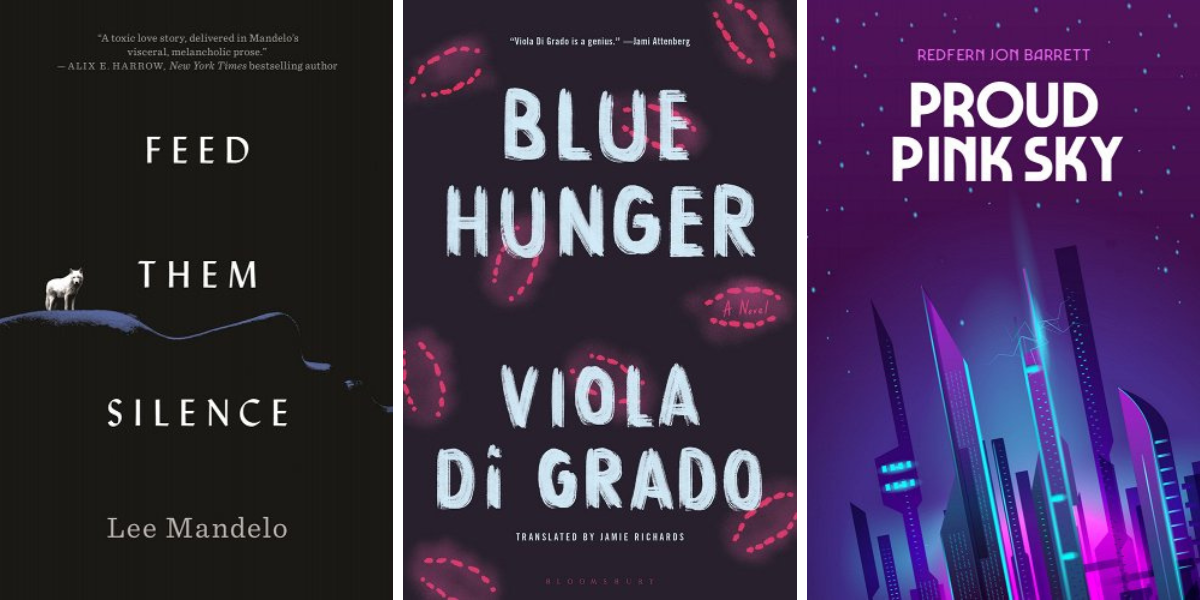 In this near future novella by the author of Summer Sons, a scientist uses a neurological interface to translate to her own mind the inner workings of the brain belonging to one of the world's last remaining wild wolves. On top of her academic curiosity, she yearns to experience full wolfishness: freedom, brutality, instinct, and pack belonging. But her growing obsession with her work soon threatens her relationship with her wife, as well as her own health and sanity.
Blue Hunger by Viola Di Grado, Translated by Jamie Richards (March 14)
Newly available in English, this novel was originally written in Italian but is set in Shanghai. It follows a young woman who leaves her hometown of Rome for Shanghai in the wake of her twin brother's death, where he had dreamed of opening a restaurant. While working as an Italian teacher, she meets Xu, another young woman running from her family and her past. In the dark, liminal spaces of the city's abandoned slaughterhouses and factories, the two women begin to meet regularly to devour each other.
Proud Pink Sky by Redfern Jon Barrett (March 14)
A unique blend of utopia and dystopia, Proud Pink Sky takes place in an alternate historical world where the gay state of Berlin is a megacity of 24 million people. The novel tells the stories of two queer teen boys escaping the UK's homophobia and a young mother from the heterosexual district who stumbles upon an enclave of the city's forbidden trans residents. All three soon discover that there might be a civil war brewing in Berlin, despite it claiming to be a gay paradise.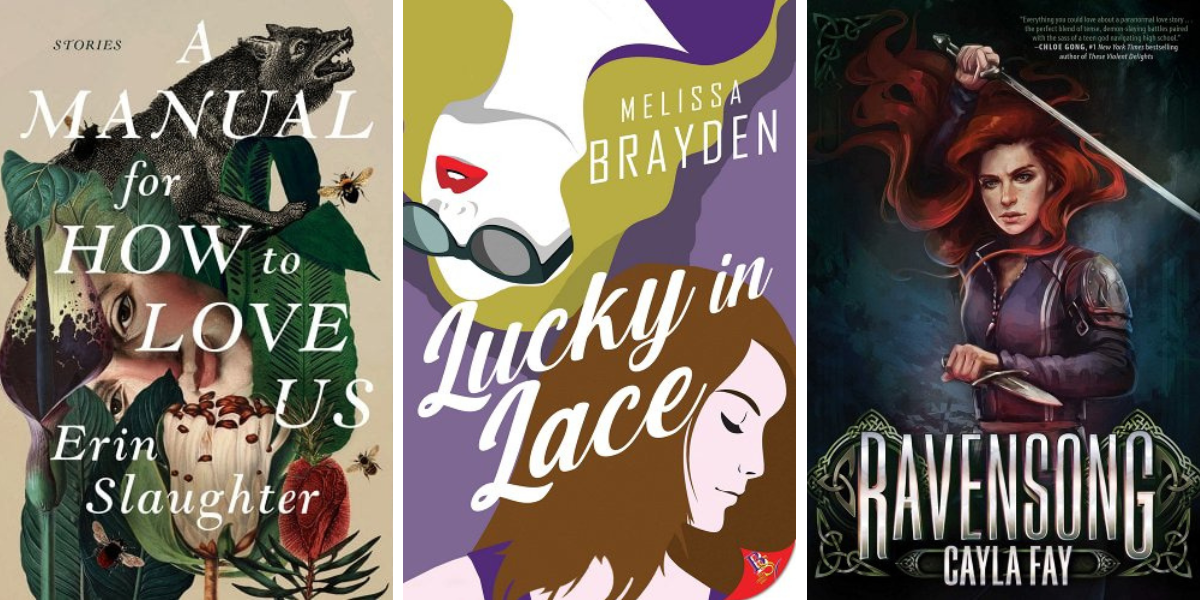 This debut collection of interlinked short stories focuses on women's grief while shifting between realist and speculative modes. Set in the American South, the stories embrace wildness, absurdity, and primal instincts, queering the stereotype of the quiet, sad woman sitting with her grief at home. In one story, a woman slowly moves into her stained glass art; in another, a throuple discovers that one of them has mysteriously vanished.
Lucky in Lace by Melissa Brayden (March 14)
Opposites attract in this lesbian romance about an uptight woman who runs a stationary store owner and the charismatic owner of a new sexy lingerie shop that opens up next door. Both women are running from something: Juliette is reeling after finding out her ex and friend have fallen for each other and Peyton is recovering from the consequences of a series of bad life choices. Can these two make it work?
Ravensong by Cayla Fay (March 14)
A queer YA fantasy for fans of Buffy the Vampire Slayer and Irish mythology, Ravensong is about Neve, a young warrior goddess devoted to fighting demons and guarding the gate to hell. Unfortunately, she's still stuck in high school, waiting for her 18th birthday when she comes fully into her powers. When she — to her surprise — falls in love with a regular human girl named Alexandria, Neve learns that someone in hell is after her new girlfriend.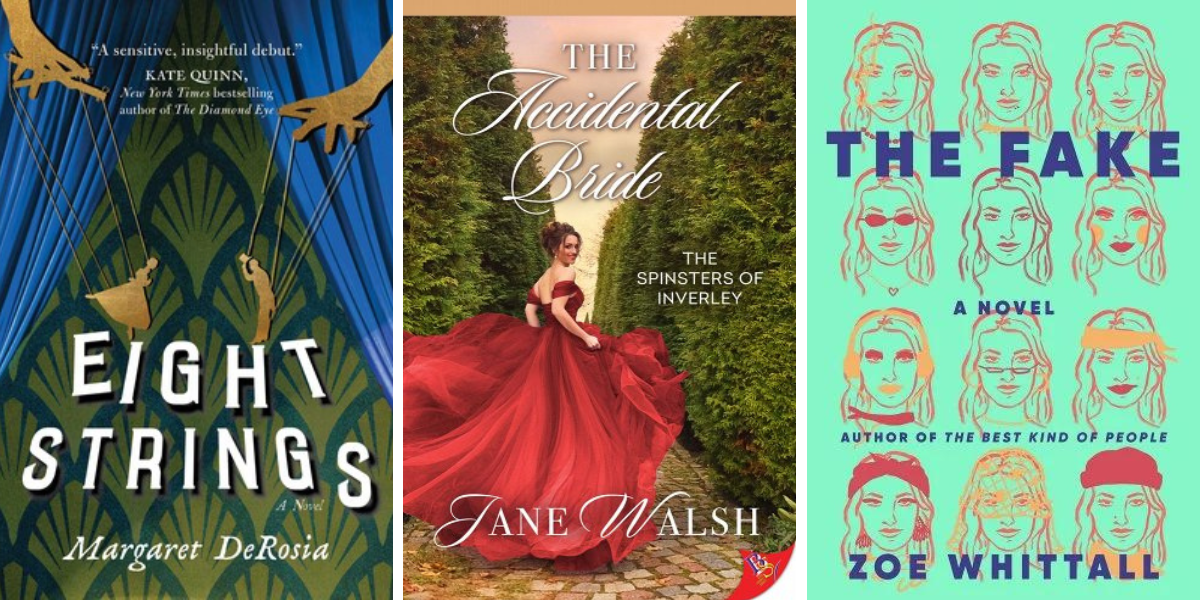 Eight Strings by Margaret DeRosia (March 14)
Out in Canada mid March and hopefully more widely soon, this historical novel takes place in late 19th century Venice in the world of puppetry. The protagonist Francesca has dreamed of performing with eight string wooden marionettes, but the profession is open only to men. At first Francesca's alter ego of Franco is for safety and to secure a puppetry apprenticeship, but the new identity turns out to be who Franco was meant to be all along. For fans of Sarah Waters!
In this queer historical romance set in the Regency period, prim and proper Grace is a lady's companion without much hope for anything exciting in life before she meets Thea, a flamboyant botanist with whom Grace has one night of forbidden passion. When Grace's lady runs off with Thea's brother for a scandalous elopement, it's up to Grace and Thea to go after them. As they travel together to Gretna Green, the two women discover how compatible they are despite their differences. Can they make a go of a real relationship?
The Fake by Zoe Whittall (March 21)
Zoe Whittall is one of my favorite writers and her latest novel about two strangers who are taken in by the same scammer looks so fascinating! Shelby is grieving the loss of her wife when she meets charming, charismatic Cammie, who is recovering from cancer, in a support group. But when Shelby meets Gibson, a recently divorced guy who has also been dating Cammie, the two realize that Cammie has been telling them vastly different versions of her life. But who would lie about having cancer, and how did both Shelby and Gibson fall for it?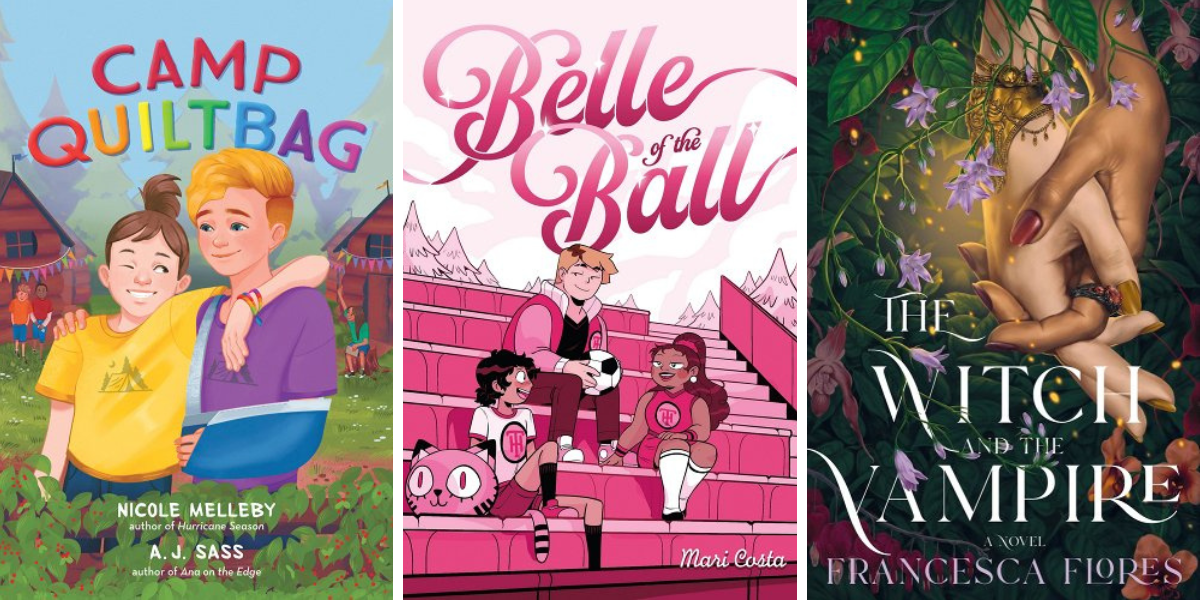 Camp QUILTBAG by Nicole Melleby and A.J. Sass (March 21)
Set at a summer camp for queer and trans kids, Camp QUILTBAG is a middle grade story about joy and community. The two main characters, Abigail and Kai — 12 and 13, respectively — form a friendship after each of them has a bit of a rough start to the summer. Crushes, identity exploration, and general summer fun ensue. Featuring a kid who uses e/em/eir pronouns!
This contemporary YA graphic novel is about a queer love triangle that goes in an unexpected direction. Shy Belle Hawkins — who goes by her last name — finally works up the courage to ask out her longtime cheerleader crush, Regina, despite knowing Regina is already dating someone else: Chloe, an athlete who needs help keeping her grades up. Knowing the love stricken Hawkins will do anything for her, Regina asks her to tutor Chloe for free. But Regina's self-serving plan goes awry when love blossoms between Chloe and Hawkins, who knew each other as young kids.
Queer YA dark fantasy Rapunzel retelling! Former best friends Ava and Kaye were torn apart by the brutal vampire attacks on their town that left Ava and her mother turned into vampires and Kaye's mom dead. When Ava escapes her mother's confinement and heads for the forest to seek help stopping her mother's evil plans, she unexpectedly runs into Kaye. Kaye has finished her witch training and has sworn to dedicate her life to killing vampires — including Ava. The two girls enter the dangerous forest with their own conflicting motivations, but they'll need to depend on each other to survive.
Ace Notes by Michele Kirichanskaya (March 21)
Subtitled "Tips and Tricks for Existing in an Allo World," this book is a resource that covers a wide variety of topics, including coming out, ace culture, relationships, sex, consent, religion, community, and more. It also goes over different types of attraction, definitions of asexuality, and nuances like the difference between being sex-favorable, sex-adverse, and sex-repulsed. In addition to the ace author's own perspective, Ace Notes also features interviews with aces from across the spectrum.
Infamous by Lex Croucher (March 21)
This historical-ish bildungsroman with a big side of friends to lovers sapphic romance is set in the Regency period but written with a decidedly 21st century queer and feminist sensibility. Eddie is a 22-year-old aspiring writer who doesn't want to grow up, and she doesn't want her best friend Rose to either, despite her recently announcing her intention to marry. When they, alongside Rose's fiancé, receive an invitation to the country house of Eddie's idol, a charismatic famous poet named Nash, Eddie finds out Nash isn't the guy he seemed to be. She also discovers her feelings for Rose are more complicated than she thought.
From the author of YA novel in verse A Million Quiet Revolutions comes a new middle grade book in verse about a trans tween, Noah, grieving the death of his best friend, Lewis, a fellow trans boy who died in a car accident. To deal with his pain, Noah begins to write letters to Mothman, his favorite cryptid and one of the characters he and Lewis both loved. When Noah becomes obsessed with the idea that Mothman is real, even planning to focus his science project on him, his parents and teachers start to worry. But Noah is determined to journey into the woods, Mothman's home, and find him himself.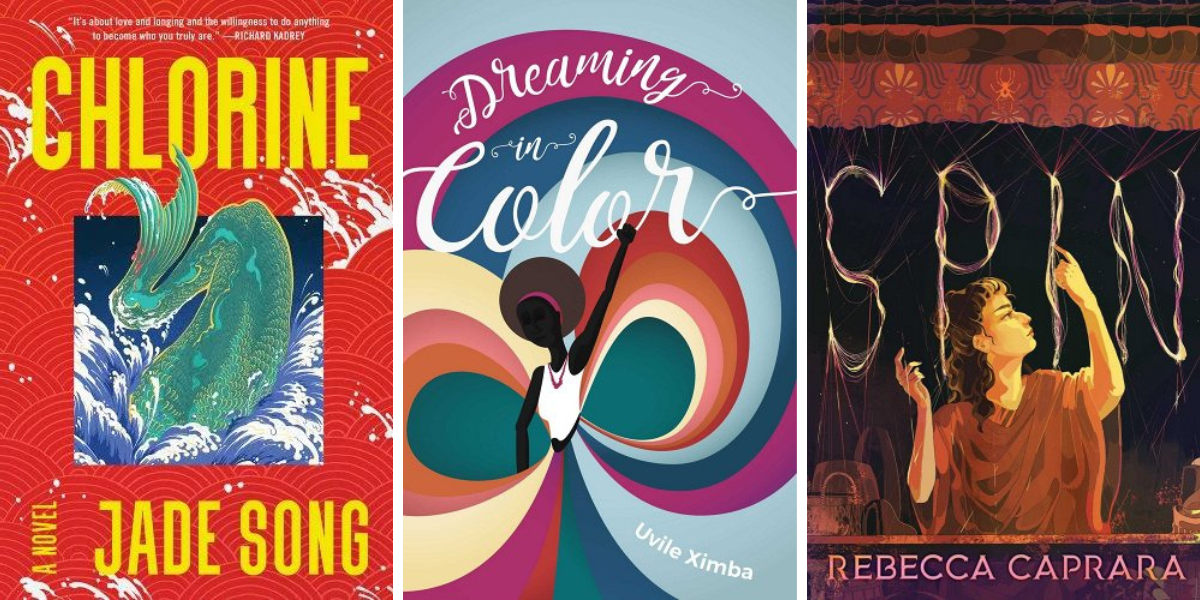 Chlorine by Jade Song (March 28)
Song's debut novel is a genre blend of horror, coming of age, and literary fiction about a young woman named Ren, whose life revolves around swimming. Ren practically lives in the pool; her only friends are her swim teammates, her coach her idol. But apart from the chlorinated water she spends her days in, Ren dreams of deep sea creatures, dark and mysterious. Told retroactively from her adult perspective, the story investigates themes of immigration, bisexuality, mermaid mythology, and patriarchal control of women's bodies.
This debut novel by Black South African writer Uvile Ximba is a queer coming of age story about identity, sex, and intimacy. The protagonist is Langa, a student at the University of Makhanda during a period of heightened activism against campus sexual assault and rape culture known online as #RUReferenceList. Langa is in a passionate relationship with Khwezi but at the same time she is haunted by gaps in her memories linked to her past. The book elegantly balances themes of trauma, pleasure, and healing.
Spin by Rebecca Caprara (March 28)
A sapphic YA retelling of the myth of Arachne, Spin is a great read for fans of Madeline Miller's Greek mythology novels. The 16-year-old Arachne begins the story ostracized by everyone except her best friend Celandine and family. She learns to weave on a loom, exploring her talent and finding herself through the craft. When she is later confronted by the goddess Athena, a weaving contest ensues, resulting in an unexpected transformation, revelation, and redemption.
Set in Brooklyn, this story follows two Jamaican Trinidadian sisters coming of age and working through their family past. At first, Zora and Sasha are drifting apart, each escaping in her own way from their mom's worsening mental illness and their dad's violence. Zora turns to her writing, while Sasha begins to spend all her time with her girlfriend and experiments with chest binding. But they're brought back together by a long buried family secret and a number of supernatural creatures. For fans of Helen Oyeyemi!
Loki's Ring by Stina Leicht (March 28)
Leicht's latest feminist science fiction novel is about a woman named Gita's quest to save the robot, Ri, whom she loves as a daughter. While captaining her spaceship, Gita receives a distress signal from Ri, who is trapped in an artificial solar system named Loki's Ring. The more Gita and her crew investigate, the more horrific and mysterious the situation becomes: it appears an unknown virus has wiped out everyone close to Ri, and when Gita's ship becomes stranded, they are all vulnerable to attack by illness or enemies. Featuring multiple LGBTQ characters!
The Quiet and the Loud is a YA novel about a teenage girl named George, whose only breaks from her busy, demanding life are the times she floats on the water in her kayak. Otherwise, she's trying to help her friend who's about to become a teen mom, reeling from her estranged dad coming back into her life, supporting her friend feeling climate crisis grief, and taking care of her elderly gramps. Her moms only add to the chatter, but time spent with a new girl, Calliope brings her solace. If only she could stay in Calliope's arms forever…
---
April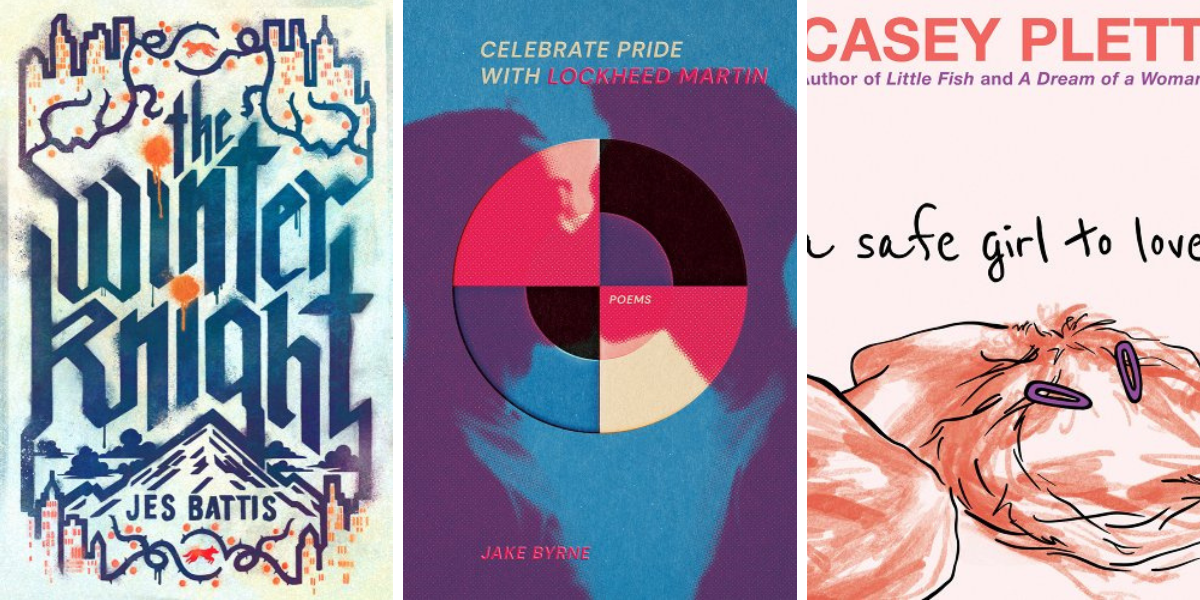 How about a queer and trans urban fantasy mystery hybrid that's also an Arthurian legend retelling? Set in Vancouver, this story follows a different version of the knights of the round table. When one of them is killed, an investigator and valkyrie named Hildie is assigned to the case. Her number one suspect is the reincarnation of Sir Gawain, a modern day autistic college student named Wayne. Wayne and Hildie end up working together to solve the crime, encountering beasts, Wyrd sisters, fallen knights, and their own demons along the way.
This debut book of poetry "takes the reader across the world on a Carmen Sandiego-like journey as well as deep into the complexities of modern queer life." Byrne investigates themes of queer lust and love alongside critiques of capitalism and war, in particular the way queer culture has been co-opted. (The title is a reference to a multinational security and aerospace company). The poems shift not only in tone, but also style.
Casey Plett's stunning first book, a collection of short stories about trans women's lives, won the Lamda award for trans fiction in 2014 but it's been out of print for years. Not anymore! This new edition features all eleven original stories, plus a new afterword by the author. With settings ranging from a small Mennonite town to hipster Brooklyn, the characters are fascinating and all too human as they navigate growing up, love, sex, misery, heartbreak, harassment, and fun. Alternately funny and sad, the stories will burrow their way into your heart. Also, one features a talking cat!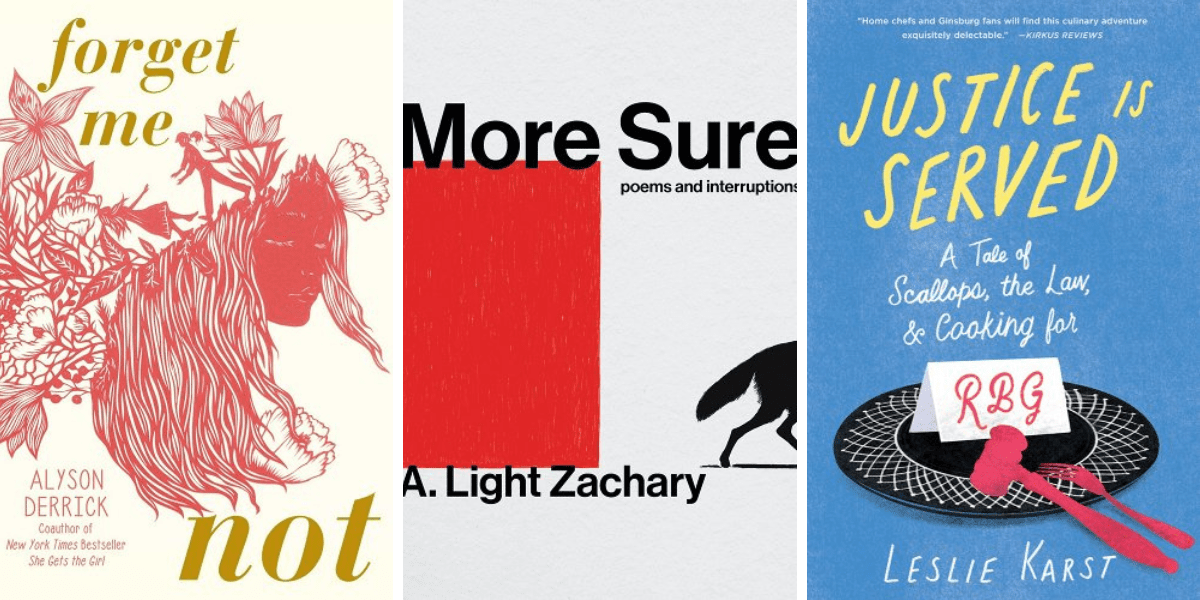 Forget Me Not by Alyson Derrick (April 4)
Derrick's solo debut (she co-authored with her wife the delightful She Gets the Girl), this YA novel is the story of two fifteen-year-old girls, Nora and Stevie, whose secret, once in a lifetime romance goes majorly off track. Stevie has a bad fall, and when she wakes up, she doesn't remember coming out, falling in love with Nora, or their plans to hightail it out of their super conservative town. If they are truly meant to be, does that mean they will fall in love all over again? And what does getting back together mean if one of them doesn't remember being together at all?
Not Sure by A. Light Zachary (April 4)
Zachary's debut collection of poetry takes on themes of self discovery, love, and recovery through the lenses of nonbinary, queer, and autistic experiences and identities. The poems express self realization not as a final destination, but as an ongoing process of finding yourself over and over again in different places: in "gender, language, family, labour, sexuality, fear, and love." Sometimes the poems ask philosophical questions drawing from the work of ancient Greek and Roman thinkers like Seneca and Juvenal, sometimes they embody contemporary punk sensibilities, and sometimes they use quantum physics to investigate the universe.
Subtitled "a tale of scallops, the law, and cooking for RBG," this unique memoir recounts Karst's journey from enduring a small town lawyer job that she hated to embracing food as her life's passion. Hosting a special dinner for RBG and her husband function as the catalyst for change. As she tells the story of preparing for the big dinner, Karst shares recipes, the culinary inspiration she found in Paris, relevant details of RBG's life, and how the process brought her closer to her partner and parents.
An "uppercut to the senses" according to Elizabeth Acevedo, this Bronx-set queer YA follows high schooler Yolanda, who is on the precipice of following in the footsteps of her ancestors in her family's bruja tradition. But Yolanda's initiation brings visions of future violence connected to a new white boy at her school who has major bad vibes. This story tackles themes of race, gun violence, spirituality, justice, and education with an empathetic and deft hand.
For all my fellow pun lovers out there, the tagline for this campy, darkly funny YA thriller about a nonbinary teen birder is "murder most fowl." If this description alone doesn't sell you, here's more: Bianca is a shy, anxious teen who belongs to a bird watching group. When they accidentally witness a murder across the street with their binoculars, they team up with two of their birding aficionados — including Bianca's crush — to investigate.
Pomegranate by Helen Elaine Lee (April 11)
Pomegranate is a story about queer Black womanhood, incarceration, addiction, redemption, healing, and thriving. At the opening of the novel, Ranita is three years sober and almost done her four year prison sentence. She's yearning for freedom, but she's also sad to be leaving Maxine, the lover who inspired her to think about herself and the world differently. In lyrical prose, Lee follows Ranita as she looks to the future, wondering who she will be, if she will regain custody of her children, and what life looks like beyond mere survival. For fans of Jesmyn Ward and Yaa Gyasi!
Tamsyn Muir calls this debut queer space opera "[m]asterful, audacious storytelling … [r]elentless, unsentimental, a completely wild ride." The story follows Kyr, one of the few survivors of humanity, who lives in Gaea Station in the shadow of Wisdom, the reality morphing weapon that wiped out Earth and almost all its life. Kyr has been raised as a warrior to avenge the destruction of Earth. But when Command relegates her to Nursery, where her work is to bear sons until she dies instead of fighting, she goes rogue. Revenge for humankind is now up to her.
This lesbian romance features newly out Marlene, who is aghast that it took her thirty years to figure out she was gay. Abby is a bartender at a queer bar who's comfortable in her identity and her own skin, but she can't help but worry at the ending of yet another relationship with an ex telling her she's "too much." With nowhere to live after her breakup, Abby takes up Marlene's offer of her spare room in exchange for help on fitting into the queer women's scene. But when they begin to fall for each other, the fact that they're now roommates makes things awkward.
The last instalment in Anders's YA science fiction Unstoppable series, Promises Stronger Than Darkness picks up with Rachael, Elza, and their friends. Pursuing the one mysterious clue that might help them stop the destruction of the universe, they end up turning to the last person they thought would be an ally: Captain Thaoh Argentian, who stole Rachael's best friend's body. Space princesses! Body snatching! Ragtag group of misfits saving the world!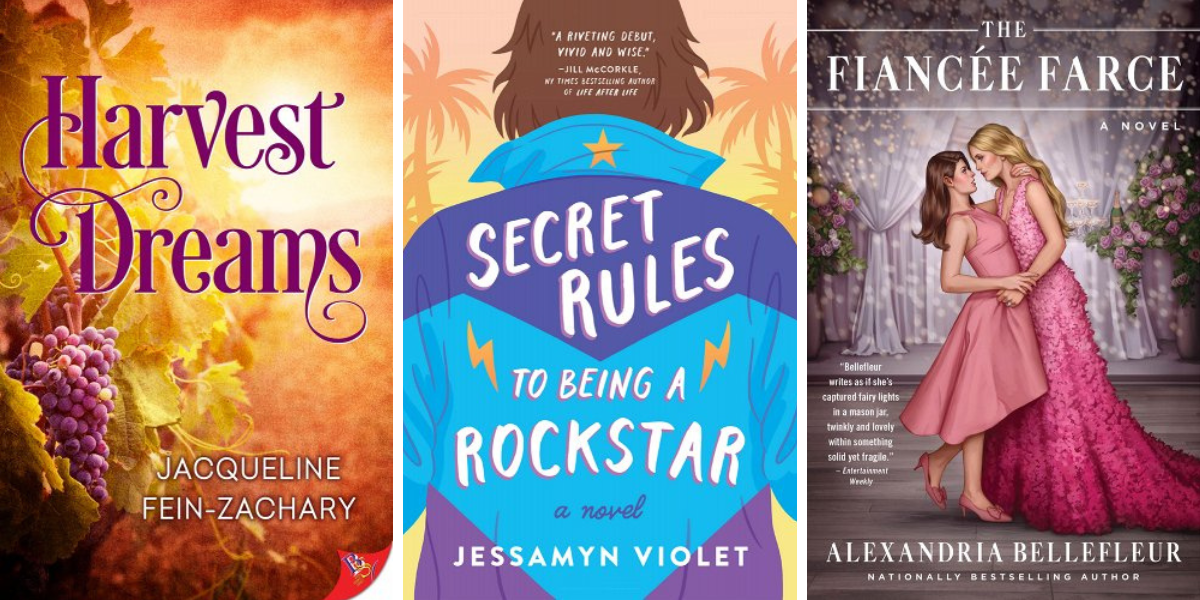 Harvest Dreams by Jacqueline Fein-Zachary (April 11)
Set in the Napa Valley in 1982, this queer romance features an agricultural student and a business major falling in love at a vineyard. Kate is an aspiring farmer who's passionate about grapes. She has a chance to make her dream come true when her gay uncle passes due to AIDS and leaves her his potato farm. Sydney seems like the perfect person to run the business side of a potential venture, but the unexpected attraction between the two women catches them by surprise.
This YA debut by celebrated musician Jessamyn Violet makes good use of her expertise by telling the story of an eighteen-year-old, Kyla, who dreams of becoming a rock star. Set in 90s L.A., Kyla's journey begins when Ruby, the frontwoman of her favorite band, hears Kyla playing on keys and offers her a chance to play with the band on their upcoming tour. Not only does Kyla have to survive "rock star boot camp" with a famous but capricious producer, she has to contend with her growing attraction to Ruby.
The Fiancée Farce by Alexandria Bellefleur (April 18)
Bellefleur's latest sapphic romance is a modern marriage of convenience story between a shy bookseller working to save her family's struggling bookstore (Tansy) and the wealthy heir to a publishing company who's the black sheep of her family (Gemma). At first Tansy and Gemma's relationship is entirely fictional, but when real sparks begin to fly, it makes their business arrangement awkward. Does Gemma just need a wife to fulfil the requirements of her grandfather's will? Does Tansy just need cash to reinvigorate her bookstore? Or is what they really need simply … each other?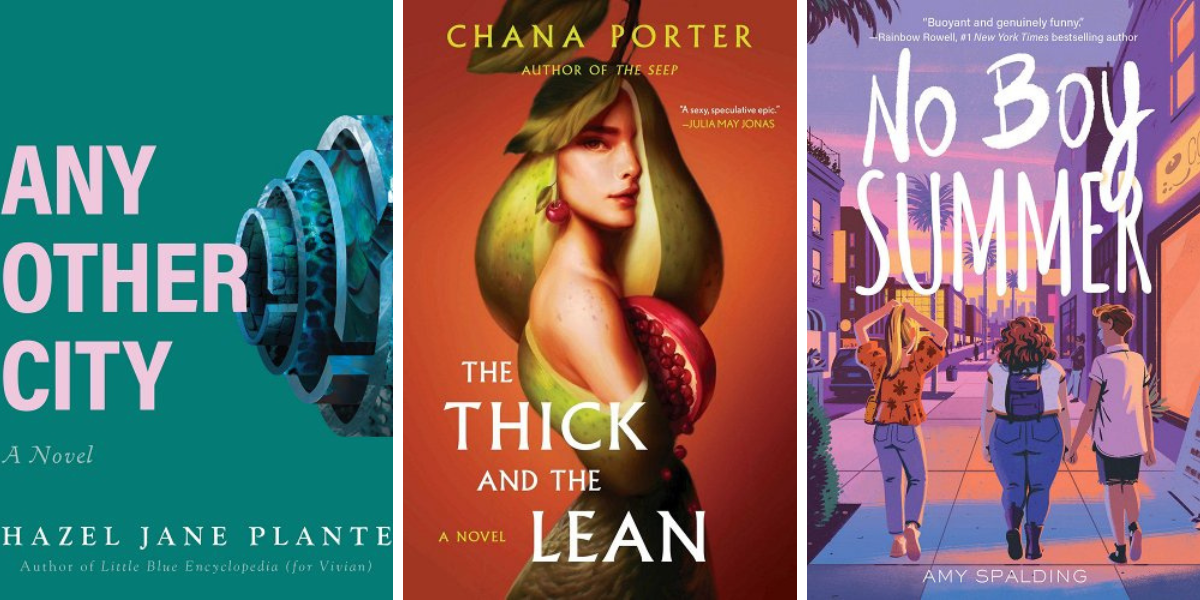 Any Other City by Hazel Jane Plante (April 18)
From the author of the masterpiece Little Blue Encyclopedia (For Vivian), comes another unique novel about trans femmes and art. Structured as a fictional memoir with a Side A and Side B like a cassette tape, the book tells the life story of famed musician Tracy St. Cyr. It takes place in two time periods, 1993 and 2019, featuring Tracy as a fledgling artist finding trans community and later as successful and famous, working her way through a traumatic event via sex, kinship, and music. As the fictional author, "Tracy perceives how the past reverberates into the present, how a body is a time machine, how there's power in refusing to dust the past with powdered sugar, and how seedlings begin to slowly grow in empty spaces after things have been broken open."
Porter's latest science fiction fable investigates food, pleasure, hunger, capitalism, body politics, and freedom. Beatrice has grown up in an isolated town where abstaining from food is spiritually important. But she loves cooking and has a secret passion for all things culinary. Reiko is a straight-A student at a tech college who has recently lost her scholarship and is faced with either accumulating a mountain of debt or going back to her rural hometown in shame. When a mysterious old cookbook brings these two women together, they both discover life paths beyond what they thought was possible.
No Boy Summer by Amy Spalding (April 18)
Spalding's latest YA rom com is about two teenage sisters tired of boy drama who vow to have, as the title says, a "no boy summer." Lydia and Penny are staying with their aunt in L.A. for July and August , both loving the time for sisterly connection and enjoying their respective job and internship. But then Lydia starts crushing on Fran, a customer at the coffeeshop she works at and the first girl who seems to reciprocate her feelings. She tells herself dating Fran wouldn't be against the rules, technically. But what will Penny think if she finds out?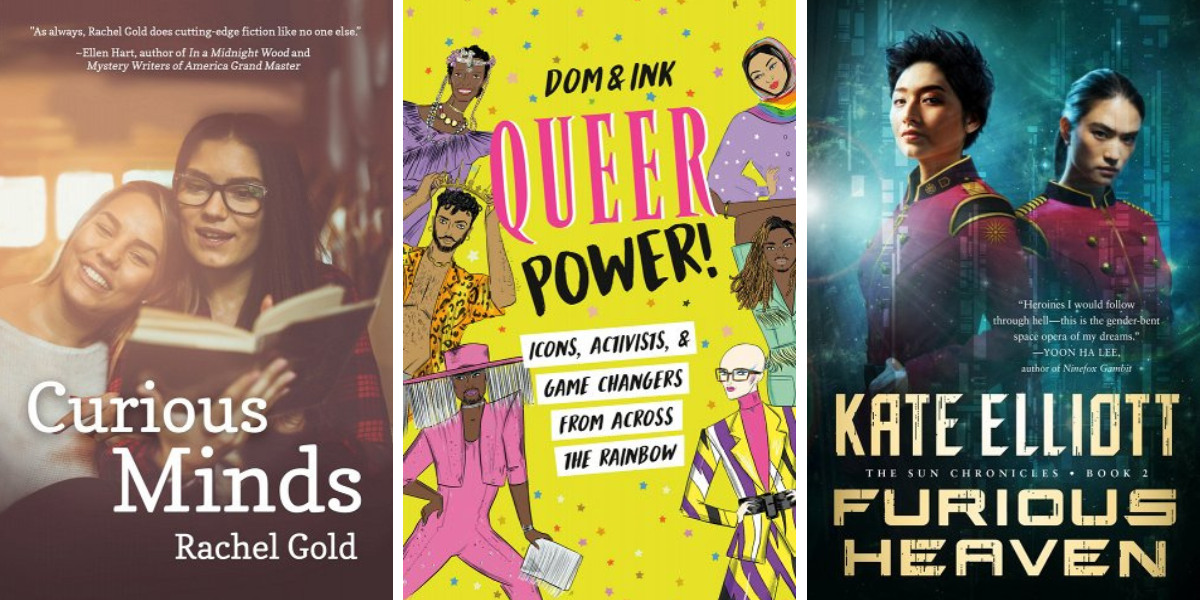 If you're looking for a unique premise in your sapphic romance, Curious Minds is for you! It's centered on a group of LGBTQ+ university students participating in a treasure hunt for a valuable coin collection with coded clues hidden in vintage lesbian books. Maze and Lys are the two heroines, bonding over their shared experiences with ADHD. But they end up competing against each other in the treasure hunt when chance puts them on opposing teams.
In this collection of illustrations and essays about "icons, activists, and game changers from across the rainbow," Dom&ink covers both well known figures and up and coming queers, focusing on modern and contemporary people. Interspersed are inspirational quotes, advice, and life lessons pulled from the lives of those profiled. Themes include mental health, coming out, and activism; people featured include Marsha P Johnson, Lil Nas X, Tess Holliday, and Anick Soni.
This anticipated sequel follows the action-packed, queer, gender swapped Alexander the Great science fiction retelling, Unconquerable Sun. The Princess Sun and her mother, queen-marshall Eirene, have vanquished the invading Phene empire — for now. When Eirene's bold attack on the Karnos system coincides with an unexpected tragedy, Sun has to decide whether to take charge or not. Should she follow her ruthless, pragmatic mother's plan, or forge her own path?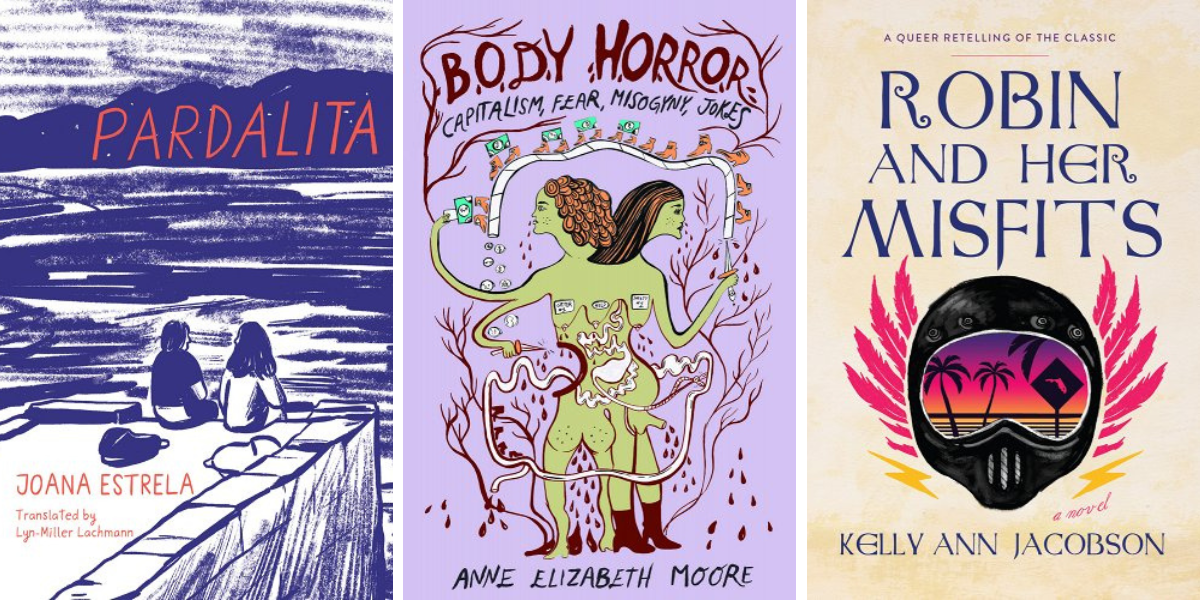 Pardalita by Joana Estrela, Translated by Lyn Miller-Lachmann (April 18)
Originally written in Portuguese and published in Portugal, this YA graphic novel is described as "This One Summer [by Mariko Tamaki and Jillian Tamaki] meets Ursula K. Le Guin's Very Far Away from Anywhere Else." It follows a 16-year-old named Raquel, offering a slice of her life in small town Portugal, where she is dealing with her parents' divorce, getting suspended, and meeting a magnetic older girl, Pardalita. The two girls get to know each other while working on a play together; Raquel falls in love.
Body Horror by Anne Elizabeth Moore (April 18)
Subtitled "Capitalism, Fear, Misogyny, Jokes," this new edition of Moore's book takes an in-depth look at the effects on women's bodies under the oppressive regimes in which they live. The essays cover far ranging topics from the history of menstrual products to the gender biases of patent law and the Cambodian garment industry; others are more personal, with themes pulled from Moore's own experiences with autoimmune disease. Despite the serious subject matter, the prose is riddled with dark humor. Moore's original essays are accompanied by illustrations by Xander Marro, a fresh introduction, and new essays not included in the first edition.
A queer, feminist YA retelling of the Robin Hood story, Robin and Her Misfits features a bike gang of runaway girls who survive by committing petty crime and living off the grid. Their only goal is to keep each other alive and safe. But their law breaking ways acquire new meaning when one mission reminds them of the lives they left behind. Soon, their common purpose is protecting and helping other queer girls rise above what's holding them down.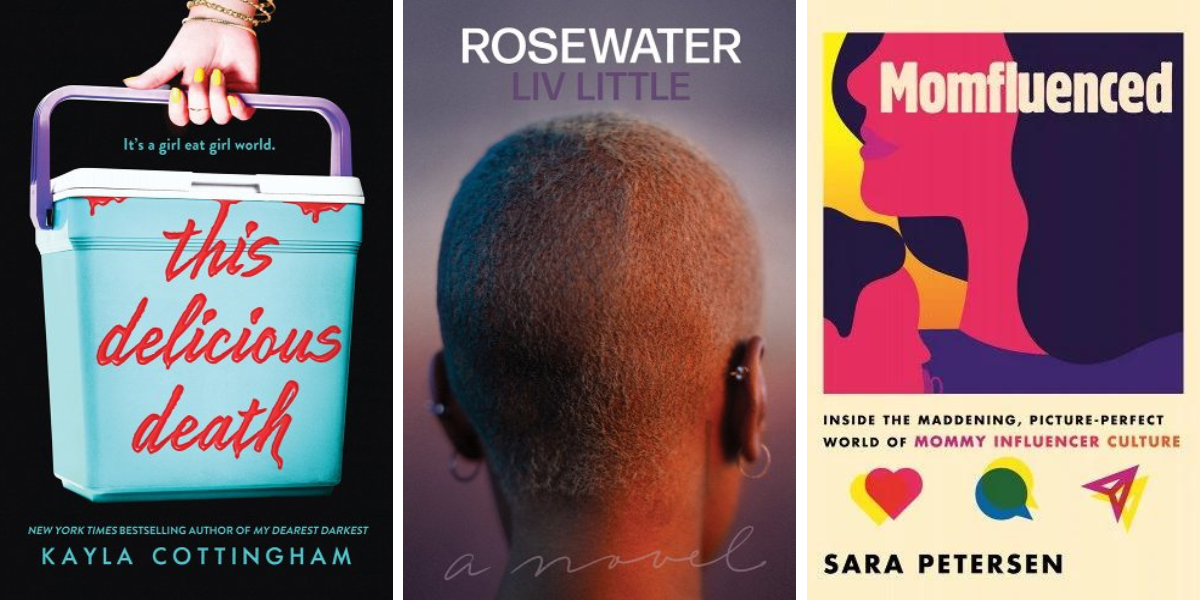 This YA sapphic horror is about four BFFs who go to a music festival in the desert, only to discover a sinister plot to expose them and their kind. These girls are all part of a tiny portion of humanity who succumbed to the Hollowing: a transformation into creatures with an insatiable hunger for human flesh, which is the only thing they can survive on. Luckily two years later there is a synthetic version of human meat, which of course Valerie, Zoey, Celeste, and Jasmine have packed for their trip. But when Val goes feral, killing and eating a boy band member, they realize something is deeply wrong.
Rosewater by Liv Little (April 25)
This debut novel about Elsie, a queer Black woman in her late 20s living in south London, is being compared to the acclaimed Queenie. Burdened with existential dread, Elsie tries to keep on keeping on with writing poetry, working at a neighborhood dive bar, and a dalliance with a coworker. But when she's evicted and has nowhere else to go since she's estranged from her family, she turns to an old childhood friend, Juliet, with whom she finds an unexpected spark. Featuring poetry by Kai-Isaiah Jamal!
Momfluenced by Sara Petersen (April 25)
Petersen's deep dive into "the maddening, picture-perfect world of mommy influencer culture" draws from her own complex relationship with the phenomenon as well as interviews with experts and cultural analysis. She concludes that these influencers "sell us the dream of motherhood itself, a dream tangled up in whiteness, capitalism, and the heteronormative nuclear family," but she also views them with empathy and, at times, humor. She asks how moms can define motherhood for themselves in the face of pervasive myths, impossible standards, and everyone telling them that they could be doing it better.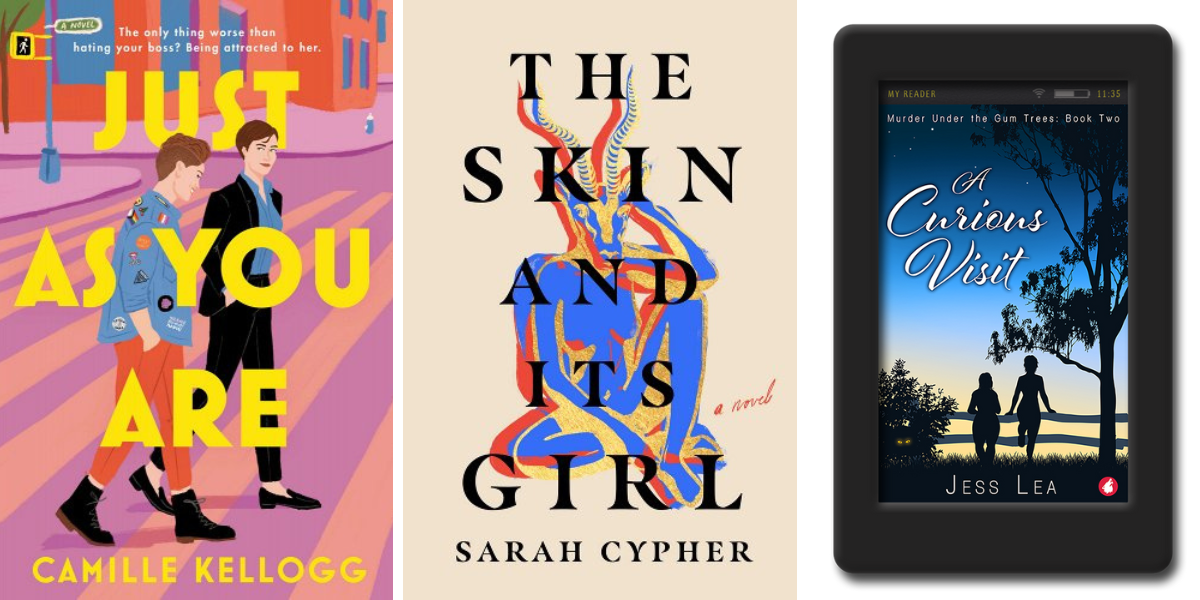 Steamy workplace queer rom com, anyone? Set in New York City, this story begins with the near shuttering of queer magazine Nether Fields, which is bought by two wealthy lesbians. Liz, one of Nether Fields' writers, knows she is lucky to still have a job, but she can't stand Daria, her new boss. Daria has been slashing budgets, including cancelling bagel Fridays (how dare she!). And Liz overheard her talking shit about her listicles! But as the two women spend more time together, Liz sees a softer side to Daria and realizes, to her horror, that she has a crush on the boss she claims to hate.
This magical realist novel features a young queer Palestinian American woman looking to her family's past for answers about her future. A stillborn baby's heart begins to beat again and their skin turns permanently blue, coinciding with their family's centuries-old soap factory being destroyed in their homeland. The family's matriarch Aunt Nuha and keeper of their family history believes the blue girl is a symbol. Decades later, Betty looks for guidance in her aunt's notebooks on whether she should follow the woman she loves out of the country. She finds out Aunt Nuha hid not only her own queerness but a lot more.
Book two in this Australian mystery series (but readable as a standalone!), A Curious Visit follows lesbian odd couple Margaret and Bess as they stumble upon a case while on vacation. They find an old, creepy house in the forest only to discover someone from Margaret's past is staying there. She tells Bess and Margaret she is being stalked and that something sinister is on the horizon. How much can they trust what she says?
---
May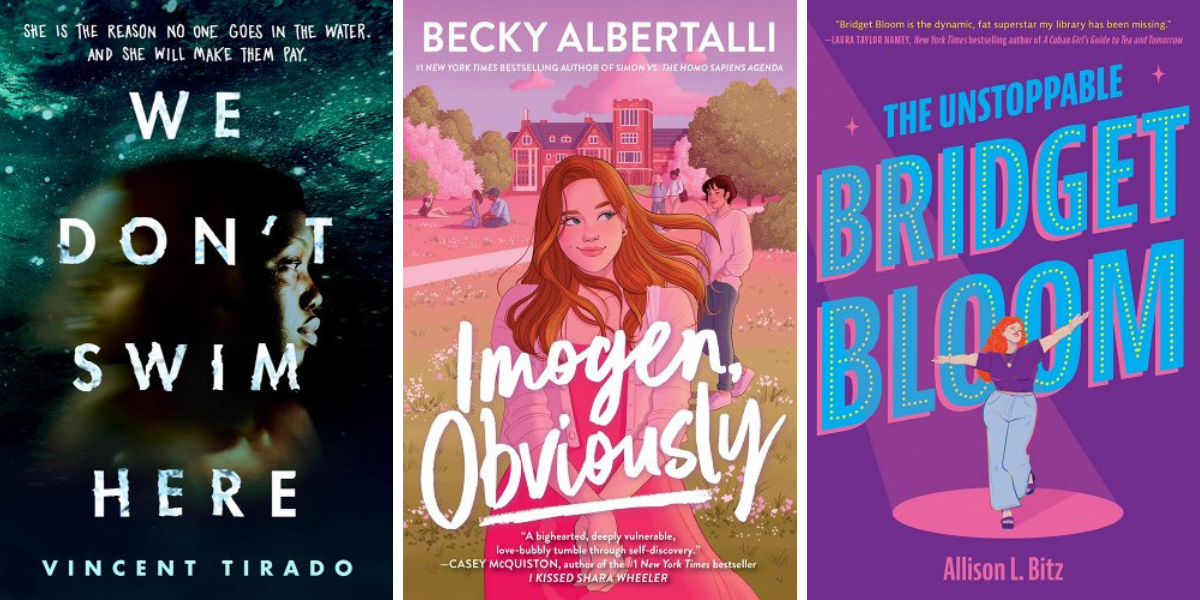 Tirado's second book is another YA horror, this time set in the rural hometown of the protagonist Bronwyn's dad, where they've gone to make final memories with Bronwyn's dying grandmother and to get her affairs in order. Bronwyn is a swimmer, so she is baffled by the townsfolk's widespread ban on going in any body of water, be it the beautiful lake the town sits on or the abandoned pool in the high school. Bronwyn's cousin Anais tries to stop Bronwyn from asking too many questions and exploring where she shouldn't, but when she fails both girls find themselves in incredible danger.
Albertalli's most personal queer YA yet, this story is about Imogen, a high school senior who calls herself "hopelessly heterosexual" but is the best ally anyone could ask for. She tends to know more about queer pop culture than her queer best friends or her queer sister. When Imogen finds herself hanging out with some cool college queers who think she and her friend used to date, she starts to wonder if she might not be so straight after all. One of the college girls has caught her eye…
Did anyone order a fat-positive queer YA about musical theater? Bridget is a superstar waiting to happen, with a big, bold voice and the ambition to match. So when she begins study at a college prep school with a prestigious music program, she's devastated to find out her low music theory scores will prevent her from performing and earning a sponsorship to help pay her tuition. The Dean of Students, who has the power to override the rule, tells Bridget this is a great opportunity to work on her humility and take a break from singing altogether. Excuse me??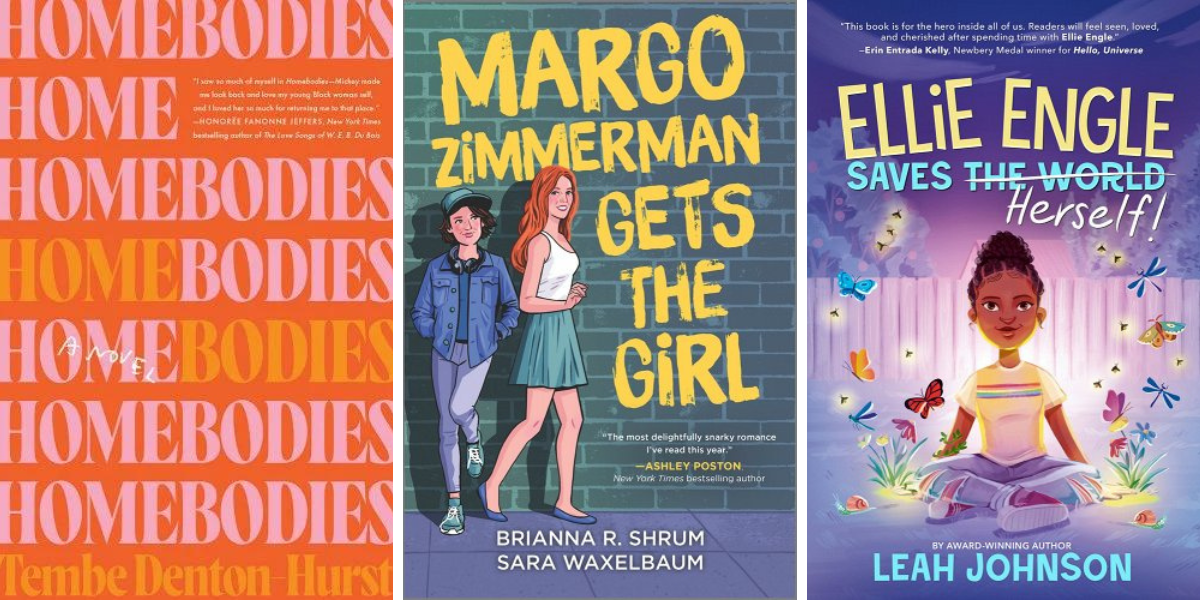 Homebodies by Tembe Denton-Hurst (May 2)
Mickey is on the road to success, far from her home state of Maryland, with her high profile job in media and her supportive girlfriend in New York City. But when she finds out she's being replaced at work, she fights back with a searing letter about all the racism and sexism she's endured as a Black woman in the industry. The response? Silence. Reeling, she escapes back to her hometown and indulges in a more simple life. But she's pulled back to New York when her ignored letter goes belatedly viral and suddenly anyone who's anyone is desperate to hear what she has to say. Is that still what she wants?
Opposites attract lesbian YA rom com! Margo is a type A, overachiever kind of girl, and figuring out she's gay is no different. Determined to succeed in her new identity, she strikes a deal with Abbie, who knows all about queerness but needs help raising her history grades to get into the college she wants. Margo will tutor Abbie in US History and Abbie will tutor Margo in Queer 101. Somewhere along the way, Margo realizes she wants more from Abbie than just lessons. But can she ace her first big test: telling another queer girl that she likes her?
Leah Johnson's middle grade debut is a contemporary, magical story about friendship, dealing with change, and self-love. Ellie is the side character in her own life, content to stand in her popular best friend Abby's shadow as long as she's got a good comic book to read. But that all changes when Ellie wakes up after an earthquake with the power to bring anything back to life with just a touch. Suddenly she's in the spotlight; and life seems to have the worst timing ever, since she realizes at the same time that she might be in love with Abby.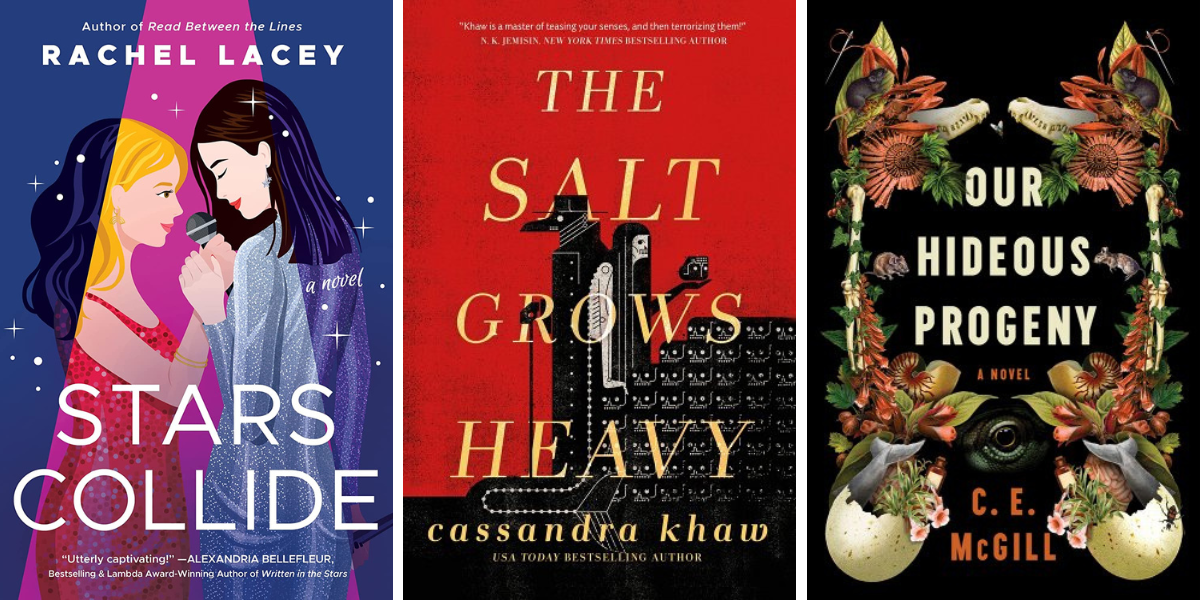 This slow burn romance features two pop star divas: one an up-and-coming star, Anna, and the other with waning popularity after 20 years of fame, Eden. Anna and Eden meet when their respective teams plan a duet performance to take place at the Grammys. Anna is eager to work with Eden, whom she idolizes, but Eden is defensive about needing a boost from someone younger and much less experienced. While rehearsing though, the two women quickly realize they have a lot in common and a potential spark.
Khaw's latest book, a dark fantasy-horror hybrid, is a mermaid tale that takes place after the so-called happy ending where the mermaid marries the prince. After killing her human husband and setting fire to his kingdom, a mermaid joins up with a genderless plague doctor for a journey through a snowy Northern coniferous forest. There, they discover an eerie village of children who thirst for blood, with three 'saints' who control them. Both mermaid and plague doctor will have to search inside themselves for their basest, most feral natures in order to survive.
In this speculative historical novel, the great niece of Viktor Frankenstein decides to follow in his scientific footsteps, albeit in her own way. Living in 1853 London as an academic, palaeontologist, and queer woman has Mary furious, fierce, and determined. When she and her husband Henry discover what her great uncle did, they embark on their own journey to create life: not a human, but a creature from their own area of study. In the wake of their success, however, Henry becomes obsessed with fame and Mary finds herself wrestling with unexpected ethical questions and concerns.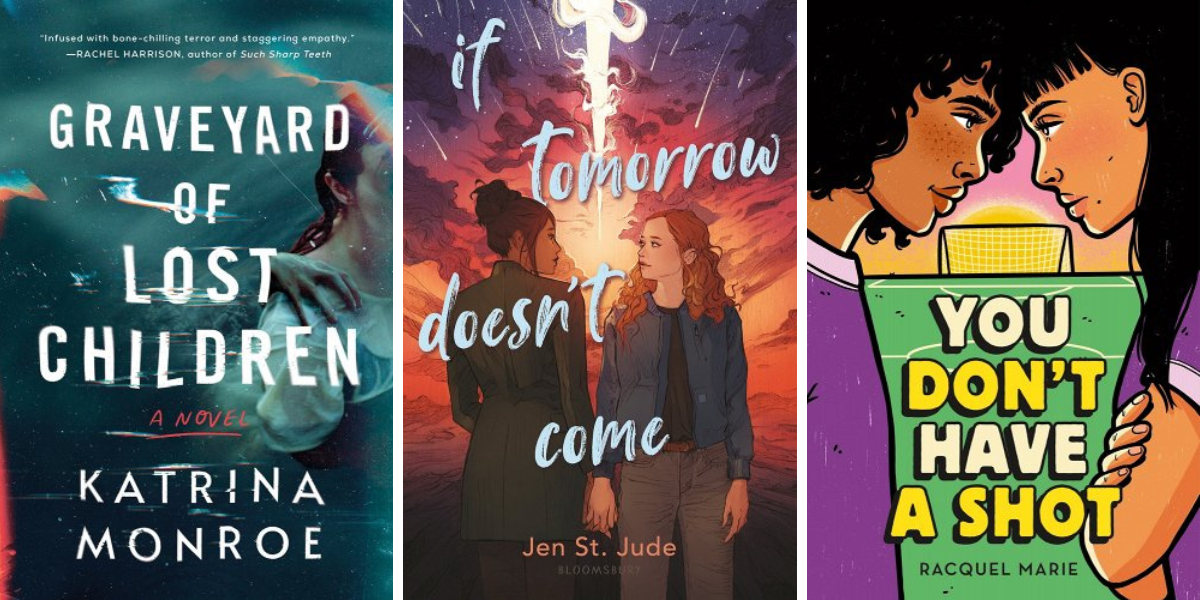 A haunting and heartbreaking queer horror story about dark motherhood and history repeating itself, Graveyard of Lost Children centers on Olivia, who was nearly murdered as an infant. After that trauma, her mother became convinced Olivia was a changeling and that her real baby was being held at the bottom of a well with "the dead women." Now that Olivia is a new mom herself, she begins to hear whispers of the dead as well, and dream of a drenched black-haired woman. Can she break this terrifying cycle plaguing the women of her family?
A nuanced look at depression, mental health, shame, and queer love, this debut YA novel uses a speculative setting to interrogate all too real issues. On the day that depressed closeted queer teen Avery has decided to end her life, she and the rest of the world find out that an asteroid is going to destroy Earth in nine days and no one can stop it. Planning to spare her friends and family pain in the last few days they have left, Avery changes her mind. But it turns out in the short time she has left, she is able to share her secrets, seek support, find hope, and learn to save herself.
Is this the year we finally get the quality queer girl soccer lit we deserve? You Don't Have a Shot, a YA debut romance about rival soccer players, is a great start. When Valentina aka Vale and Leticia end a playoffs game with a fight, both want to get as far away from each other as possible. So it's unfortunate to say the least that they end up being placed together as co-captains of a rookie team at the same soccer summer camp. But what starts off as them grudgingly working together in order to impress college scouts takes a very unexpected turn to romance.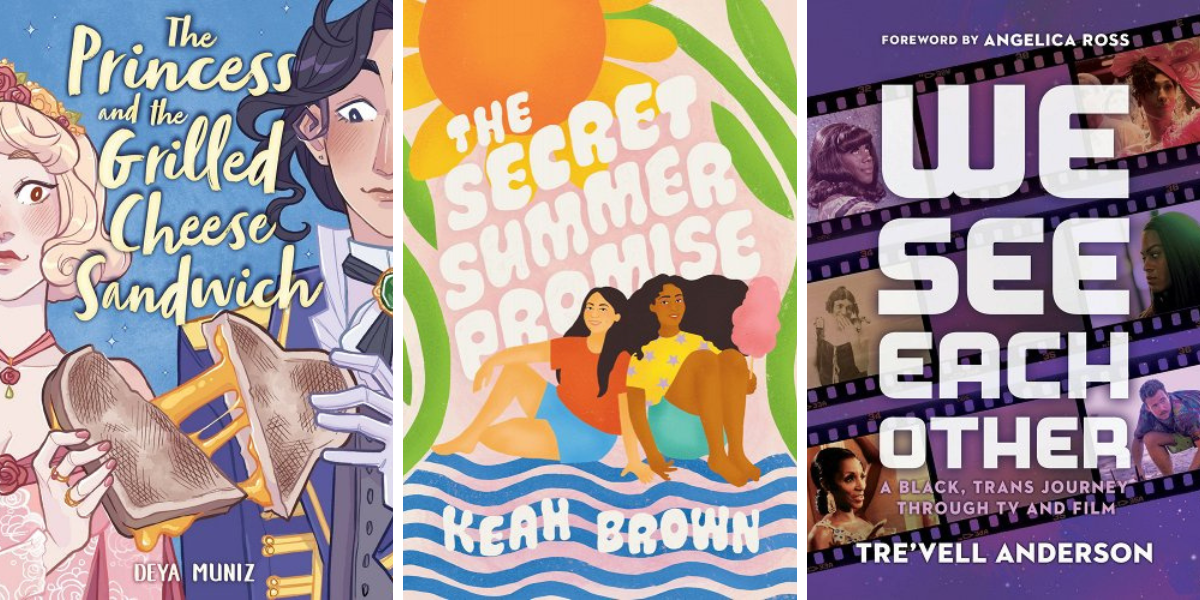 This title!! The Princess and the Grilled Cheese Sandwich is a graphic novel fantasy YA romantic comedy that is delightfully cheesy in more than one way. The protagonist, Lady Camembert, decides that since women cannot inherit land, the only thing to do when her father passes away is disguise herself as a man and begin a new life as Count Camembert in a far away city. But there she meets the fierce and fashionable Princess Brie, who she might just be falling in love with. Can she keep her disguise intact, and does she even want to if she wants Brie to get to know the real her?
From the author of the acclaimed essay collection The Pretty One comes a YA novel about a teen girl, Andrea, gearing up for the best summer ever. In order to make up for last summer, which she spent in bed recovering from a surgery for her cerebral palsy, Andrea makes plans for: skinny dipping; a Lizzo concert; a Drew Barrymore movie marathon; and more, plus … falling out of love with her best friend Hailee, who can never know who Andrea truly feels. Will she succeed? Does she even want to?
"A Black, Trans Journey Through TV and Film," Anderson's debut work of nonfiction makes good use of their experiences as a journalist, podcast host, and editor. Covering movies and TV shows such as Psycho, Holiday Heart, Boy's Don't Cry, America's Next Top Model, Some Like It Hot, Tangerine, Pose, RuPaul's Drag Race, and more, the book is at once a collection of pop culture criticism and a personal history. As Anderson traces the history of trans people on screen, they also share stories of growing up as a Black trans person who grew into the culture reporter they are today.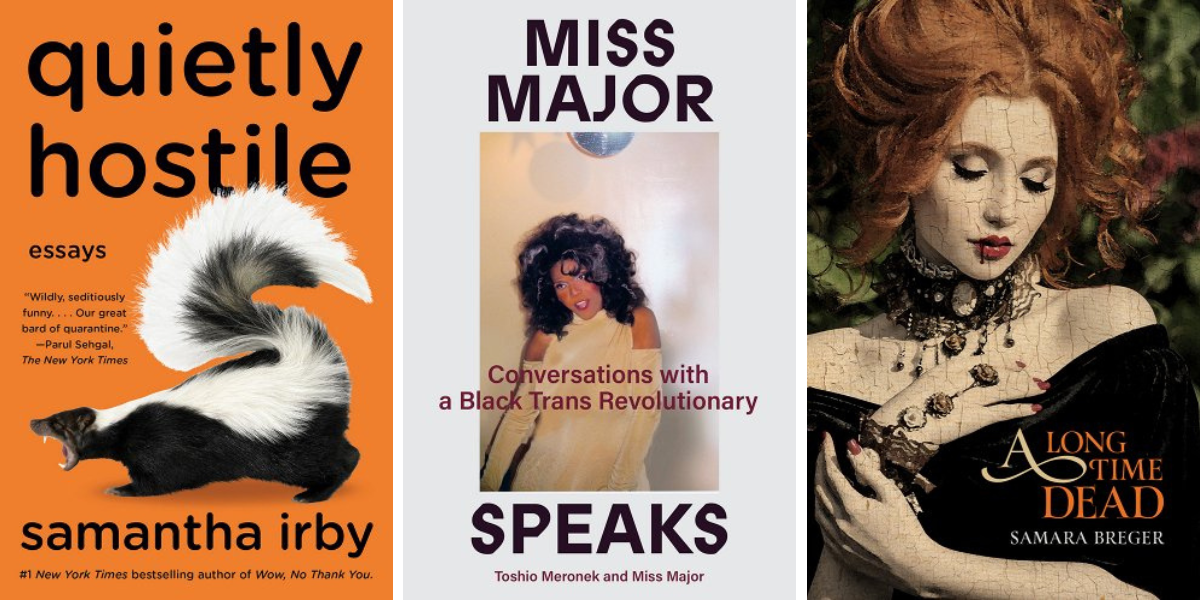 NEW SAM IRBY!! In her fourth book, Irby brings her trademark humor and honesty to essays that reveal "all that festers behind the glitter and the glam.wp_postsSure, she's now walked the red carpet with stars of Sex and the City, for which she's worked as a TV writer, but does that mean she still isn't dealing with diarrhea and her own teeth traitorously poisoning her from within her own mouth? No! Other topics include therapy, Reiki, crystals, getting turned away from a restaurant because of the ugly clothes she was wearing, Dave Matthews, family history, and more!
Miss Major Speaks by Major Griffin-Gracy with Toshiba Meronek (May 16)
This is not a drill: Miss Major has written her life story, combined with advice for the Black and brown queer and trans youth of today! The legendary Black trans activist and elder reflects on her remarkable life, one in which she was a crucial figurehead in Black, queer, trans, and sex worker liberation. Miss Major recounts her participation in the Stonewall Riots, starting a needle exchange program out of the back of her van, networking with other sex workers in the 1960s drag ball scene, and more. She discusses issues like the pitfalls of representation, the nuances of self-care, the difficulties of organizing, and the histories of struggle she has lived through. A must read!
Set in the 1830s, this paranormal dark romance features Poppy, a newly transformed vampire, and her sire, Roisin, who has been immortal for centuries already. Roisin takes Poppy under her wing, teaching her how to become a predator, how to adjust to a life lived at night, and how to protect herself. Soon Poppy is in love. It's not that Roisin doesn't love her too, but she has secrets she hasn't told Poppy, and a quest for revenge which she will stop at nothing to fufill.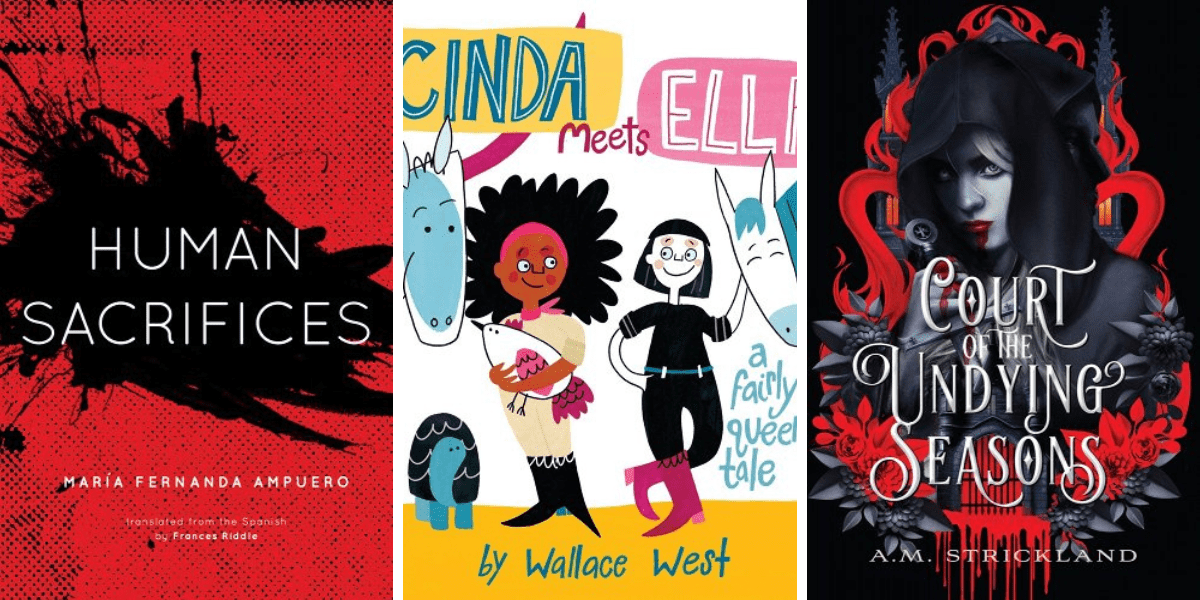 Human Sacrifices by María Fernanda Ampuero, Translated by Frances Riddle (May 16)
Originally written in Spanish, this collection of short stories by Ecuadorian author María Fernanda Ampuero tackles machismo culture, violence, and inequity. It's an excellent example of the tropical gothic subgenre: horror fiction with poignant imagery of rot, decay, and oppressive humidity. In one story, an undocumented woman arrives for what she believes to be a job interview only to be taken hostage. In another, a miserable couple finds themselves stuck in a maze of horrors.
Cinda Meets Ella is a Western style middle grade retelling of Cinderella with queer and gender nonconforming representation! Part of West's "fairly queer tales" series, the book aims to show queer and trans kids that happy endings are theirs too and to provide lots of laughs along the way. Set at a rodeo instead of a ball, this Cinderella story features a girl hoping for the giddyup cash prize and a chance at love with the mysterious nonbinary rider named Ella.
Strickland's latest queer YA fantasy is about Fin, a 19-year-old who volunteers to take her secret lover's place in the Finding, a ritual that takes humans away to Castle Courtsheart, a vampire school. One of the lucky ones who was transformed into a vampire instead of becoming food, Fin finds her new surroundings as fascinating as they are horrifying. While she's there, she's determined to avenge her mother, who was taken by vampires years ago. But she veers off track when she discovers a murderous plot that would threaten humans and vampires alike.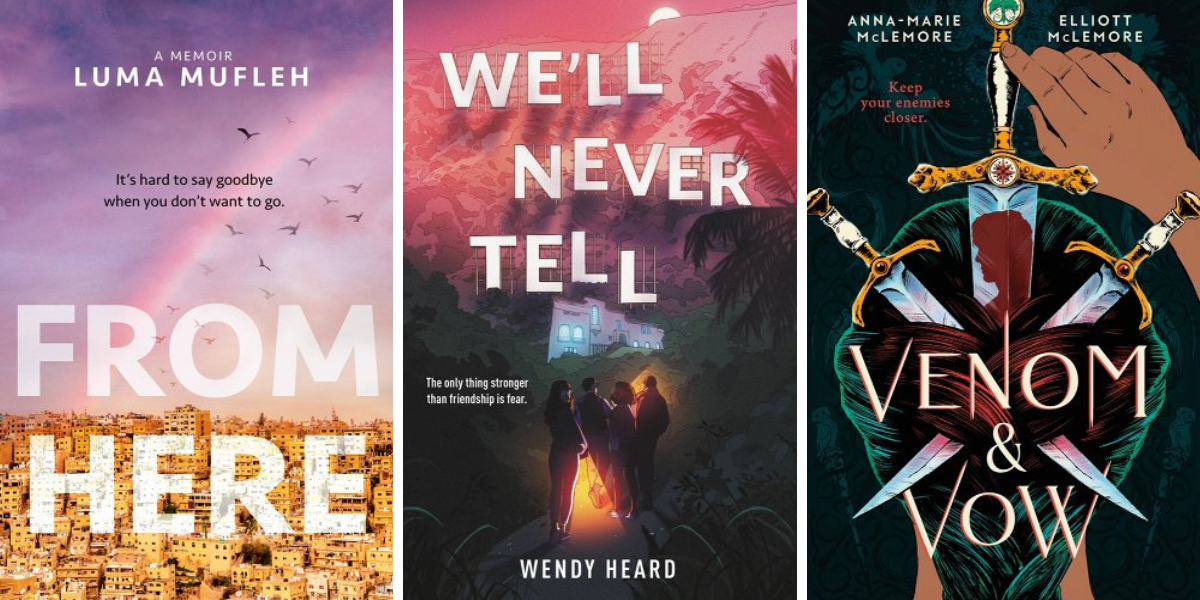 From Here by Luma Mufleh (May 16)
This coming of age memoir by refugee advocate Luma Mufleh recounts growing up in 1980s Jordan as a closeted gay Muslim teenager and her decision to attend university in the US and apply for political asylum. The story moves from her fear and desperation as a young queer person in a conservative religious environment to her confusion and vulnerability as a refugee building a new life for herself. Eventually, she makes her own chosen family and founds Fugees Family, a nonprofit dedicated to helping child refugees.
This queer YA mystery is set in Hollywood, where a group of teenagers are the secret team behind We'll Never Tell, a youtube channel that shares videos of them trespassing at in/famous L.A. locations. Their last video before graduation is at the Valentini "murder house," which has been untouched since a murder/suicide in the 70s. But things go immediately wrong: somehow an alarm goes off, and the teens race out to avoid being caught by the police. When they regroup, they realize one of them has been left behind, attacked and bleeding out. Was it one of their crew, or is it related to the house's dark history?
Venom & Vow by Anna-Marie McLemore and Elliott McLemore (May 16)
Acclaimed author Anna-Marie McLemore teams up with their real life spouse for his debut novel, a YA fantasy about two enemy kingdoms forced to make a truce in order to vanquish a curse. The story focuses on a trans prince, Cade, standing in for his brother who doesn't want to be the heir and a bigender person moonlighting as both an assassin — Gael — and an attendant to the queen — Valencia. Cade doesn't know that Gael and Valencia are the same person, although he's sworn to protect the infamous assassin. Gael/Valencia doesn't know Cade is pretending to be his brother … the very person on the assassin's hit list.
This anthology of trans and gender nonconforming YA fantasy short stories features writing by AR Capetta and Cory McCarthy, Mason Deaver, Emery Lee, Sonora Reyes, Ayida Shonibar, and more! Focusing on trans joy, the stories vary from high to low fantasy, with themes of love, found family, connection, and community. Overall the pieces in the anthology are light, quirky, and funny in tone, making it an escapist delight to read.
Dykette by Jenny Fran Davis (May 16)
Davis's darkly funny debut novel is set over a ten-day period during a getaway for three queer couples. Sasha and Jesse are artistic twentysomething Brooklynites who befriend an older rich lesbian couple — prominent journalist Jules and psychotherapist Miranda — who invite them to their country house for the holidays. Along for the trip too are Jesse's best friend Lou and their it-queer-girl partner Darcy, whom Sasha alternately scorns and envies. Amidst naked sauna sessions, elaborate home cooked meals, and an ill-advised online performance, tensions rise and secrets spill, leaving each couple's fate up in the air.
A self-help book from nonbinary activist Jeffrey Marsh, Take Your Own Advice aims to teach readers how "Learn to Trust Your Inner Voice and Start Helping Yourself." Marsh tells us not to make ourselves side characters in our own lives and to prioritize ourselves instead of having a limiting outward-only focus. Marsh's advice will especially resonate for readers who are survivors of abuse and trauma like them.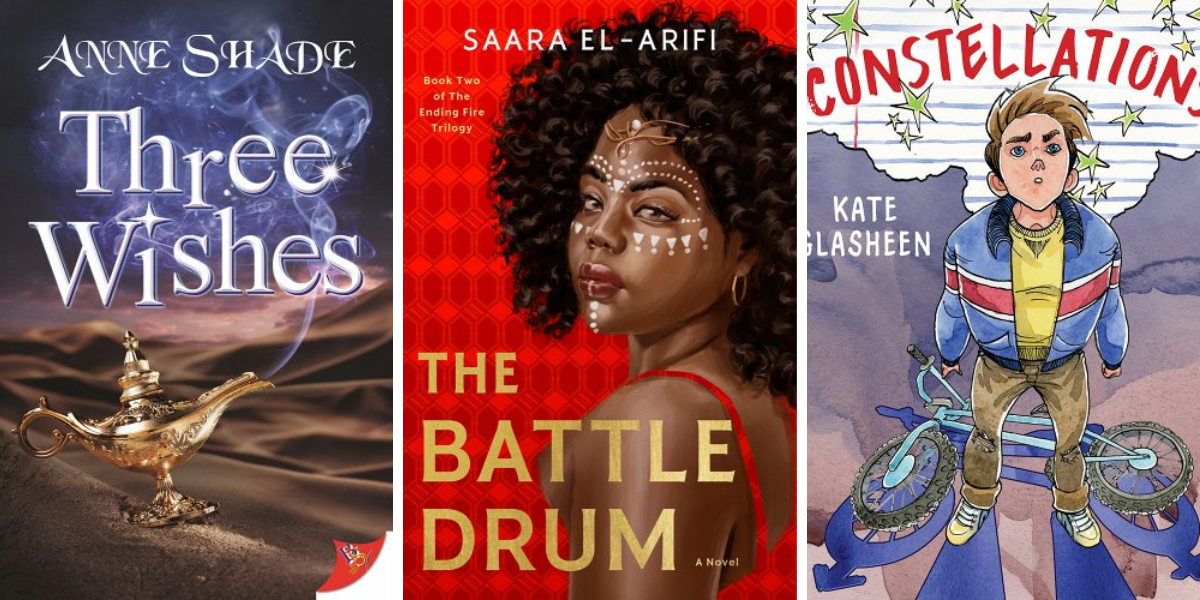 Black lesbians and a magic lamp story, anyone? While visiting her favorite place in the world, an island off the coast of Madagascar, Elise buys a mysterious old oil lamp at a market. After bringing it home, she is surprised at the appearance of Naima, a Jinni who has three wishes for Elise, as well as one of her own. Naima's wish? For the cursed spirit of her long-lost wife and princess to be set free from the place where she is being held hostage: Elise's own body.
The anticipated sequel to last year's The Final Strife, The Battle Drum is an equally compelling queer high fantasy with African and Arabian roots starring three complicated women. Anoor is a groundbreaking leader of the Warden's empire; but her new reign is marred by an unjustified accusation of murder. Her spouse, Sylah, is away from Anoor, on her own quest, searching for the solution to ending the constant hurricanes that plague her homeland. And Hassa plays detective, following a crime trail that reaches deep into the horrors of the empire's past, with epic implications for the present.
Glasheen's debut book is a queer YA graphic novel starring a nonbinary teenager with a drinking problem. With harassment at school reaching a fever pitch, Claire falls into a bad cycle of drinking that ends up with them in court-ordered rehab. They find funny, like-minded, other "messed up" kids there, but despite their new comradeship and a great counselor, Claire still isn't sure how to survive in the outside world beyond the gender binary. Set in 1980s Troy, New York!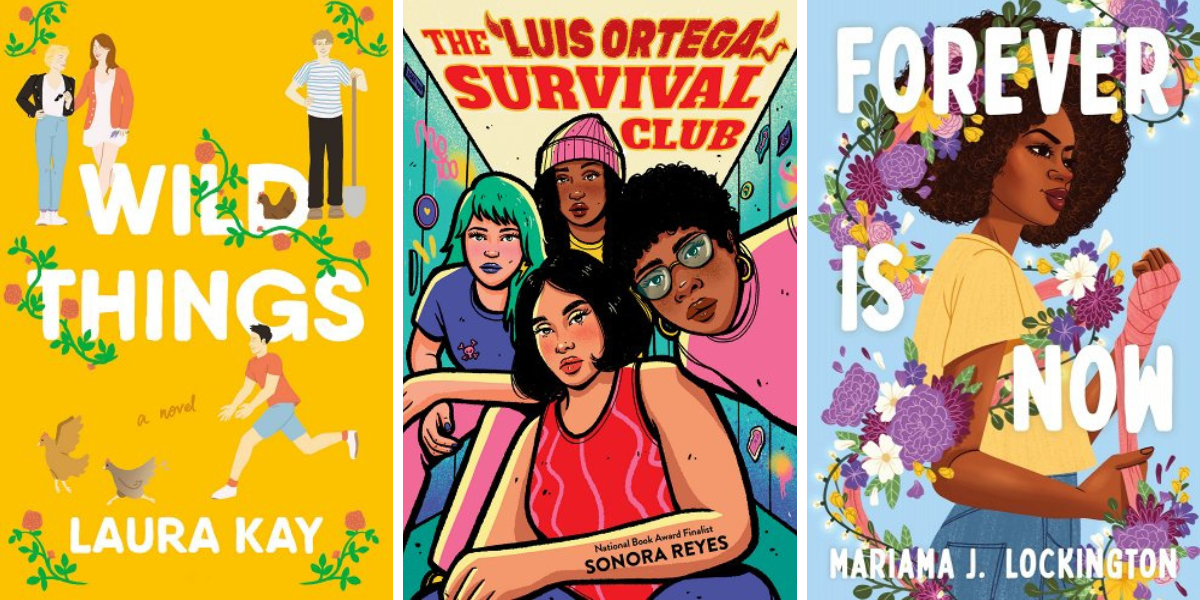 This British rom com follows a group of London friends who pool their resources to buy a house in the country together. At first, their new queer commune — they decide to name it Lavender House — is a lot of work but worth it. Its residents are: El, a disgruntled office worker in unrequited love with her BFF; Ray, El's very cool best friend; Jamie, a nerd who loves Twilight and karaoke equally hard; and Will, the token straight. But soon El's long repressed feelings for Ray are threatening to break free. Is it worth risking not only their friendship but their new life for a chance at love?
From the award-winning author of The Lesbiana's Guide to Catholic School comes a new queer YA novel about feminist solidarity, healing, trauma, and revenge. Ari is a bold fashionista who loves to wear bright colors, but as an autistic girl who doesn't talk, she doesn't get the attention she craves or deserves. When popular guy Luis starts talking to her, she's flattered at first; but the attention turns sour when he sexually assaults her at a party. Reeling, Ari is lost and feels alone until she receives a mysterious note inviting her to join a club of other girls Luis has hurt. With these girls, she finds not only support, empowerment, and friendship, but a new crush.
Forever Is Now by Mariama J. Lockington (May 23)
This YA novel-in-verse follows a queer Black teen with chronic anxiety over one summer. Beginning the summer comforted in the knowledge that she at least feels safe in her girlfriend's arms, Sadie has the rug pulled out from under her when her girlfriend shares surprising news and the two of them witness a terrible act of police brutality. Afraid and retreating into her house, Sadie wonders: "how do you show up for your community when you can't even leave your house?" But with the help of an online activist community, family, her best friend, and mental health support, Sadie learns to find stability and safety inside herself.
Grand Slam Romance by Ollie Hicks and Emma Oosterhous (May 23)
Magical girls! Softball! Queer romance! This graphic novel begins with Mickey, the pitcher for the Belle City Broads, who is thrown when they realize the new catcher for the Broads' rival team, Gaiety Gals, is none other than their former best friend / ex-girlfriend Astra. Back from training in Switzerland, Astra is ready to pick up where she and Mickey left off, unaware that Mickey is out for revenge, possibly by dating Astra's ex and definitely by kicking the Gaiety Gals' butts. Will these two get back together? Which team will reign champion of the softball league?
At a party in L.A., a Korean American painter spots an enigmatic white woman, Hanne, with whom she becomes obsessed. The painter wants to be Hanne, or she wants to be with Hanne, or she wants to destroy Hanne, or maybe Hanne is a harsh ghostly reminder of the white mother who abused the painter. The painter tries to consume Hanne by turning her into art, even bringing her with her as a muse to Berlin for a sold-out art show of the Hanne paintings. But at the same time as she is on the cusp of her first major show, a Black artist launches a boycott of major museums — like the one featuring the painter's work — for their racist and imperialist practices. The painter is torn between her desire for mainstream success, wanting to support the boycott, and her ongoing obsession with possessing Hanne.
The second book in Dawson's queer feminist fantasy trilogy, The Shadow Cabient follows a coven of British witches fighting to keep themselves and the world at large safe. Ciara impersonates her dead sister in order to keep the shady witch-hating Shadow Cabinet members at bay. Leonie searches for a former lover of Ciara's, who is rumored to be chasing a dark magical object connected to the British government. Her Majesty's Royal Coven is at it again!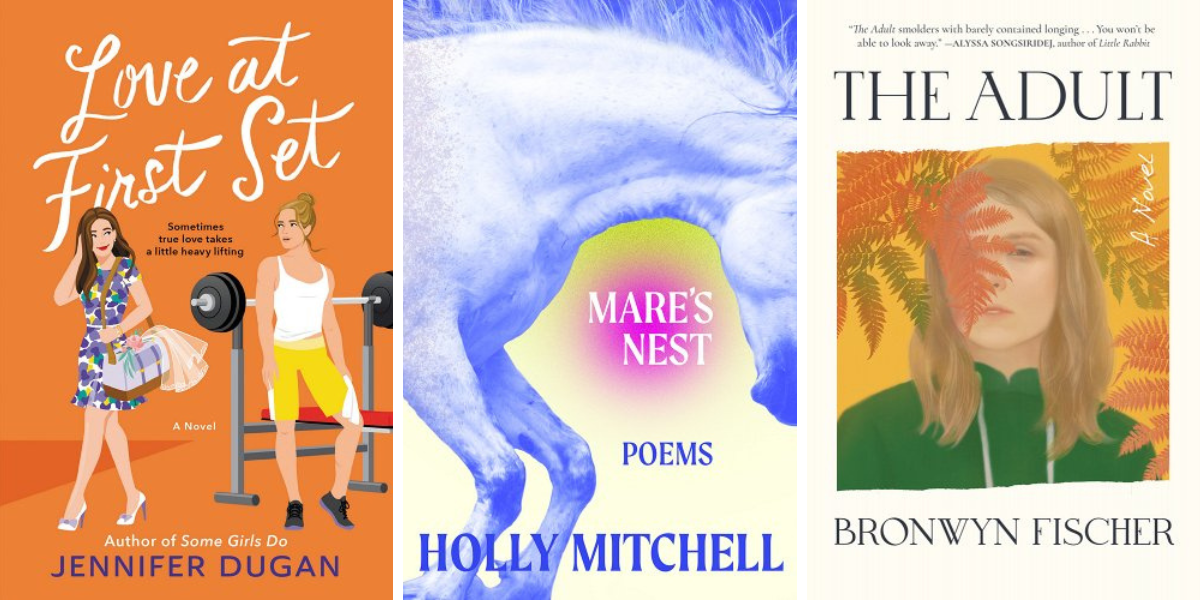 Known for her queer YA novels, Dugan has penned her first adult romance! Lizzie is a gym rat who loves her job and wishes it would love her back, but her bosses suck. When Lizzie attends her bosses' daughter Cara's wedding as her friend's plus one, she accidentally steps in it big time: she gives a hot girl she doesn't know a drunken pep talk in the bathroom only to discover that she convinced the bride to leave her guy at the altar. Trying to cover her tracks by helping out the now directionless Cara, Lizzie finds herself horrified to realize she is falling for her.
Mare's Nest by Holly Mitchell (May 23)
A collection of poetry centered on a Kentucky horse farm, Mare's Nest tackles themes of photography, queer adolescence, history, Southern family, and the power of dreams. Using the central image of a racehorse throughout, Mitchell's references range from "the photographic experiment of Muybridge's 'The Horse in Motion' to Patti Smith's album Horses." The poems also embody the multiple meanings of the book's title, which can mean literally the indentation left in the grass after a horse has laid on its side, but also "a muddled situation or an illusory discovery."
The Adult by Bronwyn Fischer (May 23)
It's a lesbian tale as old as time, but that doesn't mean it can't be done in a fresh, exciting way (see We Do What We Do In The Dark): a college student has a life-changing affair with an older woman. Natalie arrives at the University of Toronto from her rural hometown with no idea of who she is, even though everyone around her seems secure in their identities. Then she meets Nora, an older woman who lives off campus with whom she begins a secret relationship, lying to her dorm floormates about having a boyfriend. But it turns out Nora has secrets of her own.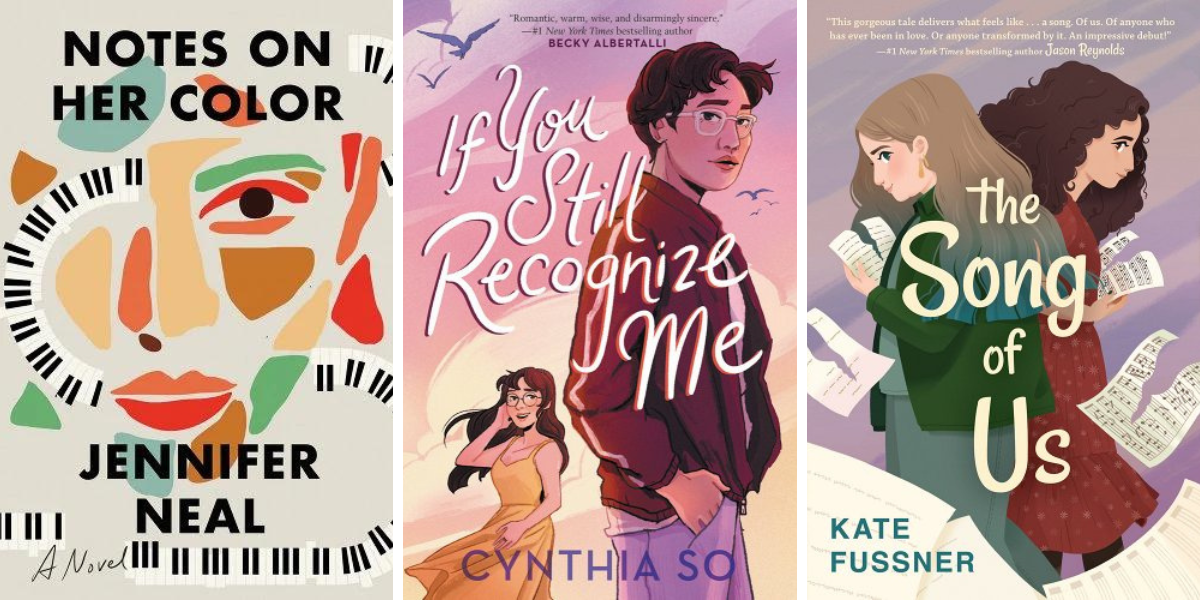 Who's looking for lush Florida-flavored queer magical realism? Starring a Black and Indigenous young woman who has inherited the ability to change her skin color, Notes on Her Color investigates the protagonist Gabrielle's complex relationship with her mother in the face of her volatile dad, who prefers his daughter to appear white. But when Gabrielle is separated from her family for the first time, her world opens up in more ways than one. An inspiring piano teacher — a dark skinned queer Black woman named Dominique — shows Gabrielle how joyfully and creatively she could live outside her family's color-coded existence.
Now available in North America, this queer YA romance was published in the U.K. last year to widespread acclaim. It follows Elsie, a teenager torn between her online fan fic writer crush Ada and her former best friend, Joan, who just arrived back in Oxford after years away in Hong Kong ignoring Elsie's emails and letters. When Ada mentions her grandmother's old pen pal and possible first love who lives not far from Elsie, Elsie gets the idea to reunite the two older women. But the more she invests in rekindling the relationship between Ada's grandmother and her pen pal, the more she wonders if she should be focusing on mending her own former close relationship.
The Song of Us is a queer Orpheus and Eurydice retelling in verse for middle graders! Olivia, a poet, and Eden, future musician and current new girl at school, are seventh graders who believe in love at first sight, because that's what happened to them when they met. But Eden's not out of the closet, which makes them have to hide their relationship. Then Olivia's jealous words push Eden away. Will they come back together after Eden has found herself and Olivia has written the poem to beat all poems to win back Eden's trust?
Horse Barbie by Geena Rocero (May 30)
This much anticipated memoir by an "award-winning producer, director, model, public speaker, trans rights advocate, and television host" takes its title from an insulting term that Rocero made her own. Leaving the Philippines at 17 while at the height of her success as a trans pageant queen, Rocero arrived in the US in order to change her name and gender on her official documents. Subsequently going stealth while working as a model in New York allowed her new freedom and privilege, but she also keenly felt the pain of living a double life and not being truly known. She realized it was time to joyfully reclaim Horse Barbie and live as her authentic self.
In this T4T foodie romance, two New Yorkers arrange a fake relationship only to find that they might be falling for each other for real. Jean-Pierre is the heir to a culinary empire begun by his celebrity chef grandfather, who has set up specific conditions for whoever wants to follow in his footsteps. First, Jean-Pierre needs a girlfriend, and second, he and this girlfriend need to learn and ace the family's treasured elaborate recipes. Enter Luna, who has just been fired from her shitty office job. She's broke and happy to be Jean-Pierre's girlfriend for hire. She's even willing to learn the recipes, though she's not exactly known for her cooking prowess. What happens when Luna and Jean-Pierre realize they aren't pretending to be in love anymore?
Subtitled "A Memoir in Archives," Lesbian Love Story tells the author's experiences of lesbian life in contemporary Brooklyn interspersed with seven queer love stories from across the 20th century that Possanza uncovers in the archives. She asks: who were these women, how did they live and love, and why were their stories often destroyed or hidden? She also looks forward, musing: "How could lesbian love help us reimagine care and community? What would our world look like if we replaced its foundation of misogyny with something new, with something distinctly lesbian?"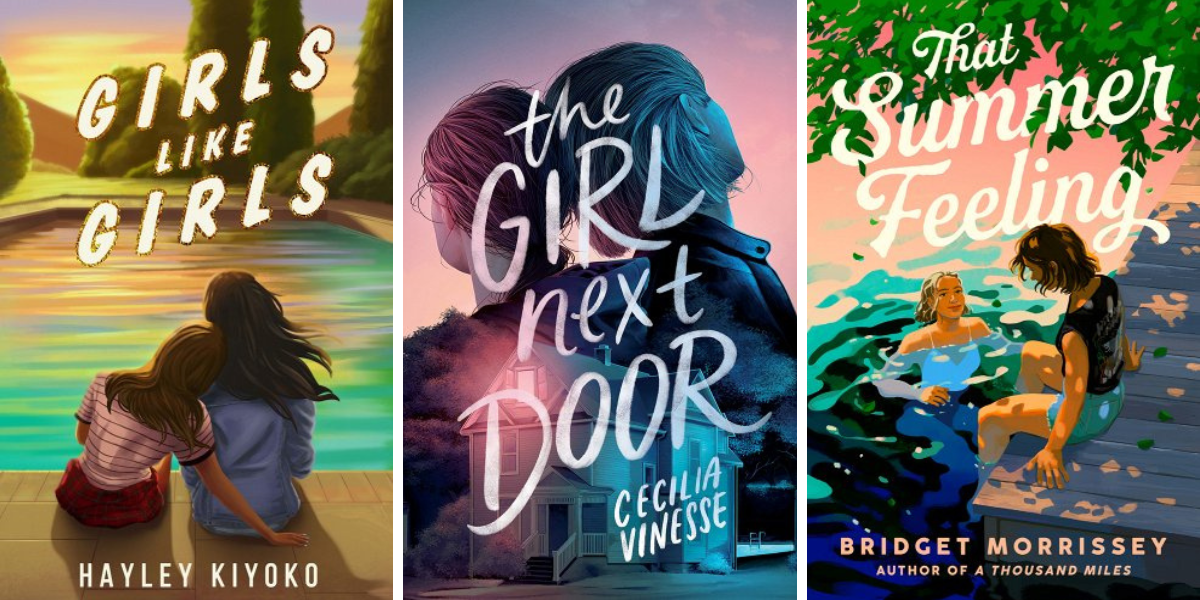 That's right folks, Lesbian Jesus has written her first book! As you can tell by the title, this YA novel is based on her hit song and video of the same name. The story follows a 17-year-old teen named Coley who has just been forced to move to rural Oregon in the wake of her mother's death. There she meets Sonya. Coley is worried, because everyone she's ever loved has left her; Sonya has never been in love with a girl before. Will they open up to each other?
A rom-com for rom-com lovers, this tropetastic bisexual YA novel is about two former best friends rekindling their friendship and fake dating their way into a real romance. Cleo is an aspiring filmmaker whose life goal is to attend film school with her boyfriend Daniel and become a Hollywood power couple. Unfortunately, Daniel puts a wrench in her plan by dumping her for Kiki. Marianne, Cleo's next door neighbor and ex-BFF, is the dumpee on the other side of this love square, having been left by Kiki. Pretending to fall in love with each other is a great way to get back at their exes, right?
For anyone missing A-Camp, how about a queer adult romance set at a summer camp? Recent divorcée Garland is still reeling from her ex-husband surprising her with divorce papers, so she says, sure why not, when some new friends invite her to their reopened adult camp. There she runs into a man from her past, someone she had a premonition about when they met years ago. Is it a sign that they're meant to be? Things get very muddled when, after bunking with this guy's sister, Garland starts to wonder if it's actually the sister she's falling in love with after all.
This debut middle grade novel stars a nonbinary figure skater named Mars. Mars is twelve years old and is dealing with the death of their dad, grieving him as well as the fact that Mars never got to share with him that they're nonbinary. Mars throws themselves into skating and their skill on the ice makes a high schooler take notice, daring Mars to compete in the teen boy's category against him. But as the competition gets closer, Mars is less and less able to separate their skating from the rest of their life.
Witch King by Martha Wells (May 30)
Attention Murderbot fans! Wells's new fantasy novel begins, naturally, with the murder of the protagonist. Kai is a mage whose bodiless consciousness is floating in a water trap until he awakens to discover someone trying to steal his magic. Scrambling for answers, Kai must figure out what's happened since his assassination, how his spirit was imprisoned, and how an organization called the "Rising World Coalition" may be involved.
Not content with the success of their memoir about their teenagehoods and the TV show based on it,
Tegan and Sara have teamed up with queer cartoonist Tillie Walden for this fictionalized graphic autobiography about their middle school years. The story is set in the 2020s, but still pulls from the twins' own earlier experiences with first crushes, growing apart, puberty, finding themselves in music, coming out, and more. This story is a prequel to High School for adult and teen fans, and an introduction to the queer icons for middle grade readers.