After blessing us with a brief teaser trailer back in January, Showtime finally delivers a full-length Yellowjackets season 2 trailer, and it has everything: teen girls running in the woods with weapons, Adult Shauna maybe confessing to murder to her teen daughter, so many characters just absolutely screaming at the top of their lungs, a reunion between Taissa and Van, and a gorgeously haunting cover of "Just a Girl" by Florence + The Machine that I shall have on 🔂 for the foreseeable future.
"Once upon a time," Teen Van says in the cabin at the top of the trailer. "There was a place called the wilderness. It was beautiful, but it was also violent, and misunderstood. And it waited and waited to befriend whoever arrived."
That does not sound like a very relaxing bedtime story, Van!!!!!!
We get a little more by way of dialogue and story in this trailer than in the teaser (which was really just like ~cult vibes~). We've got Adult Lottie saying she feels they brought the wilderness back with them, Adult Misty providing some exposition as to what Lottie has been up to in the in-between years (apparently, she was in a mental institution in Switzerland), and an investigation into the death of Adam. I'm worried for literally everyone!
Importantly, this trailer finally FINALLY gives us a glimpse at Adult Taissa and Adult Van in the same shot as each other, and it looks like a very emotional reunion! Van cradles Taissa, and though it's just a snapshot, there's so much intimacy and history in that body language.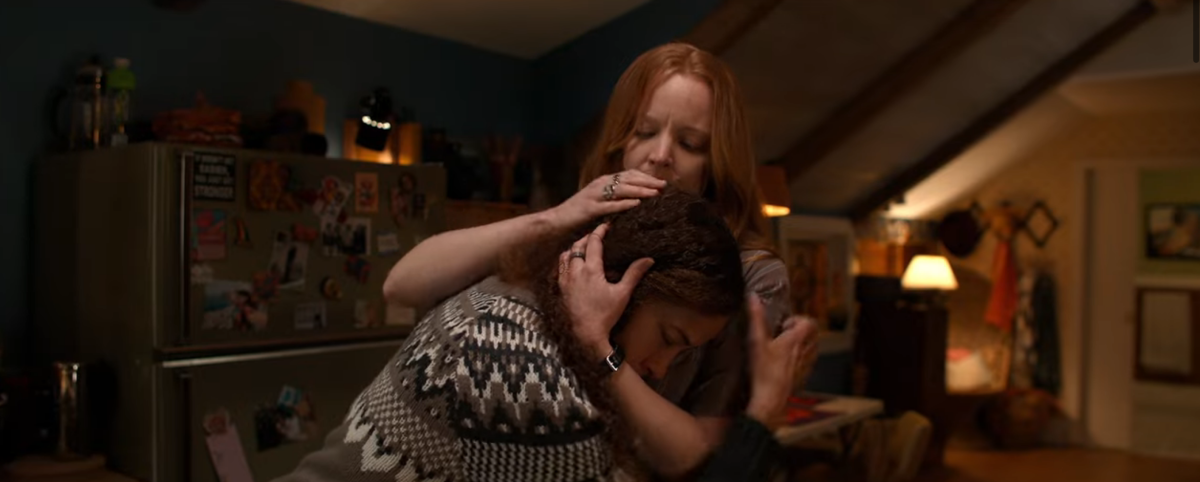 Another moment in the trailer teases that we'll see some of the immediate aftermath of the girls getting out of the woods in this season. We see a gaggle of reporters shouting questions at the team as they emerge out of a building in hoodies and hats. Teen Misty, of course, looks very interested in the press's attention.
The trailer perfectly evokes the mix of drama, humor, and horror that makes the series crackle. We've got a very hilarious line reading by Melanie Lynskey as Adult Shauna with her daughter. We've got quick snapshots of violence, the trailer's tension slicing and alive. We've also got some scary ass Adult Taissa shit involving creepy mirror stuff, which I'm always a sucker for — Black Swan vibes! It's an action-packed, immersive trailer that also highlights just how much of an ensemble show this is.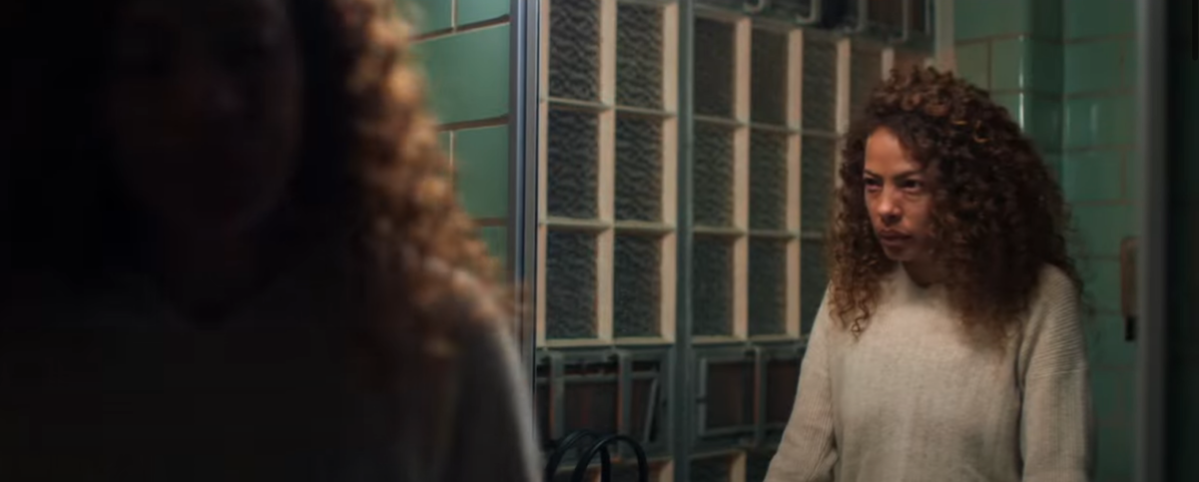 The visual that stands out the most for me is the one below, in which it looks like the girls are carrying a human body the same way one might a dead animal. Is it Jackie? Someone else? Are they carrying her to be buried or to be barbecued?

"We hear the wilderness, and it hears us," the girls chant in the trailer. Teen Van also muses that she thinks things are going to get a whole lot worse in the woods. I think that's safe to assume!
And here's a series of images that perfectly encapsulates my experience of watching this trailer: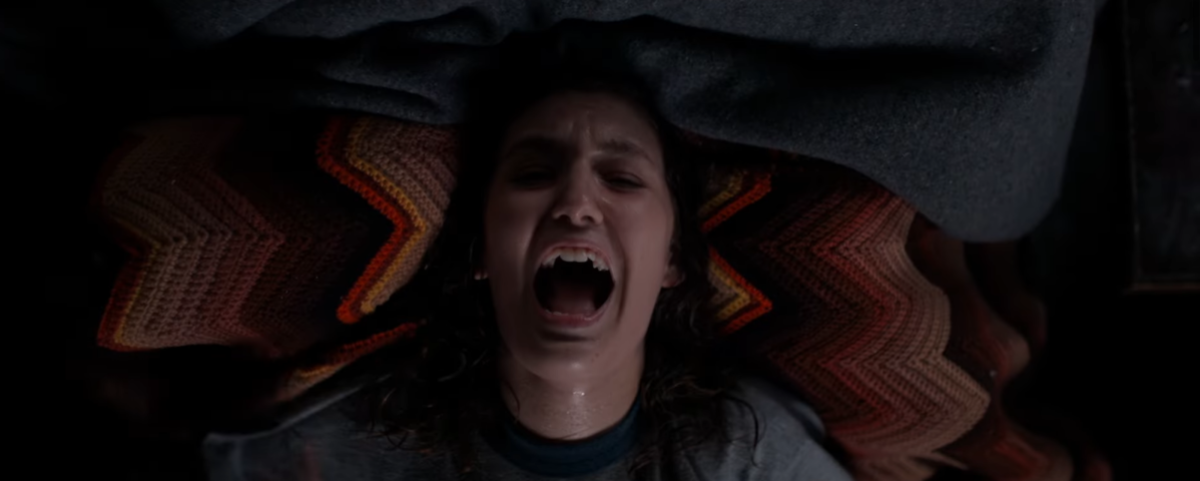 Check out everything we know about Yellowjackets season 2, including lots of photos from the upcoming season. Also join me in listening to the full-length version of Florence + The Machine's "Just a Girl" cover on a loop.
How excited I am for the season premiere? Let's just put it this way: I was out of office today, and I swiftly logged on just to write about this trailer. When I say Yellowjackets has me in a chokehold, I very much mean it. Can't wait to give my life over to the wilderness when it debuts later this month.