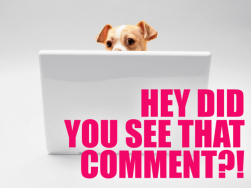 Hello and bless us everyone in this, the week of Sara Ramirez's fully realized ascent to true bi butch babe stardom! I have honestly spent half my week talking about Sara Ramirez to anyone who would listen, and I'm not likely to stop anytime soon, BECAUSE LIKE HAVE YOU SEEN IT? Have you seen it? Hot damn.
Pull yourself together Queer Girl, you've got a job to do!
Ok:
This week, Carmen invited us to an absolutely spooktacular movie night with the Sanderson sisters.
Busting out of your button-down? Doreen's got tips for that!
Riese reviewed one of my very favorite shows on Hulu this season, Harlots.
Ever been haunted? Here are some of the team's best ghost stories!
I DON'T KNOW IF YOU'VE SEEN IT YET, BUT THIS HAPPENED.
Want to sew your way to a Waverly, Carol, Bette or Denise for Halloween? Shannon's here to help!
And then there were your comments!
---
On BREAKING: Natalie Barney and Liane de Pougy Break Up Because Amour Is a Lie:
The Brightest Burn Award to Blue cousin: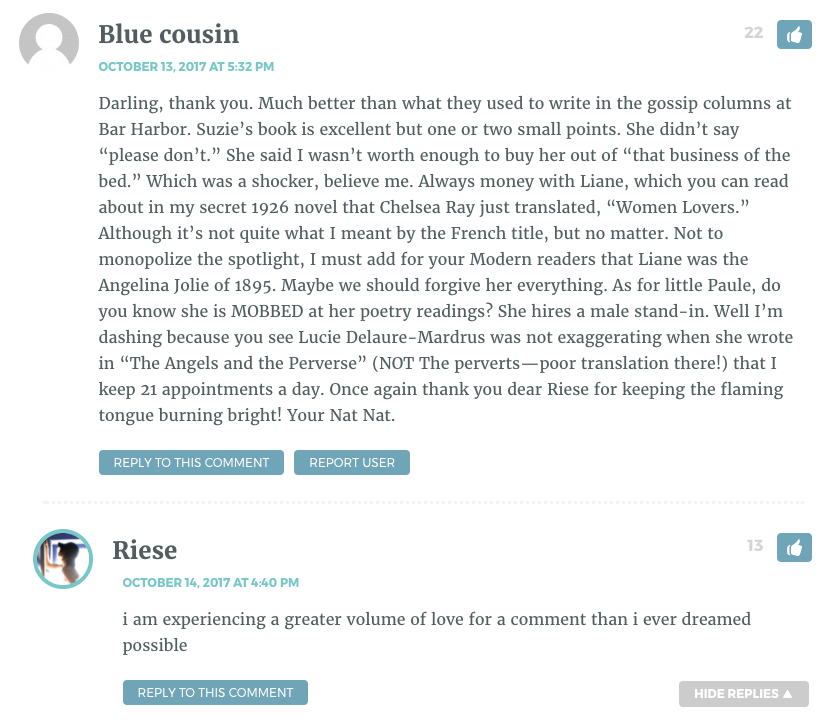 On Pop Culture Fix: Tessa Thompson's Valkyrie Is Marvel's First Bisexual Character and More Gay Superhero News:
The Sweet Release Award to Nani Albornoz:

On Autostraddle Feelings Atrium: Sara Ramirez in This Suit and Suspenders With a Pocket Chain Around Your Heart (truly, I wanted to give everyone who posted in this thread an award, I will never be over this):
The Gaycation Award to Rachel:
The Hair Today, Hair Tomorrow Award to Another Rachel:
The HMS Butch Babe Award to Chandra: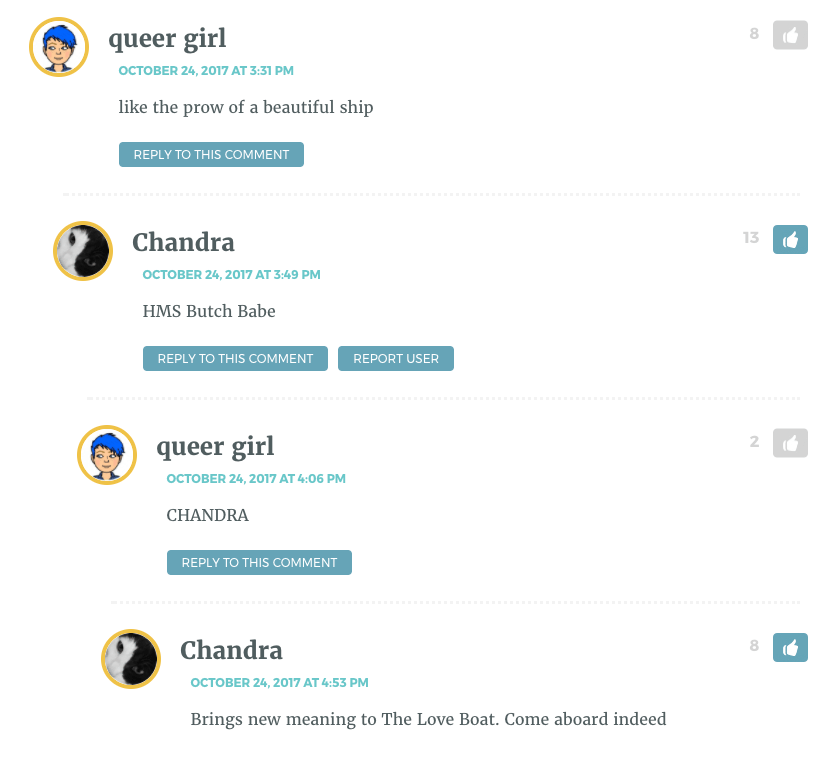 And the Time Traveler's Root Award to CognacSmalls:
And on 100 Jean Styles, Ranked By Lesbianism:
The In Immerse Award to Rous Rose:

And the Perfect Pair Award to Laurie:

---
See a funny or amazing comment that needs to be here? Or got some Madam Secretary fanfic you want to send my way? E-mail me at queergirlblogs [at] gmail [dot] com!