In honor of LGBT History Month, and let's be honest probably well past LGBT History Month, we're bringing you Vintage Vapid Fluff, written in the style of present-day vapid fluff, but with true stories from history! This one comes to you from 1900, via 2017.
---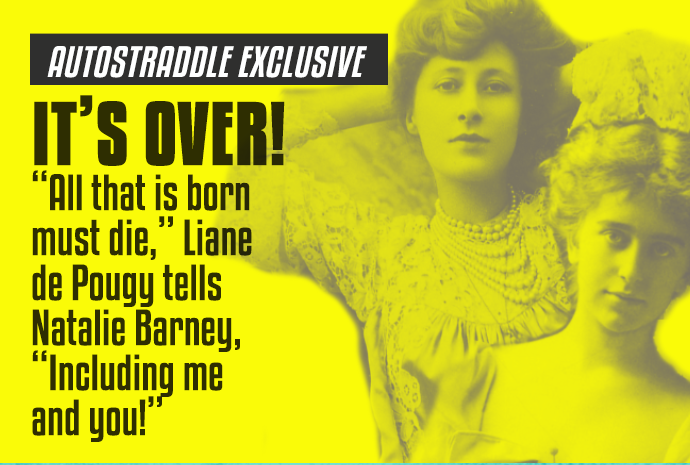 We had a time, didn't we? We basked in resplendent rays of sapphic sunlight, elated to live in a world where a budding young lesbian could set her sights upon Paris's most coveted Courtesan and succeed not only in seducing her, but also in somehow managing to embroil her in a long-term relationship that saw itself consummated in several European locations. As my dear friend George put it, "Natalie's seduction of Liane was remarkable in many ways, not the least of which was the fact that Liane succumbed." Natalie Clifford Barney, a 23-year old aspiring poet and reasonable violinist from a wealthy family, saw Liane de Pougy performing at the Bal Bullier and decided then and there that she would have Liane for herself.
My friends: she did.
We have been following and covering this story with bated breath.
But for some time now, whispers of the couple's demise have been building into slow murmurs which we all know eventually become bona fide facts. That's science for you. Charlotte Stern, a close friend of Natalie's and let's be honest probably also a close clam-diver of Natalie's, told us that Natalie's father, the profoundly intoxicated Albert Barney, had caught word of his daughter's latest affair and was so furious that he "pulled her by her hair, which was quite long, onto the sidewalk of avenue Victor-Hugo." Avenue Victor-Hugo! Ladies, let's sit down. As journalist Erin Sullivan recently wrote, "I don't know, the option to calm down is available to everyone."
Natalie's promise to Papa that she'd never send Liane another nude was never abided, but it hardly mattered because Liane reportedly turned into a low-key bitch around that time anyhow, thus hastening their inevitable end. She has pulled stunts like "locking Natalie out of her room just to listen to her beg to enter" and "bringing Natalie to a bordello and forcing her to watch Liane f*ck other women," of which Natalie noted "debauch without joy or beauty sickened me!" Gone are the days of drinking tea naked, going to couturier fittings, finger-banging in carriages, having philosophical discourse, Natalie watching Liane get dressed, horseback riding, "horseback riding," and lovingly exchanging bat-signal rings from Lalique's.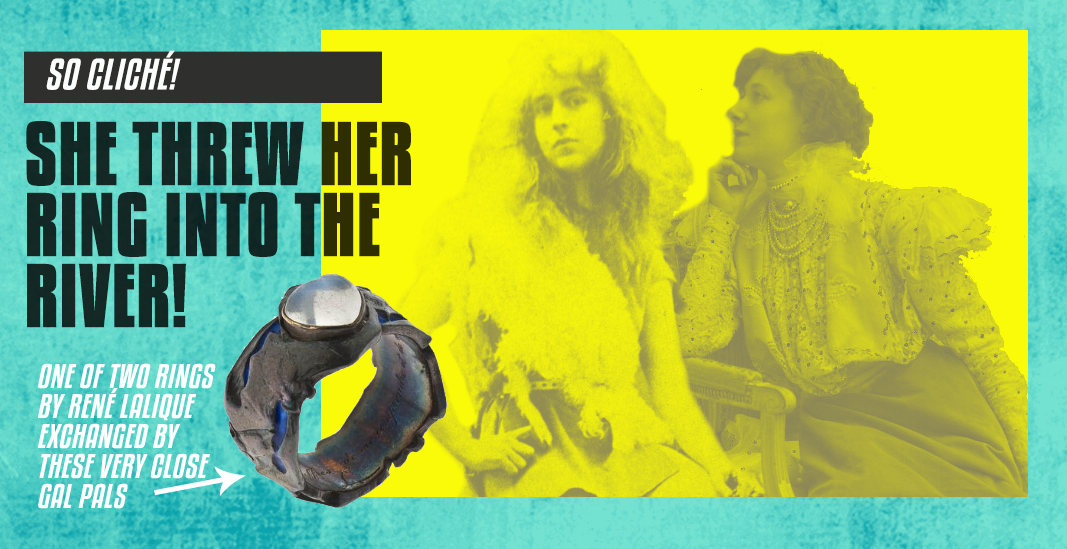 This isn't the first time we've heard rumors of the couple's cessation — there was that time Natalie made her whole family go on Easter vacation to Rome so she could possibly end up in the same room as Liane, who was there with her man-of-the-moment, only to learn that Liane had broken the rules of their poly arrangement and was sleeping not only with that guy, but also with that guy's wife. Natalie reacted by delivering a whorephobic rant and Liane was like, "check your class privilege" and Natalie was like "But I suffer from understanding and loving you!" and Liane was like, "oh for christ's sake."
But that was not the end, my friends! The end was still so far away. We will never forget and always be grateful for the ensuing time period, in which the two were spotted doing the horizontal mambo on a houseboat, in an auberge west of London at Maidenhead (my favorite auberge if we're getting down to brass tacks about it), and a hip hotel on the Thames. Natalie later managed to escape her family vacay in the old fishing village of Dinard to pursue this affair, having her maid rent an airbnb for Liane in Saint Enogat where Natalie could visit her every day. After securing the lightning reservation in anticipation of Liane's arrival, Natalie pretty much rode her horse and played tennis nonstop for the next three weeks, and when Liane showed up in September, Natalie continued telling her family she was riding her horse and playing tennis nonstop when she was actually having a staycation in Liane's bed.
I will pour one out every day of my life for Natalie dressing up like a sailor to take Liane out for a romantic rowboat ride that eventually became a musical rowboat ride when Natalie extracted an acoustic guitar from her Lesbian Romance Kit and began playing "American songs" for her lady-love, who sprawled ashore on a bed of flowers while staring at the stars, thinking "this is really gay" and also "can you play 'Cool for the Summer'?"
When Liane was called back to work with a new client, we prematurely declared their love to be forever over, but what is love if not an endless ride on an unsteady rowboat. Natalie again returned to sex-worker-shaming Liane, to which Liane retorted, "My life is probably less hypocritical, less false, and also less calculating than yours." Then Natalie was like, "okay, I'm gonna get married so that I'll be not just wealthy but independently wealthy and then I can save you from the whoring!" and Liane was like "please don't."
Hopefully Natalie will grow out of these problematic ideologies.
This past fall, while Liane was in Portugal, Natalie was spotted sulking along secluded pathways, sulking on her porch, sulking in carriages, sulking while horseback riding, sulking while "horseback riding," sulking while writing French poetry and posting moody selfies to insta while we heard not a single peep from Liane. It was a rough time for Natalie but it was a rougher time for us.
Sources so close to Natalie they may even be Natalie herself informed us that after many months of silence, during which "Liane surely wondered why all her fond correspondence to her one true love Natalie Clifford Barney were not reaching their intended source and instead were vanishing as if they'd never been written at all," a letter finally did reach Natalie, and it was "full of love soaring across the sky and moonbeams lifting into arms as strong as marble columns!" and then, confusingly, ended with "All that is born must die, Even You and Me, and especially Us!"
Oof.
She didn't really mean it, the source assured us, as she consequently invited Natalie to spend New Year's Eve together, starting the new century alone at home in/out of their jammies. Although our source insisted she could divulge no details beyond said invitation, a maid of Liane de Pougy's revealed exclusively to Autostraddle that in fact, Natalie stayed up all night watching Carol on Netflix waiting for her gal pal to arrive, and, with midnight approaching and no Liane on the horizon, Natalie ventured forth into the cruel world. She threw a fur coat over her nightgown, casually picked up an armload of white roses from the florist, and showed up at de Pougy's door.
There, she was greeted with unsavory news: Liane was having dinner with Monsieur. The maid, shedding tears of second-hand embarrassment as she relayed the story to us, remembered Natalie then peered into the foyer, saw stacks of luggage, and asked what they were doing there.
"Madame hasn't told you, Mademoiselle? She and the baron leave tomorrow for Monte Carlo," the maid informed her. "Poor Mademoiselle!" Natalie, humiliated, rang in the New Year all alone.
But… could Natalie have perhaps made other plans?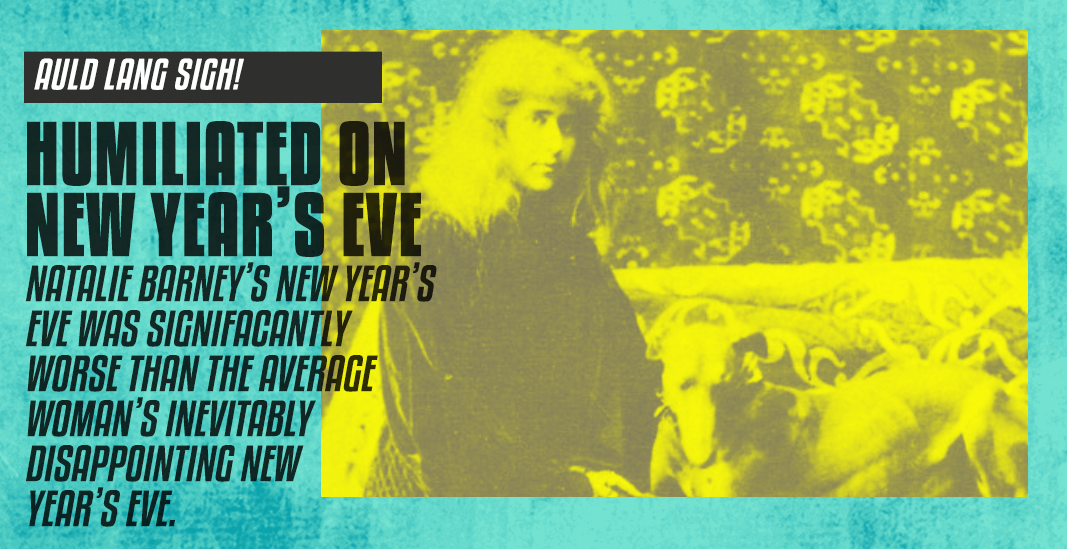 Our sources say "Oui." My friends and close followers of Natalie Clifford Barney's admirable lesbian exploits, all hope is not lost!
We all know Natalie is capable of holding more than one woman in her heart at one time, and these past months have been no exception. In fact, she was spotted in the company of Violet and Mary Shiletto and their friend, Pauline Tarn, at the Comédie-Française in November. Pauline was apparently immediately taken by the radiant Natalie Barney, and afterwards, once Pauline read a poem to the group in their carriage because of course she did, Natalie was immediately taken by Pauline as well.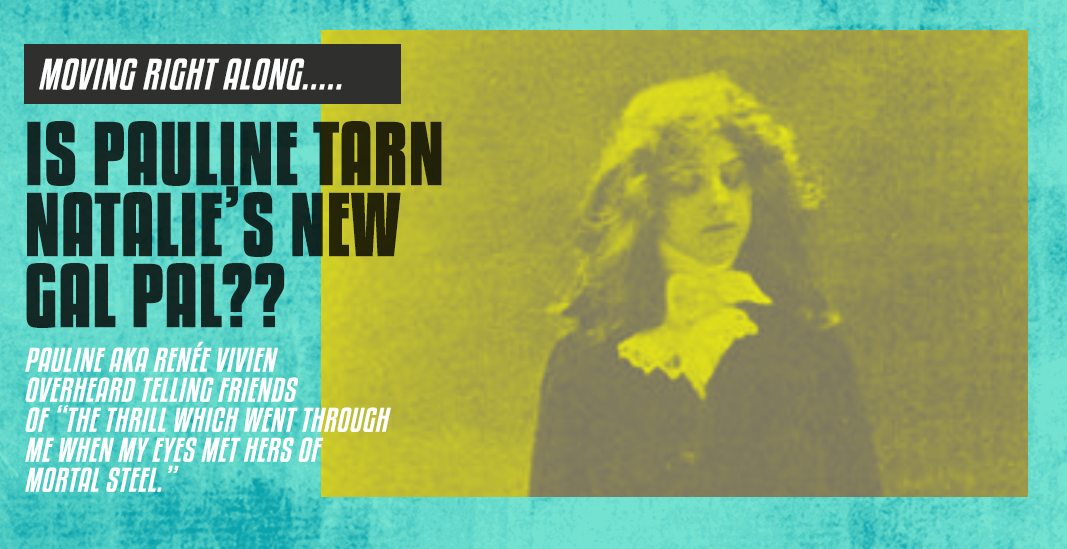 We are committed to keeping you abreast of all developments in Natalie's relationship with Pauline Tarn, aka Renée Vivien. So far it looks like a very healthy stabilizing force for Renée that will undoubtedly be emotionally comfortable for both women and who knows, maybe some strong poetry will come out of it! As always, a tip of the hat to Natalie Clifford Barney, may you continue paying our phone bills.
---
Source: Wild Heart: Natalie Clifford Barney and the Decadence of Literary Paris, by Suzanne Roridguez