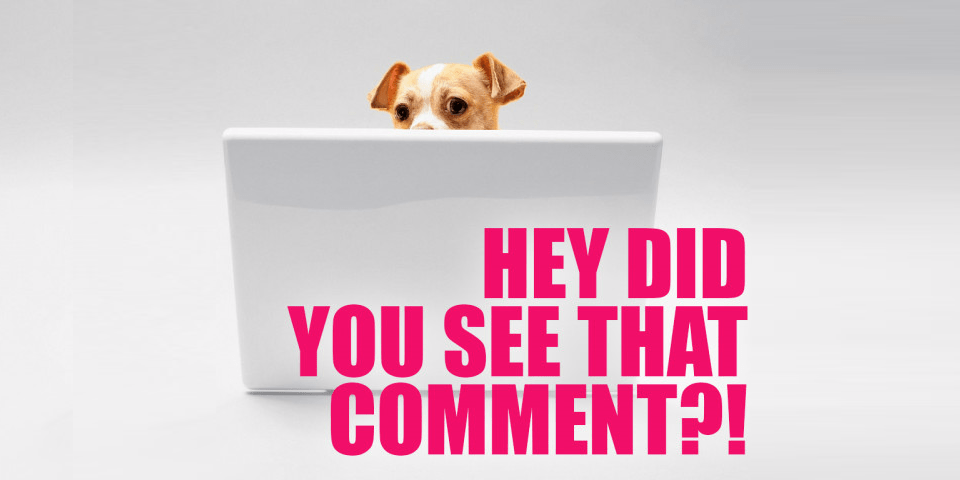 Good morning, pastries and turnovers! Listen: I am having an issue with boots.
Yes, boots! See, I am an Old. (An Eternal, if you will.) Once upon a time, we didn't have ankle boots. We had tall boots that were layered over skinny jeans (love the pants, hate the name). Now I have these duck boots for the rain, and they end at my ankle, and I've got no idea what to do with my jeans! Do I cuff them above the boot? Then my ankles get cold! Do I just give up and pull them down over the boot? Then they get wet, like the bootcut jeans of my high school years! I have never been able to figure this out satisfactorily. Suggestions welcome.
This week, Casey knows which wintery queer book you should read this season.
Have you joined A+ yet? Thirteen Days of A+ Returns is all happening now!
Also! There's a new holiday miniseries, RITUALS! Get excited to read nine pieces throughout this month that will help us feel less alone and more seen.
Drew watched Bendetta and wished that it was pervier.
Shelli caught us up on The 4400 reboot, which is a very good and very queer sci-fi show that I hadn't heard about and now have binged in a day and a half, THANK YOU, Shelli!
Vanessa helped a reader who wants to put themselves out there…without getting their feelings hurt. Dream the impossible dream!
Christina had this, on Sondheim.
Abeni brought us Charlie Jane Anders: the Autostraddle Interview. This! Is! Exciting!
Not into the holiday movies? Jeanna's got some witchy alternatives.
And then there were your comments!
---
On Holigay Gift Guide: What To Buy for Book Lovers (Other Than Books):
The Convert Award to :):

On Tello's "Christmas at the Ranch" Is a Welcome Horse Girl Holigay Rom-Com:
The Cherry on Top Award to msanon and Cleo:
On Quiz: Which Wintery Queer Book Should You Read This Holigay Season?
The Relevant to my Interests Award to Gina: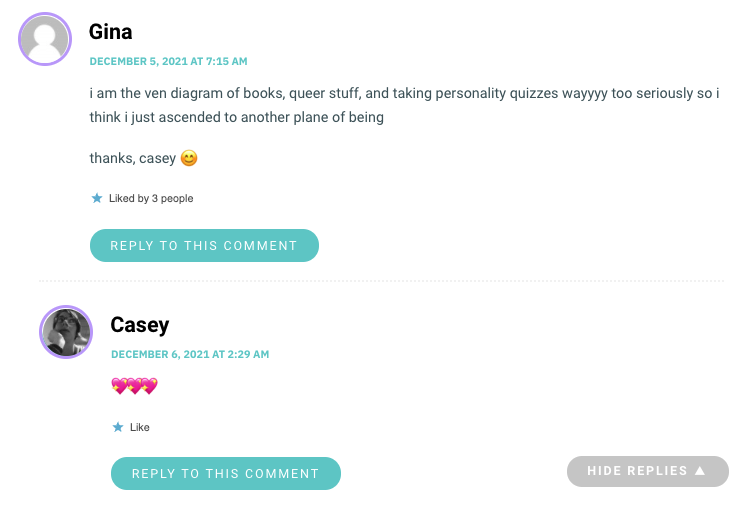 On "Yellowjackets" Episode 104 Recap: Feel the Pain:
The Nat & Misty Award to Kristen Arnett:

On Roundtable: Is There Anything Hot About the Holidays?
The Christine Baranski Appreciation Post Award to Bianca Garza:

On Sondheim and the Ambivalence of Wanting:
The Passion Award to Rachel:
And on No Filter: If Anyone Is Going To Give Me Hot Topic Couture, I Support It Being Megan Fox:
The Hot Pockets Topic Award to Dkc2017:

---
See a comment that needs to be here? Let me know! Tag me [at] queergirl.