Hello Wonderful Humans!
This was my first week in a new place! We've lived in Florida now for an entire week. Today I finally shrugged off my self-consciousness and got up the courage to wear a bowtie in public. The second I walked out my door someone asked me, without an ounce of irony, if I work on a cruise ship. It's a whole new world is what I'm saying. Also I am going into day seven of sleeping on the floor in an empty apartment.
Thank goodness that during this time of discombobulated disarray there is one constant in my life – Autostraddle dot com.
If you thought the commentators during the Olympics were sexist, you ain't seen nothing yet.
Cecelia is watching The L Word for the first time, identifies with Shane and has feelings about dating.
Sinclair Sexsmith writes about giving orders. Read it!
How close can two faces actually get? Erin investigates.
Natural history is so gay.
Also Feminist Olympics! And Comments!
---
On We Messed Up:
The Cry Us a River Award to Max:

On 18 Cupcakes That Would Almost Definitely Get You To Second Base With Me, If I Were Single:
The Get Baked Award to Nina:

On 22 Lesbian/Bisexual Movie Covers Featuring Women's Faces Just Inches From Each Other:
The Was It Good For You? Award to Blackmar:

The Reader's Choice Award to Sally and Caitlin: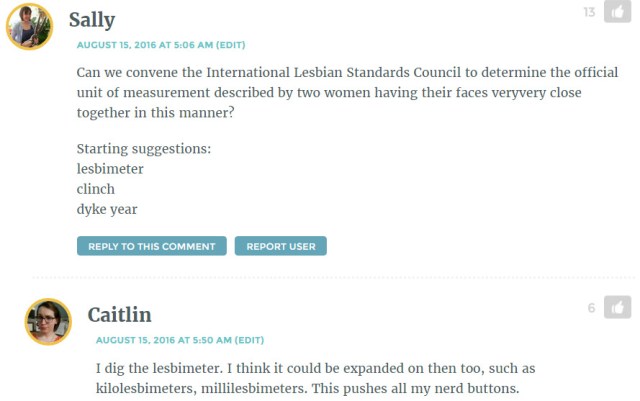 The Bird of Prey Award to queer girl:
---
See a clever, hilarious or thought provoking comment around this website-ship? Email it to me at: bren [at] autostraddle [dot] com!