Pop star and True Gay Icon Carly Rae Jepsen's latest album, the pop masterpiece E MO TION, has been refueling my gay gas tank every time I'm worried that I might be slipping into hetero- and cisnormativity ever since I first listened to it last summer. Jepsen injected a new level of gayness into the album when she released the Petra Collins directed music video for "Boy Problems" via Rookie the other day, showing the internet the best gal pal sleepover/dance party of all time. The song was already gay enough, as Jepsen sings about breaking up with her boyfriend and not caring, and wanting to prioritize her relationship with a gal pal over her relationship with a boy, but this video is simply transcendentally gay. It's the gayest music video by a non-gay artist since Jenny Lewis put Brie Larson, Kristen Stewart and Anne Hathaway in drag for "Just One of the Guys."
The video follows Jepsen as she sits in her dark bedroom wearing a tiara and crying (gay), cutting to a super stylish and gorgeous group of girls doing things like having sleepovers (gay), working at an office (gay) and taking selfies in a coffin (gay). It all ends with a gay crescendo as Jepsen and her girl gang team up and dance in a room full of glitter- and sequin-covered streamers. For a song that's ostensibly all about boys, there's not a single one in the video. I want to live in this music video. It's my new aesthetic, it's my new brand.
This music video is so gay Ali Liebert is playing it in the movie version. It's so gay it's legal to discriminate against it in Mississippi and North Carolina. It's so gay the CW is planning on killing it off next week. The "Boy Problems" music video is my whole entire gay life right now. Let's take a look at just a few of the video's gayest moments.
---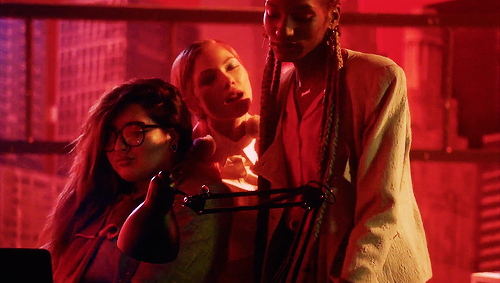 12. Members of Jepsen's Gal Pal Army, including Dounia Tazi, Tavi Gevinson and Torraine Futurum, team up for an even more fashionable and even gayer version of 9 to 5.
---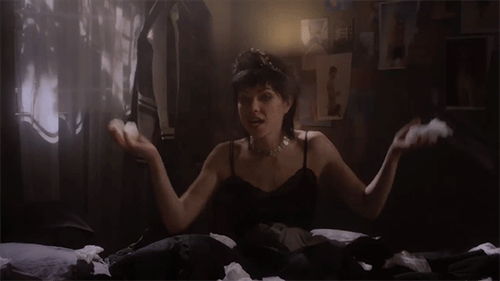 11. Carly Rae sits all alone in her room dressed in black and a tiara crying to herself. What lesbian hasn't done that a million times? I literally just did this yesterday.
---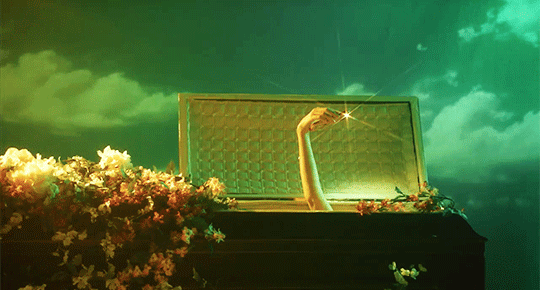 10. Alexandra Marzella's selfie game is so strong she's taking pics just for No Filter from the grave.
---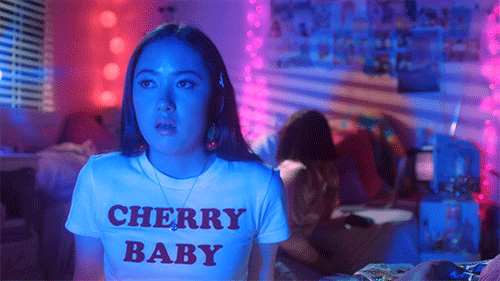 9. Manon Macasaet showing us the proper eye roll technique for when your "straight" bff is talking about boys rather than paying attention to you.
---
8. Speaking of Futurum, just the fact that Collins and Jepsen feature this model and trans girl of color so heavily in the video makes it ICONIC for all time. All jokes aside, this really is amazing and, as a twoc, I love it and I'm so happy that trans girls will get to see themselves depicted in a girl-centric video like this.
---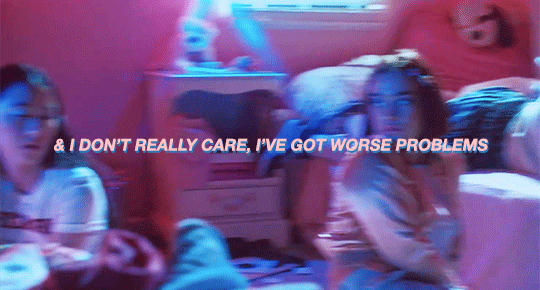 7. Having a neon-washed sleepover, talking about misandry; you know, just gals being pals.
---

6. Tavi crying while wearing a sharp button up, pink blazer and absolutely amazing pom-pom earrings. I love it.
---
5. Just posing for selfies with the girls.
---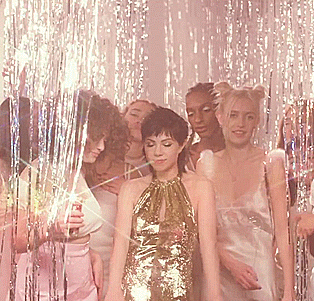 4. This is literally what the dance on the last night of A-Camp looks like. Like, literally. Not joking. This is a gay dance party.
---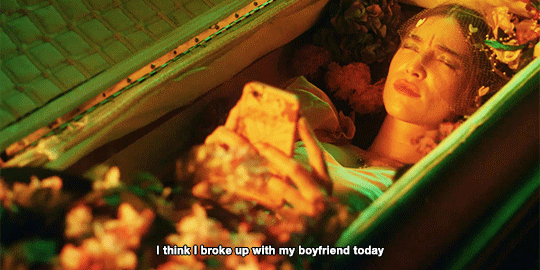 3. Rolling your eyes in your coffin because the heteronormative patriarchy is so annoying you can't even escape it at your own funeral.
---
2. Look at Carly Rae's amazingly queer mullet! This is A LOOK. She's the 21st century pop version of Joan Jett and I love it.
---

1. Then there's this moment, the moment I came out of the closet all over again even though I've been out for years. This moment is my root. Here she is, singing "I think I broke up with my boyfriend today" and then she turns to her gal pal, Diana Veras, gets a really gay smile on her face, and finishes the line "and I don't really care." She doesn't care because she's queer. That's it. That's the message of the video.
Now, go watch that video again and get your gay life!