"Now you're an old lady," my wife said as she walked through our living room. I was sitting on the couch, my feet up on the coffee table (my typical crafting stance), head bent over a piece of white fabric and a flashing needle. I was wearing my reading glasses. There may or may not have been an afghan on my lap. I was cross stitching.
But! In my defense and as I hastily proved to her, even though it was cross stitch, there was nothing "old lady" about what I was working on. I was stitching a project from Julie Jackson's book Subversive Cross Stitch: 50 F*cking Clever Designs for Your Sassy Side. My wife paged through the designs, giggling. Subversive messages nest in flowers or are framed by greenery. Some require a second look before you realize what you're reading. The designs range from "I hope you choke" (my fave), "Merry Fucking Christmas," and "Babies Suck" to, simply, "TITS" — and they're all perfection.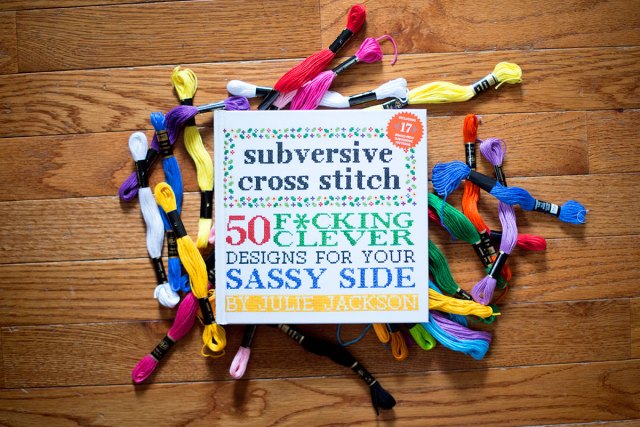 The best part, though? Cross stitching is easy. Julie provides a list of supplies in the book, as well as instructions that can help you tackle any of the cheeky projects. It's also weirdly calming — and I didn't necessarily expect it to be. Understanding that following a cross stitch pattern involves counting and… well, more counting, I was a little doubtful of my ability to stitch accurately. But instead of anxiety-producing, I found it soothing. Plus, it's satisfying. Small projects go quickly — even a few minutes' work leaves you with the feeling that you've accomplished something.
And proving even further that she's the coolest human on the planet, Julie designed a cross stitch pattern just for Autostraddle readers. It's inspired by everybody's favorite kind of content, Vapid Fluff, and is a great entrance to the world of cross stitch. Welcome, naughty grannies! You've found your home, sarcastic crafters! Pick up a needle and join me in giving 80% of the people on my Christmas list something cross-stitched (and sassy) this year.
---
A Q&A with Subversive Cross Stitch author Julie Jackson
Who taught you to cross-stitch? How did you learn?
I learned as a kid, maybe about fifth grade, in the crafty '70s.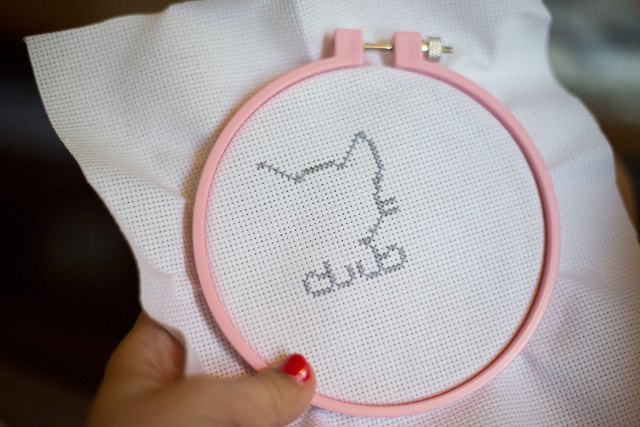 Do you see cross-stitching as a form of self care?
Oddly, yes. It's very therapeutic and can definitely be a form of meditation. Plus it keeps me from biting my nails. Also, I get a lot of email from people who have found stitching "Fuck Cancer" to be extremely therapeutic.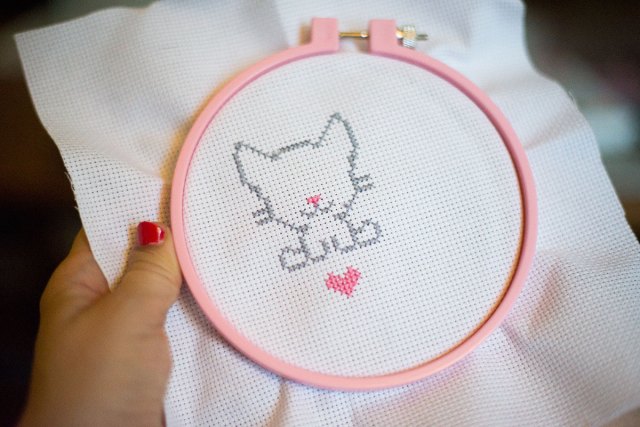 What do you do when you need a break from cross-stitching?
I get crafty in other ways. Right now I'm totally revamping a picnic basket I found for a dollar at an estate sale. I'm really going overboard: fake daisies, pom pom fringe, Amy Sedaris fabric inside, fake grass and butterflies… it may end up being a very wacky wedding gift. I'm cross stitching a banner for the inside lid that says "Happily Ever After."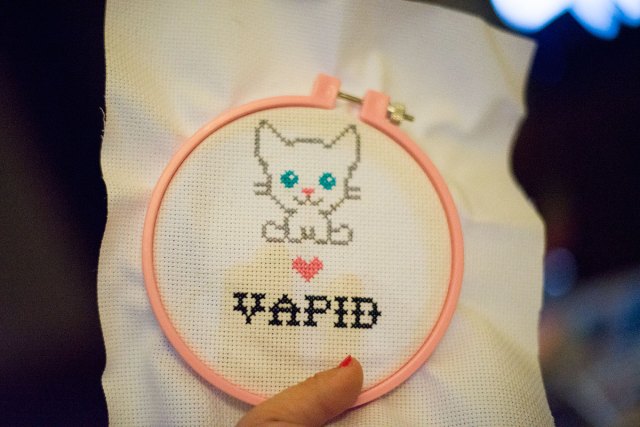 What do traditional cross-stitchers have to say about these patterns?
I don't really run in those circles, but I think people who have a sense of humor appreciate that part of it. I've never had anyone really complain to me directly, but I don't push it on people who may not understand why it's funny. It's not meant to be angry, just a humorous spin on tradition.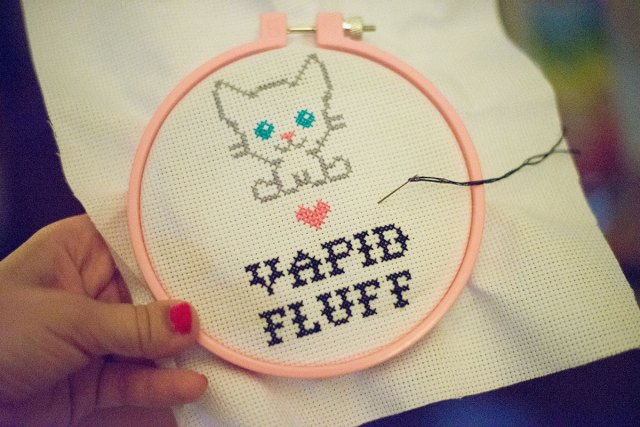 What is your favorite design from Subversive Cross Stitch?
The Herzog quote I just finished. I made it for myself after years of thinking, planning, finding just the right frame. It makes me really happy. I've loved the video clip of him talking about chickens for a long time.
What kind of things inspire new patterns?
Pop culture, though I don't do movie lines or song lyrics for the most part like some people do on Etsy. If I do lyrics, they're usually time-tested, the kind you can't get out of your head. It's amazing how many ideas I gather and how few of them actually make it to cross stitch form for one reason or another.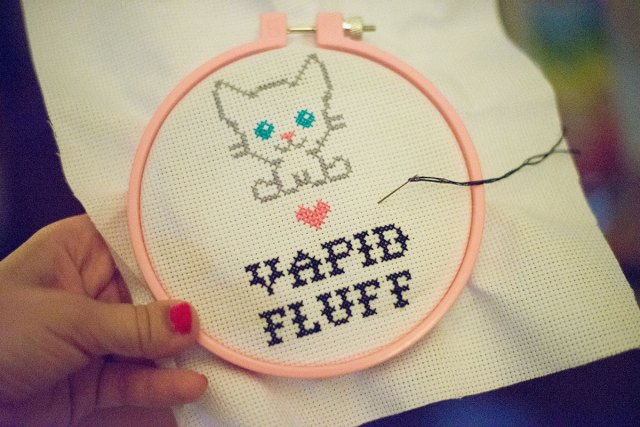 Do you have any tips for cross stitch beginners?
Don't freak out about being perfect; just try it. You should have seen the mess I made the first time I tried knitting. Give yourself room to screw up. Start with "You're Doing It Wrong" just to humor yourself — that one requires you to mess it up. Just stay out of your own way, don't overthink it. If you're worried about doing it right, your hands will be tense and you'll get a headache. Once you get into the groove, it's amazingly relaxing and that's how it should be.
---
Here's the totally unique and amazing cross stitch pattern Julie created just for Autostraddle! Go wild!