The season six premiere of Pretty Little Liars is just around the river bend, where Toby's therapy files flow like water to the sea, and while I generally try to avoid spoilers because the fuckery of this show is always experienced best in real time, Entertainment Tonight released a little tidbit of news today that made me do a triple take. They talked to executive producer Oliver Goldstick about what's in store for the Liars' love lives in the coming season, and here is what he said about our beloved lesbian ladykiller, Miss Emily Fields:
While 'A's dollhouse is most definitely going to strain some relationships, it's also going to bring others closer together — especially for Emily (Shay Mitchell).

"She might just realize that she's now got a soul mate closer to her than she ever thought," Goldstick coyly teased. "And the dollhouse will have been a big factor in a shift of what Emily wants in a partner. Who and what she wants."
You will remember, of course, that the ladies in Charles' dollhouse at the end last season were these five: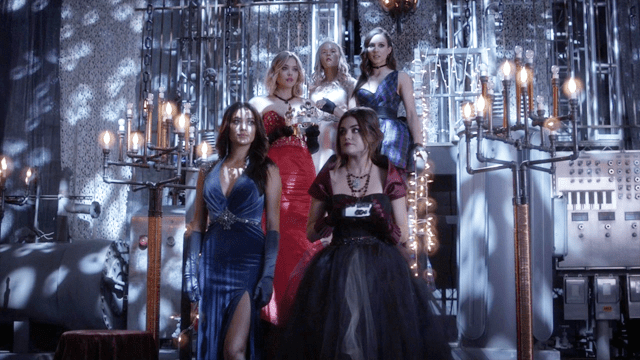 Apparently Emily is going to fall in love with one of them? This is wonderful news. Wonderful! Two Liars smooshing their mouths together and making humming sounds in their throats! I mean, make no mistake, my huckleberry friends, this is going to end in the sound of deafening carnage, before the sun extinguishes itself and earth floats out into the abyss, but right before the blast that causes our planet's extinction, it is going to be a glory.
There is nothing in this life like the singular way lesbian fandom reacts when an established and beloved lesbian TV character falls in love with her previously un-lesbian friend. The closest thing to it is how a cat does when it gets involved with catnip the first time, all wide-eyed and terrified, and then rolling around in it and rubbing it all over its little cat body, purring and dilated pupils and a racing heart; and then, a sort of inexplicable anger, acting out, scratching and biting at everyone's tender bits; and then, nothing is enough ever again. Not catnip. Not cat treats. Not a throne made of fleece or a real live tree in the living room. Take the catnip away, your cat murders you. Leave the catnip in play, your cat murders you. Obviously, lesbian ladies react this way because the experience of falling in love with your straight best teenage friend is a pretty universal queer experience and we're all looking to have our hearts healed/awkward memories alleviated by the time machine of stories, but whooweee.
There is one possible satisfactory outcome for a story where a lesbian character falls in love with her straight best friend, and it is: Riding off into the sunset holding hands for an eternity of bliss.
That is not a thing that is going to happen for Emily and any of these Liars. Come on, you know it's not. Girl, though. For the scorching hot minute it's happening, it's gonna be magnificent. Below, I have calculated the odds for which Liar will receive Emily's heart and longing looks and the chance to touch her otherworldly hair.
---
Mona Vanderwaal
Odds 50: 1
You can call her a lot of things, but don't call her heterosexual. She's been in love with Hanna since she was about four years old. But is she Emily's type? She's intense like Paige, but even more so. Unruly like Maya, but times a million. She's got a face like an angel, like Samara did. Oh, the empanadas should could cook with ingredients conjured from nothingness. Forgive me, but Mona's ability to be everywhere and nowhere makes Alison's ability to fly a plane seem like learning to ride a bike. Maybe she's all of Emily's love interests wrapped up in a tiny ball of fire an infinite possibility. Maybe that's too much. Maybe it's just enough.
---
Spencer Hastings
Odds 8:1
Sometimes when you have a hammer, everything looks like a nail. Or sometimes when you're surrounded by bananas, you think they're the only fruit. Spencer is no stranger to sapphic leanings. She has done at least one lesbian waltz in the basement of an insane asylum while the ghost of her dead best friend whispered in her ear about how practicing kissing on girls is better than real kissing on boys. But could Emily love her in a more-than-friends way? Something tells me Spencer Hastings has a field hockey penalty named after her, too. (So, yes.)
---
Aria Montgomery
Odds 1,000,000 to 1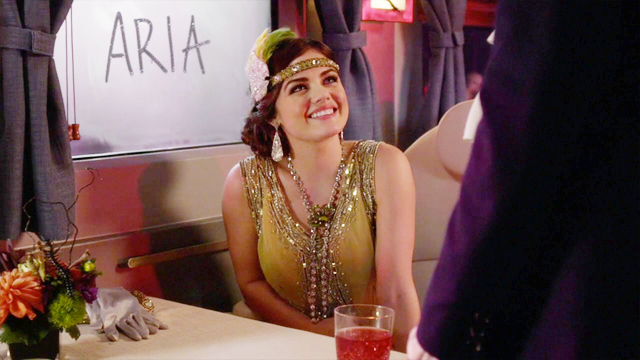 Nah.
---
Hannah Marin
Odds 3: 1
For starters, Emily and Hanna are already 60 percent in love. Remember that time Emily was like, "I will enter this pageant and dance for you, Hanna! I will dance for one million dollars for you, my love!" Remember how psycho Hanna got when Ali came back to town and started getting all of Emily's attention? ("You're the special one, Ali.") Remember when Hanna kept unbuttoning buttons on Emily's denim jacket? Remember PinkDrinks? PINKDRINKS. Has Hanna's friendship with Emily been code for something gay all along?!
---
Alison Dilaurentis … 's Plastic Face
Odds: Even
It has been the constant in Emily's life. Rain or shine, day or night, weekday or weekend, school days or holidays. Alison DiLaurentis's Plastic Face has been the one single thing Emily has been able to count on to show up over and over, again and again, forever and always, these many years. Will she finally realize who has been by her side (and under her bed and in her car trunk and stuffed in her locker and hidden in her refrigerator and buried in the yard and hanging from the trees) all this time? The mask is in the dollhouse. The mask is always there.
---
Now that I have written this all out, I am keenly aware that I will never survive Emily falling for Hanna or Spencer. It would make so much sense. It would hurt too good.