Hi crush monsters, this is the fourth installment of Straddler On The Street, a new feature where I celebrate all of you incredible Autostraddle readers by hunting you down, demanding you chat with me, and then writing about you on the Internet where we can all ohhh and ahhh about how perfect you are! Every Monday I'll introduce you to a new Autostraddler that you can totally crush on. So get excited, because butterflies in your stomach 24/7 is a fantastic way to live.
Header by Rory Midhani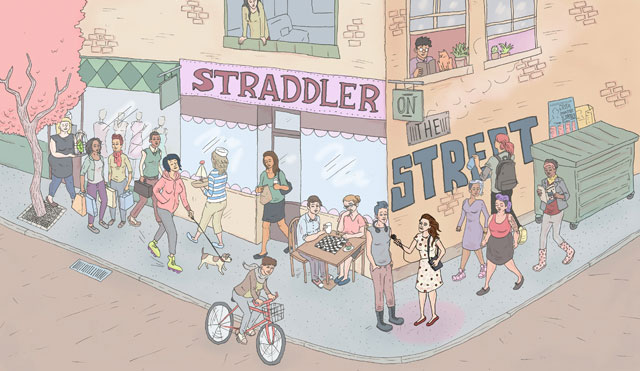 ---
Straddler On The Street: Julia, 24
I'm always honest with you guys, so I'm gonna let you know upfront that I've known Julia for 10+ years. We went to high school together, and before that we took theater classes together in a nice South African lady's basement. We weren't best friends and we didn't stay in touch, but thanks to Facebook I've watched her evolve since we both left our suburban New England town and I've been totally blown away.
Julia now lives in Austin, Texas and is a member of The Lipschtick Collective, which describes itself as "a queer, feminist art collective with a distinctly Jewish flavor." She is one half of Gluten Free Bitches, a satirical web show, and she's also working on a solo project which she elaborates on in the interview below. Julia is hilarious and smart (hilariously smart? smartly hilarious?) and she reminds me of home.
Hi Julia. Who are you?
I'm a performance and video artist and part of an art collective called The Lipschtick Collective. I'm also a fat activist. I identify as fat, and I like de-stigmatizing that word and making the body really political in my art and in my day to day interactions with people.
How do you make the body political?
Being a fat person in the world, you realize that the world hates you because you're fat. Sometimes I just like to say the word "fat" and it makes people uncomfortable. If I say, "I'm fat," there's this moment of "Oh, she said that word, that word was used." It's really important to me because it's something that's taken me my whole life to come to terms with.
Can you talk your most recent art projects?
My solo project right now is a female drag character named Jess Wilson, who is perpetually in the moments before she gets weight loss surgery.
How did you come up with the character of Jess?
I'm really interested in weight loss surgery, the medicalization of obesity, and even the term obesity as an illness. I'm specifically interested in lap band surgeries, because I was living in LA and they were being advertised on hundreds of billboards. A lot of people were dying from the surgeries, and still are. I want to be clear that it's a really good thing for some people, but many people have horrible health complications and they die, or they lose their medical insurance. It's a really complicated thing and it's being peddled as this cure-all to end obesity and it's not.
That's a pretty intense character, those are really serious issues. Yet I feel like all of your performances are inherently playful or fun or funny.
I'm always interested in being funny, because I think that's how you end up telling the truth. Oscar Wilde said, "If you tell the truth, make them laugh, otherwise they'll kill you." So I keep that in my head.
Woah, talk about pressure. I'm impressed that you love your body because I haven't learned to love mine. Can you talk about the journey you took to learn to love your body?
Well it's been really hard for me, finding a way to live in my body and love myself and be happy, while simultaneously trying to acknowledge I have a really complicated relationship with food. Not every fat person does, but I do. I've struggled with overeating disorders and binge eating disorders. So for me it's about negotiating and trying to put it all in the same conversation. How do I address my relationship with food without shaming my body and without making it fatphobic? It's really complicated. If anyone knows any great nutritionists who don't fat shame, I'd love to speak to them.
What work do you do, or have you done, to love your body?
This sounds so corny, but I will stand naked in front of a mirror and do daily affirmations. In the beginning I took lots of naked pictures of myself, I filmed myself masturbating…these were things I was doing to assert that I would find myself attractive. I wanted to be able to watch myself, to sexualize myself and to be comfortable being sexual.
What's hard is you can do all that work internally, but you are still going to be dealt a waterfall of bullshit from other people and all you can change is how you react to it. I'm still skeptical when people find me attractive or flirt with me. So I still work to assert myself. I ask people out and I work on doing things that at one time seemed literally impossible. Romance and sex and love…it wasn't even like it was scary, it was like, "Those things are not available to people like you."
Earlier you said it has taken your whole life to come to terms with being fat. Did you have an "aha!" moment?
I had this moment in college when I was 19. I read The Cult of Thinness and I was like, Oh my gosh, when the world makes me feel like I'm less than human, that's not okay? You mean I don't have to receive that? I had been living with the idea that if I wanted to, I could lose weight and become a thin person, so I thought that by staying fat and by not losing the weight, I was making a choice and it was my fault that I was treated a certain way.
Ugh, let us take a moment to acknowledge that the world sucks. But okay, so the "aha" moment came in college. You were also in college when you decided to do burlesque, right?
Well, I've been seeing burlesque since I was in high school. As soon as I turned 18 I went to go see The Sex Workers Art Show and I saw Dirty Martini, who's a very famous burlesque performer and a big woman, and I remember thinking to myself, She's allowed to do that? I hated my body and I hated myself and I'm sitting there in all these oversized clothes, hiding myself, and I'm like, "Holy shit, you're allowed to do that!" And I remember thinking to myself, Julia, I hope you are eventually able to do that.
Wow, so burlesque was a big deal in your journey to self-acceptance from the very beginning?
Performance for me has always been my lifeline. It's how I process. I kept seeing burlesque shows where there were all these different types of bodies, big bodies, and it felt like they were saying, "I'm sexual, look at me, you can't not look at me, I'm naked, I'm stripping for you and this is hot," and I was like, "Oh my god."
How did you get from those moments of seeing burlesque shows and wanting to be a part of one to the place where you were physically on stage stripping?
It was when we were starting to form Lipschtick Collective. I went abroad and saw the International Burlesque Festival in Amsterdam and and it was like the most mind blowing experience, and I came back and said, we should do this thing. Becky, one of the members of the collective, is the most fearless person I've ever met, and she said, "Okay, we're putting on a queer burlesque show. I don't care if we don't how to do it, we can do this!" We wanted to present something that was accessible to anyone. We wanted to create a different world where everyone is beautiful and everyone gets to choose how they want to be. It was about self-love and group-love.
Can you tell me about your act in that first burlesque you put on?
I decided I was gonna have to take my clothes off in front of a room full of people. My brother introduced me to "My Body Is A Cage" by Arcade Fire and oh, that song was everything. I came on stage in a black silk bathrobe and took it off and sang that song. That was it. It wasn't about sex at all, it was just about me going to bed at night in my body thinking, I love myself and I'm okay. I think of my life as, before that moment, and after that moment.
What was that moment like?
It was the most affirming and the most terrifying moment of my life. From that moment on, something switched in me. That thing in my solar plexus that used to say, "You're a repulsive awful human being because you're fat," went away. It was like, I'm okay.
---
If you would like to be featured as a future Straddler on the Street, please email vanessa [at] autostraddle [dot] com. Include a few photos, 3-5 sentences about yourself and put "Straddler Submission" in your subject line. Photos must be high-quality vertical shots that are taken outdoors or in very amazing indoor lighting — low-light selfies, while sexy in their own right, will never ever ever be considered. Approximately a million people have submitted so far, so please be patient as Vanessa works on responding to all of you.