Hi crush monsters, this is Straddler On The Street, a feature where I celebrate all of you incredible Autostraddle readers by hunting you down, demanding you chat with me, and then writing about you on the Internet so we can all crush on you. Get excited, because butterflies in your stomach 24/7 is a fantastic way to live.
Header by Rory Midhani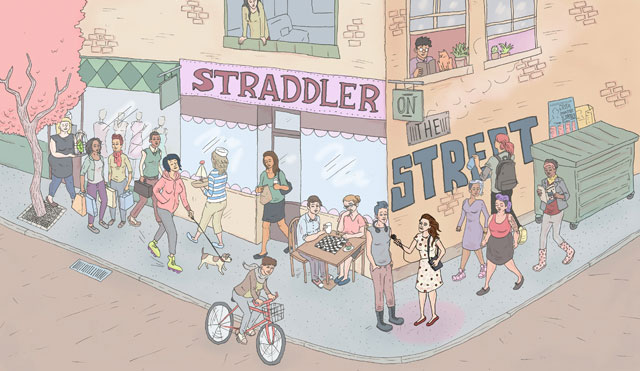 ---
Straddler On The Street: Grace, 24
You may remember Grace from the article she wrote in April about having the best day of her life, every day for the rest of her life, after realizing that she does not have an expiration date like she once thought she did. The 24-year-old lives in San Francisco, CA, and recently quit her corporate job to work full time on Best Day Project, which is evolving fast and which Grace describes as a queer youth suicide prevention campaign.
Grace spoke with me about her experience at A-Camp, her work on Best Day Project, her days as a professional poker player, the Korean restaurant she owns with her sister, and much more. Read on to learn more about Grace and to watch a hilarious teaser for her upcoming webseries.
Hi! So, what did you think of A-Camp?
Camp is really what you make it to be and I was earnestly trying to make it one of the best experiences of my life. And it was.
That makes me super happy to hear. Now what are you up to these days?
I just quit my corporate jobs to pursue spreading the message of Best Day Project full-time. Best Day Project was just a side hobby of mine, but I realized I love every minute spent working on it, and I owe it to myself to just keep doing the things that make me happy, so I made it my career.
I really admire you. Can you speak a little to people who may want to leave their corporate jobs to pursue their passions but arent sure how to do so – what would you advise?
I spent a lot of time sitting at my desk every day, content but wanting more. I needed purpose. One night I just sat down and really honestly wrote down what my ideal job would be. [I wrote,] "make a living doing what you love – helping people and having fun." I then wrote out a flow chart utilizing every skill set and connection I have to get to each step of the flowchart, started checking everything off every day and now I'm knocking on the door of what I set out to do a couple months ago.
My advice would be follow something you're truly passionate about. Also, you need to have blind faith in yourself. The idea of things becoming difficult is often scarier than the situation, which usually stops us from attempting a lot of things. If you have blind faith in yourself, you realize no matter how bad it gets, you'll get through it once you're there.
Have you had any setbacks or disappointments while getting following this dream?
My biggest problem when I started out was getting obsessed with goals. If I set a goal, anything besides that goal wasn't good enough. I learned to just appreciate all the good things that come my way even if it isn't exactly what I wanted. I have no idea what i'm doing. I just learned to have fun while figuring it out.
Well it shows – you seem like you are having a lot of fun! So before you did Best Day Project you were a professional poker player. Can you tell me about that?
I went to UC San Diego for college… I was always really good at math and probabilities and I somehow got sucked in the world of poker.
Honestly, I never went to school. UCSD is a big public university so they relied on midterms and finals for every class, and I'd just show up on those days. It gave me a different view of money and outlook on life. I was in school trying to get a job that would let me make in a year how much I made in a month while playing poker. But the money never made me happy. Your sole purpose when you wake up every day is to just make more money. I was a depressed, socially awkward loner. The times I would savor most was when I got to do fun things with that money, with people.
Now I just want to spend my time doing fun things, cultivating experiences, and not being so concerned about the money. Poker taught me that it always comes and goes.
And you said you have a restaurant now?
I run my restaurant with my sister. My parents are both restauranteurs, so we grew up being immersed in that world. It's not my thing at all, but it allows me to pursue Best Day Project during my downtime. I work at my restaurant eight hours a day and spend 12 hours on Best Day Project once I'm done. The restaurant portion of my day is really draining, but when I get to work on Best Day Project, I'm energized. It's exhilarating.
What is the name of your restaurant? Can Straddlers go check it out?
Yeah, Todam Tofu House in San Bruno, California. It's a Korean tofu soup/BBQ place.
Yum! So now that you are having all the best days, will you tell me about a couple of standout moments in the project?
Skydiving was amazing. I honestly can say I felt pure bliss. When you're falling from the sky, you can't think of any mundane life worries like bills, girlfriends, or jobs. Every brain cell is dedicated to thinking "HOLY SHIT THIS IS AMAZING!"
Getting a makeover was awesome as well. Right before camp, I got the haircut I always wanted. I finally allowed myself to get it, which is the silly part. I could've done it any point in my life, but silly little insecurities kept me from doing it. I finally get to see what I want to see in the mirror.
And finally, preparing for the Zombie Apocalypse was amazeballs. I got archery lessons with a Zombie target. For the web series, I filmed myself planning my escape route out of San Francisco, but then halfway through, I realize I'm pretty useless in a survival situation, so my friends and I just went to this hidden cliff area by the ocean, hit biodegradable golfballs into the ocean, and drank beer while watching the sunset. That's how I want to go out.
After growing up the way I did, I can honestly say every day has been wonderful. Everything has a little more meaning.
That is so inspiring. Now I have a couple of fun short questions. Favorite book?
A General Theory of Love by Thomas Lewis M.D., Fari Amini M.D., and Richard Lannon M.D. It's a book that explains the science behind human emotions and pretty much changed my life and how I approach any sort of relationship.
Do you have any recommendations for restaurants or bars in San Francisco?
For bars, I tend to go to The Lexington and El Rio. Anywhere with a great jukebox. And restaurants? If I had to choose, I'd say Gary Danko.
Can you tell me a little bit about what your ideal is for Best Day Project?
Ultimately, Best Day Project is a queer youth suicide prevention campaign. I will never tell anyone how to deal with suicidal thoughts or depression, because it's different for everyone, but this is how I tackled my own issues. And hopefully, putting it out there will encourage teens who are going through really tough times to see that it is possible to climb out of that dark hole.
I lived my whole life thinking there was no hope to ever being happy, but really pushing myself to appreciate the good things in life altered my view dramatically. I'm traveling around the US this summer to meet queers with similar pasts, film ourselves doing something they've always wanted to do, and share about our experiences to give a message of hope to those people who need to hear it.
How did you discover Autostraddle?
I made my first queer friend last winter who is actually Brianne Huntsman, [Autostraddle's Miss March 2014]. She introduced me to Autostraddle and told me about Camp. I signed up right away on a whim, started reading Autostraddle, and it really did change my life. I learned there are people out there like me and that it's okay to be the way you are. I became more and more comfortable with my sexuality, officially came out in March – on Facebook with a meme I made – and threw myself a big gay Autostraddle party to celebrate.
I decided I wanted to meet more queers, so I went to the Bay Area Straddlers Facebook group, suggested a hot tub/Korean BBQ party at my place, and it became one of the best ideas I've ever had in my life. There was one point when I was surrounded by 40 queers, elbow to elbow in my tiny one bedroom apartment, soaking wet and in their swimming suits, all taking a shot of my favorite drink, Jameson, and toasting my name. At that very moment, I questioned whether or not Autostraddle is a lesbian cult and if it isn't, how I'm going to deal with my like peaking.
That is the best Autostraddle discovery story I've ever heard.
Haha! Autostraddle really did change my life. It's such a great community and I love meeting every member who is a part of it.
Do you have anything else you'd like to share with the Autostraddle community?
Yes! Here's a teaser I put out for my web series about the ways I thought you could get pregnant growing up. Immaculate conception, anyone?
---
If you would like to be featured as a future Straddler on the Street, please email vanessa [at] autostraddle [dot] com. Include a few photos, 3-5 sentences about yourself and put "Straddler Submission" in your subject line. Approximately a million people have submitted so far, so please be patient as Vanessa goes through her inbox — you're all sexy with really smart brains, and don't you forget it!