Learning to feed yourself can be one of the most terrifying things. Am I about to give myself food poisoning? If I eat this too often will I end up with scurvy? How can I get the most nutritional bang for my buck? Why does this still taste like ass?
With Ode to My Pantry, learn to navigate a grocery store without having a meltdown in aisle three. Give a man a fish and feed him for a day, teach a queer to cook and stave off malnutrition for another semester.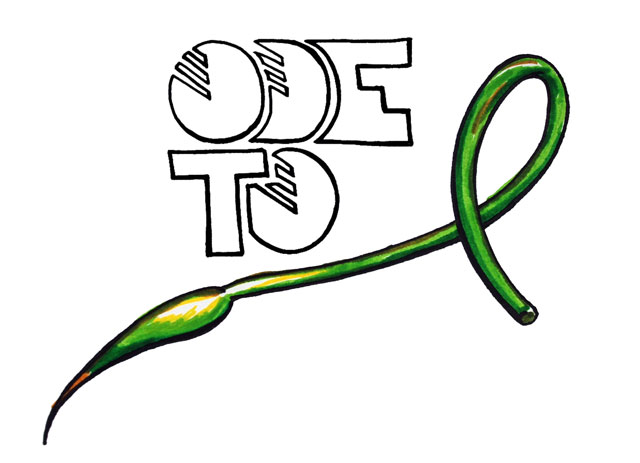 Happy St Jean Baptiste everyone! For me it means the Official Start of Summer – although I probably should have gleaned that from Friday's solstice – and the possibility of r
etiring my umbrella. Now that daylight lasts past 8pm, it's patios, park beers and short shorts as far as the eye can see! I can trade in my gumboots for sandals that'll probably give me blisters and I can say goodbye to four thousand pounds of beets, potatoes and carrots. Because the best part thing about summer (besides the witbiers) are farmers' market stalls overflowing with bountiful green things I couldn't buy a month ago.
Look at all the Things I Can Stuff In My Face!
Including scapes! You probably recognize the red things, but what are the magical green thing I speak of? If the curlicues looks foreign to you, think back to your college dorm (or possibly your current kitchen) and check your pantry. If you've ever  left a few heads of garlic too close to your warm fridge, went to A-camp and came back to find medusa in your cupboard, surprise, you've grown scapes!
Garlic scapes are the shoots that eventually give way to the flowering plant. 
But
, 
if you 
were
 to let them grow, you'd end up with a
fistful of bulbils,
a pungent bouquet and teensy, weensy bulbs instead of the head you're so familiar with. So
farmers give their garlic a haircut mid-spring after the garlic has sprouted
(but before it's flowered) to let the baby garlics concentrate on growing into the biggest bulbs they can be. But instead of throwing the scapes into the compost bin they'll drag them to the market and sell them to people like me!
Much like fiddleheads and ramps, scapes are a super seasonal offering that only show up for a scant few weeks. If you see them in the market, grab them since they'll probably be out by the time you return. Look for the curliest specimens you can find with tiny closed buds. The initial stalk will be bright green, tender and slightly curled. As the scape continues to grow, the stem will eventually straighten, thicken and toughen up with fibre. If you like to chew cud, by all means buy the straighter scapes, but my jaw is lazy. Just make sure to grab the dark green ones instead of the yellowed or browned ones, otherwise  you're going to have some wood on your hands (and between your teeth).
Before you ditch your groceries in the fridge and head off to the beach, take a little bit of care to store them. The buds are hearty, but not as much as the rest of the stalk. So if you were to store your scapes whole, they could whither before you figured out what the fuck they are. Decapitation gets the job done and I find that I can keep the buds stashed for about two weeks and the stems for upwards of a month without doing any major damage. Just whack off any browned or dried ends before you eat and you're good to go.
A lot of blogs introducing scapes for the first time will tell you that scapes taste "much milder" than their bulbous bretheren. Do not believe them! I just shoved one in my maw and I'm 90% sure I can breathe fire. If you normally buy local garlic grown in sulfurous soil, scapes will taste mild by comparison, but don't be fooled. If garlic scapes are your first foray into local garlic (because you normally chop up something shipped from the other side of the ocean), watch yourself and your tastebuds. Because seriously, you'll woo people with your fire breathing abilities but then miss your chance to kiss them.
So how do you tame the flame?
Embrace it. Given that it's already green and garlicky, it's a short jump from plant to pesto. Throw a few stems into your food processor with some Parmesan, lemon, nuts and oil for a pungent spread. You can also throw in some chard or other greenery if you want to soften the blow. And then just smear it on everything.
Blanch 'em. Slice up the stems (especially if they're woody) and blanche them to reduce the bite. The pungency will give way to a sweetness akin to roasted garlic.  If you're not familiar with blanching, you're just looking to cook your foodstuff in salted boiling water until it has brightened up (due to the vacuoles collapsing) before plunging it in ice water. By halting the cooking process so dramatically, you can retain the fresh colour and texture and more of the nutrients. Like all of the vitamin C!
You can treat your cooked scapes like garlicky asparagus and throw them into your next stirfry or crudite. Given that they contain shittons of organosulfur compounds imparting that familiar garlic pungency, I like to dress my scape salad with a strong mustard vinaigrette since mustard's isothiocyanate compounds are worthy adversaries. The flavours pair so well, that you can even make a garlic scape mustard if you have the time.
Roasted. Just like kale, broccoli and other sulfurous vegetables become all sorts of delicious with a bit of char. Throw them in the oven with a bit of olive oil and pull out your green bean alternative. You could do a lot worse than a scape carbonara or a pizza topped with scapes.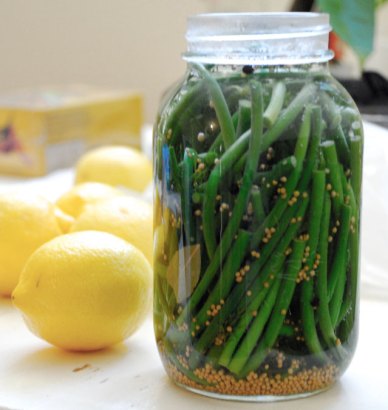 Pickled. Spicy pickled beans and asparagus are pretty much the best part of any Caesar and the garlickier the better. Why not just skip a step and stir your drink with something already infused with garlic? Given the scapes' hearty nature, they'll stand to anything you throw at them! Given their perplexing shape, it's easiest to cut them in half and save the curly portion for one jar and the straights for their own. I like to hot pickle 'em and shove my jar full of Bay leaves, yellow mustard seeds, black peppercorns, chili flakes, coriander seeds and dill sprigs before I pour over my brine. They'll morph from lackluster to fluorescent to drab as the brine works it's magic. After a few weeks they're ready to go.  
Just make sure to pop a mint if you care about that kind of thing. You chew you.