Sometimes, SOMETIMES you can't cover your face with smokin' hot lesbians. When this happens why not cover your walls with them instead!? That's where the 2014 Autostraddle calendar comes in! If you haven't picked up the 2013 calendar yet, you should probs get right on that — they're now available in our store for only $12! For 2014 prepare to have your mind blown, among other things.
---
Brianne is Miss March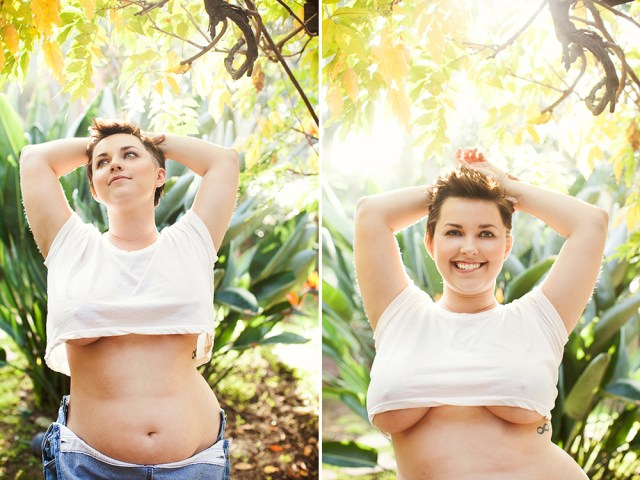 Brianne in her own words:
Hello! My name is Brianne, but you can call me Bri. Or Mama Bri. I have a fierce intensity and I tend to overwhelm people. It's okay, you'll adjust, I promise. I'm a loud extrovert, and I will talk to just about anybody. When friends are looking for me, they usually just listen for my voice, my laugh or both. I try to kick myself out of my comfort zone, and I live life with joy.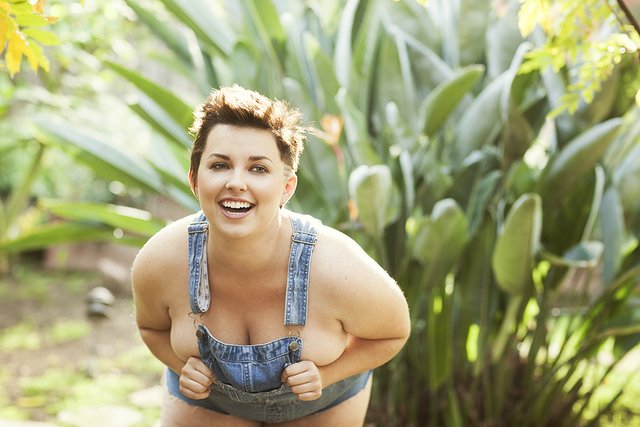 Get to Know Brianne
Where are you from?
I grew up in Mormon Country — American Fork, Utah to be exact. I currently attend Stanford University.
Occupation/Major/Passion:
I came to Stanford thinking I would major in International Relations, become a diplomat and then Save The World. I figured out my freshman year that I'm actually not very diplomatic. I was left trying to figure out what my passions are and I stumbled onto engineering and design. I ended up taking two years off to come out of the closet and start cultivating my mental health (which in itself is quite the story). Now I'm back at Stanford, trying to learn to live my life without having to plan out a ten-year life plan. After Stanford, I'll take on Silicon Valley and build my own companies – but I don't know what my future will look like, exactly. It's going to be a great ride.
Why did you want to be part of this project?
Oh, a few reasons:
One, I was raised Mormon, in a community where upwards of 90(ish)% of the population belong to the Mormon faith. In Sunday School, I was told to wear camis underneath all shirts, because if a man saw my cleavage and "thought bad thoughts" God would hold me accountable for his sins. I now know: My Femininity is powerful. My participation in this project is another middle finger to the Mormon patriarchy I grew up under. This is my body, and I'll do with it as I please.
Along the same lines, I am so very tired of reading about Mormon LGBTQ kids committing suicide because they feel rejected by their loved ones and their higher power. My family members' views and beliefs have evolved over the last few years, and I am incredibly grateful for their support of who I am — even if they don't completely understand it. Coming out: I was on Google at 2am, searching for advice and trying to find people who were in similar circumstances to mine. I hope this article will show up on someone's screen who needs it. I wish I would've found someone who told me, "There is nothing wrong with or your feelings. You can create your own spiritual path. You are a good person, worthy of love – please keep going." I'm working on a site, utahisgay.com, as resource for LGBTQ people who are Mormon or were raised within the faith.
Two, in the thread calling for submissions readers were asking for "size diversity," but it's impossible to show the diversity of our community when people don't show up. I had this idea that to be an attractive queer lady, I had to have slouchy jeans and jutting hip bones. This isn't the case. Positive body image is a motherfucker to cultivate, but it sure is a lot easier when you see someone in the media who looks like you.
Three, I am beginning my career, and I know I am going to encounter people who critique the way I look/dress instead of how I actually run a goddamn company. I've decided to circumvent the critics now by taking ownership of the presentation of my body.
This experience has been incredible. The staff was so awesome and made it clear that we were only to do what we were comfortable with. (You guys should ask Robin about what Gloria Steinem said about her kicks.) All of the calendar girls are so different. We have an incredible spectrum of backgrounds, identities and dreams and I am so grateful I got to meet each of them. Models from 2014 have turned into great friends. I have lots of feelings about Autostraddle and its community and I am so grateful to be apart of it.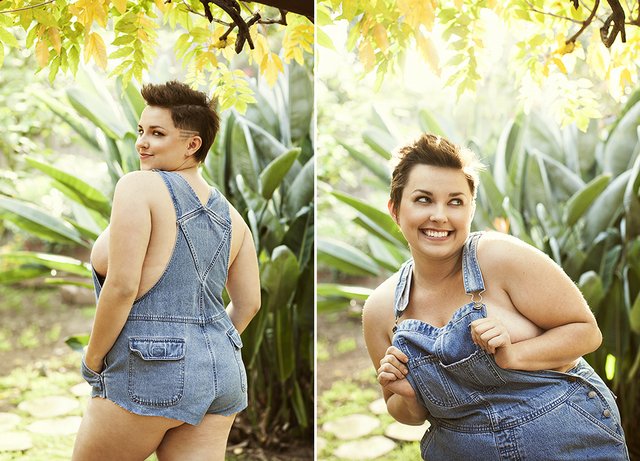 ---
Artist's Statement from Robin Roemer:
I want to start off by saying I wish I had a few weeks to photograph each of our 130 applicants, because they were all beautiful and inspiring! We are honored so many of you wanted to participate and we hope, at some point, we can work with each one of you. I mean that most sincerely.

This year we went through our applicants based on the survey first, the photos sent in to me had little to do with who our final picks were. We chose based on answers to a variety of questions. We wanted people who really had a sense of what the project was all about, were readers of Autostraddle, and were involved in their communities at home. We wanted women bursting with energy and love. Second, we wanted to represent our incredibly diverse our community: beauties of all different shapes and styles and backgrounds and gender expressions. Finally we found ourselves with 13 models, its 2013 now so twelve just wouldn't do, who we feel represent some of the most brilliant our readership has to offer. I hope each of you, especially those of you who applied and were not chosen this year, enjoy this year's calendar.
Crew:
Co-created by Robin Roemer and Sara Medd
Photographed by Robin Roemer
Wardrobe styling by Sara Medd
Hair by Taylor Stevenson
Make-up by Marla Verdugo
Line Production, Location Scouting and Catering: Sarah Croce
Design, Location Scouting, Production assistant: Alex Vega
Lighting Assistant: Kamila Baker
Production Assistant: Christina Bly
Puppy Wrangler: Mollie Thomas
Special Note: As of December 2010, we request that the comments on Calendar Girls posts, unlike every other post on this site, be exclusively positive and remain on-topic. These posts exist to celebrate women, so any  criticisms of the model, her appearance or the appearance of the Calendar Girls as a whole will be deleted. Furthermore, any direct questions/concerns about the project in general can be directed to robin at autostraddle dot com!