Ever wonder where the phrase "March Madness" comes from? Famed broadcaster Brent Musburger made March Madness part of the broader lexicon when he used it to reference the NCAA tournament in the 1980s, but the phrase actually dates back to 1939. According to the lore, Henry Porter coached the Athens (IL) High School Warriors to a second place finish in the annual statewide high school basketball tournament. Describing the fans' excitement about the tournament, Porter wrote, a "little March madness may complement and contribute to sanity and help keep society on an even keel." The sentiment resonates right now: if ever there was a moment where we all needed something to keep society on an even keel, it's this one.
That "contributing to sanity" part, though? After the excitement of of the weekend's games, I'm not sure March Madness is doing much for my sanity.
All three women's games this weekend — the semifinals on Friday, the finals last night — were phenomenal (mediocre refereeing notwithstanding). South Carolina came within inches of beating Stanford, the tournament's overall #1 seed. It was heartbreaking to watch Aliyah Boston and the Gamecocks fall just short of their season-long goal. Then, in the nightcap, basketball fans had a fairytale realized: David slew Goliath, as Arizona — an undersized, underappreciated team that had never been to the Final Four before — came in and defeated perennial powerhouse, UCONN. The Wildcats' defense suffocated the Huskies and ensured that no one would overlook them ever again.
And then the Finals? ARE. YOU. KIDDING. ME?! The Cardinal had beaten the Wildcats twice already this season — both times by double digits — but this time, Arizona just would not give up. Everytime Stanford went on a run, Arizona would answer: ramping up their defensive pressure and turning their defense into offense. In the end though, Stanford's defense collapsed on Arizona's Aari McDonald and dared anyone else to beat them… and the Wildcats just couldn't do it.
𝐂𝐑𝐎𝐖𝐍 𝐓𝐇𝐄 𝐂𝐀𝐑𝐃𝐈𝐍𝐀𝐋 👑🌲#GoStanford pic.twitter.com/h08aAU0s3y

— Stanford Women's Basketball (@StanfordWBB) April 5, 2021
Also? There was a men's semi-final that was very exciting. Not as exciting as Morgan William's buzzer beater to end UCONN's 111-game win streak in 2017 or Arike Ogunbowale's back-to-back buzzer beaters in 2018, but you know, it was nice.
But now that those women are done (for now), we should get back to the business of selecting our final four competitors? Here's how your Sweet 16 votes winnowed our field:
Since we're getting down to our final eight choices, we'll break down the match-ups in their respective regions: Canon and Fanon.
---
On the Canon side, we had our closest match-up of the Sweet 16 between Cosima and Delphine and Brittany and Santana in the Classic sub-region. At one point, the girls from GLEE stormed ahead by a few hundred votes but then Orphan Black fans came back to give them the lead. It's the second close match-up that Cosima and Delphine have survived, as they narrowly defeated Tara and Willow in the Round of 32… perhaps, they're the Arizona Wildcats of our March Madness?
In the Sci-Fi/Fantasy sub-region, Waverly and Nicole easily dispatched Alex and Maggie in the Sweet 16. I was a bit surprised by the ease of the victory — after all, Alex made her way to the March Madness finals two years ago — but given that Wynonna Earp may be completing its run, perhaps I should have expected the fervent response. It's worth noting that the past two winners of this competition have been part of shows that were also concluding. Is that a good omen for Waverly and Nicole in this competition?
#1. Waverly and Nicole – Wynonna Earp vs. #5. Cosima and Delphine – Orphan Black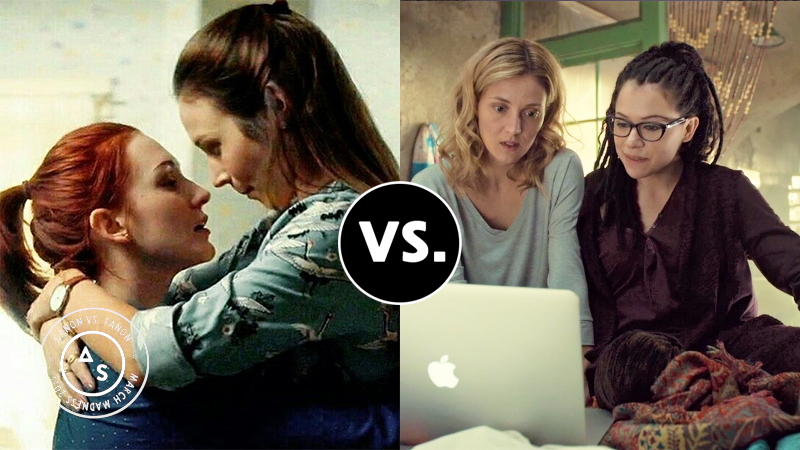 In the Grown sub-region, Callie and Arizona easily fended off a challenge from Kat and Adena in the Sweet 16 and moved onto the Elite 8. The Calzona fandom came out strong in the third round of competition and they'll need all that strength when they meet Juliantina in the Elite 8. The pair from Amar a Muerte dominated through the Baby Gay sub-region but have they met their match in the longest running lesbian couple on television? We'll see.
#3. Callie and Arizona – Grey's Anatomy vs. #8. Juliana and Valentina – Amar a Muerte
---
Over on the Fanon side of the bracket, I'd picked Buffy and Faith to win the Classic sub-region in our Challonge competition but when all the votes were counted, it was Xena and Gabrielle who came out victorious. They'll meet the great ship, Supercorp, in the Elite 8. The Supergirl /Once Upon a Time match-up was one of the most anticipated match-ups of the entire tournament… and while it was closer than some of our other match-ups in the Sweet 16, the fandom still gave Supercorp a 400-vote margin over Snow Queen.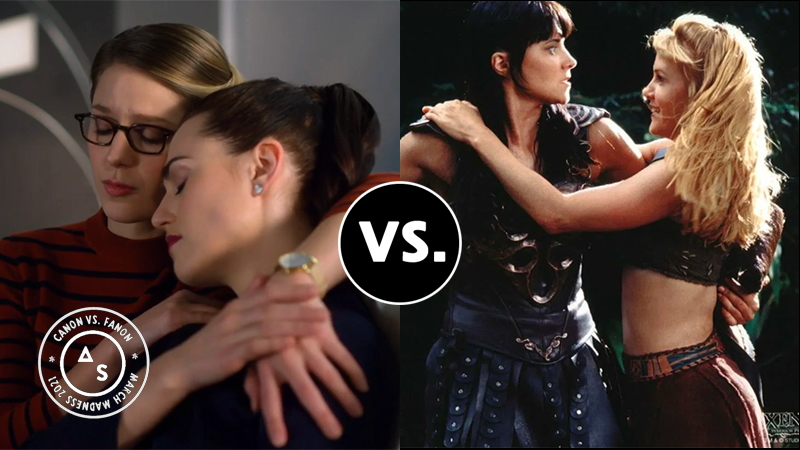 Betty and Veronica continued their dominance in the Baby Gay sub-region, edging out Spencer and Aria by 300 votes. But our favorite Riverdale ship may have met their match in Eve and Villanelle. The pair from Killing Eve easily made their way through the Grown sub-region, even scoring an overwhelming win over Alex and Olivia in the sub-region's finals. It was amazing to see a ship that kicked off in 2000 and still has a fervent following be dispatched so easily.
#1. Betty and Veronica – Riverdale vs. #2. Eve and Villanelle – Killing Eve
---
As always, the clock's set: you've got 48 hours to cast your ballot in this round of Autostraddle March Madness. We'll be back on Wednesday to unveil the couples that have made it to the Final Four!
Oops! We could not locate your form.