Hi crush monsters, this is the eighth installment of Straddler On The Street, a feature where I celebrate all of you incredible Autostraddle readers by hunting you down, demanding you chat with me, and then writing about you on the Internet so we can all crush on you. Get excited, because butterflies in your stomach 24/7 is a fantastic way to live.
Header by Rory Midhani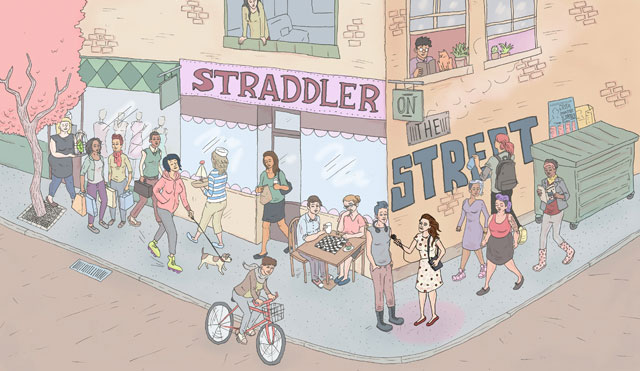 ---
Straddler On The Street: Amanda, 24
I've decided that next time I go home to visit my family in Boston, I'm going to have to meet Amanda in person, because I'm pretty sure we're friend-soulmates. You guys, she prefers hosting themed-evenings at home to going out to a bar, she's a photographer and she loves my favorite sushi restaurant. We're basically (platonically) perfect for each other.
But seriously, Amanda is great. She self-identifies as a cis female bi femme woman ("ain't that a mouthful?") and when I asked her to describe herself she told me she's "a librarian, a feminist, a semi-professional photographer (check out her photography site!), a graduate student at Simmons College, a writer, a country girl living in a big city, an idealist, a political junkie, a Planned Parenthood escort, and a liberal Democrat." Whew! She completed her undergrad at Bryn Mawr, which she described as "a queer political feminist heaven," and she loves sushi, daffodils, sex, the Baltimore Orioles, traveling, Downton Abbey, and her two cats.
Hi Amanda! Where are you currently living and what are you currently doing?
I'm currently living in Boston, although I'm a Marylander at heart. I'm working on getting my MS in Library and Information Science and I'm also working full-time in the library at my university.
Awww, Boston. I'm from Newton so Boston holds a dear place in my heart. I am also a huge book nerd so now I need to ask you what it's like becoming a librarian.
It's awesome! I love talking about libraries, books, etc. I got into it kind of by accident. I was finishing up at college, and my girlfriend got accepted to grad school at BU, and I had no idea what I wanted to do. I went to the career center at Bryn Mawr and they suggested I apply to Simmons. I did, I got in, and I LOVE it — I can't imagine having done anything else. It's like this amazing synthesis of everything I love.
What's something you've learned at school that might surprise people?
Being a librarian is much more about people than about books, which I really like. You get to talk with new people all the time and find out new things you would never have researched on your own.
So let's talk about your girlfriend! Or rather, your relationship. You told me you've been together for 5+ years. Can you give any tips / advice / feelings about how to stay in a long-term (functional!) relationship?
A lot of it is about not taking each other for granted. We have this ritual right before we go to sleep every night where we each say one thing we liked about the other that day. Like, "I liked when you made my favorite dinner without me having to ask," or "I liked when we were laughing really hard on the bus."
Well excuse me while I go die of the sweetness of that.
Also it's about picking your battles. Do I need to get upset every time she has trouble reading a map or leaves a bit of scuzz on a dish she washes? No, I don't. We also try to do nice things for each other from time to time, without being asked, and we work on not judging each other. There's a lot of mutual respect that I think is important.
All so important. My mom has a book that I think is about parenting called Don't Sweat The Small Stuff and I feel like it's really just a book about being a human and respecting other humans.
Being a human is hard sometimes! But I try.
Don't we all!
Totally. As for my relationship, we're both just people doing the best that we can, and that's important to respect, even if we mess up from time to time. Relationshipping is hard! But I think you get used to it and you learn new things about how to be a good girlfriend all the time.
Related — you mentioned that you're bisexual. Are you comfortable talking about that part of your identity? [You guys, if you start a shitstorm in the comments about bisexuality I am going to be so disappointed in all of you.]
Ha! I thought you might ask about this. It has taken me a while to come to terms with calling myself bi, and it's not even something I always identify as — sometimes it's queer, sometimes bi, sometimes both. For a while I was calling myself a lesbian but eventually learned that wasn't quite right. Hm, what else can I say about this? It is sometimes hard to be both bi and femme in our community. Outwardly I don't really "present" as queer, and since I'm not all-the-way gay it's like sometimes I don't really feel like I belong. It's strange — for me, this is quite a big part of myself but almost no one else can see that. But that's on bad days. On good days, yes, this is totally my community and we are fighting the same fights and having similar experiences and I belong here. So it's up and down, if that makes sense.
That absolutely makes sense. To completely switch gears – wanna tell me about your tattoo??
Yes! I love my tattoo. It's a small cartoon of a toaster on the inside of my left wrist.
Please send me a picture! Last time I wrote about someone's tattoos and didn't include photos everyone was upset. Where did you get it done?
I had it done by Roz at The Boston Tattoo Company.
What is the story behind it?
My beloved uncle passed away in October, and he was a cartoonist. When I was little, he drew this huge, intricate poster called "Ted Revolutionizes the Toaster" and it's the most complex thing, so many tiny pulleys, gears and cogs. In the middle of it is this toaster and so having the tattoo of it reminds me that behind everything that seems simple, there is a lot of complex behind-the-scenes things that you never see.
What a great tattoo tale. Now onto some of my standard questions! What is your favorite bar in Boston?
Oh gosh. This makes me sound like a homebody, but my favorite bar is my apartment! I sound boring…
No, you sound like me! I would never leave my apartment if my friends didn't make me from time to time. Do you have a favorite Boston restaurant?
For breakfast, I love Bagel Rising in Allston. They're really vegan-friendly. The place is tiny and on weekend mornings very busy, so you have to get there early if you don't want to wait in a huge line. I also love Fugakyu in Brookline. They always have really fresh fish and they have interesting, imaginative rolls.
FUGAKYU IS MY HAPPY PLACE! I had my birthday dinner there for the entirety of high school and college! Okay sorry I just got excited. Finally, can we talk about how you got involved with Planned Parenthood?
I went to counter-protest at the Massachusetts Planned Parenthood hub with a friend and one of the escorts told us they really don't like counter-protestors because the more people there are, the more intimidated the clients can be. But they encouraged us to apply to escort, so I did.
Are there a lot of protestors at the Boston location?
Yeah, we have a lot. It's usually the same group of people. One or two every weekday morning, and about 10-15 on Saturday mornings. We always get more protestors on "Second Saturdaywp_posts[the second Saturday of the month] because they travel in from farther away.
Ugh, what a fantastic use of their time.
I know right? It's mostly old men. It's totally not about abortion or saving babies. It's about controlling women, and anything else they try to say is just total bullshit.
Is escorting hard work? I always had a good time doing it and hanging out with the other volunteers, but as I said, I was lucky to never have to deal with a lot of protestors on my shifts.
It's fulfilling work, but it's also scary. There's clinic violence to worry about, and we have one guy that takes our pictures constantly. I'm a photographer so I know some of the laws surrounding public photography — he's totally allowed to do, since we're in public, but it's still very unsettling which, I suppose, is the purpose of it. But I figure, if I were in the position to need services from Planned Parenthood, I would want escorts there. So that's why I do it.
Well that makes me happy, despite the sadness of needing escorts in the first place. Thank you for doing that work. And thank you, of course, for the interview!
---
If you would like to be featured as a future Straddler on the Street, please email vanessa [at] autostraddle [dot] com. Include a few photos, 3-5 sentences about yourself and put "Straddler Submission" in your subject line. Photos must be high-quality vertical shots that are taken outdoors or in very amazing indoor lighting — low-light selfies, while sexy in their own right, will never ever ever be considered. Approximately a million people have submitted so far, so please be patient as Vanessa goes through her inbox — you're all sexy with really smart brains, and don't you forget it!