Today, the fine employees of Southwest Airlines were gifted with a sight L Word Megafans would've paid money to see — The L Word's Leisha Hailey kissing her [this is unclear at this point, but she was definitely female.]
However, instead of taking photos with their cell-phones and uploading them to The L Word Wiki like any reasonable person would've done, Southwest reacted by kicking them off the airplane! Subsequently, Leisha took to twitter and called for a boycott of Southwest. Presently twitter is blowing up with support for a Southwest boycott.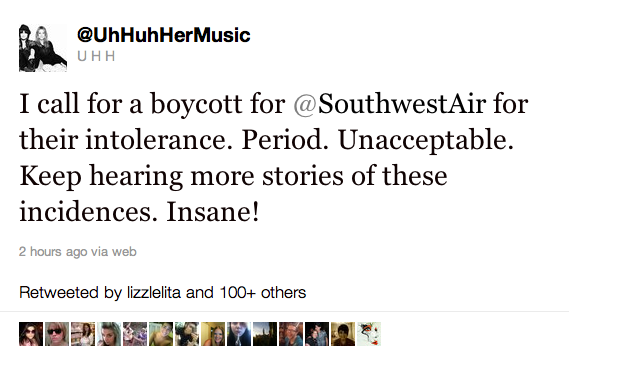 Leisha tweeted about the incident from her own twitter handle as well as the account of the band she's in with Camilla Grey, Uh Huh Her.
The full transcript of the tweets from Leisha's personal account: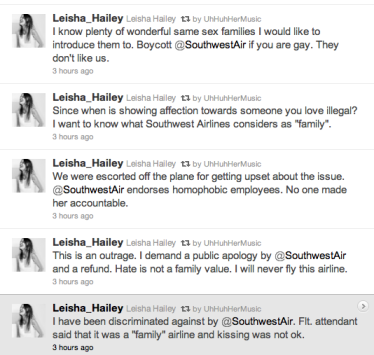 Leisha Hailey: "I have been discriminated against by @SouthwestAir. Flight attendent said that it was a "family" airline and kissing was not okay. This is an outrage. I demand a public apology by @Southwest Air and a refund. Hate is not a family value. I will never fly this airline again. We were escorted off the plane for getting upset about the issue. @SouthwestAir endorses homophobic employees. No one made her accountable. Since when is showing affection towards someone you love illegal? I want to know what Southwest Airlines considers a 'family.' I know plenty of wonderful same-sex families I would like to introduce them to. Boycott @SouthwestAIr if you are gay. They don't like us."
From @UhHuhHerMusic:
"So we've joined the ranks alongside @BJAofficial and @ThatKevinSmith for being kicked off an @SouthwestAir flight, this time for being gay. @SouthwestAir maybe you guys should put up a big sign that lists what you don't tolerate before we spend our money on your horrible service. We didn't know intolerance and discrimination for slouchy pants, being overweight and being gay was part of your family values."
Billie Joe Armstrong was booted off his Southwest flight for wearing saggy pants and Kevin Smith for being allegedly too large for one seat.
A Southwest rep replied to her tweet with ""I'm so sorry! Can you please follow/DM [direct message] me more details so we can get to the bottom of this? Thanks!"
Then around 1pm Leisha tweeted again, letting Southwest know that she had video and audio recordings of the event.
Southwest Airlines just released the following statement:
Statement Regarding Southwest Airlines Customers Removed from Flight 2274
Initial reports indicate that we received several passenger complaints characterizing the behavior as excessive. Our crew, responsible for the comfort of all Customers on board, approached the passengers based solely on behavior and not gender. The conversation escalated to a level that was better resolved on the ground, as opposed to in flight. We regret any circumstance where a passenger does not have a positive experience on Southwest and we are ready to work directly with the passengers involved to offer our heartfelt apologies for falling short of their expectations.
Uh Huh Her responded, via twitter:
"I didn't realize a small peck on the lips is regarded as excessive and never once did your stewardess mention other passengers."
This is a sticky and complicated situation and it's definitely not an unfamiliar one — sure, a company can claim it was the affection itself that got Person A&B kicked out of the mall/restaurant/airplane — but would they have even noticed if it'd been a straight couple? I wonder if whomever booted Leisha could honestly say that they would've taken the same action against, say, two 65-year-old straight white people.
Our gay boyfriend Adam Lambert expressed his disappointment with the situation and support for Leisha on twitter. Leisha's bandmate Camilla Grey toured with Lambert last year, and, in response to people questioning Lambert's understanding of the story, he affirmed that he'd spoken to Cam and knew everything. And this is how he feels about it (after all, if anyone knows about the kissing double-standard, it's Adam!)

Even Shane tweeted her support:

Glaad tweeted that they have been made aware of the incident and are continuing to "work on this issue."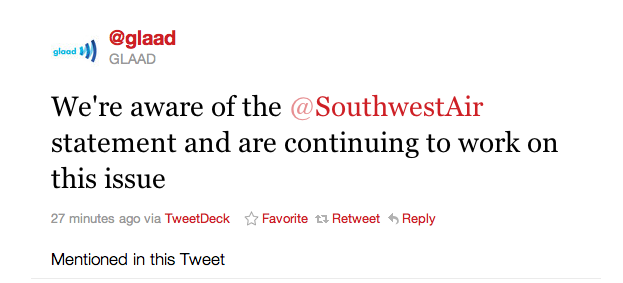 It's ultimately unlikely that any of this is coming from the top. Southwest is the official airline of GLAAD and sponsors many of its ceremonies and initiatives, such as the Media Awards in Advertising, and the company earned a 95 on The HRC Equality Index for LGBT-related corporate responsibility. Southwest even has an entire area of its website dedicated to its involvement with the GLBT community — by all popular accounts, at a corporate level Southwest really loves gay people.
But who is empowering employees to make value judgments about their customers? Why is Southwest defending their flight attendant's actions when it so values diversity and GLBT outreach?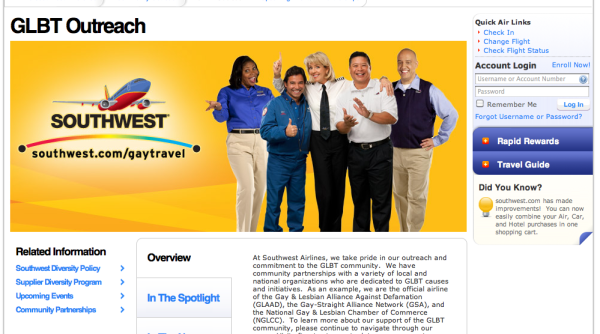 This was funny timing, firstly because our Entertainment Editor Jess was interviewing Camilla Grey as this whole thing went down and secondly because my girlfriend and I flew Southwest last weekend to Shedonism in Las Vegas. I think most of our flight attendants were gay, sidenote. Nevertheless we did what I do any time I'm stuck in a inescapable enclosed space with a bunch of strangers: we tried to avoid engaging in any activities potentially characterized as "physical affection." Sometimes I try to make it a game, like we're secret agents and the conspiracy is our relationship. Because if it's not a game, it must be real life, and nobody wants a real life where I have to censor my movements just to avoid the 5% chance of potential backlash. While self-policing, I always say things like, "I know I'm just being paranoid" and so when shit like this happens, it's really disappointing to find out that my irrational paranoias weren't so irrational after all.