I think Riese once called the Republican Primary a "circus." Or maybe it was a "reality show." I don't know y'all, it was in an email and I'm too lazy to check. But I've come to realize that the candidates running under the proud banner of the GOP (that was sarcasm) are actually even worse: they're like big caricatures come to life. Not like a cartoon- but close. Worse.
The Republican candidates started primary season in blissful ignorance of the fact that 56 percent of the members of their own party were hoping they'd stop talking about gay rights issues and start talking about, well, something that made them sound less insane. But they had no luck: each candidate has somehow focused the primary discussion on who hates gay people more, instead of who knows how to protect the country or how to pronounce the names of foreign leaders.
And here's a quick recap of what it looked like: Michele Bachmann went toe-to-toe on gay rights…with a child. Rick Perry made an anti-gay campaign ad that people hate more than Rebecca Black's "Friday." Mitt Romney held an impassioned tirade at a gay veteran and lost. Even Newt Gingrich's lesbian half-sister couldn't help him come around. God Bless America!
Look, we all were hoping this wasn't true but it is: the Republican candidates for president are completely and totally obsessed with us, and it's super awkward. They just won't let the gay thing go. Ever. Seriously.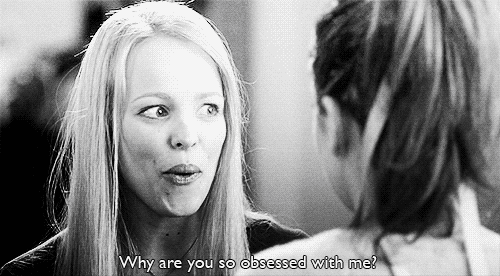 Jonathan Capehart at the Washington Post noticed the phenomena and wrote about it. He found distinct examples of where gay-bashing became integral to the campaign of multiple candidates in the primary:
Some may cite their faith:
"This is about my faith, and I happen to think that there are a whole host of sins, homosexuality being one of them," Perry said, adding that he himself was "a sinner" so he wouldn't "be the first one to throw a stone." Reflecting on another question he had received this week about how he would feel if his own child were gay, Perry said, "I'd feel the same way. I hate the sin but I love the sinner."
And others really have no excuse besides hoping to bolster their 2012 run:
In his unsuccessful run to unseat the late-Sen. Ted Kennedy (D-Mass.), Mitt Romney said in an Aug. 25, 1994 interview with gay newspaper Bay Windows, "I think the gay community needs more support from the Republican Party and I would be a voice in the Republican Party to foster anti-discrimination efforts." Today, in his second run for the GOP nomination, not so much. On Dec. 13, Romney told the Boston Herald that he would support a constitutional amendment banning same-sex marriage.
Some have super-creepy husbands totally telling them what to do and say:
Discussing the highly unlikely event he would be become the first gentleman of the United States, Marcus Bachmann told an Iowa gathering on Friday, "I've decided my cause is not going to be happy meals. I've decided my cause is going to be what Michele and I have been a part of all of our lives, and that is pro-marriage, pro-family and pro-life." He went on to add, "We're going to get the message across that marriage is between one man and one woman….We're not going to minimize what a family is — we're going to promote families."
But no matter what the "reason," each candidate just won't accept that it's time to let the issue of whether or not gay people are human beings go.
And it's probably because of that caricature thing, you know, where they draw your heads really big and your bodies really small and everything looks goofy? It's like the homophobic part of their brains expanded 10000% for the sake of making their party even more out-of-touch. I'm really certain that once they stop trying to be cartoon characters of a more hateful time and come back to the world they live in and the communities they want to be in charge of, it'll all go away. What's clear, though, is that they won't come around anytime this election cycle.