Rick Perry released a new campaign ad yesterday that's so unreal I honestly thought it was a spoof the first two times I saw it. I actually didn't believe it was legit until I went to Perry's homepage myself. Even then I still sort of thought that news would come out that this some some sort of crazy hoax and someone had hacked into some account of Perry's campaign office.
I'm not ashamed to admit that I'm a Christian, but you don't need to be in the pew every Sunday to know there's something wrong in this country when gays can serve openly in the military but our kids can't openly celebrate Christmas or pray in school.
As President, I'll end Obama's war on religion. And I'll fight against liberal attacks on our religious heritage. Faith made America strong. It can make her strong again.
I'm Rick Perry and I approve this message.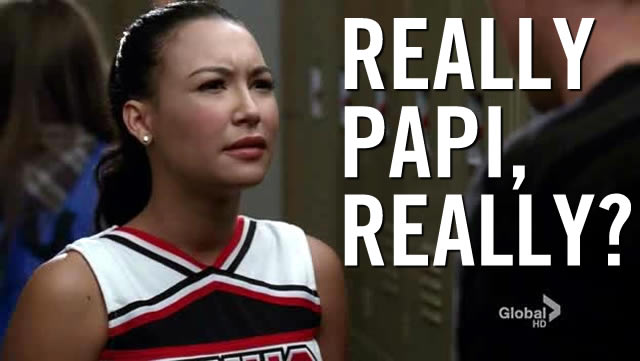 As it turns out, this ad was made against the advice of Perry's (closeted until now) gay top pollster, Tony Fabrizio. Fabrizio is Perry's cheif strategist and even he, reportedly, called the ad "nuts." Gay conservative group GOProud's Jimmy LaSalvia was so outraged about the ad, that he outed Fabrizio in a tweet. GOProud Board Chair, Chris Barron, followed this up by tweeting at a follower, "Rick Perry's pollster & strategist is a gay guy. Totally disgusting."
I think it makes perfect sense that Perry went against his chief strategist on this one. The whole ad just reeks of bizarre last minute desperation. I feel like this was an improperly finished Mad Lib. Something like this: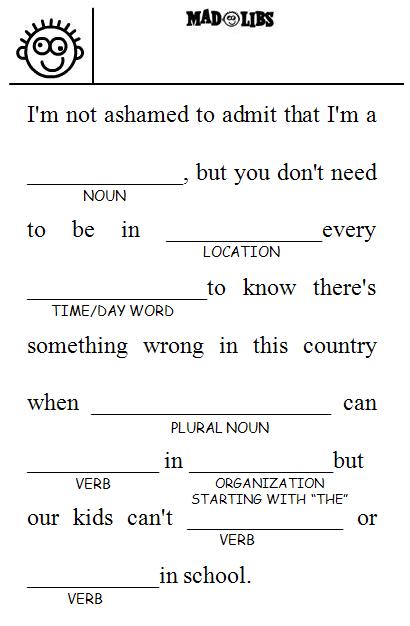 Look I filled a few in:
I'm not the only one who thought that Perry's ad was worthy of ridicule. The ad received both a spoof of "rejected ad ideas" in the Huffington Post as well as a tumblr of Perry's (fake) unpopular decisions. More traditionally reputable news sources also felt comfortable calling it a "fail" and "flop", as well as noting that it has "more than 137,000 dislikes to just over 3,000 likes" on YouTube. If this is Perry's attempt at getting ahead in Iowa before the debate — and it is — he might want to take note that America's votes don't seem to be responding well to it so far.