Jamie's Team Pick:
Dreamed up by Isa Chandra Moskowitz of Post Punk Kitchen, Denise Muller and Anna Dorfman the basic premise of The Teal Cat Project is simple: $25 to $35 gets you a unique and stylish teal cat. That money goes directly towards affiliated kitty cat rescue programs. Each cat is upcycled with teal spray paint, and outfitted with a numbered tag for authenticity.
The Teal Cat Project specifically supports Trap-Neuter and Release programs:
Trap-Neuter-Return, commonly referred to as "TNR," is the only method proven to be humane and effective at controlling feral cat population growth. Using this technique, all the feral cats in a colony are trapped, neutered and then returned to their territory where caretakers provide them with regular food and shelter. Young kittens who can still be socialized, as well as friendly adults, are placed in foster care and eventually adopted out to good homes. .
Several cities are beginning to embrace TNR programs, including NYC.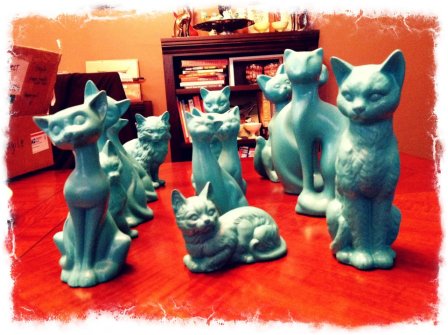 Sorry, but the Teal Cat Project is currently only available in the United States for a limited time, during specific campaigns a few times a year. I KNOW. I WANT EVERYTHING WHEN I WANT IT ALL THE TIME TOO! But it's a great idea, and if you are impatient you can get a t-shirt, plush doll, cut-out cards or make a donation. A new campaign is planned for January.
Also, you can donate your tchotchkes so they can keep the project going. If you are a manic thrifter like me you could probably use the excuse to put your cat figurines to a good cause. (But note: Cats should be single cats, and not salt shakers or candlestick holders.)
Oh look! Here is a Teal Cat in the wild!