Back in New York City, Kiyomi's taken Lauren out on what they both determine is their first date, although Lauren smartly points out, "we've eaten meals together before." That's not all they've eaten together HEY-O!
What will they eat? When will they kiss? I'm on the edge of my stack of boxes! (We're in the middle of moving right now)
Kiyomi interviews that they're still getting to know each other but there's "something different" in Lauren that could make her change her ways. Kiyomi tells Lauren about the convo with Somer which segues neatly into a conversation about how busy Kiyomi's gonna be with LA Fashion Week I MEAN on tour. They tour a lot. Tour Tour Tour.
Laneia: Tour?
TOUR
Tour
Riese: tour
tour tour tour tour
TOR!
Kiyomi and Lauren talk with their faces close together about how far they've come since Dinah Shore when they were drunk and young and unattached! Now they're these mature creatures eating with real silverware and talking about TOUR!

We then travel cross-country to somewhere over the rainbow, where a kitten is listening to Cori flush the toilet as Cori interviews that she takes pregnancy tests every morning, just for funsies and to practice her ability to control the direction of her urine stream.
But today's test isn't like all the other days' tests: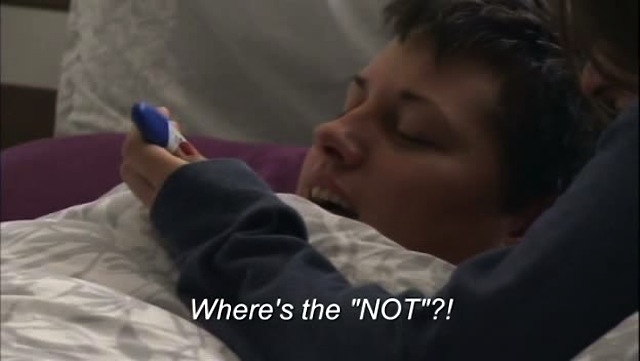 It's positive!
The happy couple does an impromptu interview outside in Adorableland, 'cause they are so giddy and cheerful all over!
Laneia: Babies! They are so cute
Riese: i need a doctor confirmation on this
aw look at kacy's baby dinosaur hair
Laneia: PLEASE I just want this show
Koraci show
God
It's too fucking cute
I'm too nervous, I can't be excited 'til a gyno confirms it and/or Cori posts a pregnancy photo on instagram, I don't wanna get my hopes up. Seriously.

Back to the Enchanting Tale of Whitney and Sarahara's relationship, happening right this minute in Whitney and Sarahara's bed, of all places.
What happened last night? Whitney interviews:
Whitney: "Amanda inserting herself was kind of the tipping point but it wasn't the real root cause, I think right now we're going through a lot of anxiety and stress and all of the planning it's just a lot."
They shift this thrilling conversation from bed to couch, cry a little, and talk about how they need to be a team and how the cameraman just fell asleep and died from boredom.
Sara: "I just want it to be good I want us to be happy I want it to be a fairy tale, you know? I do."
Whitney: "I know, so do I. But we're both fucking not perfect at all but nobody is and lets deal with our fucking issues together."
Mature responsible loving adults have a problem and reconcile it rationally. hm. NEXT!


Oh reader! Our next journey will be perilous, for it will be a journey into The Long Night, when the sun hides for years and children are born and live and die all in darkness. It is the time for fear, my little Lord. Fear the giants and ghouls and the white walkers. Fear it all, little Lords, because today we are visiting the set of Dusty and Romi's first music video.
The concept of the video is "Dusty and Romi look in the mirror, like what they see."
There's so many reasons to be excited about this!
Romi: "It's probably the happiest I've been in a really long time with anything that I've done."
They're so happy, they can't stop hugging!
So Romi's having a great time in her makeup and hair and outfit singing on the stage with Dusty Ray the Amazing Songwriter! Then Rose shows up, and then Kelsey shows up to "support Romi and be there for her."
Unfortunately Romi is unable to resist the Power of the Douche and even during giant chunks of downtime, she stays glued to Dusty while ignoring her girlfriend.
Kelsey: "Here I am to see Romi, I go out there and I'm like HEY… it was almost like I'm walking in on a conversation that I wasn't supposed to or just that I wasn't welcome to that conversation and I was like, whoa, this is weird, like I'm not gonna come up to my girlfriend and feel like I can't talk to my girlfriend, like I'm in a weird situation."
In fact, Dusty seems literally unable to grasp a life-form besides his own and Romi's even exists, let alone acknowledge it, so Kelsey's like, this shit is bananas.
Kelsey interviews that Romi should consider laying off the flirting in her presence and "have some fucking respect," and Romi interviews that she's got no room in her heart for anybody else's feelings besides her own:
Romi: "[Kelsey's] not happy with the energy that's going on with me and Dusty, she's pissed off and I don't have time for it. I don't have time for it right now. I have things that I have to do, I have — I can't do this right now."
Kelsey standing around looking unimpressed is more than Romi Flinger, World Famous Pop Star Celesbian, can handle.
Romi: "If you're gonna do this to me, I'm gonna ask you to leave."
Kelsey: "Okay, I'm going." [starts walking away]
Romi: "No, I don't want you to, Kels."
Kelsey: "No, I want to."
Romi: "No, I don't want you to! Can you stop? Come here!"
The best part is how Kelsey storms out just as Dusty's darting in, and he sort of mock-winces and dramatically hops out of her path-way (unnecessarily, really) like "oops, there goes the collateral damage!" and it's really gross.
Romi sighs dramatically and goes outside to make Kelsey feel worse:
Kelsey: "I see the way you guys interact, I don't like it, and I don't want to be around it."
Romi: "Don't go there! Talk to me. You have to talk to me instead of making little comments like you do and it isn't fun when I'm trying to like have fun and make a video —"
Kelsey: "Okay well, make your video, but I don't want to sit around on set. I don't like the way you guys interact with each other."
Romi interviews regarding how frustrating it is to be the center of the universe with all these deviant planets out there:
Romi: "This is my day. And I know Kelsey is like Romi Romi Romi I need I need I need she's selfish bla bla bla but yeah today is my day, I am shooting a video that's about me. So just step back and let me have it today. Step out of yourself, step out of your issues, step out of your insecurity, and just see that the girl that you say you love is doing something that she's dreamed of doing her entire life."
Romi wants to know why Kelsey didn't ask her about the shoot or express excitement about what's happening on set, and Kelsey points out that she did, actually, ask her about the shoot and did act excited but Romi didn't answer or notice because her head was up Dusty Ray's ass. So Kelsey busts the hell out of that popstand.
But of course this fight wouldn't be complete without Dusty Ray's compassionate hug: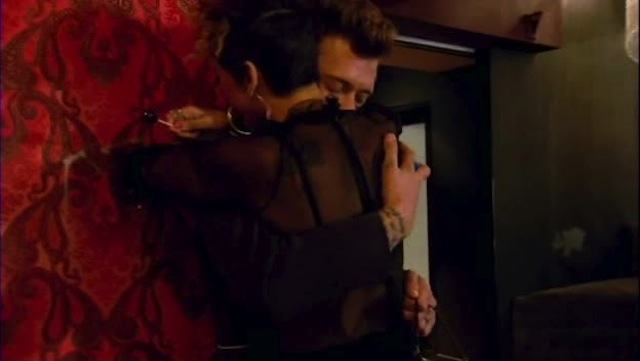 Laneia: She is so obnoxious
Riese: ugh, i don't like her
Laneia: She's a cunt
Oh and a blowpop?
Nice
On the upside, a TRLW cast member who shall remain nameless sent me a DM on twitter containing a link to a photograph of a dude with a crazy hairdo from a movie with the instructions: "this is a gift for you…you will know what to do when the time comes."
Indeed, after watching this scene, I knew what to do with that mystery photograph:

We then catapult and cartwheel cross-country to the scenic Williamsburg Bridge, where Kiyomi has taken her houseguest to push her into the river JUST KIDDING to ask her to GO STEADY.
Kiyomi: "I wanted to ask you if you think it's like an okay idea if you want to like, just be with each other?"
Lauren: "Yeah." [SMILES]
Kiyomi interviews that there are a lot of obstacles but she's not gonna put boundaries around her feelings. They even do a cute interview together!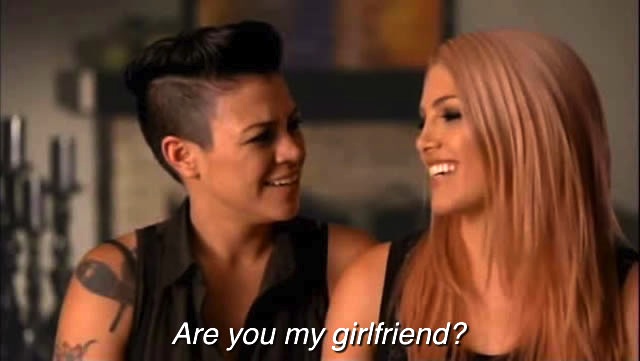 Aw.
They're really cute and happy! It's cute.

Back to sad evil Los Angeles, where Romi's at home thinking about how many puppies she's gonna kill tomorrow when Kelsey arrives back at the ranch, wondering why Romi hasn't responded to her texts. Romi interviews that she's still mad at Kelsey because Kelsey fucked with her "energy" and "turned the day into something that it didn't need to be." That's right, Romi's mad at Kelsey.
Romi says Kelsey's texts expressed the following ideas: Kelsey is moving out, Romi is choosing money over her relationship.  Romi would like to know "what money?" and also would like to start saying all of her words so loudly that they probably woke Kiyomi and Lauren up three weeks later and three billion miles away.
Romi pumps up the volume on her voice to scream "ARE YOU READING YOUR BBMS?" and then shit hits the fan and Romi dresses herself in it and continues screaming.
Romi: "ARE YOU READING YOUR BBMs?"
Kelsey: "OH MY GOD!"
Romi: "WHAT IS WRONG WITH YOU?!!"
Kelsey: "Do you not see it at all, the way you act with him?"
Romi: "I do!"
Kelsey: "And you're okay with that?"
Laneia: Are you even reading your BBMs??!
Riese: that was amazing
i wrote down for grace to cap the hell out of that
Laneia: Kelsey is vying for the spinoff tonight
Love it
Riese: romi is being a snake
Laneia: "she's a really good actress, or a total asshole." -megs
Romi: "This is a friend that I have known for almost six and a half years now —"
Kelsey: "He's not just a friend, he's an ex-boyfriend."
Romi: "He IS my ex-boyfriend."
Kelsey: "And you keep referring to him as an ex, not as a friend —"
Romi: "Yes. He's my ex-boyfriend. He's my ex-boyfriend. He is."
Kelsey: "And the way that you act with him isn't okay."
Romi: "We know each other. He's not a stranger in my life."
Kelsey: "Out of ALL the people in LA to make music with you choose your ex-boyfriend?"
Romi: "It happened to end up that way."
Kelsey interviews:
Kelsey: "Romi choosing to make pop music with her ex boyfriend is so completely fucking insane. And maybe the Kelsey a year ago would've been fine with it, would've sat back and would've just let Romi do whatever she had to do. But I grew up a lot in a year, in two years, and to the point where I have too much respect for myself to sit back and watch someone mistreat me like that."
(Sidenote: the time frame here is tighter than usual — Romi and Dusty started working together literally like two days after they got back from Dinah. Just keep that in mind.)
Here's the moment for Romi to step up and say, "you're right. I love you, you've done nothing but love me, and despite this I've fallen for someone else." If she's totally unable to be kind, she could at least try the dickish but not 100% evil "the only way your heart will mend is when you learn to love again."
But no, instead Romi turns it around on Kelsey!
Romi: "Can you not be even happy that this is working for me?"
Kelsey: "I was happy, I was happy you got to make music —"
Romi: "When? When?"
Kelsey: "The first time I met Dusty, I was totally fine with him."
Romi: "The first night."
Kelsey: "— and then spent all this time with him, and you've been with him, and you've been alone with him, and I come into it and I see the way that you are with him —"
Romi: "You haven't liked that I've been working with Dusty once this week, why can't you just admit it? Are you gonna blame me?"
Kelsey: "I do admit it. I admit it wholeheartedly because I don't like the way you act with him, maybe if you treated him like a friend and not like —"
Romi: "How do I not treat him like a friend? I treat him the way I treat Drew and Rose and everybody else, I'm affectionate with my friends. It's because it's him. We're close."
Kelsey: "—and that's the whole thing that you don't obviously see."
Romi: "You don't obviously see that I am trying to do something amazing right now that I am so excited about that is absolutely one of the most amazing things I've ever gotten to do with somebody I'm so excited to do it with and you don't see anything from where I'm coming from!"
I think she's coming from Whatthefuckville but regardless, if Kelsey didn't see all that, she would've been weary of Romi's time spent with Dusty like a billion lightyears ago. Obviously Kelsey sees all that.
Kelsey: "Yes I do —"
Romi: "No you don't, you haven't said congratulations, you have said nothing, all fucking week!"
Kelsey: "And why do you think that is?"
Romi: "Because you don't like it."
Kelsey: "I don't."
Romi: "Guess what, your girlfriend is really excited about something. I wanna make music with him. I want to."
Kelsey: "Okay, then make music with him."
Romi's constantly attempting to protect herself from guilt by referencing blanket ideas about how people should act — girlfriends should be excited for their girlfriend's dreams coming true, even if that means working with an ex. Girlfriends should trust their girlfriends to keep work and pleasure separate. But the fact is that Romi does like Dusty, there is sexual energy there, and they are together now — nothing exists in a vacuum, this is the context, and Kelsey wouldn't feel so put off by the situation if that context wasn't exactly what it is.
Romi: "What is it that you want me to say? I don't get it."
Kelsey: "You know what? If I was making music with my ex-lover or my ex-girlfriend, and I was flirting with them and I had this "ENERGY" with them and it was SO GREAT and WE NEED TO BE ON STAGE, you would have a problem with it."
Romi: "So what?"
Kelsey: "Would you be okay with me doing that?"
Romi: "No."
Kelsey: "There's your answer. Did you ever think maybe you fell back in love with him? Did you ever think about that? When you open that door, that's what happens.  [Kelsey starts crying] And when you're in a relationship you don't do things like that. You just don't. I would never do that to you."
Kelsey interviews:
Kelsey: "I've always been a sucker for Romi because I've been in love with Romi. And you do crazy fucking shit when you are in love. Love gets you somewhere where you're hurt and you're abandoned and you think someone's your best friend but really you were just a fucking filler."
Kelsey says she's gonna move out and take her stuff and find a new place to live, at which point my girlfriend asked "how is she gonna move when she hates the wind?"
Kelsey: "You're gonna lose me, how does that make you feel? Honestly have you even thought about it?"
Romi: "I can't comprehend it yet."
Romi suggests they take a few days to think it over, and laments, "Why do you have to be so dramatic? I'm tired."
Kelsey: "We're not together anymore. This is it. I want you to know that."
Romi: "Okay."
Kelsey gets the fuck out of there and Romi picks up her phone. Romi interviews:
Romi: "You know, I'm gonna start working with Dusty, I'm gonna start traveling with Dusty and spending every day in a studio with Dusty, it's about to happen. Dusty and I have something really strong happening that I can't control anymore. And I don't want to. "
The actual feeling of having a perfect loving girlfriend or boyfriend while falling for somebody else is actually terrible, and heartbreaking and sad. Because you're hurting somebody you love, somebody who loves you. We're all fickle humans and sometimes people fall for the wrong people at the wrong time and can't stop it, sometimes that happens and it feels inescapable. And then if your perfect partner asks you about it, you have to tell them the truth, because if you really love them, and really want them to be happy, you'll want them to cut their losses as quickly as possible, even if that means they're gonna hate you for a while or maybe forever. It doesn't feel like this at all, it feels like this. But not only did Romi fail to come clean or care, she actually tried to turn it around on Kelsey!
Life is not people following their hearts off a cliff, life is people building things and climbing mountains together! You know what this is, Romi?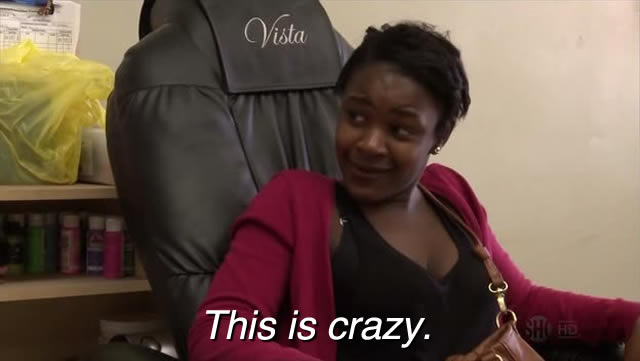 Next week on The Real L Word's Season Finale, Romi pulls a Meredith Grey as Sara and Whitney get married!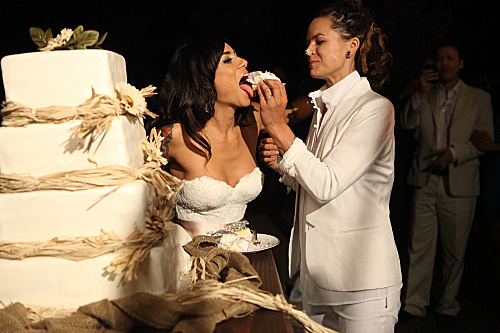 Did you enjoy this recap? Good news, you can give us money to thank us for creating this art for you for free! We've only got six days left to reach our new goal of $100K: DONATE HERE!
Pages: 1 2 3See entire article on one page