Cut to New York, New York, where Donna Somer are contemplating a future sans Hunter Valentine. Somer says she needs some heart-to-hearts with Kiyomi to ensure maximum friendship maintenance.
Laneia: i think my cox service provider is taking a smoke break
i should do that
IT IS ON
beers in ny
hunter valentine feelings
Riese: YES HELLO
yes they gave somer the boot
Somer interviews about her one area of lament, re: Hunter Valentine:
Somer: "With Hunter Valentine — it was a taste of what it could mean to be a professional musician, I mean that was the dream, so yeah a part of that felt sorta crushed not being part of the band."
Ending things with The Valentines raise big questions for Donna Somer though, 'cause Somer's at that key turning point in a lesbian's life when one must determine if one is ready to spend the next howevermany years hunting sperm and raising subsequent spawn or if one still requires the freedom to be an uninhibited artisic queer with big not-child-friendly ideas.
Donna's ready to get knocked up, but Somer's not certain —
Somer: "I wanna have kids with you, don't think that I don't, I'm just… it's gonna take planning and being in a better position…"
Donna interviews that Somer lives day by day and fears children will cramp her style but that eventually you've gotta "bite the bullet" before they age and their wombs turn into shriveled raisins of decay.
Laneia: how did this happen i'm sad for her but also happy
whoa they went from being kicked out of a band to getting pregnant
oh this conversation would kill me
she has an amazing jawline
fuck
Riese: i want it
Somer: "It's hard 'cause I wanna give music a shot so, I guess it makes me nervous to know that she's ready and wants it now."
Two conversations straight men never seem to have on television:
a) Can we afford the months of doctor's visits and sperm selection necessary for two ladies to have a baby together?
b) Is my career baby-friendly?

We starsweep on back to New York City, where Romi returns from having imaginary heterosexual sex with her eyeballs to her home, where her patient lady-love has been sitting kindly in bed reading a book and, hopefully, hatching a secret plan to get the hell out of this relationship.
Laneia: Romi is back from the tundra!
Riese: do you think the camera was sitting there
just watching kelsey read for hours
Laneia: i think she grabbed the book when she heard romi's car in the driveway
Kelsey notes that Romi looks "bright and cheerful" and then tells Romi that she's been having nightmares about Romi acting like a nightmare, which's difficult to imagine considering how nighmarish Romi already is during her waking life.
Kelsey: "I don't know if they're dreams or if they're premonitions."
Romi recalls Kelsey waking up that morning with a nightmare-over, which's a word I just invented to describe waking up the morning after a shitty nightmare.
What's Kelsey having nightmares about?
Falling off a cliff?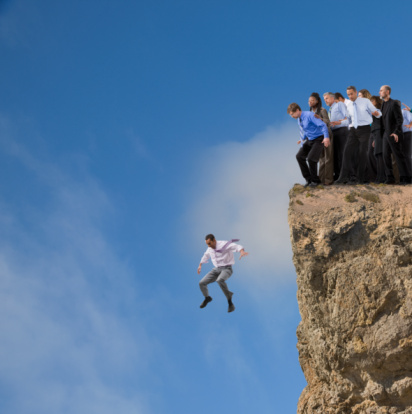 Wheelers?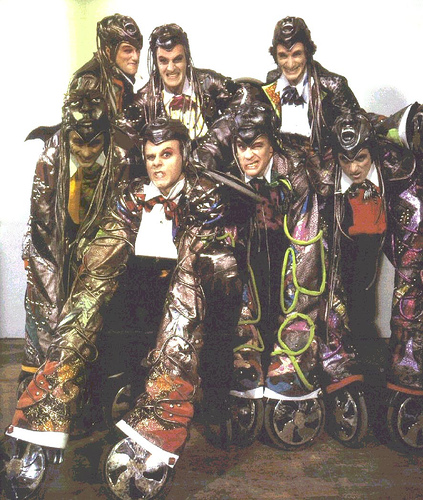 Vampires?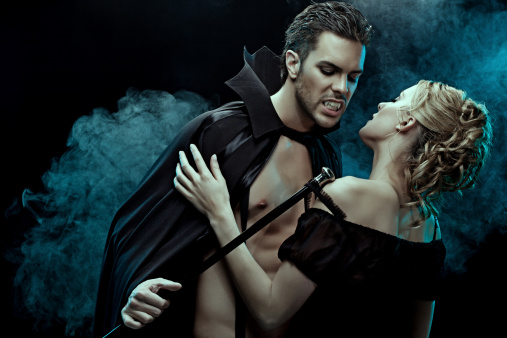 All her teeth falling out?
Nope. None of that. Kelsey's just having nightmares about Dusty and Romi!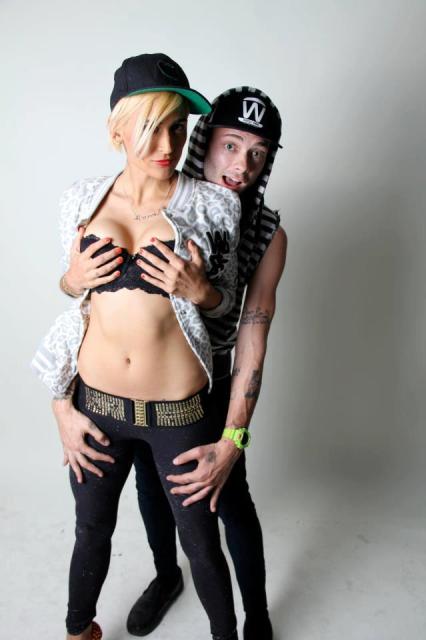 Romi: "What are you having nightmares about?"
Kelsey: "I have nightmares about you, crazy."
DON'T WE ALL
+
Romi, laughing like it's something to do, asks Kelsey what Romi says in these dreamanitions:
Kelsey: "You said, I can't hold these feelings back for a man, that's who I really am, Kelsey, I'm sorry I've been stringing you along. That's what the dream was…"
Romi interviews that Kelsey's "a little sensitive to the penis right now," but unfortunately Romi's "jumping into a new career 100%," which means her girlfriend will have to take the backseat. Kelsey interviews that she thought Dusty Ray helping Romi would be a one-shot deal but now it's turning into a lifetime commitment, and although she's disturbed by Dusty Ray's presence in Romi's life and this show, she has to be supportive, make kale chips, etc.
Kelsey: "Be careful what you do in my dreams."
Laneia: My internet is out
Riese: what the
so now your cable is working
but not your internet
Laneia: yup
i'm on g-chat on my phone
Riese: I wish Kelsey had had a preminition about this situation

Let's smear on back to New York, New York, where Lauren's struggling to get her taxi driver to pull the fuck over. "Here, here, here, here, stop," she says before lurching from the vehicle with her cumbersome rolly-suitcase while interviewing that Amanda's already shipped back to the City of Angels 'cause her trip to see the ex got real shitty real fast. But whatever, says Lauren, she's here to clamdive with Kiyomi.
Lauren: "I have intense feelings and I wanna spend as much time with her as possible."
You know how you hug somebody you wish you were fucking? That's how Lauren and Kiyomi hug:
Kiyomi interviews that she fears their romance could wither in the light of day, far from the romantic wet t-shirt contests and drunken STI exchanges of Dinah Shore:
Kiyomi: "I hope that we have the same chemistry at Dinah Shore, 'cause you know Dinah Shore could be comparable to like, a summer camp romance? You know, summer camp romances, you don't bring those things back to the city, so I hope that it's not that type of scenario."
They lie together, nervous with excitement and also nervousness.
P.S. Lauren slept on the plane

Cut to a radically different emotional playing field somewhere along the beachy California coast, where Kacy and Cori are walking and crying as waves lap at their little feet.
Kacy: "Today marks the day that Charlie was supposed to be born."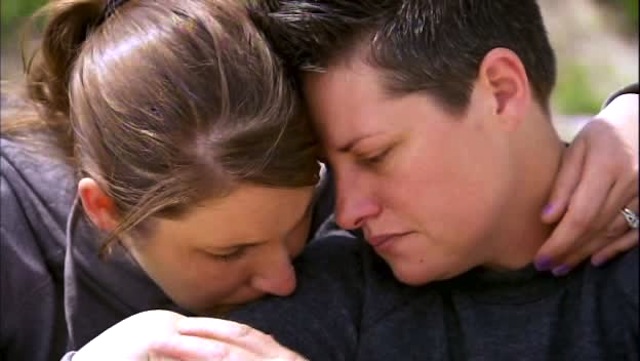 Kacy: "There is no real way you can prepare for a day like this, but when we wanted her, we grabbed our friends and dragged them to the beach and threw flowers into the ocean, and I just thought that it was fitting that Cori and I go and do the same thing to say goodbye."

We cut to The House of Klinger, deep in the Jungly Southern Wilds of California in this great land of America, where Romi's dipped in to have dinner with her family and make us feel guilty for not liking her.
I'd thought Romi's Mom was a lesbian but apparently she's bisexual because she has her very own Slab of Man these days:
Romi interviews that her two brothers are special needs kids 'cause her Dad was exposed to Agent Orange — basically, during Vietnam, the U.S. military enacted an "herbicidal warfare" program via which the U.S. military sprayed nearly 20 million gallons of the toxic herbicide / defoliant / jet fuel hybrid Agent Orange all over Vietnam in hopes of destroying the forests guerrillas hid in and the land citizens farmed to survive. Agent Orange killed a shit-ton of people, and vets exposed to Agent Orange have shown increased rates of cancer and nerve, skin and respiratory disorders and Agent Orange has also been known to cause birth defects in their offspring. It's one of many unfathomably fucked situations faced by veterans in this special country.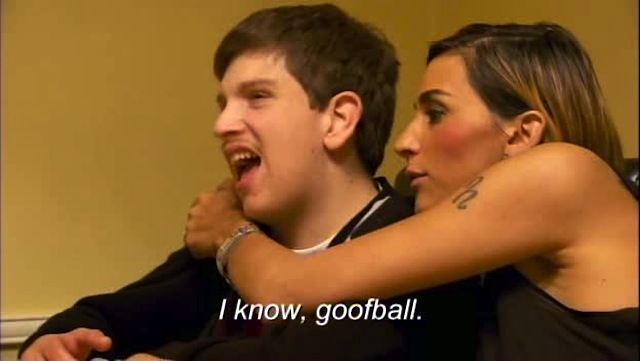 Romi chats with her family about her upcoming superstardom, and then interviews:
Romi: "The reason that I work so hard and do all of the things that I do is so that I can support my family. I wanna take care of my mom, I wanna be able to give her a vacation, I wanna take my brothers on vacation. My mom doesn't have a lot of money, and like spoil her in a way, she takes such good care of all of us us. I am the one that is capable of making something of myself, my brothers don't have the opportunity that I have, and I take advantage of that, I don't take it for granted, that I'm capable of working."
Initially, this scene briefly warmed my cold heart towards Romi and made me feel conflicted about her, but then goddess blessed me with two important thoughts:
1. Doesn't everybody who loves their family want to support their family? What loving daughter doesn't wanna take their Mom on vacation or help with bills for relatives with special needs? On a scale of "a normal person with a nice family" to Katniss Everdeen, you don't get a cookie for that.
2. If you genuinely plan on supporting your family any time soon because they cannot survive without you, "trying to make it as a musician" — especially when music is just a side passion, not something your friends, family and teachers have been telling you to pursue for your entire life — is quite possibly the absolute worst way to do so. Ideas with greater success rates include playing the lottery and searching for hidden treasure.
Anyhow, it's still a cute scene and it's nice to see Romi expressing love and positivity towards her family. Seriously!

Smear to another cool sexy evening in the sexiest city in the Los Angeles metro area: Los Angeles. Whitney and Sara are drinking drinks with Amanda, who Whitney invited to get Amanda's mind off The Ex and onto The Sex.
But Amanda wants to talk wedding:
Amanda: "I'm not a designer in any way, but I'm really good with fashion and all that jazz, and I would love to be involved, and help."
Whitney's open to Amanda's input on all that jazz, especially considering their lack of jazzy accomplishments, but Sarahara's not having it. Sarahara interviews:
Sara: "It's frustrating to me that Amanda keeps trying to find a way to involve herself in the wedding, this wedding is really important to both Whitney and I, and it has nothing to do with her, it really is none of her business and she is bothering the shit out of me."
Amanda rubs seductively against all Sara's nerves by offering to get a license on the internet to officiate their wedding, which's dumb 'cause they did that part in Connecticut, but whatever, and Whitney interviews that Sarahara's got this "little switch" that goes off, leading to a "drastic shift" in mood which results in housefires, foam parties, crying kittens, five thumbs on one foot and Hurricanes. Whitney's gotta figure out what's wrong with her, since it's probably really important and potentially transformative.
Amanda: "Whitney and Sara are so crazy right now, it's like hard to even be around them."
More importantly, the camera repeatedly shifts over to this girl, who's got no lower third and doesn't speak or get spoken to. Maybe she killed Jenny.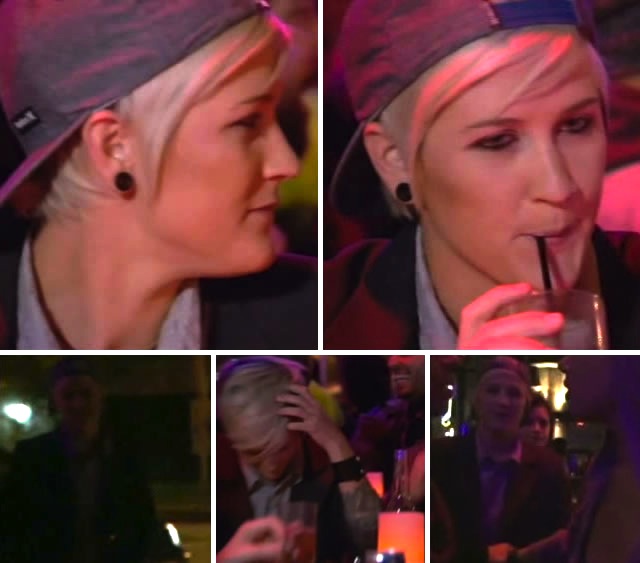 The dynamic duo fight about something/nothing outside the bar for some unmemorable reason I can no longer remember, but nobody dies or slips on a banana peel, so NEXT

Pages: 1 2 3See entire article on one page