In a recent essay on her bibliomania, Zadie Smith writes that summer is the most forgiving time of year for compulsive reading, as "the beach is one of the few places pathological readers can pass undetected among their civilian cousins."
Regardless of the degree of your pathology, these brand-new and forthcoming books look both super exciting and also relevant to your interests. With essays, a cookbook, historical fiction, lesbian romance, memoir, gender studies and more in no particular order*, your to-read list is about to get even longer.
*Except for Bad Feminist. Bad Feminist is first for a reason.
---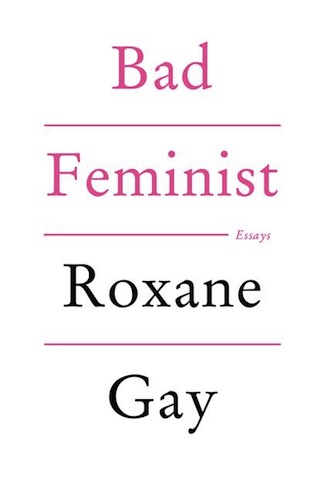 In her first collection of essays, writer, academic and badass Roxane Gay addresses pop culture, politics, race, class, gender and more. I honestly could not be more excited for this book. In the Los Angeles Review of Books, Erika Schickel writes:
"Gay's subtext is that to be female in this age and not be a feminist is to be a victim of internalized misogyny. This is how they get us: we are made to believe empowerment just isn't sexy; in a misogynistic culture, if we become unlikable, and hence, unfuckable, we have failed in our primary purpose as women. In essay after essay, Gay smartly dials in on all the moral concessions we have to make if we're going to participate in said culture […] Gay's collection bears witness to the frustration, sorrow, and outrage that any intelligent woman feels when looking to be entertained or understood by the patriarchy. We search for ourselves and each other in the margins of the culture, where women are accorded mostly supporting roles. Sometimes that means we have to take what we can get."
---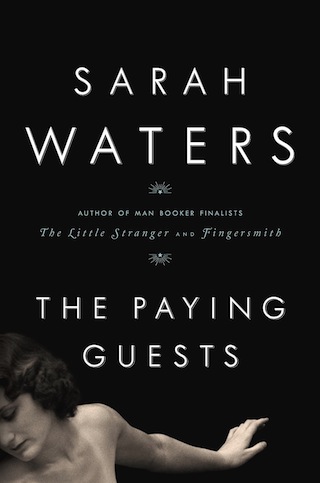 The latest novel from the author of classic lesbian fiction like Tipping the Velvet and Fingersmith is set in 1922 London and features such lesbian problems as falling in love with your married tenant and accidentally committing murder with her. According to a starred review in Publishers Weekly:
"Readers of Waters's previous novels know that she brings historical eras to life with consummate skill, rendering authentic details into layered portraits of particular times and places. Waters's restrained, beautiful depiction of lesbian love furnishes the story with emotional depth, as does the suspense that develops during the tautly written murder investigation and ensuing trial. When Frances and Lily confront their radically altered existence, the narrative culminates in a breathtaking denouement."
---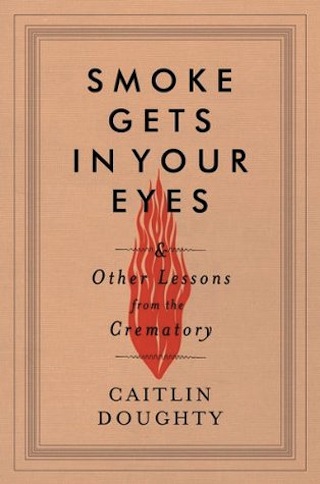 Smoke Gets In Your Eyes: And Other Lessons From The Crematory is part coming of age story, part history and part memento mori. In an interview in which she describes her memoir's target audience as "people who will die," Doughty says:
"I came in when I was 23, thinking 'C'mon, you love death; you got this, girl.' But the reality of the crematory and how the death industry actually works in America was a pretty harsh wake-up call. The idea is to take the reader with me as my perceptions of death change, which hopefully will make them look at death differently as well."
---
Women In Clothes edited by Sheila Heti, Heidi Julavits and Leanne Shapton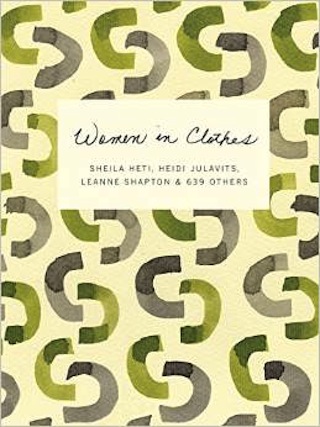 This large edited collection examines women's relationship with clothing through personal narratives, poems, survey answers and interviews by contributors like Molly Ringwald, Roxane Gay, Eileen Myles, Miranda July, Zadie Smith, Tavi Gevinson, Kalpona Akter, Ruth Riechl and tons of others. A Kirkus review notes:
"Some flaunt attention-getting fashion choices: wearing silver Doc Martens; coloring their hair bright blue; buying a 'florescent and hooker-ish' dress; altering a winter coat by trimming it with lace. One woman removes all tags and labels. 'In some superstitious way,' she writes, 'I feel like this allows the clothes to become more fully themselves….' Another uses clothes 'as a way to cast a spell over myself, so that I might feel special.' Poems, interviews, pieces that read like diary or journal entries — all these responses help the editors fulfill their aims: to liberate readers from the idea that women have to fit a certain image or ideal, to show the connection between dress and 'habits of mind,' and to offer readers 'a new way of interpreting their outsides.'"
---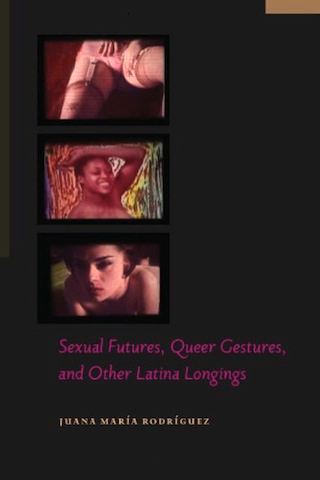 Juana María Rodríguez uses radicalized queer female Latina subjects as a starting point for her discussion of gestures, embodiment and sexual pleasures and practices in the social arena. According to the publisher:
"Situating articulations of sexual subjectivity between the interpretive poles of law and performance, Rodríguez argues that forms of agency continually mediate among these various structures of legibility — the rigid confines of the law and the imaginative possibilities of the performative. She reads the strategies of Puerto Rican activists working toward self-determination alongside sexual performances on stage, in commercial pornography, in multi-media installations, on the dance floor, and in the bedroom. Rodríguez examines not only how projections of racialized sex erupt onto various discursive mediums but also how the confluence of racial and gendered anxieties seeps into the gestures and utterances of sexual acts, kinship structures, and activist practices."
---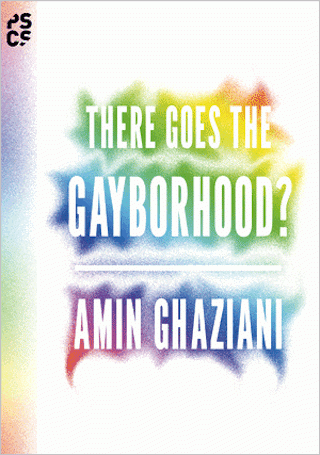 Ghaziani examines the future of gay villages in an American society that has become increasingly queer friendly, and uses census data, polls, primary interviews and news reports to argue that a post-gay era is dawning. According to a Publishers Weekly review that calls the book "passionate and refreshing":
"Ghaziani's answers refuse easy scapegoats or facile conclusions, and suggest that the cultural evolution of gayborhoods need not entail their demise. He brings much needed nuance to heated debates about the role of gay neighborhoods in wider patterns of gentrification, and illustrates how the growth of tolerance is not evenly distributed across the country, making the need for 'safe space' especially urgent for some LGBT constituencies."
---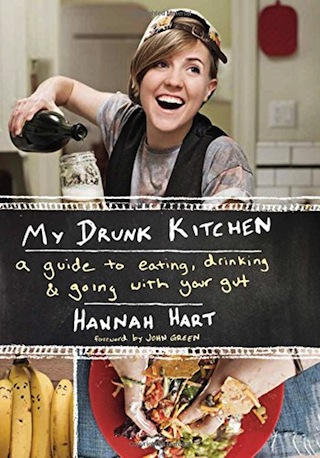 YouTube series My Drunk Kitchen's Hannah Hart's first cookbook combines recipes and photography by Autostraddle photographer/A-Camp co-director/perfect human Robin Roemer with life advice, emotional baggage, drawing, cooking tips and more. A Kirkus review notes:
"Hart's wacky sense of humor carries on in this collection of drink suggestions, which includes fun recipes, cooking tips, photos, quotes and life lessons. Whether the author is elaborating on the basics of kitchen improvisation and 'filling your heart as well as your stomach,' embracing the bumpy journey toward adulthood, or exploring the boundaries of love and sexuality, Hart remains entertaining."
---
Adult Onset by Ann-Marie MacDonald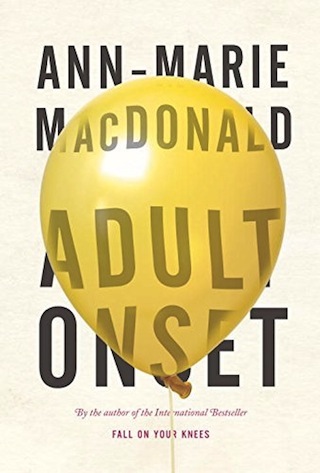 The first novel from noted Canadian author Ann-Marie MacDonald since her 2003 The Way the Crow Flies is about love, family darkness and motherhood. According to the publisher:
"As a child, Mary-Rose suffered from an illness, long since cured and 'filed separately' in her mind. But as her frustrations mount, she experiences a flare-up of forgotten symptoms which compel her to rethink her memories of her own childhood and her relationship with her parents. With her world threatening to unravel, the spectre of domestic violence raises its head with dangerous implications for her life and that of her own children."
---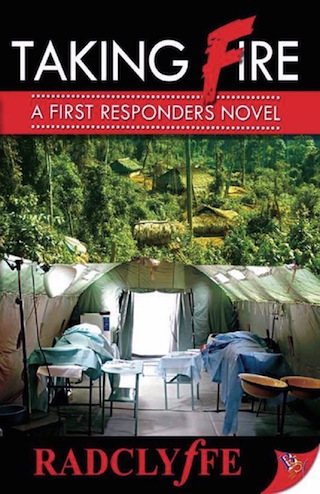 This lesbian romance features two women thrown together by circumstance and forced to cooperate by war and fate. There is also a lot of sex. In an interview with Jody Klaire, Radclyffe notes:
"The book is an action-romance much like Above All, Honor or Trauma Alert — although it is one of the rare books I set outside the US (in part). The story begins in the jungles of Somalia and ends in the jungle of Washington, DC J. There is danger, field surgery, the clash between war and humanitarian goals — and of course, passion."
---
Newly translated from German, this biography of noted public intellectual Susan Sontag draws on photography, interviews and correspondence to examine her life and cultural influence. In an excerpt from the volume at Flavorwire, Schreiber writes:
"1964 was the year Martin Luther King Jr. was awarded the Nobel Prize and Congress passed the Civil Rights Act. It was the year the peace movement and the New Left began to form; the year a pop group from Liverpool crossed the Atlantic and Beatles hysteria reached the United States; and the year when acts of rebellion, recreational drugs, Eastern religion, and sexual liberation broke out of their bohemian ghetto. Even middle-class kids suddenly began to read Allen Ginsberg, study Zen Buddhism, and smoke marijuana. It was the year Andy Warhol's muse Edie Sedgwick moved to New York and Warhol himself moved into a new studio on 47th Street in midtown Manhattan, covered it completely with aluminum foil, and thus founded the legend of the Silver Factory. It was also the year Susan Sontag became famous."
---
Personally, and in the deeper future, I'm also really excited for Texts From Jane Eyre and Pen & Ink and The Unspeakable: And Other Subjects Of Discussion and a ton of other books I can't stop adding, deleting and re-adding to my Amazon cart.
What book(s) are you most dying to read right now?