Katrina's Team Pick:
Perhaps you remember a year ago when we first mentioned SIGNIFIED, this rad bilingual documentary series that gives voice and light to queer people working to harness power in their communities. And even if you don't, we're here to talk about it again because SIGNIFIED is back for a third season, and this time, they're focusing on queer folks and communities in Argentina, Colombia and Cuba.
Created by Anna Barsan and Jessie Levandov, Season 3 of SIGNIFIED focuses in on LGBTQ artists, activists, and academics throughout Latin America, reminding us of what many forget, and what some know all too well: queerness does not necessarily mean whiteness, and queerness is not only limited to the U.S.
There is a very specific language complication that exists in within the barrier between English and Spanish, and that is the lack of a direct translation for the word "queer." But just because the direct terminology doesn't exist, that doesn't mean the concept isn't there and already in practice. In fact, the lack of the word itself seems to command a deeper exploration of its implications, as well as an openness to a wider range of expressions and perspectives, with each individual, community and organization given the power to define and re-define queerness for themselves. This season was inspired by various discussions rooted in Seasons 1 and 2 that raised questions about accessibility, sharing resources, and cross-cultural dialogues (or lack thereof).
Through interviews, travel, and events, SIGNIFIED continually works to create common space for the endless diversity of queer communities and to participate in discourse regarding strategies of resistance. SIGNIFIED seeks to re-conceptualize resistance, redefining it as "narratives of collective education, radical interpersonal relationships, artistic creation and identity formation."
All of this seems like something to celebrate, and so this time around, SIGNIFIED is working in conjunction with La Joteria, a community of queer latin@s, and QUEEROCRACY, a NYC-based grassroots organization promoting social and economic justice. Together, they are launching the third season with a premier screening and latin dance party TONIGHT.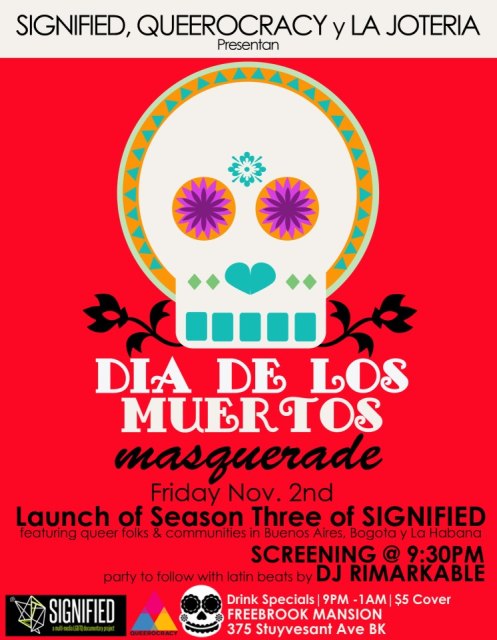 Event info:
WHAT: "Dia de los Muertos Masquerade" and SIGNIFIED Launch Party
WHEN: Tonight, Friday, November 2; 9pm-1am
Screening starts promptly at 9:30 followed by a party with DJ RIMARKABLE
WHERE: Freebrook Mansion, 375 Stuyvesant Avenue, Brooklyn
COVER:  $5
And because Brooklyn (and the rest of New York City, as well as the Caribbean) is now living in the wake of Hurricane Sandy, SIGNIFIED will also be partnering with Red Hook NYC Recovers for the event. They will be there accepting donations and coordinating volunteer efforts for all those interested.
Anyone who can't make it to the party tonight can catch Season 3 on the SIGNIFIED website coming up soon.