Three young activists have come together to usher in a new reproductive rights movement – one that reflects the experiences of trans* folks.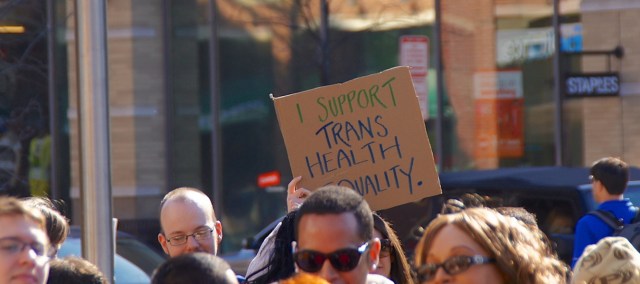 Beck Martens, Alice Wilder, and Calliope Wong launched a petition on Change.org today asking that NARAL and Planned Parenthood produce more trans*-inclusive campaigns, using the eons-old mantra of "Trust Women" and 2013's #StandWithTexasWomen showdown to highlight how the reproductive rights movement has previously excluded the trans* community. Their letter encourages the two organizations to take the lead on making a real commitment to trans* inclusivity in their work, thus influencing a huge arm of the reproductive rights movement:
By becoming trans* inclusive – and by demonstrating this through campaigns, educational literature, and in services provided – NARAL and Planned Parenthood will prove their commitment to trans* folks' health and wellness. By using inclusive language they will make the trans* community more visible and therefore creating a safer environment for trans* and GNC [gender non-conforming] people. NARAL and Planned Parenthood have raised awareness and taken part in activism on behalf of trans* and GNC folks in the past, but it's time for them to fully commit to being allies to the trans* community.

We know that NARAL and Planned Parenthood are #ProTransProChoice; we just want them to show it.
Wilder came away with the petition idea after a Trans* Day of Remembrance event in Durham, North Carolina, which she attended with some friends who work at NARAL. "My whole day I was marinating on all of the violence," Wilder explained to me in an interview. She later reflected with her friends about how their own work needed to do better by trans* folks, and she approached Martens and Wong to make it happen. "I came to Beck with this idea, because they're one of my oldest feminist friends – we went to high school together and got into feminism around the same time and they felt like a natural partner. Then I asked Calliope, who is in SPARK with me, if she would be interested, because Calliope is a fuckin' rockstar and I love her." 
Martens, who identifies as genderqueer, and Wong, a trans woman, have a lot at stake in this ask – their own stories. "I've been behind this movement with my cisgender sisters since I was sixteen," Martens told me, "and it's time for these organizations to recognize that the trans* community is affected by reproductive and sexual health injustices just as cisgender individuals are." Wong echoed the sentiment: "The modern notion of sexual and reproductive rights has evolved far beyond the limited notion of pregnancy in cisgender women," she said. "Trans women… have unique health needs – from STI and anatomically-specific cancer screenings to contraceptive education that is gender-affirming – and their health concerns must be addressed in culturally competent ways. Similarly, trans men and gender-nonconforming individuals who have the capability to reproduce must have access to modern reproductive health care services that respect their gender identity."
"Also," Wilder added, "I think that this will piss off Cathy Brennan and in my honest opinion making her mad means you're doing the right things."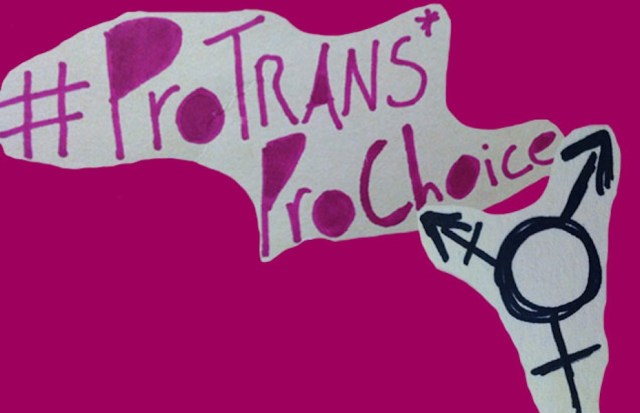 All three activists behind the petition have been working within the reproductive rights movement for years, and know from their experiences that NARAL and Planned Parenthood could play a huge role in creating a more trans*-inclusive future for it. "2013 was such a difficult year for reproductive rights," Wilder said, "but it was also very energizing. We had so many incredible inspiring moments. Wendy Davis, obviously, but then my favorite moment was Planned Parenthood and NARAL organizing, like, 600 people overnight in North Carolina. If we can bring 600 people to Raleigh in the space of six or seven hours, we can do this! There's been a lot of innovation in the pro-choice movement, and this seems like the natural next step."
"Reproductive rights have evolved far beyond the limited notion of 'women's health,'" Wong said. "My understanding has always been that modern pro-choice organizations like Planned Parenthood and NARAL pride themselves on a culture of fair service and equitable representation amongst the diverse population of people they serve. My work with Alice and Beck is asking for these organizations to show their commitment to trans* individuals' sexual and reproductive health."
Wilder added that "Planned Parenthood and NARAL are popular with a lot of folks who might be feminist and/or pro-choice but aren't in contact with trans* folks or don't know much about trans* folks… [they] can reach those people and help send the message that being pro-trans* is a core part of the movement, not a second priority."
"I've seen first-hand the great work that Planned Parenthood and NARAL do," Martens told me. "By using more trans*-inclusive language, not only are NARAL and Planned Parenthood giving representation to the trans* folks that acquire these services, but they are creating visibility for a community that has been in the shadows for far too long."
UPDATE, 10:47AM EST: Planned Parenthood responded to the #ProTransProChoice hashtag on Twitter this morning.
@ShelbyKnox Concern abt our forms being exclusionary towards non-binary-identifying people is one we, in fact, share. #protransprochoice (2)

— Planned Parenthood Action (@PPact) January 27, 2014
@ShelbyKnox And we are 100% #protransprochoice. We hear you, Beck, & all activists for trans* inclusion in the repro justice movement. (9)

— Planned Parenthood Action (@PPact) January 27, 2014
@rbraceysherman PP is very open and proud about commitment to providing health care to all individuals, regardless of how they identify.

— Planned Parenthood Action (@PPact) January 27, 2014
@rbraceysherman We hear these concerns and are very conscious of the fact that attacks we're seeing do not only impact cis-women.

— Planned Parenthood Action (@PPact) January 27, 2014
@rbraceysherman We believe the fight for every person's rights & access to health care must be inclusive. We hear you. #protransprochoice

— Planned Parenthood Action (@PPact) January 27, 2014
@rbraceysherman We'll have more, but in the mean time here's some more info on care PP provides. http://t.co/L7oDgioWAE #protransprochoice

— Planned Parenthood Action (@PPact) January 27, 2014
UPDATE, 11:56AM EST: NARAL also responded to Twitter users this morning.
@ShelbyKnox We face the same limitations as @PPact in web forms that target Congress & we'd like to see these change #protransprochoice

— NARAL (@NARAL) January 27, 2014
@SocialWorkersRJ Agreed. We stand by everyone, trans* & cis, in the fight for #reprorights for all people. #protransprochoice

— NARAL (@NARAL) January 27, 2014