Welcome to the 56th Annual Grammy Awards! Lizz can't be here because of "med school" and "being a doctor," so tonight's liveblog is brought to you by Lauren and Maddie. Lauren will be here, offering her on-point commentary on the year in music, while Maddie finds pictures and also gchats her commentary at Lauren, which will mostly consist of adoring Mary Lambert, having no patience for Macklemore or Robin Thicke, and general obliviousness about everything else that happened in music in 2013 that wasn't related to Tegan and Sara or Lucius.
A beginning feeling:


I still just want the best for Mary.
8:03pm EST
Lauren: BEYONCE! Ok I actually have difficulty reconciling Jay-Z's verse in this song, you know what I mean? BUT BEYONCE IS THERE AND SHE LOOKS LIKE BEYONCE.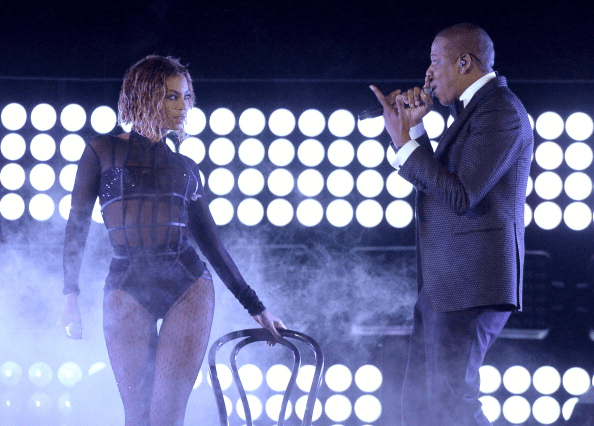 8:07pm EST
Lauren: Maddie is having technical difficulty! Now seems as good a time as any to tell you that once upon a time I went by the screen name "lakoolj," a play on my initials and an homage to our host of the Grammy's this year, LL Cool J. It was my first email address. My mom came up with it. How kool.
8:11pm EST
Lauren: Maddie is still having a struggle, but she found out that Tegan and Sara are livetweeting right now which is such a valuable contribution. Maddie is a trooper.
We are live tweeting the Grammy awards! Stay tuned! pic.twitter.com/hN4CLOYEDL

— Tegan and Sara (@teganandsara) January 27, 2014
8:14pm EST:

Lauren:Welp. I'm already going to jail. Thanks Macklemore.

Maddie: My housemate from who was once mistaken for Macklemore on Halloween grits his teeth.
8:17pm EST:
Lorde is like if Fiona Apple had an angry baby and then abandoned it in the UK. #Grammys2014

— gabrielle rivera (@QuirkyRican) January 27, 2014
Maddie: Roxane Gay speaks the truth:
I like Royals even though I also hate it for its condescension.

— Roxane Gay (@rgay) January 27, 2014
Lauren: She's good at that
8:35pm EST
Lauren: Daft Punk won a thing! Maddie was down for it. Katy Perry is off to a much less culturally appropriative start than that one time!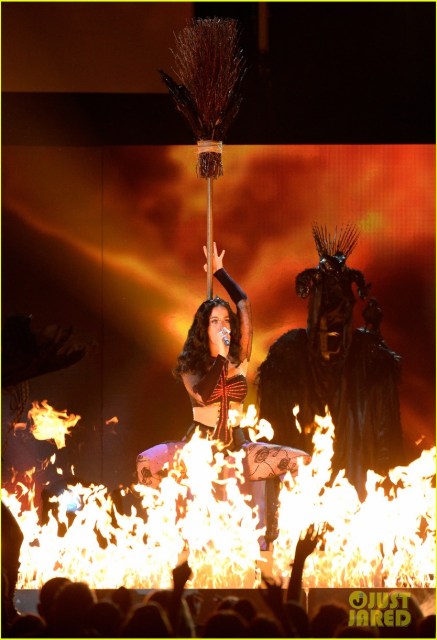 8:41pm EST
Maddie (who unfortunately, has given up on trying to watch): Ugh. I am thrilled to not be able to see Robin Thicke. I was at a wedding recently and they accidentally put on Blurred Lines instead of the wedding song.
8:47pm EST
Lauren: I hate these Blurred Lines. I wish I could switch with Maddie right now.
8:51pm EST:

Maddie: On my technical difficulties: so it turns out that grammy.com/live doesn't actually stream the broadcast of the Grammys, as I assumed it would. Instead, it streams inane commentary with "DJ Skee" and "Quddus," and only occasional cuts to performances. So I am piecing together what's happening via grammy.com, twitter, tumblr, and the snide remarks of my housemates who are listening in.

Lauren: Which is sad but also really funny because she reacts to things like, "SHE ENTERED IN A POD?? THATS WHY A TWEET REFERENCED SPINAL TAP."
8:57pm EST
Lauren: THE TEGAN AND SARA OREO COMMERCIAL JUST PLAYED. I have complicated feelings about it, but whatever. Sell me them Oreos if you want, you two. I like Oreos. I like you. It will be fine. Everything is Awesome. We'll all survive this. With our complicated feelings.
Oreo commercial just aired! pic.twitter.com/No9WXH7W7k

— Tegan and Sara (@teganandsara) January 27, 2014
Missing the #Grammys but I took the time to watch @teganandsara's Oreo commercial. I think it's my new favorite song

— Lizz (@OhHeyItsLizz) January 27, 2014
Also Pauley Perrette from NCIS was there! I like her. She's from Alabama. I'm from Alabama. Everything is Alabama. Ryan Lewis is wearing Houndstooth. I'm just trying to get all my Alabama feelings in at once now. Ok I'm done.
9:00pm EST
Maddie: OH THEY'RE LETTING ME WATCH JOHN LEGEND. These people are commenting on John Legend being a babymaker. Like, if you put his music on, you will make babies.
9:12pm EST:

Lauren: I genuinely just enjoyed Taylor Swift's performance right now and I usually don't, so I don't know what that says about me. What did you guys think? My friend just said that I should write that "Taylor Swift is God's gift to the world." So I am writing that my friend said that. But I did not say that.

Maddie: These Grammy.com commentators are skeptical of TSwift's winning prospects, but there she goes, winning her first Grammy "In awe of all the people I was nominated against." aka "TSwift is not here to make friends."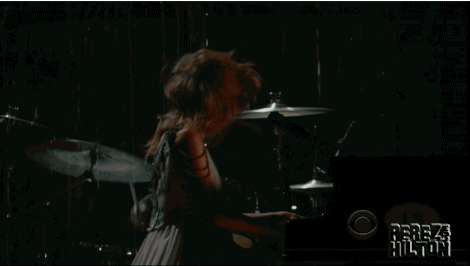 9:19pm EST
Lauren: Pink is flying as she is wont to do!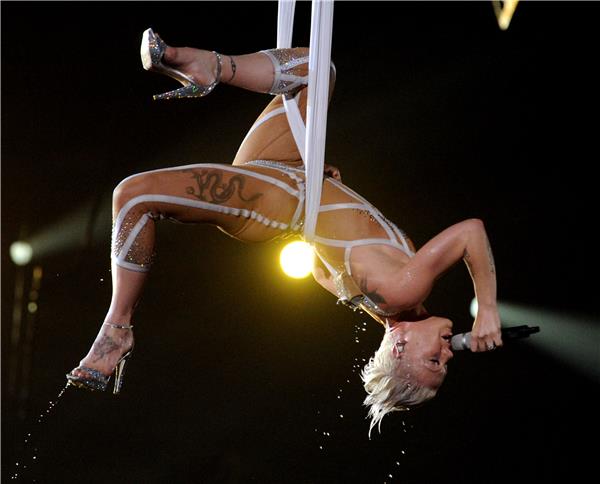 They should have just had Bey and Pink perform and sent everyone else an edible arrangement and called it a day.

— N'jaila Rhee (@BlasianBytch) January 27, 2014
9:25pm EST:
Lauren: Lorde has just won Best Pop Performance. I feel like more women are winning awards. Is that a thing or am I just making it a thing in my head? Annie Clark also has Lorde=Fiona Apple thoughts:
No joke, I was expecting Lorde to do an updated version of Fiona Apple's awesome MTV awards speech that begins, "This world is bullsh*t."

— St. Vincent (@st_vincent) January 27, 2014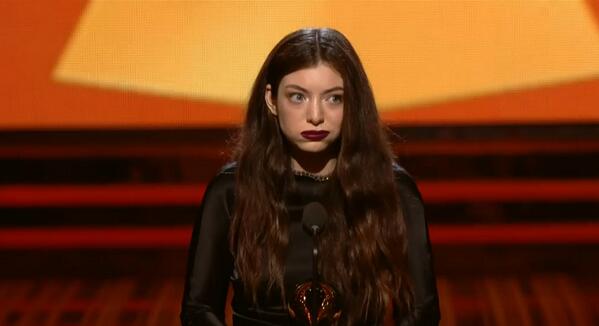 9:36pm EST
Lauren: Jamie Foxx just paused really awkwardly in the middle of announcing the nominees for Best Rap/Sung Collaboration (so glad this is a category) to talk about how hot Beyoncé is. But like, he apologized to Jay-Z for thinking she's hot, meanwhile she's nominated in the category about to potentially win A GRAMMY, so that was very weird and not very classy. Ugh, and then she just lost. No justice.
9:45pm EST:

Lauren: Kendrick Lamar and Imagine Dragons are now performing "m.A.A.d. city" and "Radioactive" AT THE SAME TIME! A live mashup! How delightful. Lorde's dancing. Taylor's dancing. Queen Latifah is dancing too. I remember what Queen Latifah is gonna do in the upcoming Macklemore performance and I'm nervous again. But Kendrick is KILLING IT. HOW DID MACKLEMORE BEAT HIM?! I reiterate that I'm going to probably fight someone over this.

Maddie: I wish that these Grammy Live commentators had a better critique of Macklemore as a straight white boy with a hip hop song about gay marriage.
9:51pm EST:
Lauren: I genuinely know nothing about country artist Kacey Musgraves but maybe I want to after hearing her sing these lyrics to "Follow Your Arrow"?!

Make lots of noise
Kiss lots of boys
Or kiss lots of girls
If that's something you're into
When the straight and narrow
Gets a little too straight
Roll up a joint, or don't
Just follow your arrow
Wherever it points, yeah
Follow your arrow
Wherever it points

Why didn't anyone tell me?! I need a long time to process and analyze this.



Maddie: WOAH. Kasey Musgraves is a country feminist! Follow Your Arrow, You Do You. Admittedly, the first thing I thought of when you said the title of the song was the caption on the pic of Candace's project management triangle.
LIGHT UP BOOTS @KaceyMusgraves i love them. let's go on a gay date.

— gabrielle rivera (@QuirkyRican) January 27, 2014
10:12pm EST:
Lauren: Daft Punk is coming!

Maddie: is the macklemore debacle happening yet?

Lauren: We really are just sitting here anxiously waiting for this mess to go down.
10:19pm EST
Lauren: I legitimately love Steven Tyler's hair right now. That's all I care about in the middle of this performance.
10:24pm EST
Maddie: YDY [Kacey Musgraves] wins a grammy. sorry, TSwift. TSwift is looking across the room at her, thinking, "I KNEW you were trouble."
10:26pm EST
Lauren: Stevie Wonder is singing "Get Lucky" with Daft Punk, Pharrell, and Nile Rodgers and people are losing their minds as they rightfully should. I want a shiny suit so badly.
10:30pm EST
Lauren: I always forget just how many performances there are during the Grammys. That should have been the drinking game. Drink any time anyone sings anything. Good one.
10:37pm EST:
Lauren: HEY CYNDI LAUPER. I see your true colors. As in, I'm choosing right now to believe that that is your true hair color. Aww, cool.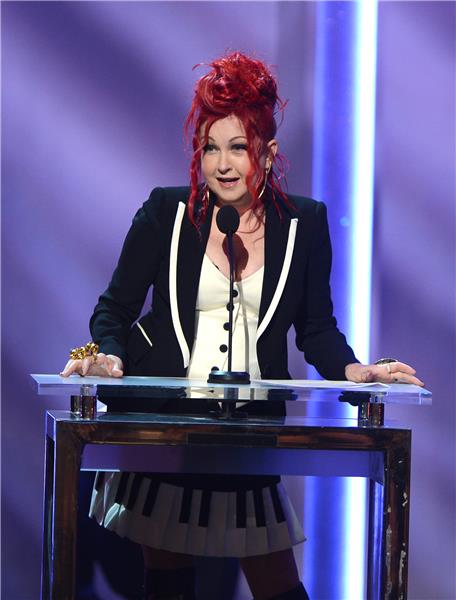 10:40pm EST
Lauren: Sara Bareilles and Carole King just performed a pretty Bareillesbionic looking dueling pianos version of "Brave," if I do say so myself.
I take issue with this song in the same way that I take issue with "Same Love." It irks me. It's so hard to explain to people sometimes how annoying these well-meaning  ally songs can be. Heather did a pretty great job of it in the comments. I'ma just put it up here too: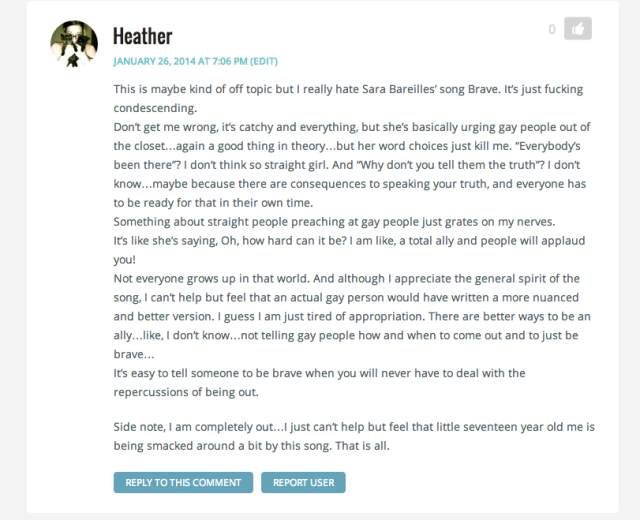 10:55pm EST
Lauren: My main feelings re:Metallica have to with that time they were like "Napster, stop, please?" and that one time I found this actually really decent mashup of "Enter Sandman" and Lady Gaga's "Telephone." It was called… "Enter Telephone."
10:57pm EST:
Lauren: Steven Tyler just sang "You Really Got a Hold on Me" right next to Smoky Robinson and I am so here for it. This is what award shows are for! Confusing unscripted things! Smokey needed a minute to laugh. See what I'm saying about Steven Tyler's hair though?

Maddie: backstage pals are interviewing Cyndi. They can hear Steven Tyler backstage, and she's startled.
Daft Punk wins Record of the Year!
Phew not blurred lines. Yay.

— Zerlina Maxwell (@ZerlinaMaxwell) January 27, 2014
11:02pm EST Lauren:
Janelle Monáe's Target commercial is making me feel better about the fact that they just announced that this "historic" Macklemore performance is coming. Oh man.
11:06pm EST
Lauren: Oh, here's Queen Latifah. Oh I'm scared. Someone hold me.
11:08pm EST
Lauren: My finger's reaction to hearing those opening chords is to try to change the radio station as an instant reflex.
11:08pm EST
Lauren: BUT THERE'S MARY LAMBERT AND SHE CAN DO WHATEVER SHE WANTS.
11:09pm EST
Lauren: Should they have censored the F word? The slur one? Should they have?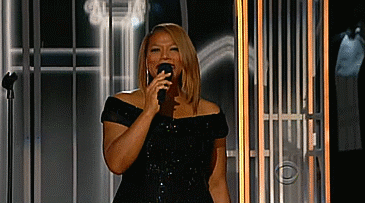 Lauren: AND NOW HERE'S MADONNA. THIS IS TOO MUCH IT'S ALL TOO MUCH. WHY IS THIS HAPPENING. I AM CRYING ON SUNDAY. I AM CRYING ON SUNDAY.
Okay, you know what though, I don't want to shit on these people's wedding day. Congratulations to them! Sincerely!
It's just that that was a lot.
Maddie: MARY LAMBERT MARY LAMBERT JUST LINK THIS OVER AND OVER.
11:27pm EST
Lauren: Hearing Miranda Lambert genuinely just makes me think that someone meant to say Mary Lambert now.
11:36pm EST
Lauren: Daft Punk just took home Album of the Year. I think I'm going to calm down and not fight anyone.
11:40pm EST
Lauren: Unless Nine Inch Nails, Dave Grohl, & Lindsey Buckingham of Fleetwood Mac get me all riled up and wanting to fight someone.
11:50pm EST
Lauren: Well, that's that! The show is over. My local news anchor just made some joke like "Kendrick Lamar and Imagine Dragons: the collaboration of the year? What about [insert Alabama football player here] and [other Alabama football player here]?!"

PREACH:

Can't wait until a year from now when Beyoncé is winning ALL THE GRAMMYS byyyeee

— carly usdin (@carlytron) January 27, 2014

What did you all think? Favorite moments? And how should we talk honestly and thoughtfully about Macklemore, Ryan Lewis, Mary Lambert, Queen Latifah, Madonna and the 33 couples who got married live at the Grammys?