This week on the show that your mom secretly watches after she tucks you into bed, Jon gets caught choking the chicken and Whitney gets jealous of the phantom menace. It's 40 minutes of Ghostface Killah in a logoless snapback and Farrah chalking it up to mommy issues, so you know what that means! It's Couples Therapy!
Can we take a minute to talk about how ridiculous Whitney and Sara's title sequence little tagline is? "When things are good, they're great. When things are bad, they're bad." Right, okay… and the problem is? Bad things should, by nature, be bad. That is logical. What is abnormal about good things being good and bad things being bad? I would be concerned if the things being good were bad and things being bad were good.
Sara is talking Farrah Smack with Taylor and Whitebread Simpson. Now that Sara and Whitney have seen Farrah's bunghole in action, they want to prove that girl is straight-up lying about the fact it was just an accidentally released sex tape, since it is clearly a planned porno. Taylor says that planning a pornography is very "entrepreneurial" of Farrah, BA DUM CHH! Oh, Taylor, you swollen-lipped sass machine.
Also, let's talk about this shoutout to Ilene Chaiken's pervy ass:
Whitney: We have sex tapes. It's called The Real L Word.
Oh don't worry, Whit. We remember.
For the first group session, the topic of the day is FIDELITY, which prompts Ghost to admit he is not in love with Kelsey, which like sure, duh, hello, we have eyes and ears. This is old news, Ghost. I am still not sure why you are on this show with a girl whose name you have forgotten TWICE, but blackmail might be involved. Maybe. Anyway, Whitney and Sara look nice and Jon talks about cheating on his wife. I don't really care that much about his plight. I'm too distracted by his hair plugs to care.
Whitebread Simpson gets jealous of Taylor spending too much time talking to her fans. He still hasn't made the connection that the fans are all 9 to 12 year old girls who have mistaken Taylor for a Bratz doll.
And now for the best part of the show, as usual. It's the part where Farrah does her almost-cry face and accidentally admits she was lying.
Sara: I'm just curious as to how that was a sex tape filmed at home when there is actually a camera crew filming it.

Farrah: No, there was not. There was only me and the camera person. So where are you seeing a camera crew?

Sara: Different angles. So there's a camera person.

Farrah: No, I can straight up tell you honestly there was never any other person ever around us when we were having sex.

Sara: You just said camera person, it was you and the camera person.

Farrah: I don't know if I ever said camera person.

Whitney: You did literally just say the words "camera person".

Farrah: Well, I'm sorry if I said it, I'm just letting you know. Like, putting words in my mouth, it's like, a touchy subject.
Oops, Farrah! Looks like you've bungled that bunghole. Homegirl still keeps calling it a sex tape and saying that she's sick of being judged for it. If I hear Farrah call her porno a sex tape one more time, I swear.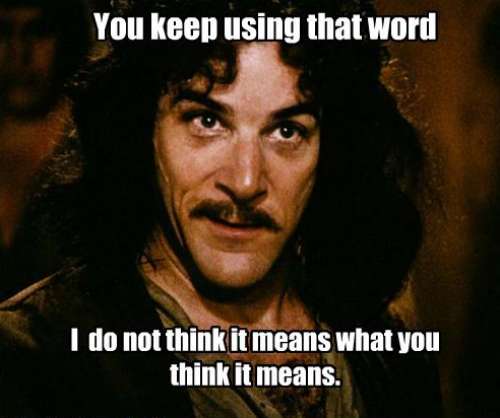 Kelsey tells Ghost in private that she's not trying to force him to love her, per say, but, you know, it might be nice. Ghost lovingly embraces a pillow as he admits that he is out of his element "sitting around all these motherfucking people and shit," a direct quote.
After Jon, Liz, and Kelsey discuss Farrah's sex tape over Cheesecake Factory takeout, Farrah talks about how no one wants to hang out with her and no one is trying to be her friend. Farrah says this reminds her of her parents' divorce. Um, right. Okay. This is followed by Farrah talking about her mommy issues in a private session. I've decided to provide screencaps I took of this scene with no further commentary. No further commentary is necessary.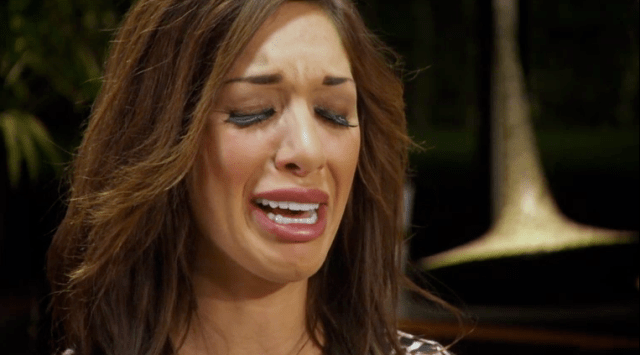 It's Sara's birthday, apparently, so Whitney hires some unemployed models to dress as mermaids and blow bubbles. Also, every lesbian you've ever seen in Los Angeles shows up to the Couples Therapy house. The best part of this scene is that Liz and Jon are still wearing matching grey zip-up hoodies for the party.
Sara is apparently a physically affectionate person, and gets friendly with Ghost. Whitney doesn't want to see Sara all physical with the phantom menace. Whitney and Sara have a small spat about it while Sara takes off her makeup, but this is apparently not that big a deal because they're over it the next morning. That's cool, because Liz and Jon are about to have a fight because Liz doesn't want Jon to masturbate and thinks Jon was masturbating! He's not allowed to get off unless she's involved, which seems pretty cockadoody to me in terms of rationality, but it looks like Jon goes for the controlling ones, huh?
Oh man, that was awesome.